13 Coworking Spaces in Chicago All Techies Should Know
Technology is far from immune to fast-fading fads, but every once in a while, an idea sticks — and sticks hard. That seems to be the case with coworking spaces, an industry and mindset whose popularity has exploded the world over.
For tech workers, creatives, and innovators, coworking offers a unique opportunity to network and collaborate, sharing resources, knowledge, and connections in a community you're helping to shape directly.
There's no shortage of coworking spaces in Chicago, so we've rounded up an eclectic 12 that represent what the city has to offer. Did we miss any you think should be included? Send us an email to let us know!
Top Coworking Spaces in Chicago
The Wing
Assemble
Coalition: Energy
Industrious Office
Serendipity Labs
1871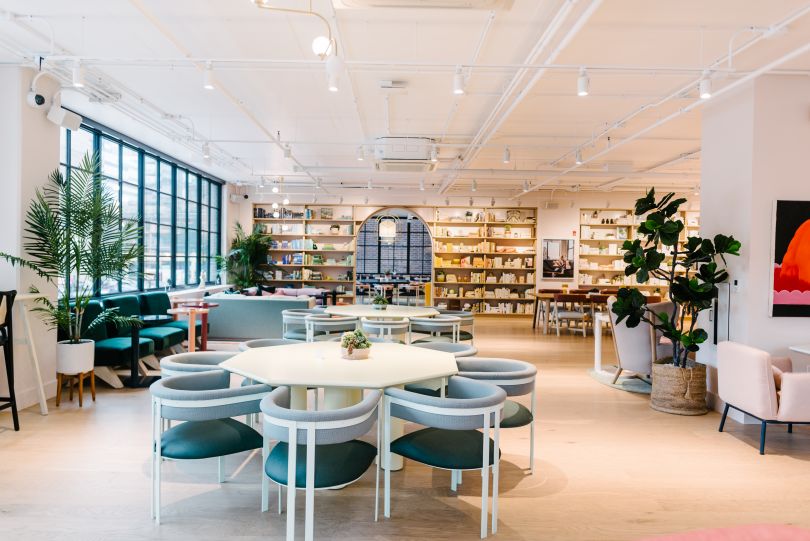 Who they are: The Wing — a women-focused coworking space that channels Ida B. Wells and champions "Girls doing whatever the f*** they want" on Instagram — officially opened its 8,500 sq. foot space on Fulton Market Street in the West Loop on Thursday. It's The Wing's sixth location, adding to locations in New York, San Francisco and Washington D.C.
Fun fact: There's a full restaurant and cafe featuring food from women-owned restaurants, an all-women art gallery, and bookshelves stocked with more than 2,000 titles curated by independent bookstores Women & Children First and Strand.
Location: Fulton Market (811 W Fulton Market FL 2)
Cost: Memberships run at $185 a month for just the Chicago location, or $250 for all access. The Wing also offers scholarships for women who work in underrepresented industries.
Who they are: WeWork is perhaps the staple institution in the coworking circuit, providing entrepreneurs, freelancers, techies and innovators with a creative and collaborative space to build their ideas into something great.
Fun fact: WeWork has become a global powerhouse in the coworking movement, with more than 70 locations in over 20 cities globally. More than 40,000 people have signed up as members, with over 8,800 companies signing on for membership, too.
Locations: Grant Park (332 S. Michigan Ave), Fulton Market (220 N. Green St), River North (111 West Illinois St).
Cost: Grant Park offices start at $750/month; Fulton Market has offices starting at $700/month and desks at $350/month; River North has offices at $650/month and desks at $455/month.
(Photo of Fulton Market WeWork courtesy of Lauren Kallen)
Who they are: Assemble is a solid choice for busy professionals with big ideas. They offer 24/7 access to office spaces with a host of benefits and resources, and their month-to-month lease is a good option for fast-growing startups.
Fun fact: Part of their membership package includes discounts to smart transportation options like Divvy and Zipcar.
Locations: West Loop (600 W Jackson Boulevard), Gold Coast/Old Town (1165 N Clark Street).
Cost: Spaces start at $350 a month.
Who they are: A newer addition to the coworking scene in Chicago, MakeOffices recently launched in the city as one of the larger coworking spaces by square footage.
Fun fact: Their 45,000-square-foot space in River North features 145 private offices, 112 open desks, 11 conference rooms, and 10 private call rooms, in addition to other community spaces.
Locations: River North (350 North Orleans), the Loop (1 North State Street).
Cost: Private offices start at $550/month, but members can also opt for open desk spaces at $250/month or virtual offices for $75/month.
Who they are: BLUE1647 is a tech and innovation center in Chicago that's devoted to improving economic development by teaching technological and professional development skills. Their website describes their community as "a vibrant example of the ways in which creative professionals, entrepreneurs, change-makers, and nonprofits can come together to make meaningful, lasting impact."
Fun fact: Last year, BLUE1647 expanded down south, opening their first innovation hub in St. Louis.
Locations: 1647 S. Blue Island Ave, 815 W. 63rd St, 2111 S. Hamlin Ave, 11627 S. Michigan.
Cost: Blue1647 has three tiers to choose from: $25/month for basic membership; $250/month for members looking to host meetups, classes, and events; and a $450/month package tailored for small businesses that comes with access to private office spaces (among other perks).
Who they are: Launched in Chicago in 2014, Coalition: Impact is a coworking space designed to bring entrepreneurs, builders, and innovators together to build a thriving community of innovation.
Location: 405 West Superior Street
Who they are: Located in the Loop, Coalition: Energy is a collaborative environment for ideas and innovation. 
Location: 18 South Michigan Avenue
Cost: Daily coworking costs $20, with a 10-day pass for $150. They also have monthly, tiered packages — ranging from $85/month for a virtual office to $850/month for a private office.
Who they are: Industrious is a national chain of coworking spaces, with a presence in cities like Chicago, Austin, Brooklyn, St. Louis, and Nashville.
Fun fact: Let's talk perks. Industrious serves a host of local specialities, including Abacus coffee, Bennison's pastries, and beer from local breweries served daily.
Location: River North (320 W. Ohio Street).
Cost: Desks start at $420, while private office spaces vary depending by team size.
Who they are: Serendipity Labs is designed to the workplace of choice for remote and mobile workers and project teams.
Fun fact: In addition to their coworking spaces, Serendipity Labs also offers off-site meeting and corporate event opportunities.
Locations: One South Wacker.
Cost: They've got a package that works for just about any budget, ranging from $49/month basic package to a $799/month deal that includes the full gamut of resources at their disposal.
Who they are: Despite their name, Grind is tailor-made for innovators and collaborators of all ages who aren't interested in the regular grind offered by most companies. According to their website, they're built specifically for "people who would rather work in a community than a company."
Fun fact: Grind is centrally located in the Loop, and their two story windows give awesome views of the city. But the best part about Grind is that they're industry agnostic; housing a civil engineer and a senior research scientist, along with many other cool people and startups.
Locations: 2 North LaSalle St.
Cost: Access to Grind for individuals costs $35/day, or you can choose to buy a monthly package for $375.
Who they are: The Shift is a neighborhood coworking space for freelancers and techies looking for a safe haven to work creatively and connect with one another outside of downtown Chicago.
Fun fact: Members are known as "Shifters" and encouraged daily to "Get Shift Done."
Location: Uptown (4101 N. Broadway)
Cost: Basic membership is $145/month, while a dedicated desk (and other premium benefits) goes for $295/month.
Who are they: TechNexus is a co-working space and 50,000-square-foot collaboration hub. At TechNexus, startups receive guidance and connect with entrepreneurs from more established companies.
Fun fact: Founded in 2007, the organization was Chicago's first co-working space.
Location: Civic Opera House (20 N. Upper Wacker Dr.)
Cost: Spaces start at $300 a month.
Who they are: 1871 is a pillar of the Chicago tech ecosystem. If you're new to the community or haven't heard of them yet, they're one of the first places you should start your research. 
Fun fact: The tech hub doubles as a tech startup incubator and was named the highest-ranked incubator in the US last year. 
Location: Merchandise Mart.
Cost: For reserved spaces, members can expect to pay $500/month, while access to the community's shared spaces costs $350/month (in addition to more niche membership packages).