Whether it's teaching local kids to code or building applications to fight human trafficking, Chicago has no shortage of tech companies committed to giving back.
To ensure they're consistently making an impact, many local tech companies make a commitment to civic engagement and philanthropy part of their culture. Here's how four of them put those values into action.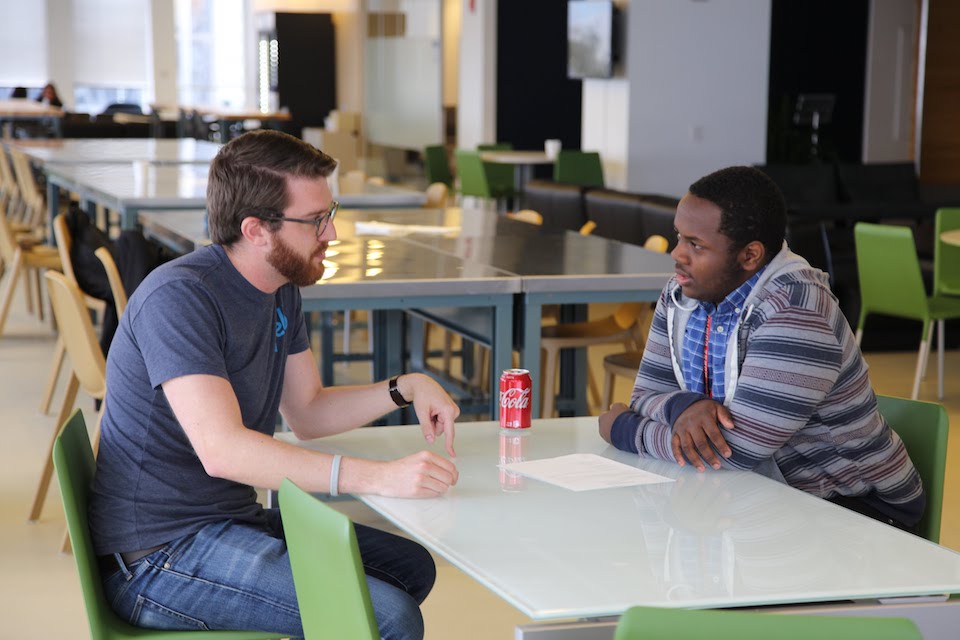 Yello's talent acquisition software is designed to both simplify the recruiting process and make it feel more personal in nature. According to VP of People Jen Meza, giving back became cemented in the company's culture after a group of employees launched a committee to organize and share ideas for volunteer events.
How did giving back become such an important part of your culture?
Yello's volunteer initiatives started the same way all our best ideas start — with our employees. A group launched our volunteer committee, Yello Cares, to organize volunteering events the whole company can participate in. Team members have the opportunity to introduce their coworkers to initiatives they are passionate about. Whether it's a park cleanup, animal adoption or supporting local schools, it's exciting to see the team come together for a cause.
What formal initiatives or programs help support this commitment?
Our team is excited to give back to a variety of causes: creating murals at local parks, volunteering at food banks, creating care packages for those in need and more. Most recently, Yello hosted students from a local high school at our office. After a pizza lunch, Yello volunteers partnered with students to build resumes, work on networking skills and participate in mock interviews to prepare for summer jobs and internships.
Aside from formal initiatives, how else do you support team members in giving back?
Yello Cares, our volunteer committee, makes it easy for employees to get involved and share their ideas for giving back. Through a range of initiatives, including lunch and learns at the office, off-site volunteer events and the ongoing creation of care packages, employees are empowered to give back, no matter how much time they can commit.
Camelot Illinois is the new private manager of the Illinois State Lottery. When it comes to giving back, the company has lofty goals that include growing the Illinois Lottery's net return to the state to exceed $1 billion for public education and other causes. However, according to the company's social responsibility manager, that initiative is just the tip of the iceberg.
How did giving back become such an important part of your culture?
Giving back is inherent to a lottery's purpose: Lotteries were founded with the aim of raising funding for beneficiaries. Being an active corporate citizen and giving back to the communities we serve is part of our DNA.
What formal initiatives or programs help support this commitment?
Besides raising millions of dollars for the state's common school fund, which is distributed to schools across Illinois, we also work with the Lottery to launch games in support of the Special Olympics, veterans, HIV/AIDS, breast cancer and multiple sclerosis. Tickets sold for these games help to raise thousands of dollars to support these causes. Additionally, all employees are given two fully-paid volunteer days per year. This encourages our team to connect to the communities and causes close to their hearts. We recently had a team of employees who volunteered for the Greater Chicago Food Depository helping pack food packages. In addition to helping the organization, it was a fun bonding and team-building experience.
We also run the Camelot Business Associate program, an initiative where four recent graduates join our organization on a year-long placement. Each graduate is exposed to different areas of the organization, allowing them the opportunity to develop their skills in the workplace. The internships are fully paid and are intended to give equal opportunity to individuals from different backgrounds. We also believe that "giving back" is about demonstrating our commitment to the environment. We work hard to minimize our environmental impact where possible.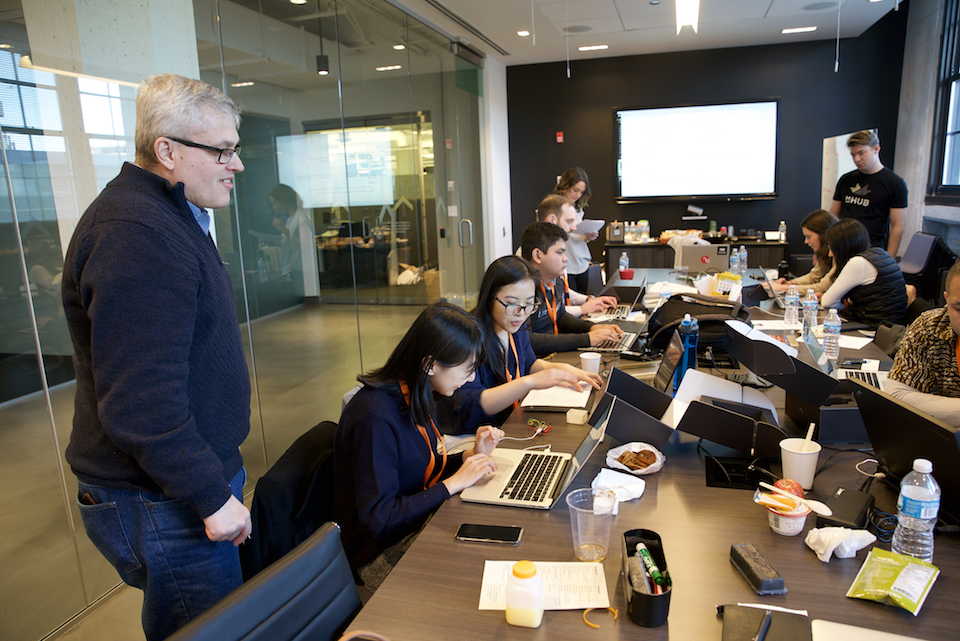 Uptake develops predictive analytics tools used by industrial companies working across a variety of industries, including energy, manufacturing and transportation. The company's civic outreach and philanthropic efforts are coordinated through Uptake.org, which was launched by co-founder Brad Keywell. Uptake.org lead Toni Maraviglia said the nonprofit's mission extends far beyond donating money and time.
How did giving back become such an important part of your culture?
Our co-founder and CEO, Brad Keywell, made giving back a key part of Uptake's culture from day one. We launched Uptake.org, our civic innovation and philanthropic arm, in our early days based on Brad's vision of "giving our genius."
What formal initiatives or programs help support this commitment?
Uptake.org is dedicated to leveraging Uptake's people, technology and expertise to help organizations use data to solve some of the world's most pressing issues. We don't just donate money or time: We build solutions.
Applications we've built include a college matching solution for underserved students, an anti-human trafficking solution being used on the Nepal-India border and an image classification tool for conservationists. We also run a data fellows program for data leaders at nonprofits and government offices, and our employees volunteer to mentor data science and data security leaders at organizations across Chicago and around the world.
Aside from formal initiatives, how else do you support team members in giving back?
Uptakers are champions of Chicago and our local community. We volunteer with several organizations across the city. This includes mentoring students from One Million Degrees, volunteering our time for informal job shadowing with students from Embarc, attending hackathons for nonprofits and donating time and resources to Brave Initiatives, a coding camp for high school girls.
We're also closely engaged with other local organizations, like Chicago Ideas — founded by Brad Keywell — to help promote the city's entrepreneurial ecosystem nationally and beyond.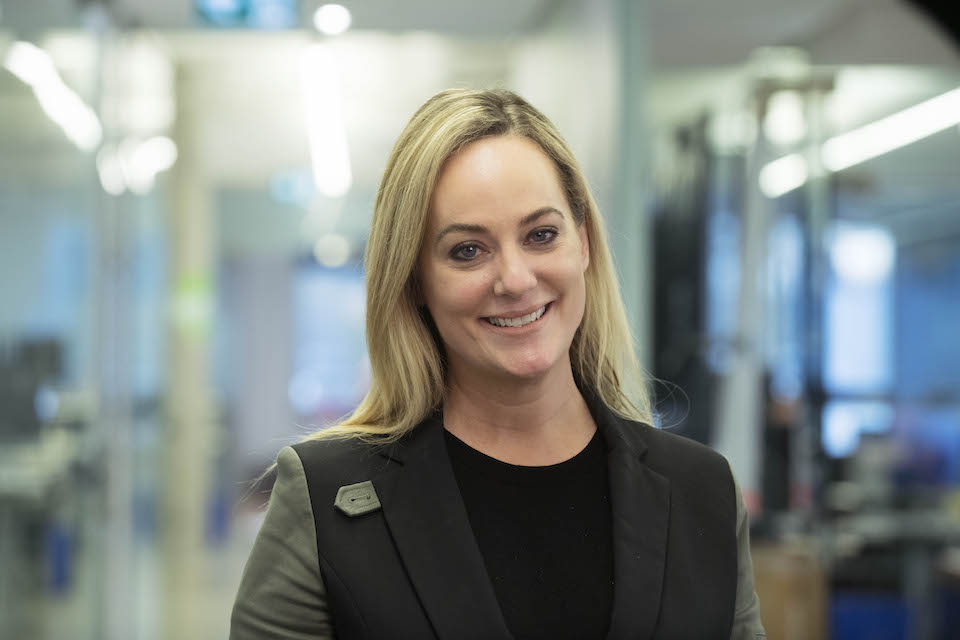 KAR develops technologies used by automotive manufacturers, dealerships, insurance companies and financial institutions to buy, sell and trade used cars. In her role as chief legal officer and secretary, one of Becca Polak's many responsibilities is to oversee community relations efforts and corporate social responsibility strategy and initiatives. Polak is also the president of TradeRev, which gives her additional insight into how KAR's subsidiary companies approach philanthropy.
How did giving back become such an important part of your culture?
Our commitment to community involvement started organically with our employees. Our workforce is culturally and geographically diverse and represents a vast array of communities with different needs. KAR employees are creative and industrious, and they regularly apply their talents to benefit organizations where they work and live.
At TradeRev, our employees find shared purpose in our FHAB ethos: fun, honest, accountable and brave. Being a good corporate citizen is part of being accountable. TradeRev has always been active locally, and being part of KAR has allowed us to participate more broadly and make a greater impact. Giving back is also something our leadership is very passionate about. KAR CEO Jim Hallett often says that when people and communities thrive, so does our business.
What formal initiatives or programs help support this commitment?
With so many employees in Chicago and around the globe, we know we can make a real difference if we adopt and promote a vision to guide our philanthropic efforts. Our recently launched philosophy is a marriage of our work in the vehicle remarketing industry and the overall cause landscape: "We believe in second chances for cars, people and communities." We are already working to establish enterprise-level partnerships that will yield local engagement opportunities for KAR employees around the world. More specifically, we're working with nonprofit organizations that rebuild and strengthen communities, whether they've suffered immediate effects from a catastrophe or the long-term impact of a changing economy. We want to support programs that give people a second chance at a better future.
Aside from formal initiatives, how else do you support team members in giving back?
Through our leap into service program, all full-time employees are encouraged to take one day off with pay annually to volunteer with their favorite cause. Many of our managers and leaders across the organization organize group volunteer efforts to foster stronger teams. It's a fun and meaningful way for our employees to build rapport and work together.