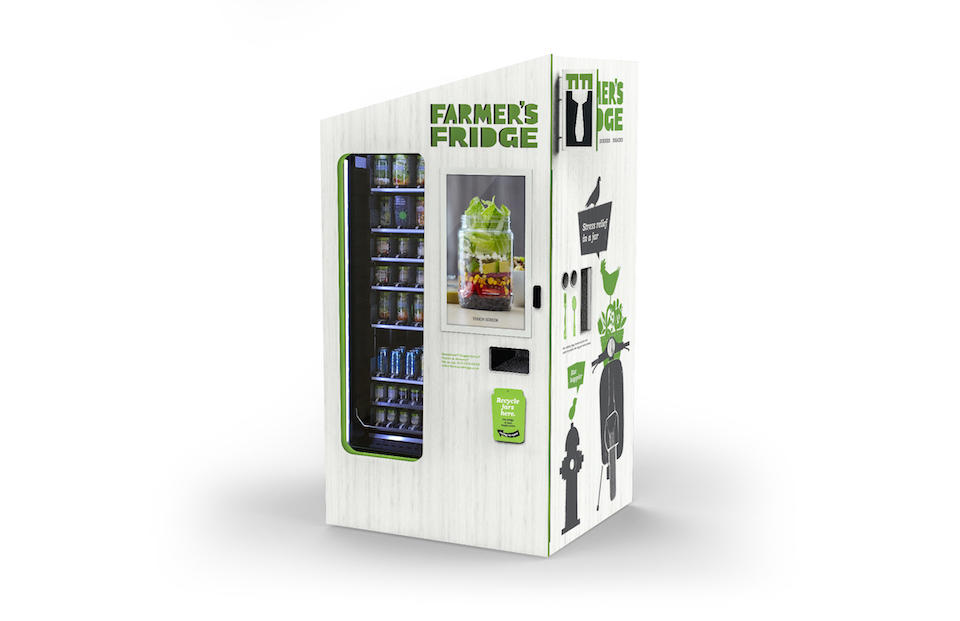 For the last few years, Farmer's Fridge has been one of Chicago's best-kept food secrets. Not anymore.
The company, whose smart vending machines offer healthy alternatives to traditional snack foods, announced a $30 million Series C on Wednesday.
"The round is about two things: continuing our rapid expansion and building out our technology, engineering and product teams," said CEO Luke Saunders.
Farmer's Fridge currently operates a little over 185 smart vending machines, which it refers to as "fridges," in Chicago and Milwaukee. Each fridge is stocked with handmade salads, wraps and bowls. The tech-savvy machines feature touchscreens for ordering and are also app-enabled, with the company's mobile app allowing users to both order and scan the inventory of fridges nearby.
Saunders said the goal for the end of 2019 is to have between 400 and 500 fridges in major cities around the Midwest, which according to the Chicago Tribune include Indianapolis, Detroit, Cincinnati and St. Louis. Given the nature of the company's operations — making and shipping food from its facility in West Town — Saunders said expanding across the Midwest first was a logical next step. But that doesn't mean the company is planning to stay local for much longer.
"Part of this round will actually be to expand into another region, which means setting up another production facility and building a local team," said Saunders.
Farmer's Fridge currently has a headcount of 130 people and expects to be at around 200 employees by the end of 2019. Saunders said the company currently has about 12 engineers and a handful of people on its product team. Those teams will both grow significantly in the coming months.
We'll probably hire 20 to 30 people just between engineering and product over the next 12 months."
"One of the things we were able to prove over the last 18 months is how much value we can create by investing in our technology platform," said Saunders. "We're looking for senior leadership in engineering, product and IT. We'll probably hire 20 to 30 people just between engineering and product over the next 12 months."
The company's Series C was led by Innovation Endeavors, the venture capital firm co-founder by former Google CEO Eric Schmidt. Additional investors include Cleveland Avenue, the VC firm led by former McDonald's CEO Don Thompson, Hyde Park Angels, DNS Capital, GreatPoint Ventures, Dom Capital, Finistere Ventures and Danone Manifesto Ventures.
"We have a deep bench of some of the best investors in Chicago and food and beverage," said Saunders. "We're excited to partner with Innovation Endeavors to take Farmer's Fridge to the next level."