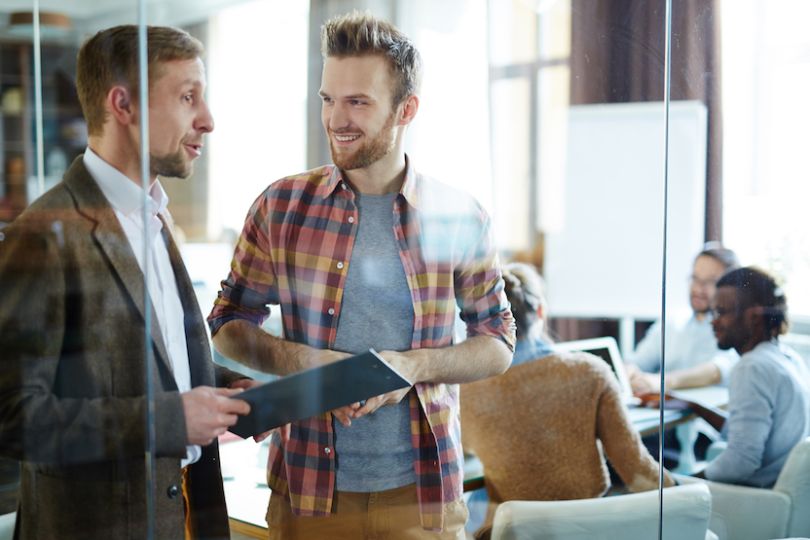 There's no place like home. We connected with four Chicago tech companies who have undergone rapid growth since they were founded. Despite the flurry of changes, one thing has remained constant for each organization: their commitment to Chicago.
Similar to the evolution of these four organizations, Chicago's tech scene has undergone massive change within the past decade. In April 2019 alone, Chicago tech companies raked in a whopping $102.5 million in the top five funding rounds.
We spoke with four fast-growing teams to learn how their companies have evolved alongside Chicago's tech scene and where they plan to go from here.
ActiveCampaign helps small businesses better connect and engage with customers. How, you ask? With their cloud-based marketing automation software that helps over 65,000 small- and mid-sized businesses. Essentially, they help marketers send fewer emails and achieve more success.
The company has hit the ground running since they were founded in 2003 — both metaphorically and in real-life (their team is known to log 30-plus mile bike rides together).
Founder and CEO Jason VandeBoom walked us through the company's past and laid out their exciting plans for the future.
How has your company evolved since the early days?
A lot has changed since we started in 2003. For the first 10 years, we were only eight people, which makes it easy for everyone to know what's going on. Today, we employ more than 400 people around the world, with over 100 who've joined us this year alone.
Our team now collaborates daily across continents to serve over 70,000 growing businesses that rely on ActiveCampaign. In 2013, we transformed the way we deliver our platform and have continued to iterate on ways that we can provide exceptional value to our customers. We've added tools like CRM and intelligence-driven marketing, and we are still pushing the boundaries of what automation can do. With the recent release of machine learning features such as predictive sending, ActiveCampaign continues to evolve as a leader in the marketing technology industry.
What excites you most about the future of your company? What impact will your company make on the industry?
Marketing automation has become stale. Personalization is changing the game. We see such a narrow focus on sales and marketing requiring specific instructions from the small business to move groups of people through static paths. ActiveCampaign has always focused on applying automation to create unique experiences throughout the entire customer lifecycle. We've redefined the category as customer experience automation, helping businesses create truly unique experiences at scale, and we're excited to see the impact this will have for growing businesses around the globe.
Caterpillar is no stranger to growth. The Fortune 100 company has undergone many digital evolutions since it was first founded.
Caterpillar designs, builds, engineers, and manufactures machinery, engines, financial products and insurance. Tom Bucklar, a Cat Digital director, told us how the company has adapted over the past two decades from the physical to the digital world with advanced tech like IoT and autonomous fleets.
How has your company evolved since the early days?
There is a saying that the road to progress begins with a road. At Caterpillar, we're constantly evolving to meet our customers' needs as they build a better world.
Two decades ago, Caterpillar started our connectivity (now IoT) and autonomy programs. It's inspiring to see the progress we've made. We're now approaching one million connected assets and have one of the largest fully autonomous fleets in the world. But the real measure is the increasing customer value these technologies provide in the areas of equipment uptime, safety and jobsite productivity.
What excites you most about the future of your company? What impact will your company make on the industry?
Our customers innovate to improve the quality of life around the world. Caterpillar's commitment to our customers' success is driving our investments in IoT, digital and autonomy. We will continue to lead our industries with solutions that make sustainable progress possible on every continent. Caterpillar and our customers literally help shape the world and for the past 20 years, we have been leaders in merging the digital and physical worlds. It is a pretty exciting place to be.
Home Chef has grown significantly since it was founded 6 years ago. Their offerings now appeal to all different kinds of meal preppers. Rich DeNardis, Chief Revenue Officer, explained more.
How has your company evolved since the early days?
Since Home Chef was founded in 2013, we have certainly evolved, but at our core, we have always remained focused on delivering a delightful home cooking experience to our customers.
Today, we know that there are people who like to plan their meals in advance on homechef.com, but there are a lot of people who don't know what they are having for dinner by 4 p.m. that same day. Now with our Kroger partnership, we are able to offer convenient, delicious meal solutions to more people, whether they are meal kit subscribers or people who decide last-minute what's for dinner. We offer the ease of stopping at the grocery store and our meal kit is a popular alternative to sourcing every ingredient once inside the store.  
What excites you most about the future of your company? What impact will your company make on the industry?
There are a lot of people who love to experience the joy of cooking at home, but on different nights of the week, people have different dinnertime needs. We are excited to be able to provide a variety of meal solutions with different levels of preparation and cooking times. Our top priority is and always has been our customer, and we know that on some nights of the week, they want to cook dinner, while other nights they might need something that is quicker and simpler to prepare like our "Oven Ready" or "Heat and Eat" meals.
Seismic Software brings a whole new meaning to the word enablement — literally. Not only is the company petitioning Merriam Webster to officially recognize the word, but they also equip sales teams with the knowledge, messaging and automatically personalized content for effective buyer interactions. Their content intelligence and analytics help marketers improve bottom lines at places like IBM, American Express, PayPal and more.
Vice President and General Manager of Business Operations Craig Dunham explained how the company has evolved since they were founded in 2010.
How has your company evolved since the early days?
Seismic has seen tremendous growth since its early days. We started as a bootstrapped company by our co-founders in 2010. And as of late 2018, we closed a $100 million Series E funding round with more than 600 employees around the globe. We have really been able to take advantage of the incredible growth in sales enablement as a whole, which continues to skyrocket as an innovative practice in sales and marketing. Both here in Chicago, and in our global offices, we're excited to keep growing and watch the sales enablement market grow.
Our presence in Chicago took a major step forward last year when we acquired Chicago-headquartered SAVO Group, another sales enablement vendor. It was one of the most significant moments in our company's history, and it has allowed us to create a foothold in Chicago by using our overall rapid growth to also expand our presence in a city that is equally devoted to investing in its tech community.
What excites you most about the future of your company? What impact will your company make on the industry?
I am incredibly excited to see our product capabilities continue to evolve at a breakneck pace. Our platform is already the recognized leader in the space by firms like Forrester and G2, and we are constantly innovating and improving to add new capabilities and functionalities based on user feedback. We also continue to invest heavily in product innovation, with more than 180 people in the company purely focused on research and development, many of whom reside here in Chicago.
As for Seismic's impact on the industry, we're in the middle of an industry-wide campaign to petition dictionaries like Merriam-Webster and American Heritage to make 'enablement' a real word. Sales enablement pros solve real problems, so it's time enablement is recognized as a real word.