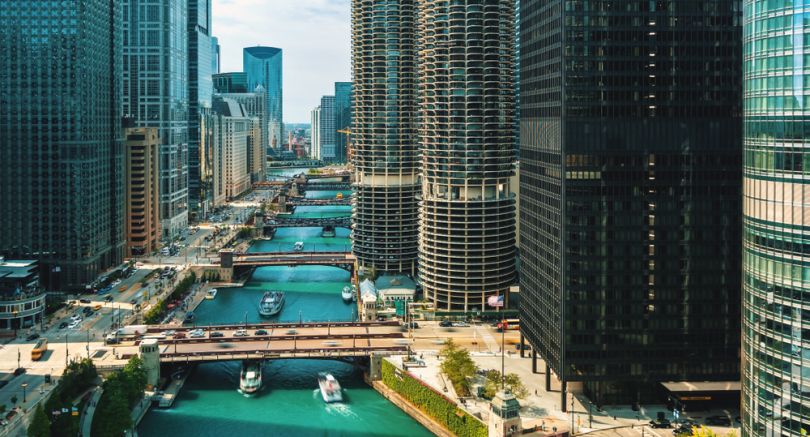 August was a strong month for Chicago tech, with the top five fundraisers pulling in more than $200 million. From established market leaders to fresh faces, Windy City startups are on the move.
#5, $13 million, August 12
What they do: Hazel Technologies spearheaded a technology that uses herbal oils to keep fruits and vegetables fresher longer. This vastly reduces food waste - and saves produce suppliers a ton of money.

The funding: The startup, founded by two Northwestern University graduates, raised $13 million in Series B funding, bringing total funding to $17.8 million, the Chicago Business Journal reported. Hazel will use the money to double its headcount, start selling directly to retailers and move into the meat and seafood supply chain.
#4, $20 million, August 6
What they do: For the layman investor, buying and selling stock can be intimidating - so many companies, so little time. Fintech company dough offers a user-friendly platform that educates aspiring investors while facilitating trades. Users can read the latest financial news, manage their portfolios and master tips and tricks, all from their smartphones.

The funding: dough raised $20 million in Corporate Round funding. The funds will go toward launching the company's commission-free trading platform. It will start serving customers in September.
#3, $47 million, August 27
What they do: Kin Insurance acts as a managing general agent, collecting insurance applications from homeowners and matching them with a provider. The company currently operates in Florida, Georgia, Texas and Alabama, and its online platform helps coastal dwellers personalize their policies.

The funding: The company raised $47 million in Series B funding to make over its business model. Now, Kin can operate as an independent insurance provider in Florida, so it doesn't have to rely on third parties for licenses and underwriting. It plans to double its team (again) in the next year and begin to transition from agent to carrier in its other markets.
#2, $50 million, August 22
What they do: SpotHero is a platform for buying and selling parking spots. Drivers can pay for hourly or monthly parking, and lot owners can fill empty spaces. The company recently launched SpotHero for Fleets, which will come in handy for ride-share services and, eventually, self-driving vehicles.

The funding: The company raised $50 million in Series D funding. It will use the money to forge new partnerships - in addition to its existing ones with companies like Waze, Google Assistant and WeWork - and hire 50 engineers.
#1, $72 million, August 6
What they do: LanzaTech innovated a special microbial mix that gobbles up carbon pollution and spits out useful chemicals like ethanol. When implemented in a single steel mill, the effect on carbon emission is the same as taking 100,000 cars off the road.

The funding: The company raised $72 million in Series E funding to install its technology in more factories, make 25 to 30 new hires in Chicago and launch LanzaJet, its low-carbon fuel product for airplanes.