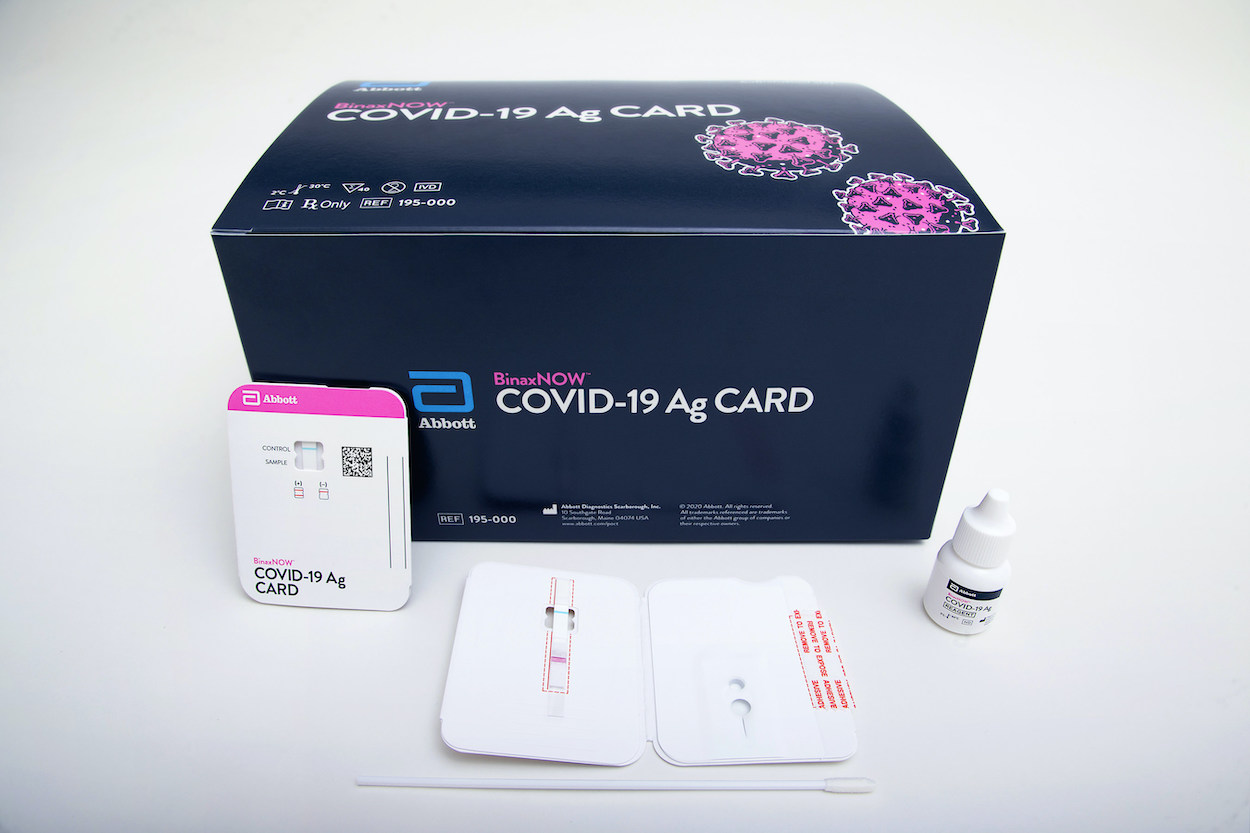 Chicago-based Abbott Labs just got emergency approval from the United States Food and Drug Administration for its rapid antigen test, which can reportedly detect a COVID-19 infection in just 15 minutes.
Abbott says the testing device, called BinaxNOW, is about the size of a credit card. A patient's nasal swab is inserted into the card, which then is able to detect the proteins from the coronavirus. If the virus is detected, a colored line will appear on the device.
Tests that look for proteins instead of the genetic sequence of the virus itself tend to be less accurate, according to some experts. As for Abbott's test, a clinical study submitted to the FDA found that it correctly diagnoses an infection about 97 percent of the time and correctly delivers a negative result 98.5 percent of the time.
Costing just $5 a test, Jeff Shuren, director of the FDA Center for Devices and Radiological Health, tweeted that Abbott's device could potentially "democratize testing," making the whole process simpler for places that may not have "all the trappings of a medical office, including schools."
Quick, accurate and accessible testing is essential to slowing the spread of the virus. Here in Chicago you can get coronavirus test results back within two to six days. Meanwhile, there have been reports in Georgia that results can take as long as 10 days, rendering the test almost useless since the recommended quarantine time for people with COVID-19 is 14 days. These widely varying wait times make it nearly impossible to keep up with the rapid spread of the virus, especially as schools, college campuses and office buildings continue to re-open around the country.
Dr. Joseph Petrosino, a professor and chairman at Baylor College of Medicine, says Abbott's test can change that.
"The massive scale of this test and app will allow tens of millions of people to have access to rapid and reliable testing," Petrosino said in Abbott's press release. "With lab-based tests, you get excellent sensitivity but might have to wait days or longer to get the results. With a rapid antigen test, you get a result right away, getting infectious people off the streets and into quarantine so they don't spread the virus."
Abbott says it plans to ship tens of millions of tests next month, ramping up to 50 million a month at the beginning of October. To get this done, the company says it is looking to hire 2,000 temporary workers at its production facility in Gurnee. Many of the positions will not require technical experience and can be filled by people who can be trained on the job.
While Abbott has not specified just how long it would need these workers, a spokesperson told the Chicago Tribune that they'll be in place for the "foreseeable future."
Abbott is also launching its NAVICA app, which will allow people to display their BinaxNOW test results right on their phone via a QR code — similar to an airline boarding pass according to the company. This means users will have digital proof that they do not have COVID-19 when they enter public areas like schools or offices.
"BinaxNOW is the hardware that makes knowing your COVID-19 status possible, the NAVICA app is the digital network that allows people to share that information with those who need to know," Abbott CEO and President Robert B. Ford said in a statement. "We're taking our know-how from our digitally connected medical devices and applying it to our diagnostics at a time when people expect their health information to be digital and readily accessible."
While the app will not be used for contact tracing purposes, Abbott says it will collect the user's name, email address, phone number, ZIP code, date of birth and test results. All positive test results will be reported to the Centers for Disease Control and Prevention and other public-health authorities, regardless of whether the patient uses the app or not. Results are stored on the app temporarily and will expire after a time period specified by organizations that accept the app.