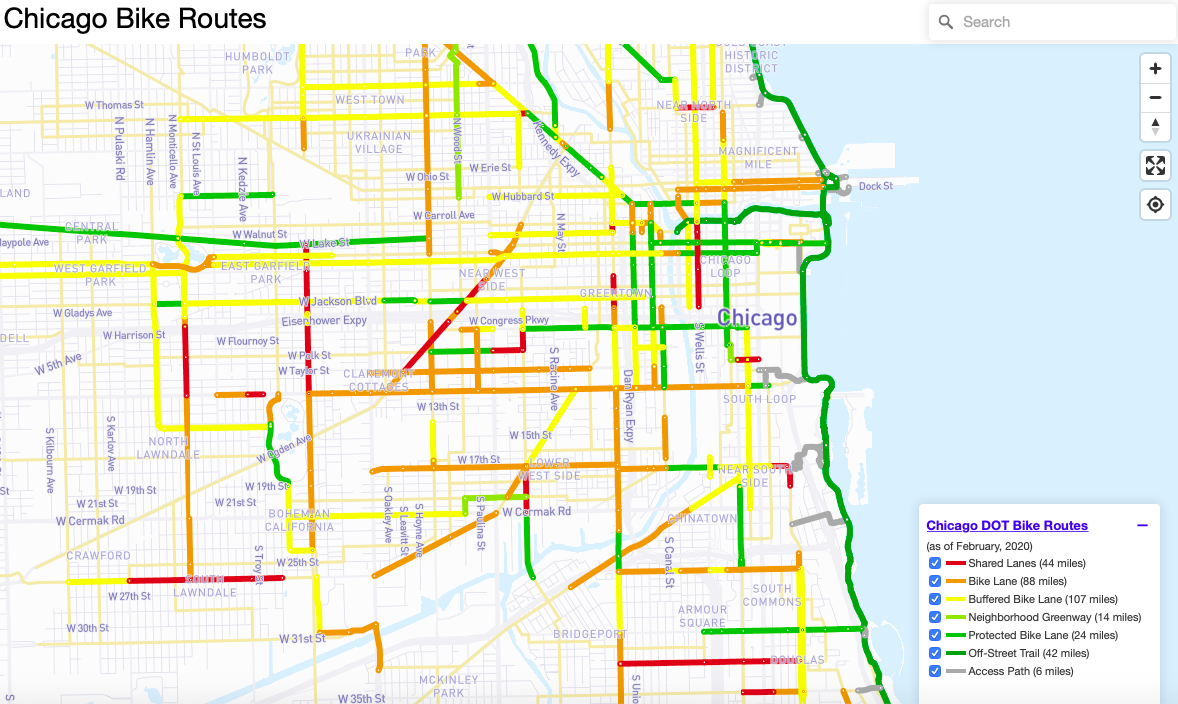 Developer Paul Esling said his passion for biking drove him to create the city's first safe cycling app.
On Wednesday, Esling launched Chicago Bike Routes, an app that highlights street bike lanes, neighborhood greenways, parks and otherwise cycle-friendly routes. As an increasing number of people eschew public transportation in favor of social distancing by bike, Esling said the free app helps bikers safely navigate crowded city streets.
"In Chicago just do not have nearly enough safe bike routes," Esling told Built In. "But with this with this app, at least you can choose the safest routes to a destination."
Chicago Bike Routes combines street bike lane data from the city's Department of Transportation, and routes highlighted in the Chicago Reader's and Streetsblog Chi's Mellow Bike Routes. Similar to Chicago's L system, different colors mark different routes — Chicago's 44 miles of shared, car-bike lanes are marked in red, 88 miles of individual bike lanes are orange, and 107 miles of buffered bike lanes are yellow. Esling said he spent just a few nights after work creating the app through Mapbox, an open-source mapping platform.
His own bike exploits inspired the project.
In February, Esling bought his first e-bike, a RadRunner. Back then, pandemic restrictions had not yet been put in place, and Esling planned on cycling from his Logan Square home to work downtown every day at the Center for Neighborhood Technology, a non-profit where he serves as a senior application developer. But, after just a few months of commuting by bike, Esling found himself relegated to cleaning databases and crunching numbers at home.
As he transitioned to biking for leisure rather than necessity, Esling looked for new, safe routes throughout the city. Through his work, he knew the city had released public data on its bike paths. When he saw Mellow Bike Routes published, he realized it made perfect sense to combine both sources into a single platform.
He said he plans to use the app a few times a week to find new, stress-free bike routes to explore around town, and he hopes others do too: "It's nice to get out, get a little fresh air, and go out to clear your mind." He knows that his map is not perfect, particularly since it is based on city data that has not been updated since earlier this year. He said anyone with suggestions on how to improve the project should get in touch with him via Twitter at @paulesling.
"This was mostly just a passion project for myself," Esling said. "This just seemed really useful to have as a map."