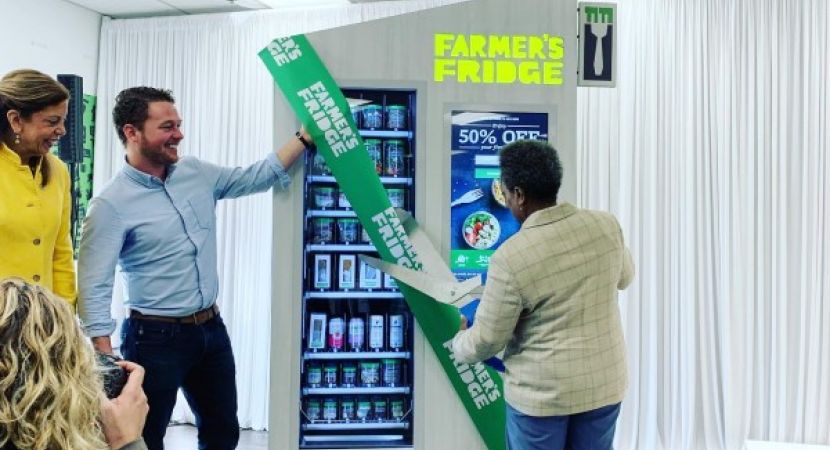 The first fully automated vending machine was invented in England in the 1880s and dispensed stamps. Since then, there's been a vending machine for a shockingly wide array of products: cigarettes, cupcakes, books, bananas, and even live crabs.
However, when most people picture a vending machine, one image commonly comes to mind: junk food. 
In 2014, the Center for Science in the Public Interest (CSPI) found that chips, candy and sweet baked goods constituted over 80 percent of vending machines' contents on United States public property. 
That statistic didn't sit right with Luke Saunders, now the CEO of Farmer's Fridge. Why should unhealthy food options go hand-in-hand with convenience? As a former salesman who often traveled more than 1,000 miles per week, Saunders was well-accustomed to the types of snacks generally found at gas stations and convenience stores. But Saunders believed it should be just as easy, fast and affordable to get a salad as it was a candy bar.
Turns out, it could be — he just had to make his own vending machines. 
Saunders founded Farmer's Fridge in 2013 and created a supply chain of automated vending machines or "fridges." With food from local vendors and farms, these distributed fridges provided consumers with healthy options (think granola parfaits, salad jars and grain bowls) that sold for around $8 per dish.
Finally, people had meal and snack options that were as convenient as traditional vending machines, but way healthier, he said.
The company raised $30 million in Series C funding in September 2018. From there, engineers moved the IoT technology to the cloud for better efficiency and built a mobile app so customers could reserve orders from their phones. In February 2020, Farmer's Fridge had their most profitable month to date and sales report projections were ticking skyward.
But by the end of March, most of their customers weren't leaving their homes, let alone using healthy vending machines.
Saunders said revenue dropped 85 percent at the start of the pandemic. Fridge deliveries and city expansions were halted. With remote work and shelter-in-place orders, Saunders and his team had to figure out how to bring healthy food into their customers' homes.
Luckily, having a nimble, dedicated team in place prepared them for a pivot.
Within a few weeks, Farmer's Fridge launched a home delivery and wholesale program — ventures not on the business plan before COVID-19. Saunders credits the entrepreneurial spirit of his team and their dedication the company mission as the reason for their accomplishments. Ultimately, these new channels helped make up for lost fridge revenue and allowed customers to choose healthy options without cooking or spending major dollars on takeout.   
Not all Farmer's Fridge customers could work from home, though.
When COVID-19 hit the U.S., the company immediately deployed 80 fridges to health care facilities, gave discounts to frontline medical workers and donated more than $500,000 to community partners.
Below, Saunders explained how the company's start-up mentality and charitable mission statement ensures that even in challenging times, everyone should be able to eat well. 
Farmer's Fridge is on a mission to make it simple to eat well. Before you launched the company, can you tell us why you felt this challenge needed to be addressed? 
Think about the food options you could conveniently purchase from where you are right now. I'd be willing to bet that it'd be easier for you to find a bag of chips or a candy bar than a fresh, healthy meal. And if you could find a healthy meal, it would be much more expensive than any alternative. What we eat has a direct impact on our health and I wanted to create a business that would make it simple for everyone to eat well, not just those who had the means to easily do so. We've created our own supply chain that allows us to produce fresh, healthy meals at scale and distribute them through our network, which includes fridges, home delivery and wholesale. 
February 2020 was one of the best month's in your company's history, you said. How did that feel to have your plans completely change with the pandemic? Were there any plans you were able to keep on track? 
Although we saw our revenue drop almost 85 percent at the start of the pandemic, we were able to move quickly to launch new lines of business and make up for lost revenue over the subsequent months. 
We still have big plans. Our business has doubled in size every year since our launch in 2013, and we're on track to be at 100% growth year-over-year in 2021, despite the setbacks we've faced. 
I wanted to create a business that would make it simple for everyone to eat well."
When COVID-19 hit and many customers started sheltering-in-place, how did it impact your business and what did you do? 
At the beginning of the crisis, our initial response was to identify opportunities to support our communities in any way that we could. We quickly implemented a discount for frontline medical workers and added 80 new distribution points across health care facilities. Our team worked diligently to keep key fridges stocked and open in places like airports, 911 call centers and other essential workplaces. Additionally, we've donated more than $500,000 in meals to community partners with the support of a few generous sponsors. Since March, we've supported 97 organizations and counting. 
In those first weeks of March, as we watched our revenue plummet, the whole team swiftly worked together to pivot the business. As entrepreneurs, working around the clock to save the company was in our blood. Those long days and weeks in March, April, May and June came naturally to my team members who had self-selected to work at a startup. We launched a brand new home delivery service in just a few weeks, using existing infrastructure. We also expanded our wholesale program. 
Now that you've pivoted, what does the future look like? 
The addition of new channels — home delivery and wholesale — helped us supplement lost revenue from closed fridges. While we are still opening and stocking fridge locations, we've diversified our business to include multiple channels so we no longer need to rely on one stream of revenue. We want to make it simple for everyone to eat well, whether through a fridge, home delivery or visit to one of our retail partners. 
Earlier this year, we wrote an Insider Spotlight in which your team discussed Farmer Fridge's technical upgrades: the migration to the cloud and the launch of the mobile app. How did those upgrades compare to your product pivot in February? 
We've spent the past year building a tech organization that supports agility and have hit some pretty big milestones over the past six months. We launched a new consumer app, which allows our customers to view fridge inventory remotely, reserve items and pay with their phone. We also migrated our IoT infrastructure to the cloud, which allows for much more flexibility to make system-wide adjustments and also supports more complicated machine learning to accurately track products, leading to less waste.  
Spending the time and resources in the latter half of 2019 and first half of 2020 to invest in our core technology architecture meant that when new challenges were introduced during the pandemic, we were well-equipped to pivot and focus on new priorities. 
What are the plans for catering and home delivery as people start returning to the office or states start opening up?
While nothing is set in stone, we'll likely continue to offer our home delivery program, even as customers return to the office.
In terms of our catering program, we look forward to exploring partnerships with organizations looking to bring healthy options to their employees or workforces. Some of our clients, such as universities, hospital systems and private offices, have replaced their salad bar with Farmer's Fridge options or provide Farmer's Fridge as a perk or amenity for employees. 
Outside of customers, how does your company mission affect the farmers, vendors and local communities you donate food to?
We're committed to providing the best possible food choices at accessible prices. That means we work with partners we trust and are actively looking to source from local, organic suppliers whenever possible. We also donate unsold food to community partners through partnerships with organizations like The Greater Chicago Food Depository. 
Fresh food is more than a nice-to-have. We believe that eating food that nourishes your body is a human right, especially during the pandemic, when we know there is a direct correlation between what you eat and health outcomes. We're committed to making sure as many people as possible have access to nutritious choices. 
The team is truly our greatest asset and I'm constantly awed by their dedication."
Describe the company culture of Farmer's Fridge. How is the mission reflected in company culture?
Supportive and passionate. Our team is truly passionate about democratizing access to fresh food and it shows up in the hustle they bring to work every day. The team is truly our greatest asset and I'm constantly awed by their dedication.
We're also a social company committed to creating opportunities in the virtual world for the team to get together. We launched a service through Slack called #virtual-donut where employees pair up with a colleague each week for non-work related casual conversation. We are experimenting with socially-distant small group meet-ups including a kickball game, with masks and lots of sanitizer. We also are letting people work from the office on an as-needed basis. We host virtual social hours and use Slack channels to share new hobbies we've picked up. As a food company, we have some incredible chefs among us.
What are Farmer's Fridge's plans for the next year? 
As we continue to diversify our revenue channels, we'll need to keep building out infrastructure to support these new channels. For our delivery channel in particular, we're building out a sophisticated marketing tech stack that allows for hyper-local segmentation and customer communications to drive purchase behavior. We'll continue to grow that team along with our tech team in the coming year. We're also looking into adding features to our mobile app, such as touchless fridge pick-up and integrating the delivery program.  
Luke, what's your favorite meal from the Farmer's Fridge menu?
Recently, I've been enjoying some of our new heatable meals like French-braised chicken and buffalo mac and cheese that are available through our delivery site. The enchilada roja plate is my favorite, though!