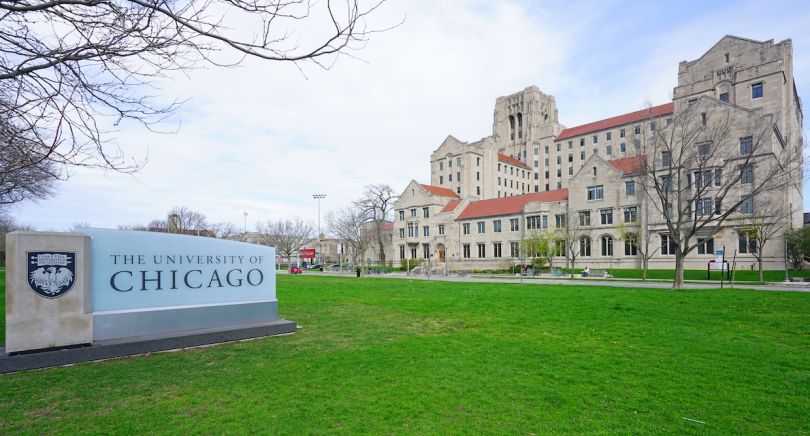 On Tuesday, the University of Chicago announced the launch of Compass, a new accelerator program for startups focused on deep tech research related to biotech and therapeutic technologies.
The program is a product of UChicago's Polsky Center for Entrepreneurship and Innovation, and is meant for early stage startups coming out of the university, as well as Argonne National Laboratory and Fermi National Accelerator Laboratory — all prominent Chicago-area research centers. In fact, scientists at Argonne recently made headlines for figuring out how to develop an N95 mask that can be cleaned and reused; and a low-cost ventilator designed by Fermilab scientists was approved by the U.S. Food and Drug Administration over the spring, both major wins in the fight against the COVID-19 pandemic.
Over the course of six months, Compass participants get access to mentorship and training, as well as resources to find additional talent and funding for their ventures. Participants are also led by a business development fellow from UChicago's Booth School of Business, its Ph.D. programs and elsewhere in the university, who works closely with the scientific team to create a business vision for the company.
In the end, the goal is to launch "investor-ready" companies, said Dr. Shyama Majumdar, the senior manager of science ventures at Polsky, in a statement.
Compass' first cohort just concluded and was made up of three companies. Among them was ReAx Biotechnologies, which received $150,000 from Polksy's George Shultz Innovation Fund a couple of weeks ago.
The second cohort started earlier this month and is made up of four companies including Phylaxis, which is developing a vaccine to prevent peanut allergies in children, and AddGraft Therapeutics, which is working on a CRISPR-based technology using skin cells to treat cocaine addiction.
The other companies are Heiothera, which is developing a technology to treat autoimmune disorders like multiple sclerosis, and ElectroCorr, which is evaluating the corrosion of materials like medical implants.
"The teams participating will gain access to expertise and training, which are critical to launching a successful deep tech venture," Melissa Byrn, the director of Polsky's innovation programs, said in a statement. "Deep tech, high-potential projects require a unique set of resources and support, and we are thrilled to be able to provide this through Compass."