Ironically, if you ask people at PerkSpot what the best part of their job is, it's not the perks — although they are pretty good. 
Instead, many will say that it's a mixture of their teammates and the ability to grow professionally in a supportive environment. Until last year, when the company took in a $50 million funding round, PerkSpot had been bootstrapped. Since then, the company has entered a phase of super-charged growth. We caught up with three PerkSpot team members who have been around for a while to see what life on the team is like these days.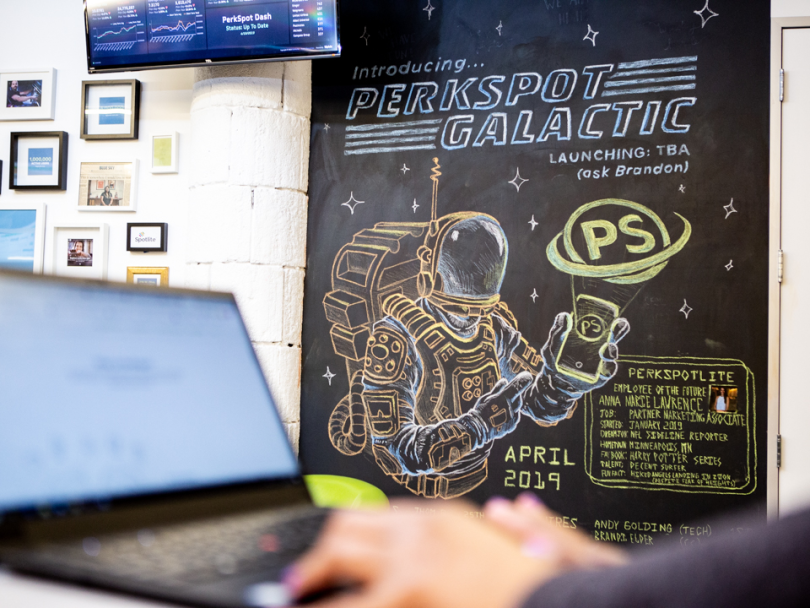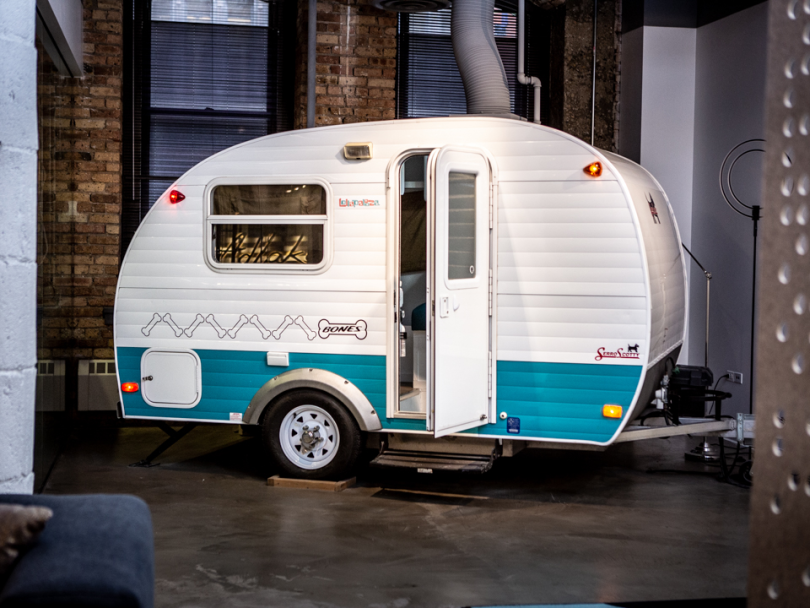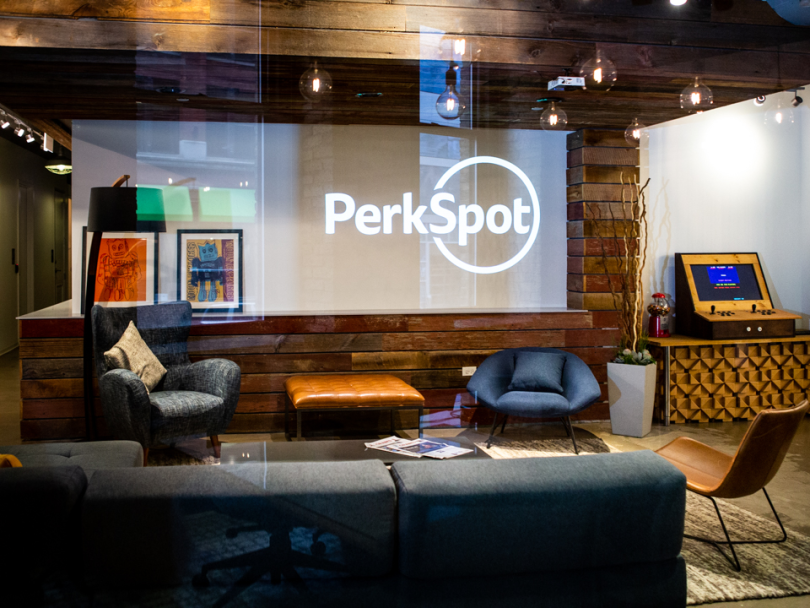 EMPLOYEES: 50
FOUNDED: 2006
WHAT THEY DO: With 800 clients like Walgreens and McDonald's, PerkSpot helps over 10 million employees save money by offering exclusive discounts on top brands such as Samsung, Target and AMC Theaters. 
WHERE THEY DO IT: River North
PERKS: Lots and lots of perks — after all, the company's name is PerkSpot. They also have a private gym in their brand new offices.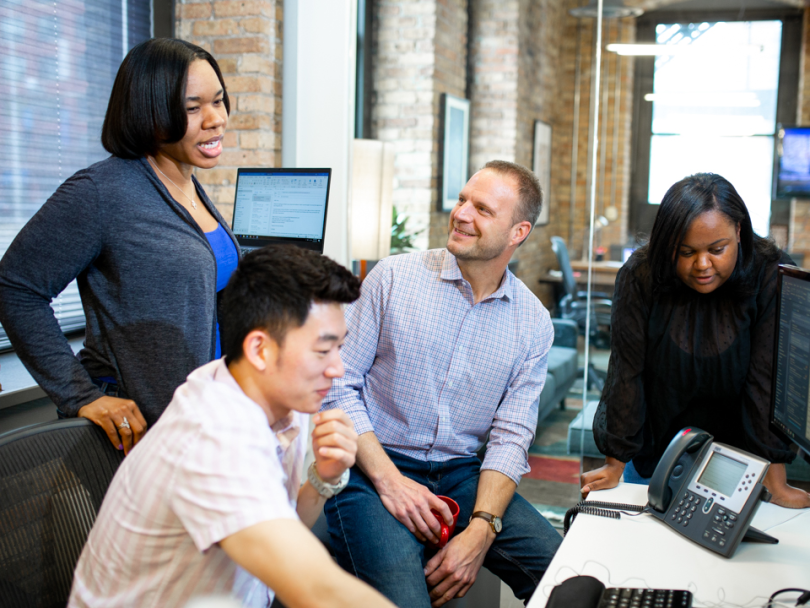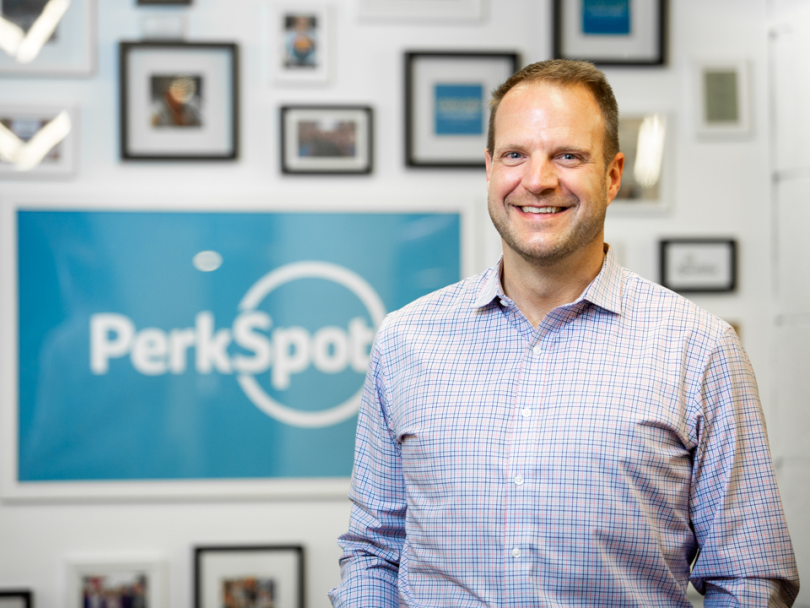 Jace Mouse, CEO
Jace is responsible for the overall strategic direction and growth of PerkSpot. He also makes coffee and empties the recycling bins. 
LESSONS FROM THE RANCH: Jace grew up on a cattle ranch in Oklahoma and brings many of the lessons he learned there to his work at PerkSpot. While he usually reserves his Oklahoma-isms for after-work beers with the team, he's been known to say a few around the office. 
PerkSpot had been successfully bootstrapped until a recent $50 million round — how has the influx of cash changed things?
We're doing more and we're moving faster. The investment has allowed us to move quickly, take more risks and focus on longer-term initiatives. It was important for us to have this investment mean something really positive for our team members — who are all owners — and especially for our users. This means that we've been upgrading in areas that were needed, like a new office, but we're staying true to our roots and keeping the culture that we built with the team from the beginning. We know this gets harder as we grow, so we constantly reassess where we are at with the perks we offer, professional development opportunities and the overall happiness of our team. 
We've hired great people, then gave them the opportunity to make an outsized impact with their career."
Even as a bootstrapped, relatively small company, your team has acquired an impressive client list — is there a secret behind the success?
We've hired great people, then gave them the opportunity to make an outsized impact with their career. Think about it this way: We're 50 people using technology to reach 10 million people for many of the world's top brands. 
We're a true partner to our clients, helping them deliver a program that meets the diverse interests of their teams, and most of our clients tell us the program is more popular than their healthcare plan. Many of our clients were already offering a discount program themselves — 10 or 20 vendors, listed somewhere on an intranet. But we made it easy for them to offer a bigger and better program with thousands of discounts. That's the opportunity to truly align with a person's dreams and passions, which is what makes PerkSpot so popular.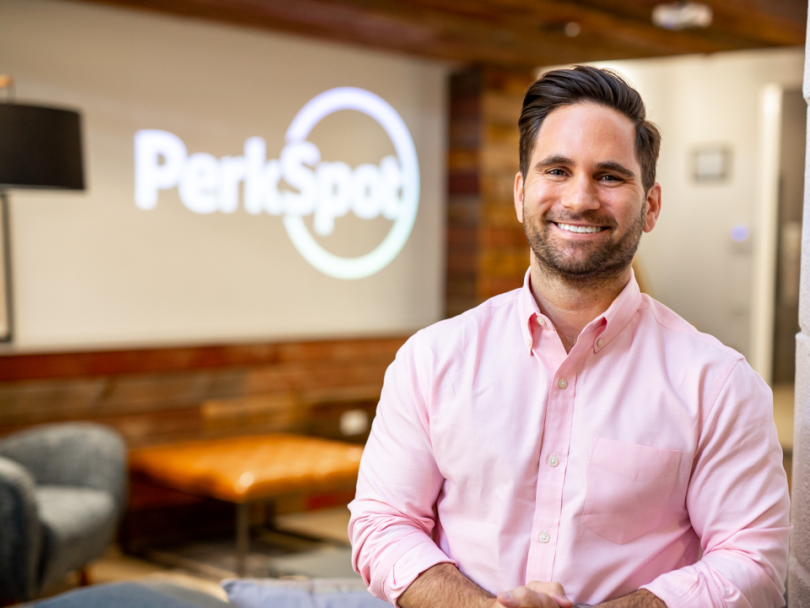 Justin Cardillo, VP of Sales 
Justin leads the sales team, and it's his job to make sure his team has all the resources they need to find new clients. Once PerkSpot's clients are onboarded, Justin provides them with top-notch service.
BEYOND WORK: These days, Justin's main hobby is being a dad. He currently has two kids in diapers and, when he's not busy learning from the humbling experience of diaper-duty, he likes to stay as active as possible. 
You've been with the company for a while. Has the sales process changed at all over that time?
We are always looking for ways to improve our process. We work hard to bring in smart people who are quick to challenge the status quo and offer up new ideas. It's a really great feeling to look back at the changes we've made over the years and the things we've accomplished because of those changes. It is hard to say the job has gotten easier, but we are definitely fortunate to now have brand recognition. 
However, we continue to be faced with new challenges. As the industry becomes more popular, we see imitators and competitors that make big promises they might not be able to deliver on. We care a lot about making sure that what we sell is what the client will actually experience, and that plays a big factor in our 99 percent client retention rate. 
We work hard to bring in smart people who are quick to challenge the status quo and offer up new ideas." 
Your team is growing quickly. Are you looking for new people to help with existing clients or with acquiring new clients?
We are looking for both. We have several open sales roles that focus on bringing in new business. As more business is brought in, we will need to support these clients and new roles will be created on our client success team. Both teams have amazing leaders that help employees take their career to the next level, and I'm really excited about where our current team is at, as well as our growth plans. 
What kinds of clients are your team working with on a daily basis?  
We are fortunate to have around 800 of the best clients in the world, including Walgreens, Southwest Airlines and McDonald's. Our team is focused on bringing on more of those enterprise accounts, which is an amazing opportunity and a great resume builder for them. As we grow the team and add new channels and products to sell, we are still focused around the same objective we have always had: solving business problems for HR leaders.
Brandon Whiteman, VP of Technology
Brandon oversees all of PerkSpot's technology activities — application development, physical and virtual infrastructure, security and compliance and in-house IT. 
BEYOND WORK: When he's not in the office, Brandon likes to stay active and is an especially keen runner.
You joined the team right as the company was really taking off. Has your career grown and developed along with the company? 
Absolutely — I went from building our product to building our team. Initially, it was difficult to step back from actively developing software, but the quickly growing team presented unique management needs. I've focused a lot on personal development and management training to ensure that my skill set develops as the shape of the team changes monthly.
We are continuing to expand the team and looking for several key positions. We are hiring at various levels of software engineering and for several specialized positions. We're moving quickly, so we're looking for team members that are excited to be a part of a growing team, can quickly start making an impact, and want to help define how we develop. 
We're moving quickly, so we're looking for team members that are excited to be a part of a growing team, can quickly start making an impact, and want to help define how we develop.
The technology your team builds reaches over 10 million people a year and counting. How does it feel to have something you helped build be used by so many people?
Knowing that over 10 million people count on our products to find ways to save money is exciting and helps to frame many of the technology decisions we make. While it's exciting to see users grow, encouraging engagement and providing a high-performing product is our main goal. The fact that we have so many users on our platform makes that goal that much more impactful. 
As we doubled from 2.5 million to 5 million, then 10 million and beyond, we've learned a lot about how to scale our product and technology. We apply these lessons of a minimum viable product, iteration and scale to our everyday product development practices.