For Evive, the push to build an L&D program started with a survey. The whole company took it and in the responses one thing was clear: Employees wanted to grow. They wanted a scaffolded system that would help them learn and develop as professionals. Less than a year later the company launched Evolve, an in-house L&D program complete with product seminars, ramped onboarding, ongoing training programs and tuition reimbursements. It's become a point of pride for the Chicago-based healthtech startup. 
We spoke to three Evive employees about how their careers have grown and changed in their time with the company. Here's what they told us.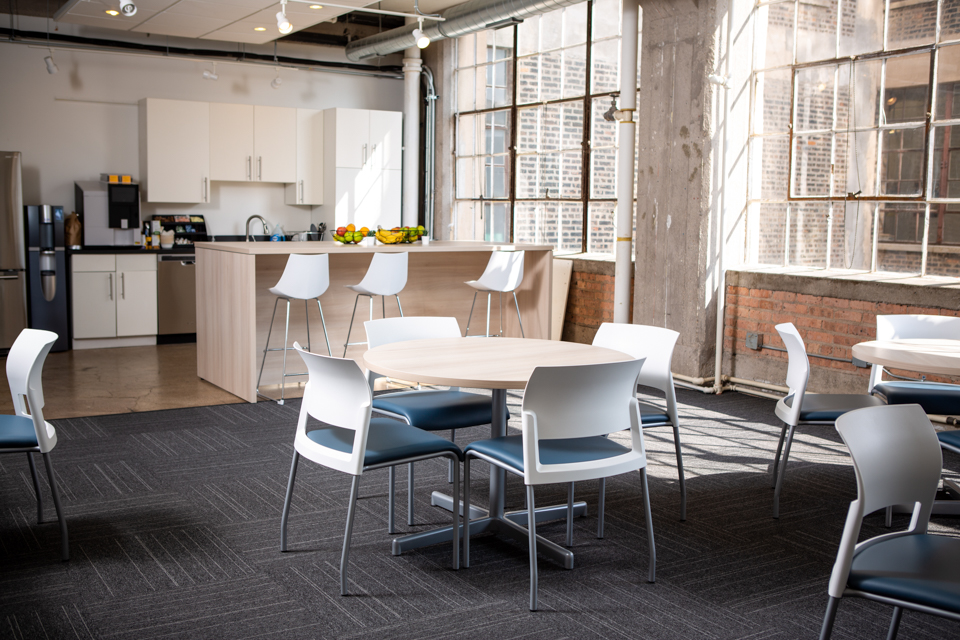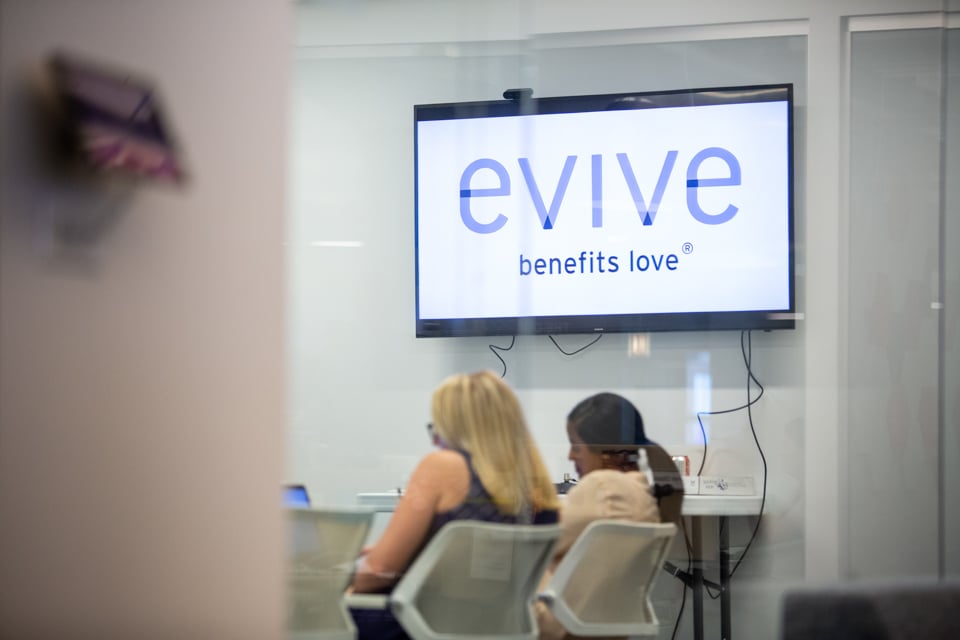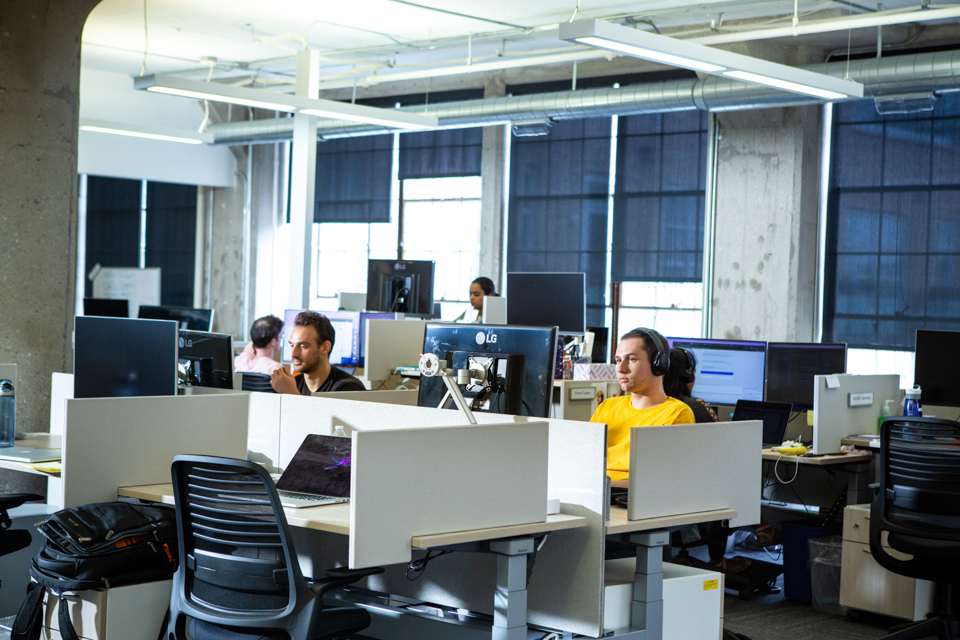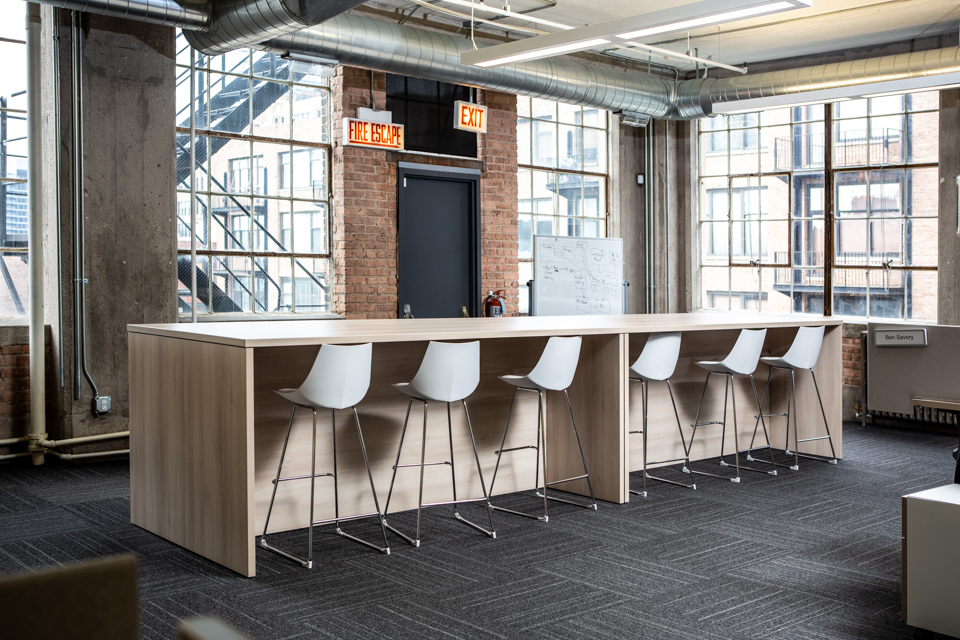 FOUNDED: 2007
EMPLOYEES: 342 globally; 131 in Chicago 
WHAT THEY DO: Evive creates personalized, data-driven messaging that helps individuals make better decisions about their health, wealth and work-life balance. 
WHERE THEY DO IT: Chicago
EVOLVE @ EVIVE: The company puts a premium on learning and career growth with their in-house L&D program "Evolve", as well as tuition reimbursements for ongoing learning.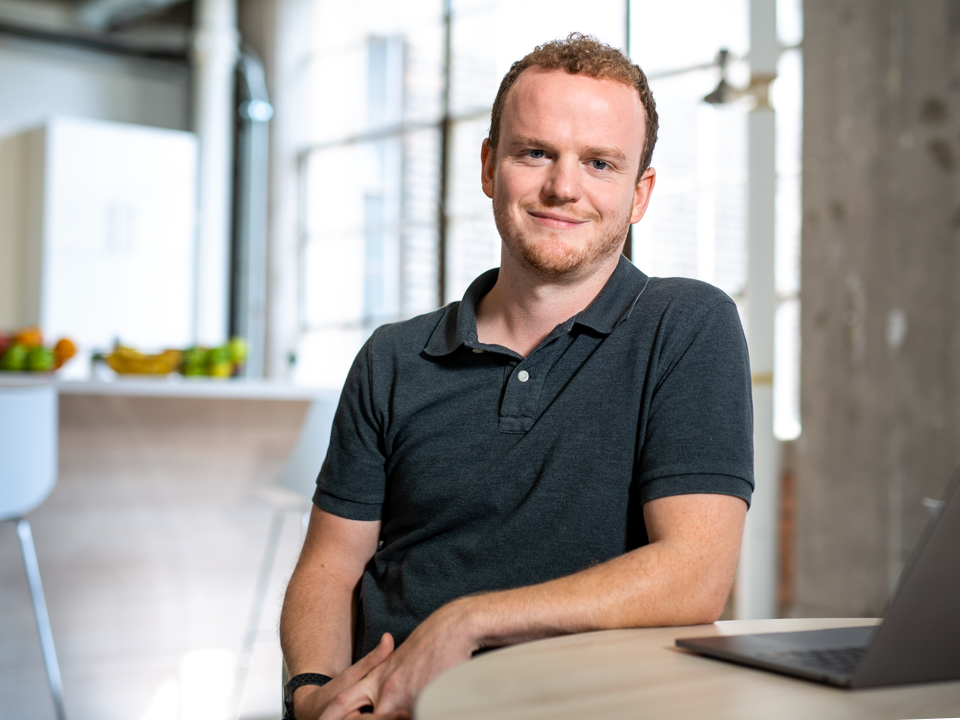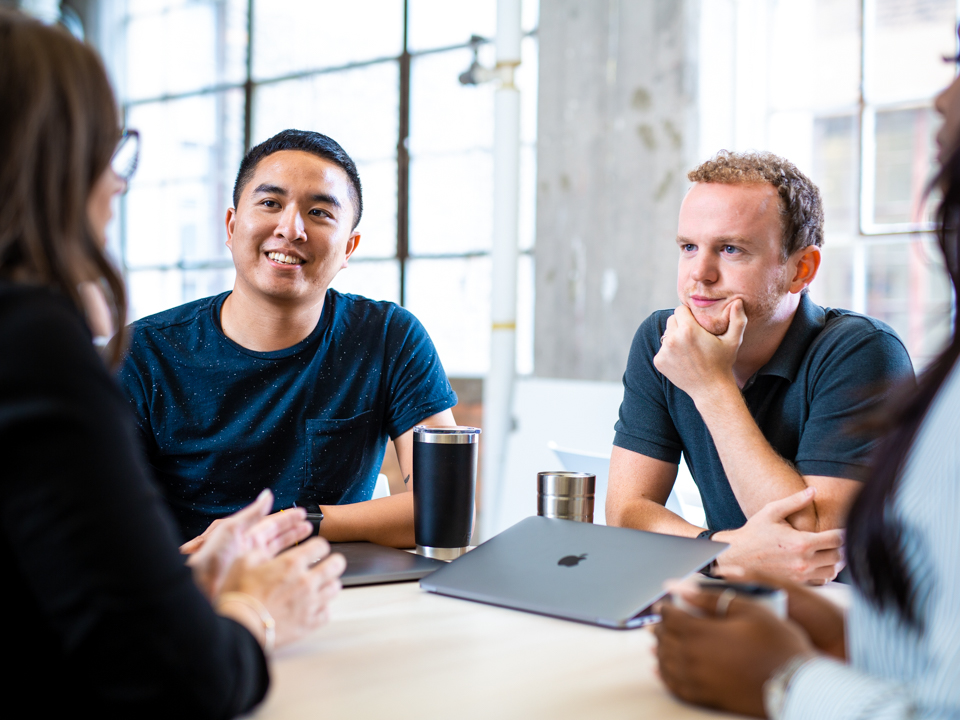 Jeavon Hunter, Product Manager 
Jeavon is a product manager at Evive, where he owns the strategy and roadmap for the company's well-being program, Evive Well. 
BEYOND WORK: Jeavon enjoys collecting records and playing the guitar. He's also an amateur barista and the founder of Evive's "Green Initiative" which includes biking to work, reducing waste and composting. All that plus he's busy raising a newborn baby boy. 
Tell us about your journey with Evive. How have you grown into your current role? 
I joined Evive in February 2014, a few months after emigrating to the U.S. from my home in Yorkshire, England. When I joined there were maybe 20 employees. My first role was working on the operations team, performing quality assurance on our postal preventive and chronic care reminders.
As Evive went digital, I became more interested in the nitty-gritty of what drove our products. I was lucky enough to transition into the role of business analyst, where I received direct mentorship and encouragement from the company's technology leaders. As the company grew, I hired and trained a team of business analysts to work with me, and after a couple of years — and happily witnessing each member of my team thrive and carve out their own path at Evive — I was given the opportunity to move into my current role as a product manager.
You're part of Evive's monthly manager meetings. What are these and how did you first become involved? How do they encourage the kind of culture you strive for at Evive? 
When I was managing the analyst team, the monthly manager meetings were a great way to learn how to develop as a manager and a leader. The mid-level managers would talk candidly about situations in their teams and hear each other's ideas about how to handle them. Our HR leadership organized different topics each month, including management theory as well as practical techniques.
At Evive, the leadership team's doors are pretty much always (and literally) open."
What most excites you about your work and your team right now? Why is now in particular an exciting time to be at Evive? 
Now is a really exciting time to be at Evive! We've been aggressively hiring experienced people who can steer the company in the right direction as we move into new areas. The technology group has moved to global teams, where people of various roles and responsibilities are aligned and dedicated to their specific product. This has increased a sense of ownership and accountability across the company. It's exciting to experiment with the concept of global teams and to have the chance to learn and practice agile methodologies with teammates on the other side of the planet.
What type of access does your team have to senior leadership in your company?
At Evive, the leadership team's doors are pretty much always (and literally) open. On a daily basis, I chat with the CEO, CTO, CFO and the rest of the executive team. I'm grateful that my development is the direct result of the one-on-one conversations and whiteboarding sessions I've had with the leadership team over the years. This relationship is possible because we collectively understand that we're working toward the same goals. Our co-founders, Peter and Prashant, built Evive from scratch and that sense of entrepreneurialism and gusto trickles down through the whole company.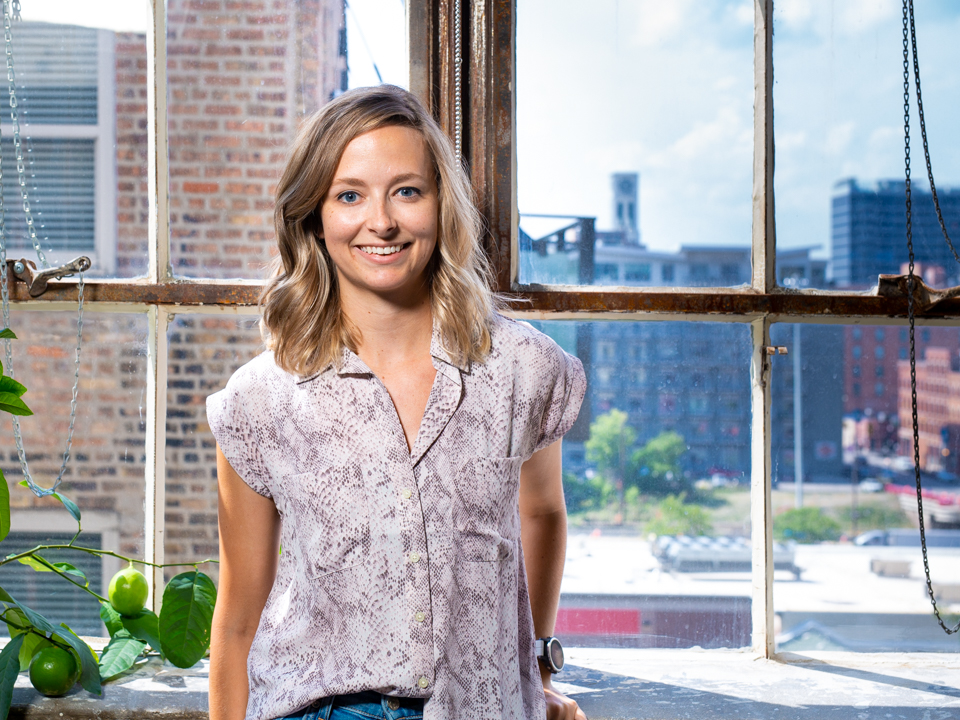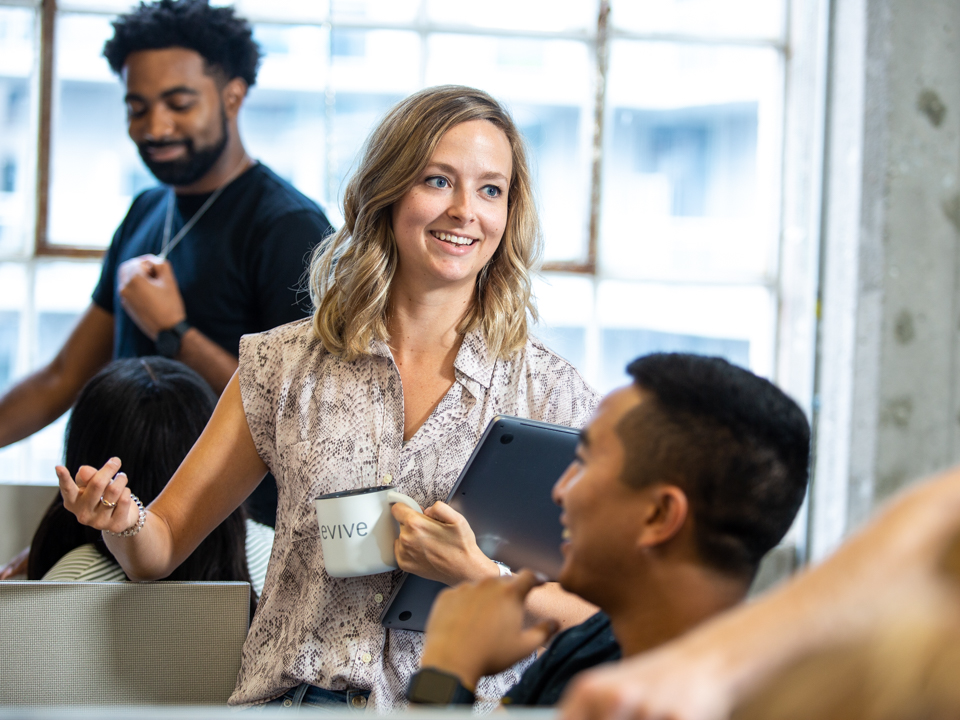 Hope Roeser, Technical Account Analyst, Implementation 
Hope is a technical account analyst at Evive, where she helps clients understand their benefits ecosystem, translating their goals into requirements for Evive's development team and vendors. 
BEYOND WORK:  Hope is a triathlete and completed her first Half Ironman this year. She credits training for triathlons with giving her discipline and perseverance in her work life, as well as the belief that anything is possible with hard work. 
Is the role you're in the one you had when you entered the company?
I actually started at Evive as a content analyst, where I was more focused on configuring content for our member web portal and communications. After about two years in that role, I started collaborating more frequently with our technical team on various projects, and through that developed an interest in moving into the technical account analyst role. My manager was incredibly supportive, and the transition happened pretty quickly. 
Evive has some truly amazing people — I've made some really great friends working here."
Talk about a time when you felt supported by the company. Talk about a time when you needed more and asked for it.
I'm someone who thrives on feeling challenged, and I love digging in and trying to solve difficult problems. Not long before I moved into my current role, I expressed to my manager that I wasn't feeling challenged by many of my tasks and that I'd like to take on more difficult projects. She listened and made sure I could spend the majority of my time on the more analytical projects that I enjoyed doing. Ultimately, her giving me those tasks is what led me into my new role, and I'm so thankful that she helped me to grow and develop my strengths.
What is one thing about your job that keeps you excited to come to work?
I think there are two big things, actually. The first is definitely the people. For me personally, having a good relationship with my co-workers is crucial because I'm with them eight hours a day! Evive has some truly amazing people — I've made some really great friends working here. The second thing is that every day is a little bit different. I love to feel challenged and to learn new things, and with all the innovation and growth happening at Evive, there is always an opportunity for that.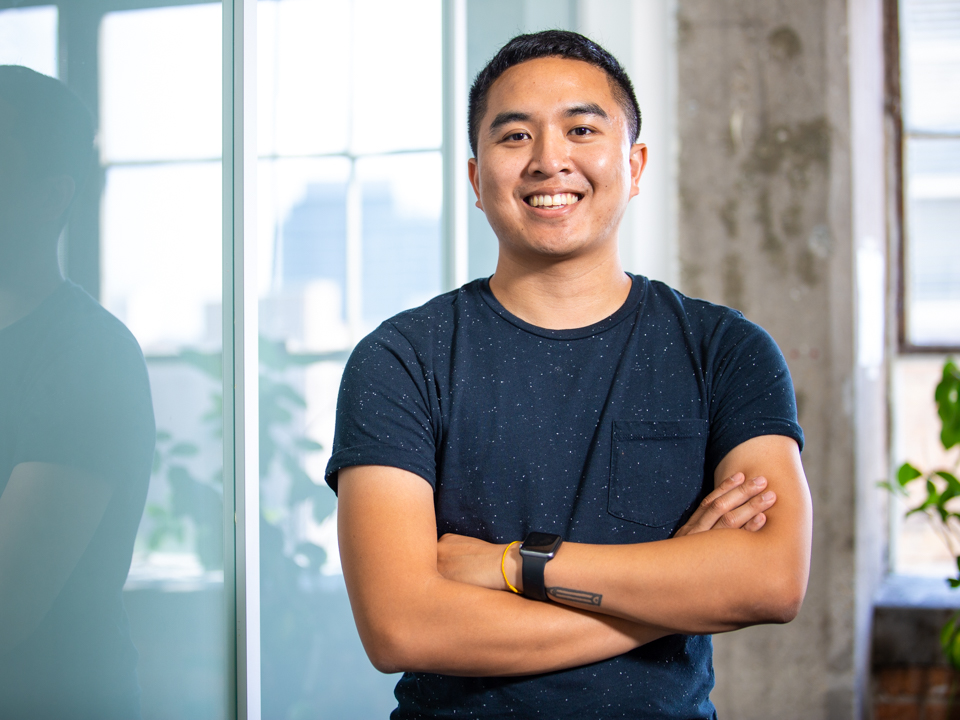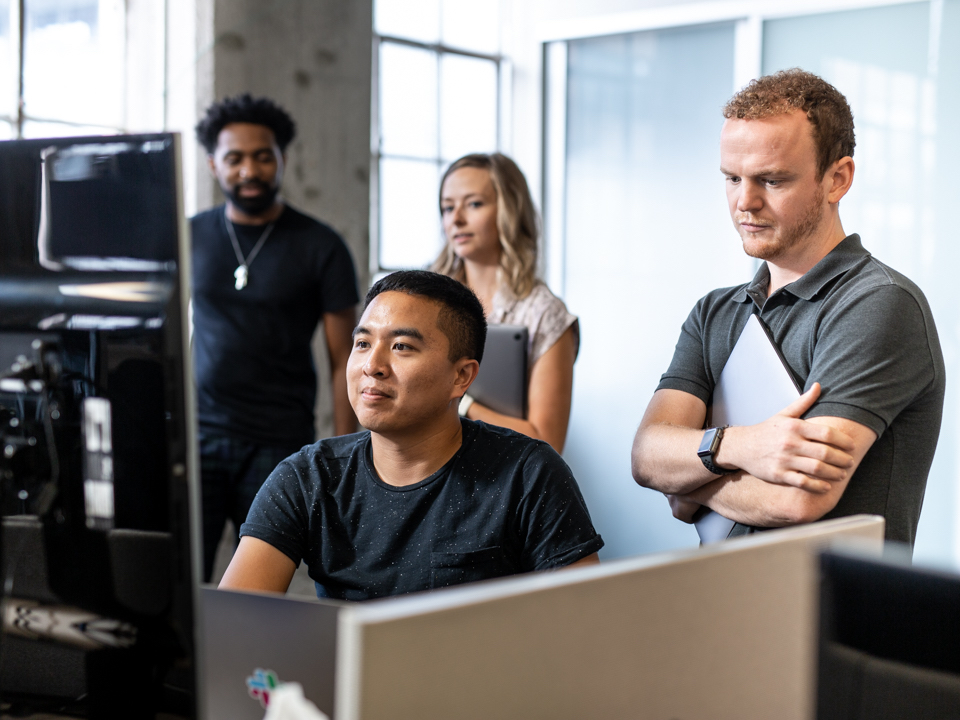 Jeff Guerrero, UX Designer  
Jeff is a UX designer at Evive. His responsibilities range from user research and strategy to user testing, prototyping and designing actual products. 
BEYOND WORK: Jeff runs a cider company called Overgrown Orchard with friends. He handles the branding and design for the company and helps in everything from making the cider to selling it.
What influenced your decision to join the team at Evive? How has your role changed since your early days at the company?
I wasn't really in the market for a new job when I stumbled upon Evive in 2016. I'm a designer with a background in science and clinical research, and Evive felt like a nice blend of both worlds. I started off as a senior creative designer on the client side but transitioned onto the product side to focus more on the development and creation of our products. It's been awesome to be able to shift and develop my path when another area of the business piqued my interest.  
What does an average day look like for you?
My typical workday starts at around 8:30 a.m., sometimes earlier if I need to hop on a call with our colleagues in India. In general, the work week gets split depending on what point we're at in the development process. In planning phases, I'm doing a lot of research, bouncing ideas off of other designers, and working on strategy. In execution phases, it's a lot of heads-down building and prototyping, user testing, and coordinating with team members and leaders to make sure I'm aligned with the all of the sprints and releases that are happening. 
I enjoy being able to work on a project where you can get both new and old perspectives from folks in other departments."
What opportunities are there to cross-collaborate with other teams? 
I'm constantly syncing up with everyone from analysts to copywriters to developers, both domestically and with our colleagues in India. Everyone has independent projects, but it's foolish not to take advantage of the resources and knowledge coworkers at this company can provide.
I enjoy being able to work on a project where you can get both new and old perspectives from folks in other departments. We're all working toward the same goals, and to get everyone in sync from the start really helps the product development process. It's also saved us time from focusing on products we were able to collectively rule as unnecessary.