Have we reached the point where cutting-edge tech isn't new enough? 
Those who adopt new technology as soon as it's available — given the tech moniker, "bleeding-edge tech" — are seen as demonstrating efficiency, vision and skill. 
Fred Bliss, co-founder and CTO of Aptitive, understands the allure. After all, it's fun to play with new tools and explore the latest tech out there. But just because something is new doesn't mean it's necessarily better, he said. Bragging rights aside, what can bleeding-edge tech actually offer a company?  
When Aptitive, a Chicago-based end-to-end consulting firm, sets out to design new strategies and data solutions for its customers, Bliss said that his team is not going to implement trendy, untested tools for client projects. Rather, they need to make sure they're setting their customers up with technology that can be easily adopted by their staff and last for years. 
That isn't to say that Aptitive's tech team doesn't get to play with new tech, Bliss said. 
"Over the last three years, it seemed like there were new data technologies coming out every single week," Bliss said. "It's our job to understand and prototype these things and make sure that we have an understanding of what has long legs and will get adopted, versus things that we think are risky and might not go anywhere."
To learn more about why this philosophy is so important at Aptitive, Built In Chicago spoke to Bliss about why he encourages his team to favor simple, maintainable tech — but when it comes to finding the best tool for the job, nothing's off the table.
Explain a bit more about your tech philosophy. Why not turn to the newest tech out there? 
We're a tech-agnostic firm, so we make recommendations that fit best with our customers' existing ecosystem. They want something that's going to be easy to maintain and easy for them to take over.
When I look for new technology, whether it's a way to bring in data, a new SaaS application or a business intelligence tool, I want to make sure that it's doing something more compelling than what already exists and that it's going to be widely adopted. We don't want our customers to be guinea pigs with technology that only teams at tech firms like Google are using. 
As consultants, why is this approach important?
We want to understand the business problem, present a solution and then work with our customers to select the tools and technology, as opposed to coming in, presenting a technology and then trying to make it fit. 
Our customers' chief information officers don't want to be the first ones to adopt something new. So if we are going to recommend something that they're not used to, there's got to be a good reason — it has to be significantly better or less costly. We're looking to make things future-proofed while allowing the customer to build on what we've made long after we leave.
Untangling the mess
According to Bliss, one of Aptitive's biggest challenges is handling all the new SaaS applications its customers use. While those applications have great features, it means the customer's data often isn't well-organized. "Our goal is to centralize data and to make sense of it," Bliss said. "That way, our customers can do more advanced analytics, such as machine learning and data integration into other systems. In short, our goal is to untangle the mess."
How do you know when new tech is good enough to be adopted?
We watch the coasts and see what's making buzz and what has legs to make it to the Midwest. We do a lot of researching and watching the market, then a lot of internal prototyping to make sure that a certain technology is going to do something better than what we currently have.
We want cutting-edge — not bleeding-edge — technology. Snowflake is a great example of a data warehouse platform that we partnered with very early on. When we first started implementing it, there weren't many Chicago companies using it. But as we started to see more adoption across the coasts and its following started to build, that's when we really started recommending and implementing it. Now, it has taken over the market to a certain degree.
How do Aptitive employees stay current on emerging tech?
We have Friday sessions called "The More You Know," which allow people to present topics of their choice. For example, if someone is looking at Kubernetes, they would explain why it might make sense to use for a certain project. It helps the entire company stay up to date and informed on what's happening in the market and gives everyone a chance to dabble with whatever they're passionate about.
I love playing with new tech — it's my favorite thing to do. If anyone on my team finds something new, we talk about why it would fit, what it would do differently and what some of the risks would be. It's not a top-down approach to finding new tech.
An Edge on Career Growth
Employee reviews happen every six months at Aptitive, which Bliss said provides employees with a clear snapshot of the work they've been producing and how to continue excelling in their field. "If someone grew significantly during a certain period, we want to recognize and reward them for their contributions," Bliss said. "We want to keep giving employees useful feedback so that they can continue to grow as consultants — whether that's at Aptitive or elsewhere."
Because Aptitive is tech-agnostic, how do you look for candidates? How do you get new hires up to speed on all the technologies the team uses?
We're really just looking for smart people that can solve data and business problems. If you've got the right technical background, you know cloud technology, SQL and Python, and you understand how data models and data warehouses work, we're interested in talking. It's really a lot of on-the-job experience, especially with the variety of technology platforms on the market. 
Let's say we hire someone who's developed in nothing but Tableau for the last five years. We'll see that the person clearly understands how to make dashboards look good, how to model correctly and how to deliver great experiences. If we put them on a project working in Power BI, there will always be some learning curves, but the fundamentals will already be in place. 
If there's any kind of training needed, we'll do a mini-version of a project internally to get them familiar with the new tool. We're never going to throw someone on their own to learn and implement new technology. We'll pair them up with someone that's got the experience and can help them bridge the gap throughout the entire project experience.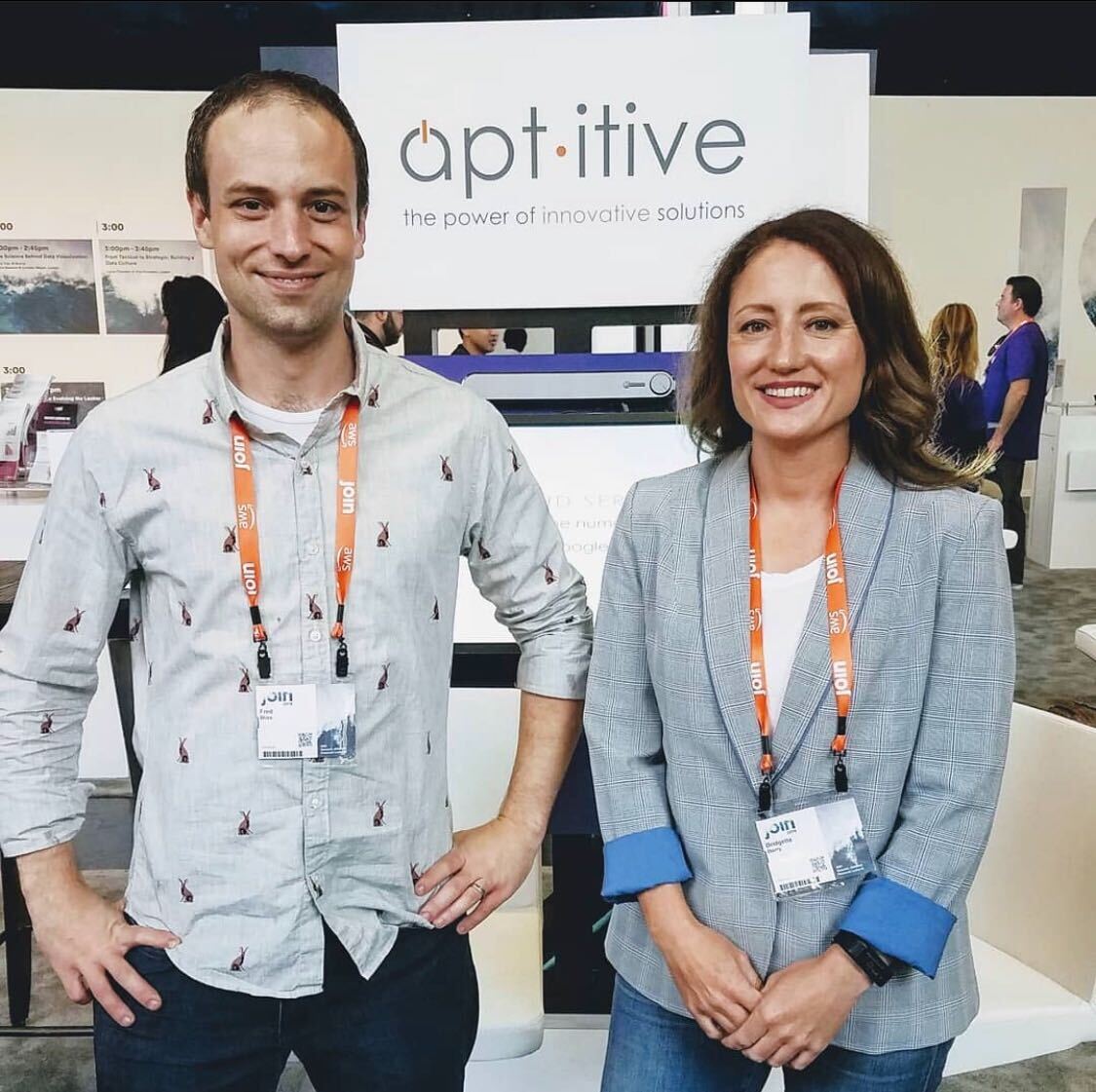 What does career growth look like at Aptitive? How does the wide-range of technological skills play into it?
Our consultants get end-to-end experience on projects, and as their career progresses, they tend to specialize in a certain area and become known for working with certain tools and technologies. Their expertise tends to be associated with what they're passionate about and where they inevitably want to go — whether it's data engineering, custom development or on the analytics side.
We're a small team of about 30. We staff people on projects that align with their career goals and try to pair people up who are going to be successful from both a business and technology standpoint. We want to make sure that everyone can continue to grow and can move up as they feel comfortable.