When the cascade of event cancellations and postponements around COVID-19 began in March, employees at the ticket marketplace Vivid Seats had to react quickly.  
Most live events were postponed due the global pandemic, among them Billie Eilish and the Zac Brown Band, who were some of the first artists to cancel shows. Director of Engineering Nic Roth said Vivid Seats team members were processing customer support requests and refunds, clarifying policy terms and conditions, and updating the evolving status of live events as fast as they could.  
At the same time, artists like John Legend started live streaming on Instagram or Facebook from their own living rooms to maintain their bonds with fans while they weren't touring. That type of engagement — through free online content — was something Vivid Seats had been discussing long before stay-at-home orders, which would allow them to retain customers and differentiate the ticket marketplace in a competitive market.  
But now, with virtual concerts becoming the main source of short-term fan engagement, Vivid Seats saw an opportunity to become an authority in digital events as well as live events, Roth said. 
The pandemic gave Vivid Seats the push to dive into fully building out "Vivid Streams," a tracking hub for users to discover when and where artists were streaming. Everything came together quickly, but the timing played a large role in accelerating the product's development.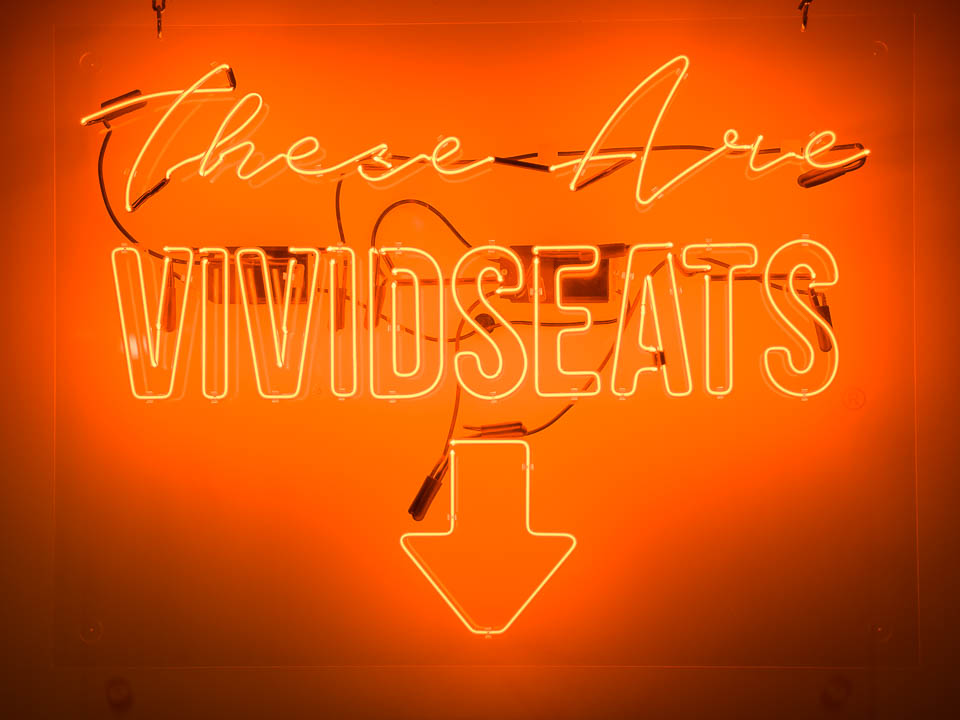 Out with the old, in with the new
Within a week of live event cancelations in early March, Product Manager Jarid Maged led the development and launch of the minimal viable product (MVP) of Vivid Streams on the company's website.  
Within a month, his team had a productized version with a new CMS tool built into their native app. 
One of the first steps Vivid Seats took was scrapping its legacy CMS system. Though the old CMS allowed posting content on web pages or app screens related to artists, it wasn't specific to the functionality the team wanted for Streams.  
So they implemented a faster, fresher-looking and easier-to-use open-source CMS tool, Strapi, which gave the app the capability to evolve beyond hosting only third-party streams. Roth added that the CMS was the only new tool that needed to be added because it played into the rest of their stack so well.  
"We've been doing a lot of work in the last year or two to modernize how we approach API development and new service creation," Maged said. "So, luckily, we're in a good spot where something like this was pretty straightforward for us to start working with." 
Aside from the CMS switch, the Vivid Streams project provided an opportunity to transfer an improved version of the website MVP experience to the native app. Even before the pandemic, Vivid Seats was seeking ways to not only engage customers but also push them from the website to the app.  
"The app loads quickly, you browse for the stream you want, click, and it takes you right to YouTube, Facebook or wherever you're supposed to watch it," Maged said. "And if you like Taylor Swift, and she's going to be streaming on Saturday, you'll get a notification."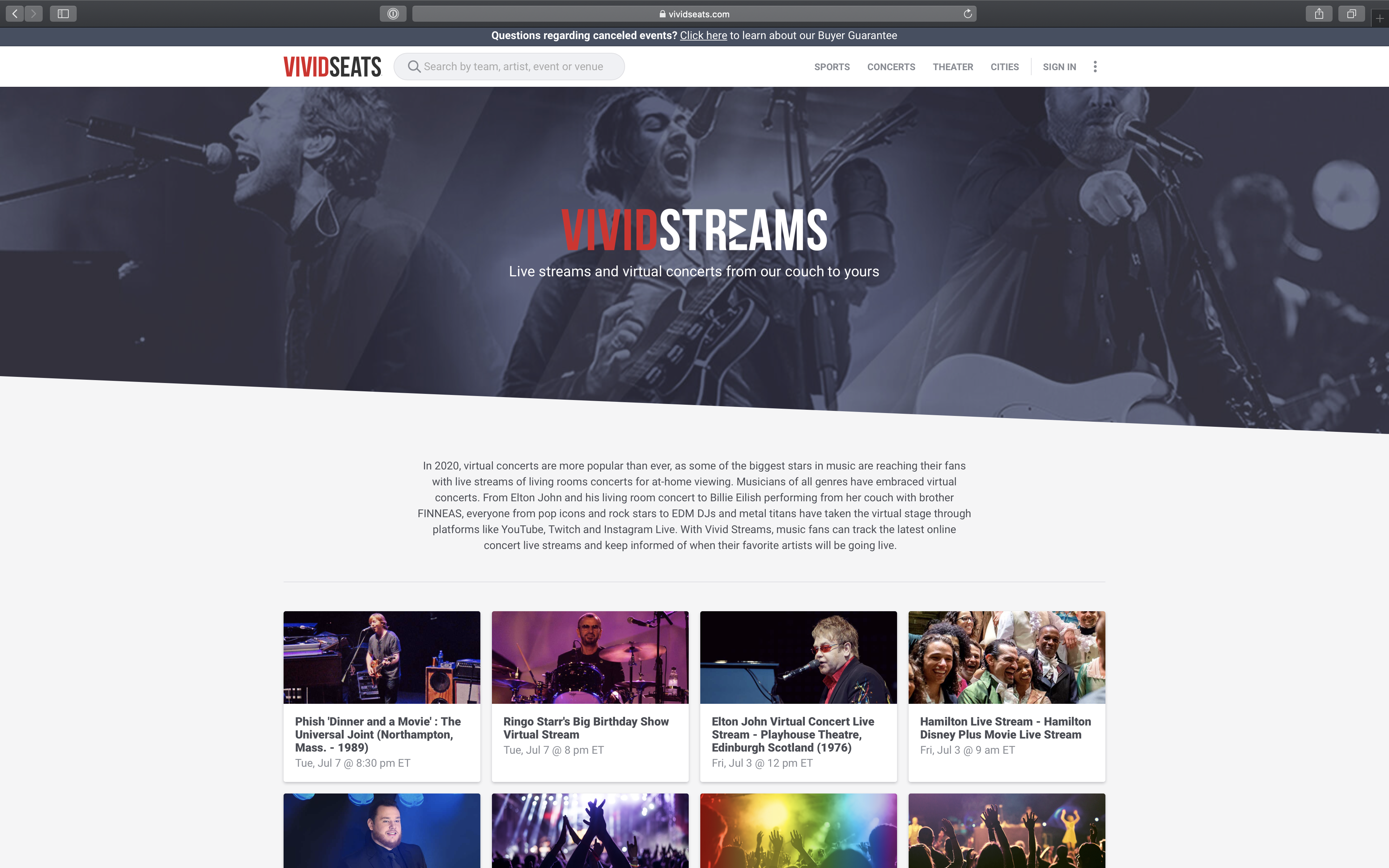 Jumping into Vivid Streams sooner than they anticipated forced them to build functionality out into the app, Maged said. By using content to breed loyalty and drive purchases, his team was able to lay the foundation for the app's stickiness. 
"This gave us some breathing room to build more of these foundational pieces that also serve the near-term business need to get people to be sticky with our app," Maged said. "So when events do return, you'll have been using the app for streaming your favorite artists and then potentially to buy tickets to their show." 
Four months from launch, app user data is already proving the team's hypothesis: "If you add a non-purchase path through engaging content, you not only attract users who will engage with you but also transact with you," Maged said. 
Additionally, Roth said they have gone as far as giving Streams its own tab in the Vivid Seats app.  
"We reordered the tabs in the app, which might seem trivial, but for apps with millions of users, changing primary functions is a pretty big deal," Roth said. "For us to do that signals the commitment we have for this product." 
So, how was Streams completed in an accelerated time frame? Maged gives equal credit to his team working cross-functionally and also to a new product development framework. 
New delivery improves productivity
Quick execution of Vivid Streams was enabled through a new product development framework designed by Basecamp. Rather than focusing on long-term roadmaps, the product and engineering teams placed near-term, time-boxed "bets" that involve shaping projects into cycles in parallel with broader business strategies. 
"With company goals in mind, the product and engineering teams collaborate with business stakeholders to draft a series of pitches that get brought to a monthly betting meeting," Maged said of the framework. "Here, senior leadership place bets on projects that should be tackled in the next cycle, which can include net new features and iterations on existing functionality."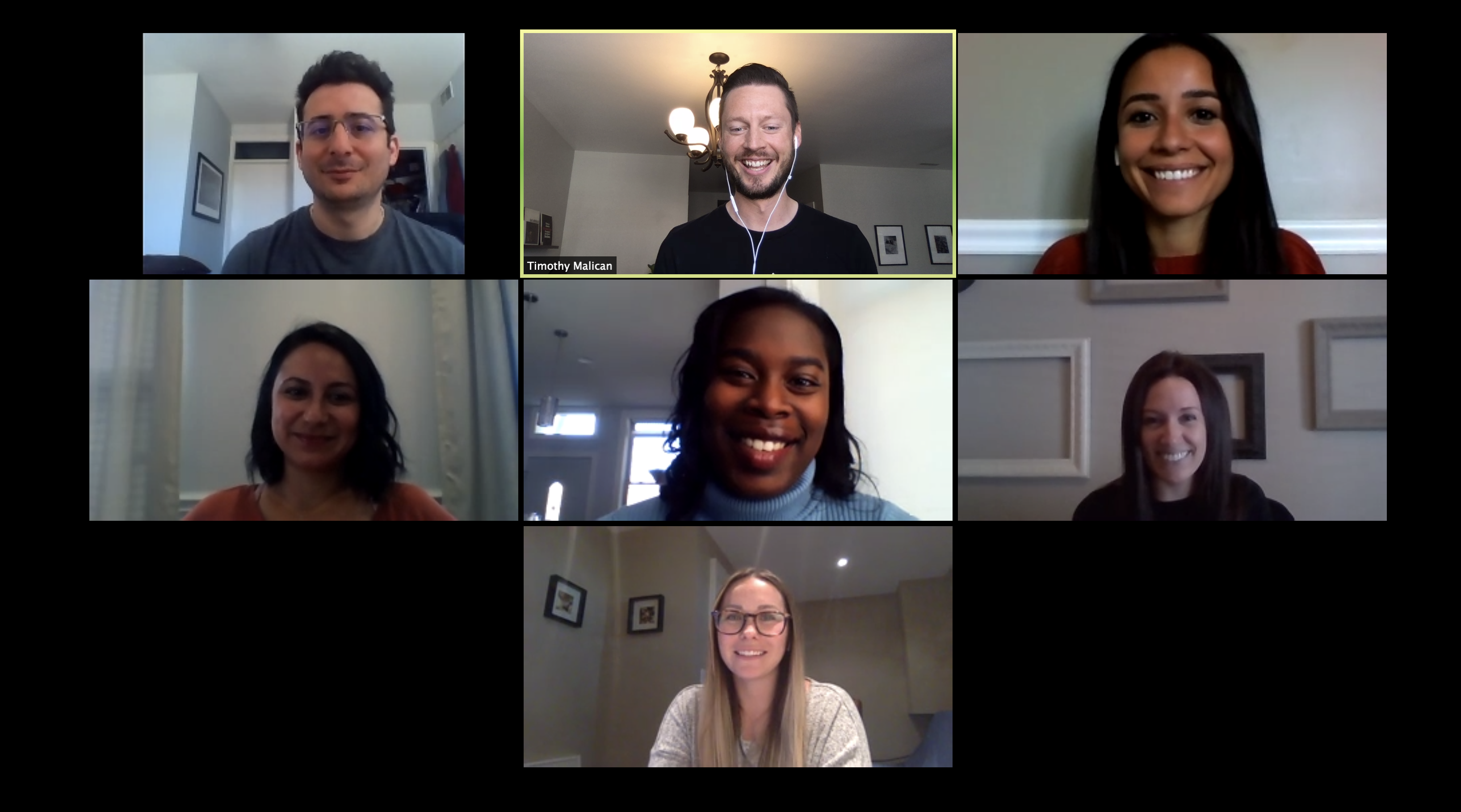 With cycles restarting on a regular cadence, Vivid Seats can prevent projects from dragging on and quickly identify what is and isn't working, Maged said. With the flexibility to refine the process based on what is built versus chasing work that may no longer be necessary, it also allows their teams to properly allocate resourcing and set attainable milestones. 
Bets oftentimes require full-stack teams, empowering developers to work throughout the entire platform. Team-level accountability of project delivery also pushed decision-making down in the organization, which helped Vivid Seats be more efficient and have the right people — engineers, designers, product managers and other stakeholders — make decisions that achieve the best possible results.  
"It's great," Senior Software Engineer Geoff Powell said. "Pitches can come from anyone on the team, which has surfaced a lot of strong product development ideas that otherwise might not have made it to the roadmap."  
All hands on deck
Even though they were forced to pivot with a quickly-created roadmap, Roth said Vivid Seats made every resource available to ensure its success. 
"If it weren't for this unprecedented time, we probably wouldn't have devoted this many people and resources to actually build this awesome full experience that works end-to-end with our stakeholders," Roth said. 
Though the product team did a lot of test driving on their own, with some help from the UX team, Vivid Streams would still need the engineering team's help. 
 
We may be working remotely now, but working in a cross-functional team really makes us feel like we are still physically together."

"We asked ourselves, 'How far can we take this without initially including engineering as part of the process?'" Maged said. "Because we only have so many engineering resources, we weren't sure if we wanted to go all-in with the product."  
The engineering team, including Roth and Powell, became more involved in phase two: integrating Streams into the native app. 
Outside of the "awesome people themselves," Roth credited Vivid Seats' cross-functional, no-boundaries work environment. "We may be working remotely now, but working in a cross-functional team really makes us feel like we are still physically together," he said.  
Maged called their UX team "phenomenal." He praised the way they often took on front-end work and took things as far as they could before having to go to engineering, something he had not seen elsewhere in his career. 
Specifically, with the mobile app design, the teams did a whiteboarding session to visualize how Streams would look with Maged's product team, a UX/UI designer and other engineers.  
"We actually gained a lot of cool iterations from building out the initial version. I know the UX/UI designer appreciated it because he usually just has his head down creating a design," Powell said. "Having that feedback from product and engineering was important in building the product we have today."