OCC's legacy clearing technology, Encore, has been running smoothly for more than 20 years. So why then is the world's largest equity derivatives clearing organization in the midst of a major tech transformation?
"Our legacy platform is highly monolithic in nature, so change is very hard," Dave Hoag, OCC's CIO, said. "It has long lead times to add new features or customer requests, making it very difficult for us to introduce those capabilities into the platform."
Enter, the Renaissance Initiative.
The three-year project, which started in January 2019, will modernize OCC's tech infrastructure. The main objective is to replace the company's core clearing, data and risk platforms with a highly modular system that will accelerate OCC's ability to improve how risk management is completed.
"One of the reasons we call it the 'Renaissance Initiative' is because it's not just about the new platform," Hoag said. "It's also about changing how we work and how we deliver capabilities to our market participants."
"It's a really big undertaking," added Amy McCormick, senior VP of financial risk management.
So what does this exciting overhaul look like? Before it's completed, Built In Chicago got an exclusive look from Hoag and McCormick to learn more about the process of building, executing and implementing the technological shift.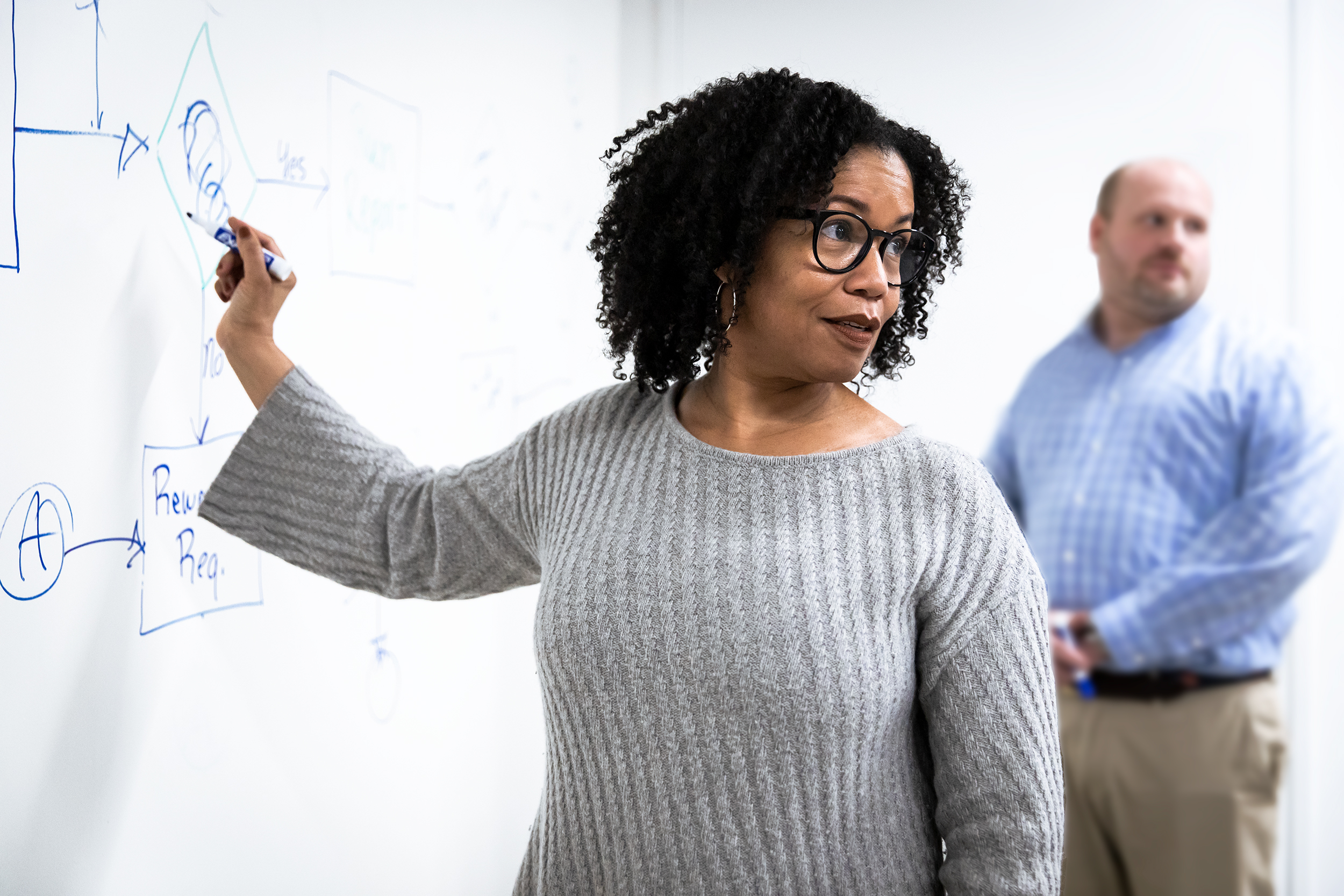 How was it decided that change was needed in the first place?
McCormick: The existing system, Encore, is still very reliable and produces results when we need them. So from that perspective, it is meeting our needs. But as a user, the lack of flexibility and the amount of time that it takes when you want to make a change to the system can be very frustrating.
Hoag: There was an awareness of the technological limitations of our legacy platform for some time. So we did a deep analysis of Encore to see if we could incrementally evolve key components in need of updating while preserving the old ones that worked well. The output of the analysis concluded that the risk of doing that was high — so we needed to pursue a different path.
That culminated in a recommendation to OCC's board of directors that we undertake this significant project for the institution and industry. This would be something that would not only focus on the technological side but address all the ways that we work as an organization.
The Unsung Heroes of OCC
Hoag has seen team members who manage the VPN infrastructure and help desk teams step into the limelight during the COVID-19 pandemic. "Those teams have become critically important in a remote work environment," Hoag said. "They've really gotten an opportunity, and leaned into it well, to make a meaningful impact to the entire organization in ways that historically wasn't as visible as it is now."
What's the benefit of being able to streamline and move fast in your industry?
McCormick: On a slow day for us, we still deal with a tremendous number of transactions, and we have to know that we can process them. Everything has to be completely accurate. Our highest volume days are often days with the most market volatility, and we need to get data quickly and figure out what people are doing, then determine what steps we want to take based on that information. It's crucial in our industry that we handle all of those processes reliably and maintain the ability to scale as market conditions change.
Hoag: We manage market risk and need to make sure market stability and integrity is preserved, even during times of extreme volatility. Our ability to understand what the price changes mean, along with the shifting positions from a busy day of trading, is a critical data point for effective management of the risk and the changes to that risk.
What are some of the new tools, methodologies and frameworks that the Renaissance Initiative will employ?
Hoag: Everything is being targeted for the cloud, and that means infrastructure and code through and through. Everything is being automated with Terraform and Ansible. We are really doubling down on the automation of software builds, deployment of code, acceptance testing and the provisioning of environments, which is a huge shift for us as an organization and the area where I think we will see the most positive uptake. 
This on-demand computing environment that we're moving toward is going to be a huge win for us from an operational, resiliency, agility and efficiency perspective. In a nutshell, it's moving us toward that modern application architecture stack, leveraging some of the best tools and frameworks that support stream-based processing and big data analytics.
How OCC is using technology, according to Hoag
"We've already been using Hadoop and big data technologies for analytic purposes."
"We're shifting toward an event-based processing model across our entire lifecycle, which means our underlying application architecture needs to be stream-based processing."
"The use of Kafka technology for messaging is integral to all of our solutions."
"We're using Flink to develop calculation and aggregation pipelines, and feathering that across a Kubernetes cluster."
"We're all-in on Docker containers as the main distribution technique."
What are some of the initial benefits you've seen companywide throughout this transformation?
McCormick: One situation I've seen that's really exciting is when we demo to the analysts. They see that the new system is going to allow them to pull all the data they need in a matter of 30 seconds, as opposed to cobbling together all of the reports. They see how this self-service and automation is going to make their jobs so much more interesting and strategic because there's going to be a lot less manual work, and much more conducting analyses and tracking trends.
Hoag: From a people perspective, you can already see how teams across the company are interacting and collaborating to achieve outcomes. From a technology perspective, I can see the automation mindset showing up in all aspects of our business. Even some of our on-premise environment management teams that have traditionally been a bit more manual have started to adopt more scripting and automation, eliminating the redundant tasks from their workload. People are really excited about being a leader and bringing a systemically important financial market utility (SIFMU), like OCC, to the cloud.
 
From a people perspective, you can already see how teams across the company are interacting and collaborating to achieve outcomes."
What are some tips for other tech leaders in this space who are looking to make a similar transformation?
Hoag: I'd say that you really need clarity of what your outcomes are. There's going to be a lot of different directions you could go, and if you don't have a clear North Star guiding the many thousands of decisions that need to be made, you're certain to drift from whatever that target outcome is. Having your team aligned on what it is you're trying to achieve, why we're trying to achieve it and coming back to that on a regular basis are critical success factors.
McCormick: On a major initiative like this, where you're not just trying to change the technology but also the way that you're operating, it'll be a few steps forward and maybe one step back. Don't be discouraged when things don't go perfectly right out of the gate. When it's a really significant change, everything's not going to go swimmingly.
Hoag: To build on what Amy just said, everyone was excited in January 2019 when the project kicked off. By August 2020, it's not novel and exciting anymore — now it's hard work both day in and day out. Keeping the energy, enthusiasm and excitement up is one of the challenges and responsibilities of the leaders of the program. There's going to be points where it's very easy to motivate your team. And then there's going to be points where you have to be that motivation, you have to show the enthusiasm. You have to have that same excitement and novelty that you had when it kicked off, and bring your team along with you on that journey.