Modernizing an existing user interface (UI) is a significant undertaking. But cross-departmental teams building a new UI from scratch for a company's flagship product — while the entire company is working remotely — is another challenge entirely. 
Late last year, teams at the legal and compliance technology company Relativity began work on Aero UI, modernizing the architecture of the user experience tied to RelativityOne, which uses machine learning and visualizations to make sense of unstructured data used in legal cases, investigations and compliance efforts. 
Prior to Aero UI, the software could feel intimidating for new users. So, the teams at Relativity set out to reduce the time legal teams spend learning to use the product and more time deriving insight from it. 
To create and roll out Aero UI, Senior UX Researcher Robyn Oliver and her colleagues conducted beta tests to bring knowledge about users back to the design and development teams. From there, Senior Product Designers Fred Ricks and Arturo Peña and their team internalized the insights and tried to find patterns through existing workflows found in other products to help users from end to end. 
Oliver, Ricks and Peña shared their tales of teamwork as they worked on Aero UI's upcoming user-first experience, one they hope will make e-discovery even easier for their customers around the world.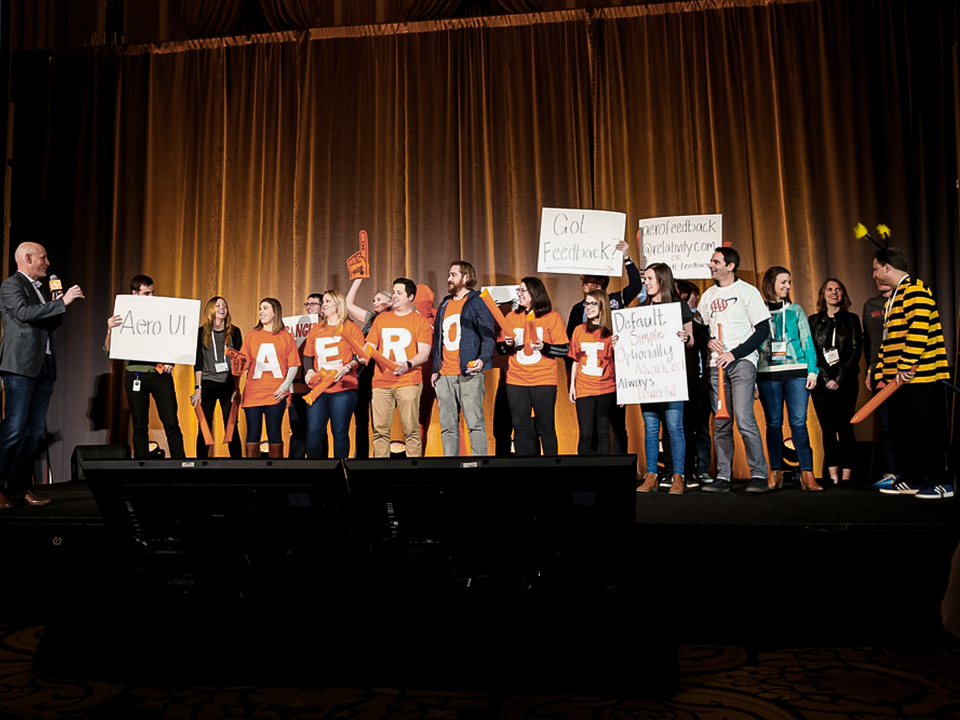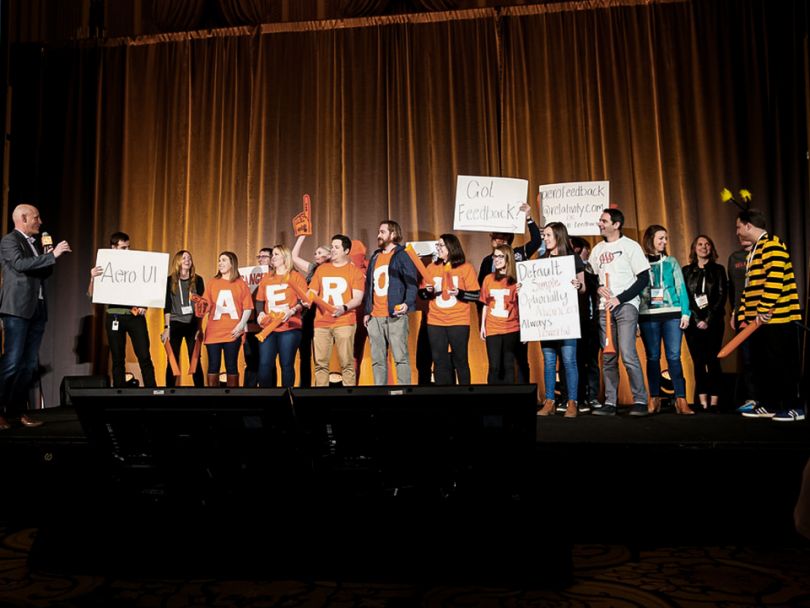 The data that built Aero
To make improvements in Aero UI, teams established baseline usability metrics of the previous UI, like the number of mouse clicks it takes to import documents and how much cursor travel is required to review a document. The goal was for Aero UI to streamline those tasks to make the UI intuitive for inexperienced and veteran e-discovery users alike. 
Once the Aero UI beta version was built from their baseline metrics, a cycle of user research and iteration on feedback could begin across the teams.
Senior UX Researcher Robyn Oliver: We did early research with beta users, where we were able to observe them on their first day in their own workspaces using Aero UI. We then had regular calls with the participating companies to discuss what they were experiencing. We brought our insights back, synthesized the data and distributed it across multiple presentations to the various verticals it was relevant to. Those teams then integrated that data into what they were building and made improvements based on what users were experiencing.
Senior Product Designer Fred Ricks: Designers were on some of those company calls as well, and it was great to get real-time feedback. We got face-to-face time with users to show off some of the things we were working on and showed them mock-ups of features they brought up during the previous week that we were already working on.
Senior Product Designer Arturo Peña: The web analytics tool Heap allows us to monitor how our decisions impact our users. We can measure everything like clicks, each swipe on mobile devices, user time-on-task and mouse miles. From there we can ask how we can make things more efficient: How can we optimize the experience so users are familiar with what they're doing but spending less time doing it?
Abundant Involvement
Relativity works to build communities not just with its professional subteams, but through its employee resource and interest groups. It has six community resource groups dedicated to inclusion, diversity and belonging, including: Black at Relativity, Faces of Relativity (intercultural community), RelAsians, RelMind (neurodiversity and mental health community), Relativity Pride, and Relativity Women of the Workplace. Its additional interest groups are dedicated to over a dozen topics, like working moms, climbing, sustainability, team sports of all kinds, and many more.
Successfully navigating Aero UI
Building a new UI for a high-priority product is a no easy feat for a cross-departmental team. Additional challenges, like navigating legacy frameworks, arose throughout the Aero UI creation, but all three team members said they were able to pivot as challenges arose.
Oliver: We planned to do our research in-person at various sites and watch people working in their workspaces. Then we had to pivot due to companies around the world working remotely. Video calls then became critical to our ability to get the research done, and it actually allowed us to involve even more of our UX team in the effort. It turned out very well in the end.
 
We were building new components while teams were consuming them at the same time."

Peña: Being here just over a year, my biggest challenge has been trying to understand all of the frameworks upon which our product has been built over the last almost two decades. If I propose a solution for engineering, I don't yet know all of the things that they have to rely upon. What may seem like a simple solution if it were built from scratch may not tie together well with existing code and tools. 
To calibrate my solutions better, I've had to learn the company's frameworks, how they tie together, whether we're using the latest version of a certain library, and things of that nature.
Ricks: A big part of the project was building something that was both scalable and nimble, and a lot of the teams were adopting different components that were using different frameworks. We were building new components while teams were consuming them at the same time, so that was a challenge we had to overcome. But the engineering department had different swarms of teams building different things simultaneously and it worked out in the end.
Our structure allows for more of a continuous, Agile workflow versus a Waterfall approach where people are waiting on mockups.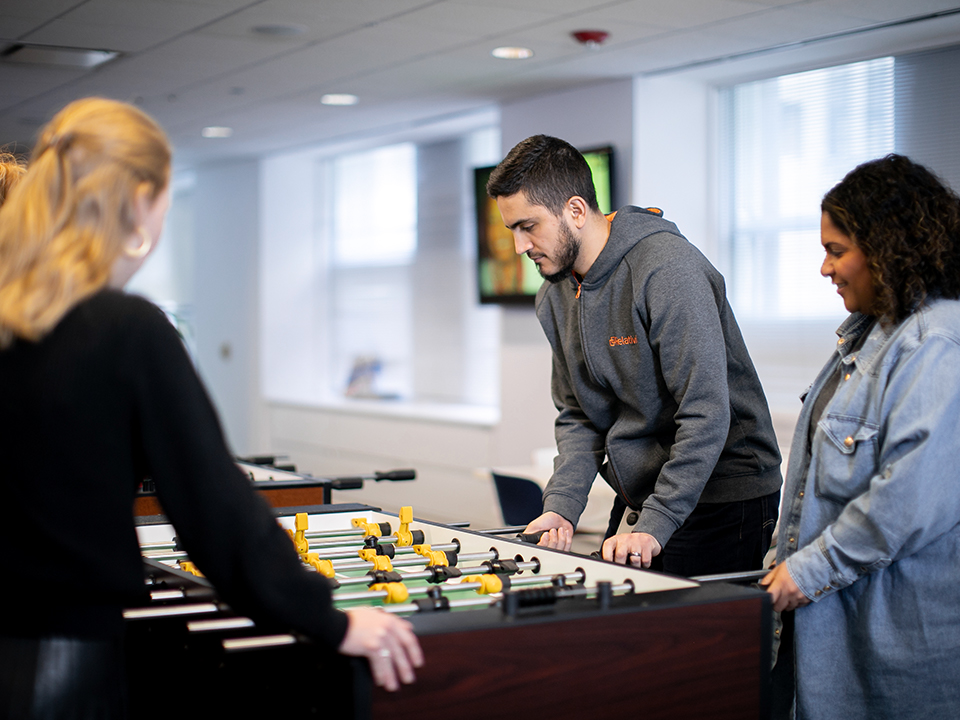 Abundant Involvement, Part II
Ricks dove headfirst into Relativity's interest groups on his very first day. While on his introductory office tour, he learned of the company's soccer group and, before the end of the day, he was playing with his new colleagues. Pena's interests at Relativity run the gamut: He's a part of RelMind, Relativity's neurodiversity and mental health community, and he's also been able to bring his interests into work through homebrewing. Annually, the company hosts a brew-off where team members brew their own beers and bring them in for others at the company to judge in a contest.
Small teams, big impact
The phrase "too many cooks in the kitchen" may not apply when all those cooks are experts in their respective fields and their goal is to listen to one another. Pena said that a Microsoft-inspired subteam structure underlying the Aero project allowed for an improved, more inclusive design.
 
If very few people work to solve a problem, it might be tackled using their own biases."

Peña: We are following a design philosophy that Microsoft calls "inclusive design." It states that if very few people work to solve a problem, it might be tackled using their own biases. The greater range of people you can get into a room — whether it's where you're from, how you identify, or your previous experiences — the better a problem can be solved because that solution will extend to many. 
We've done that by including engineering, marketing and early access customers. It's helping us build a product that's familiar to different types of people, whether they're new to e-discovery or have years of experience in the field.
Another element of inclusivity also stands out with Aero UI: Not only did the team incorporate inclusive practices to ensure strong work, but it made the UI an inclusive experience. For example, the new UI in RelativityOne makes the technology more accessible for its users by using colors that are easier for individuals with color blindness to view and read as they're analyzing their data.
Ricks: We have designers dedicated to individual verticals. So we've been able to form a triad for decision-making with engineering, product management and UX all in the same room hashing out ideas.