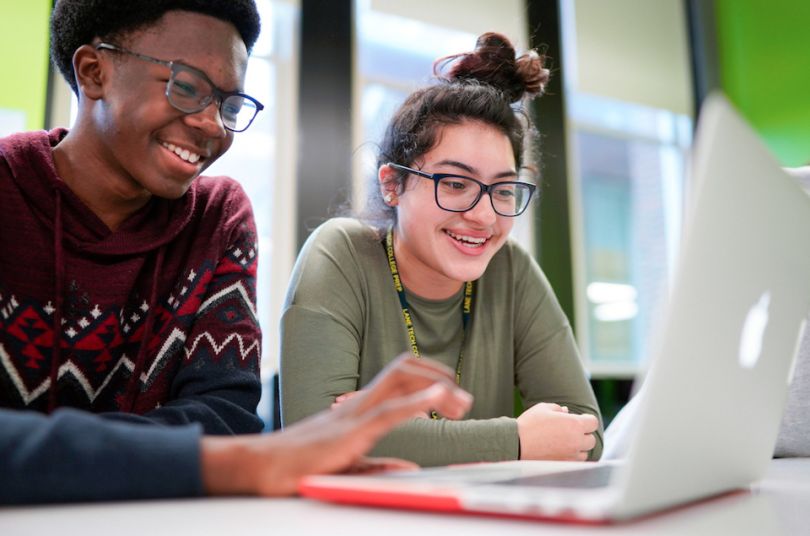 Chicago has no shortage of startups teaching kids and young adults to code. Codeverse, which recently came out of stealth, developed a kid-friendly language to teach children the fundamentals of software development. Tech and innovation center Blue1647 offers a variety of programs that teach young adults coding and other tech skills.
Now, Apple is getting in on the action.
The tech giant announced a citywide expansion of its "Everyone Can Code" program, which teaches Apple's proprietary language for building apps, Swift, using a free suite of resources like guides, lessons and an educational iPads. Set for spring, the expansion was launched in partnership with the City of Chicago, Chicago Public Schools (CPS), City Colleges of Chicago (CCC), local businesses and nonprofits.
"We're thrilled to be working with our friends and partners in the great city of Chicago on this initiative," said Apple CEO Tim Cook in a statement. "We look forward to helping students learn Swift and build the skills they need to thrive in today's workplace."
In addition to bringing the program to students, CPS will also launch Swift Coding Clubs. These after-school programs will provide an intro to Swift and teach key coding concepts along with app design and project prototyping. CCC students will be able to enroll in a course designed by Apple engineers that teaches how to code functional apps.
"Everyone Can Code gives students opportunities to learn new skills and develop a strong foundation in STEM to prepare them for a successful future in the 21st-century economy," said Chicago Public Schools CEO Dr. Janice K. Jackson in a statement.
Jellyvision, United Airlines and McDonald's are a few of the many local companies supporting the new Apple initiative by providing volunteer time to employees who wish to teach students. One Summer Chicago — a city initiative connecting youth and young adults to internship opportunities — 1871, and other local companies will offer over 100 internship opportunities to high school and college students who've completed Everyone Can Code.
"We're super excited to be a part of Apple's Everyone Can Code in Chicago," said Jellyvision director of product engineering Lisa Rosselli-McDermott. "For younger students, we'll help spark an interest about tech and careers in tech. For older students, our goal is to help them prepare for real-world jobs. That's pretty cool."