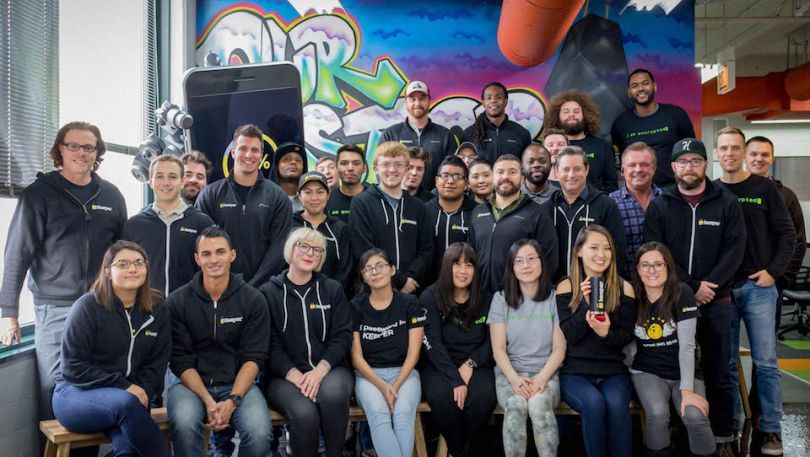 The infosec startup Keeper Security is making 130 new hires in Chicago this year.
Co-founder and CEO Darren Guccione said Keeper is expanding its team to support growing demand for its enterprise tools.
Keeper, whose encryption-protected software helps users store passwords and files securely, got its start in 2009 — soon after Apple released the first iPhone. Although there were plenty of desktop-based password managers at the time (LastPass, 1Password, to name two), the mobile market was wide open. So Guccione and co-founder Craig Lurey, who ran a mobile hardware accessory business together at the time, launched Keeper as a free app.
The co-founders shifted their full-time focus to Keeper in 2011, and today, the company serves about a million individual paid users, Guccione said. But the company's biggest growth driver has been entering the enterprise market, which the company did because individual users kept asking for a business version.
"We've been selling our product to businesses for about two and a half years now, and we've been experiencing triple-digit growth rates," Guccione told Built In.
Any good cybersecurity strategy starts with password security."
Keeper's enterprise product is currently used by more than 8,000 companies, according to the company. Its tools let businesses manage logins across all the software they use, securely share passwords and files, manage user permissions and monitor password security across the entire organization.
Although that might sound simple, password security is one of the biggest cyberthreats most companies face, according to Guccione.
"Any good cybersecurity strategy starts with password security. If you don't have that, nothing else you do is going to matter as much," he said. "Over 80 percent of data breaches and attacks were the result of poor password security."
The company currently has about 150 employees between its Chicago headquarters and its satellite offices in Ireland and El Dorado Hills, CA, Guccione said. To accommodate its 130 new Chicago hires, Keeper is in the process of building a new office in the West Loop. The company will also expand its teams in California and Ireland.
Notably, the company has brought about this growth by bootstrapping — that is, without any outside funding.
"It's a funny word, because the boots are pretty big these days," Guccione said. "We were a very profitable business from the beginning, and we keep a lot of working capital on the balance sheet so that we're able to fuel growth without utilizing outside capital."
Although not opposed to raising funding in principle, Guccione said this approach has allowed him to stay more focused on Keeper's customers and employees, rather than on seeking investors and keeping them happy.
In Chicago, the company is primarily hiring across its sales, sales operations and customer support teams.
"Right now, it's all about speed," Guccione said. "We have to move quickly and execute on this next phase of our growth. The next 90-to-120 days will be very important to our company's evolution."