A job search can often feel like a drawn-out process, but value alignment is worth the wait.
Employees who believe their company has a higher purpose than just making a profit are 27 percent more likely to stay at their jobs, according to a report by TinyPulse. Company mission and culture are often just as important to job seekers as salary and position title.
Amped about the idea of helping consumers get better loan rates or building custom software for large and influential companies? Professionals from each of the following eight tech companies told us more about their companies' missions, the traits they look for in new hires and what unites teammates in the office. Besides sharing a passion for assisting their colleagues, having fun and thinking critically topped the list.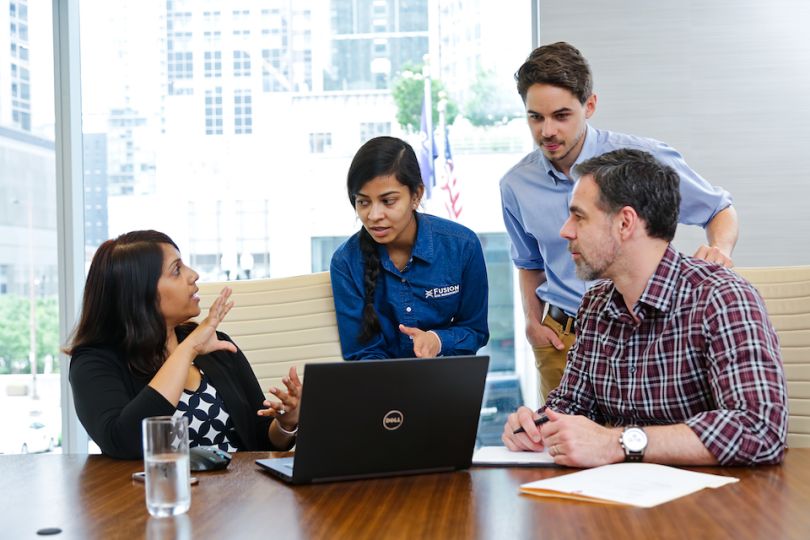 What they do: Fusion Risk Management develops enterprise-grade, cloud-based software tools dedicated to business continuity, integrated risk management, IT disaster recovery and other topics. 
One thing that would surprise people about Fusion Risk Management: Employee fulfillment. "Our volunteer program "Fusion Cares" provides opportunities for employees to give back on an individual and corporate level," said Senior VP and Chief People Officer Joanna Zvirbulis. "Staff are given personal time to volunteer and a donation to a charity of their choice. Our social activities squad encourages employees to have fun together. And we offer "tours of duty" where employees can explore a new career opportunity outside their current role. We believe people work better when they're happier and these are just a few of the ways we work to encourage fulfillment."
One trait all team members share: A passion and dedication to community. "We all work together for the same goal of client success, with each team playing their part," said Zvirbulis. "The best thing is that we see that same passion represented in our clients. Customers care about the Fusion community and are quick to help each other. It all comes full circle because our clients' success provides more opportunities for our employees to grow personally and professionally."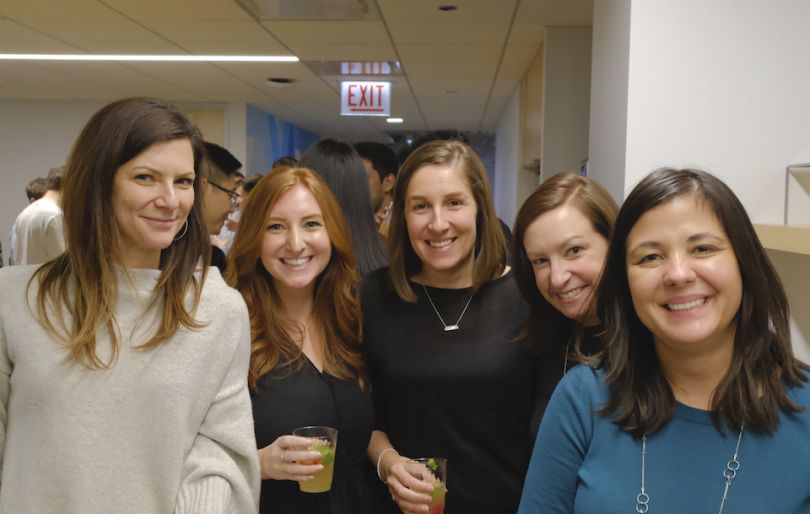 What they do: Fintech company Avant uses big data and machine learning to lower the barriers of borrowing for consumers. To date, the company has connected nearly one million customers to over $6.5 billion in funds.
One thing that would surprise people about Avant: That it's a big company — with close to 500 employees — that has a startup mindset. "We have become established in the fintech world over the past seven years, but we still have the heart of a start-up," said Director of Talent Margaret Hermes. "We value employees with an entrepreneurial spirit, and if you want to make an impact here, there's not much red tape. It's the best of both worlds: the opportunity to work on the sophisticated problems of a large company while having the autonomy and ownership of a smaller organization. And we stick to our roots when it comes to having fun. The entire Chicago office gets together for "demo day" every other week; a happy hour where we watch demos of new projects."
One trait all team members share: Ownership. "We staff our teams leanly and we have ambitious goals to grow our company, so there isn't a lot of opportunity to sit on the sidelines," said Hermes. "Avant's ultimate success depends on everyone's willingness to dive in, get their hands dirty and work together to keep pushing forward. We so value this trait that it's one of our six core values: "get sh!t done." And we nominate each other for an award based on that value, presented at our quarterly town hall meetings."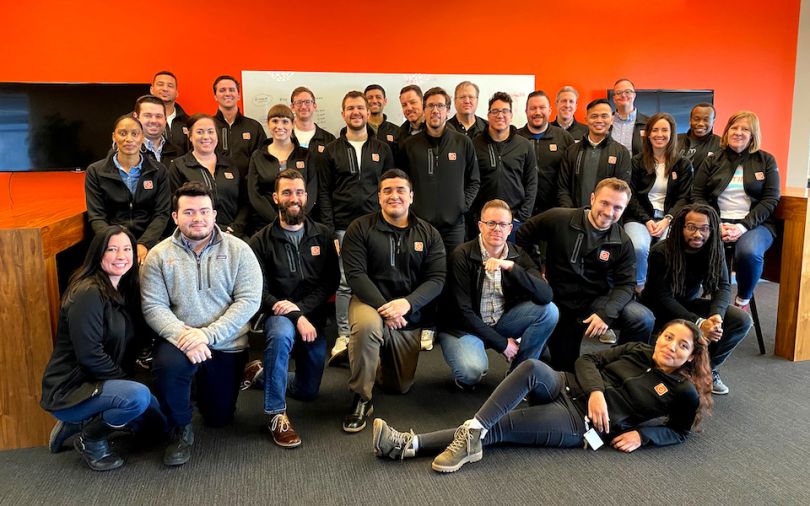 What they do: BigTime Software provides companies in industries like accounting, architecture, consulting and law with cloud-based time and billing software. The platform supports project management, resource allocation and analytics reporting, and is scalable to meet the needs of customers. Speaking scale, BigTime raised $14 million in May 2019 to increase its staff size and reach more clients. 
One thing that would surprise people about BigTime: Driving impact at the company.  "Everyone has the opportunity to contribute in a real way," said Customer Support Manager Shaun Hutchinson. "It's an environment where the best idea wins, and from internal policy to product updates, I've yet to see a time when someone was denied the opportunity to offer an opinion or suggestion."
One trait all team members share: Curiosity. "When diagnosing issues or helping set up new workflows for customers, we all want to find the missing piece or solution," said Hutchinson. "To do that, we have to work backwards and get input about the customer's process. Almost all improvements involve understanding not just the change necessary for the product, but the customer needs and behaviors that prompt the change."
What they do: Pizza Hut Connect is the technology arm powering the global pizza chain, which has more than 18,000 restaurants across 100 countries. And in 2001, the company sent the first pizza to outer space, delivering a crusted, cheesy delight to Yuri Usachov on the International Space Station.
One thing that would surprise people about Pizza Hut Connect: Pizza Hut is responsible for the first ever online order of any good. Via a 1994 platform named PizzaNet, a large pepperoni, mushroom and extra-cheese pizza was sold, and e-commerce was born. Fast forward to 2018, Pizza Hut acquired QuikOrder, an online ordering software and service provider, to improve and its online ordering experience across its 6,000 U.S. locations. "There's so much scale and complexity involved in creating efficient e-commerce systems to order, make and deliver experiences for customers," said Pizza Hut Connect Chief Information Officer Carol Clements.
One trait all team members share: Thinking critically, quickly. "Our teams solve tough technical problems in a fast-paced, ever-changing environment," said Clements. "We make decisions that are based on best practices for our customers, not necessarily the easiest answer. We invest extra time and thought where it matters, but we move fast."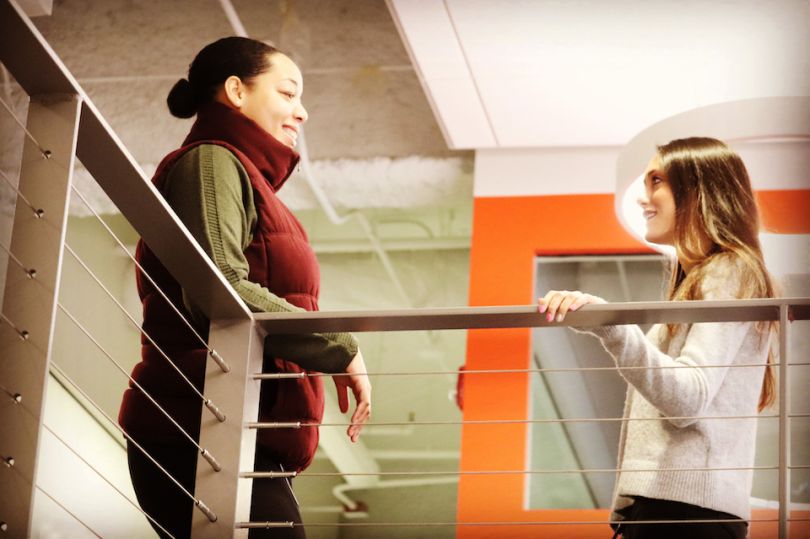 What they do: Employers and their staff are both serviced through bswift's benefits administration platform. The company has solutions dedicated to billing and administration for companies, as well as tech solutions like a virtual assistant for employees.
One thing that would surprise people about bswift: The growth of bswift's customer base — totaling more than 50,000 employers — in the face of larger competitors. "There's a lot of competition in this market, with players who have been at it a lot longer," said Director of Client Services Deena Rafferty. "However, we're successful in the marketplace because we have a lot to offer in the way of personalization and flexibility. This pace of growth means there's never a dull day and there is always opportunity for upward mobility."
One trait all team members share: Tenacity. "Everyone, no matter their job level, owns something from start to finish," said Rafferty. "We all work tirelessly to ensure projects are done with a customer focus and attention to detail. Our teams are empowered to find creative solutions and we don't have to go through a lot of red tape to implement process improvements."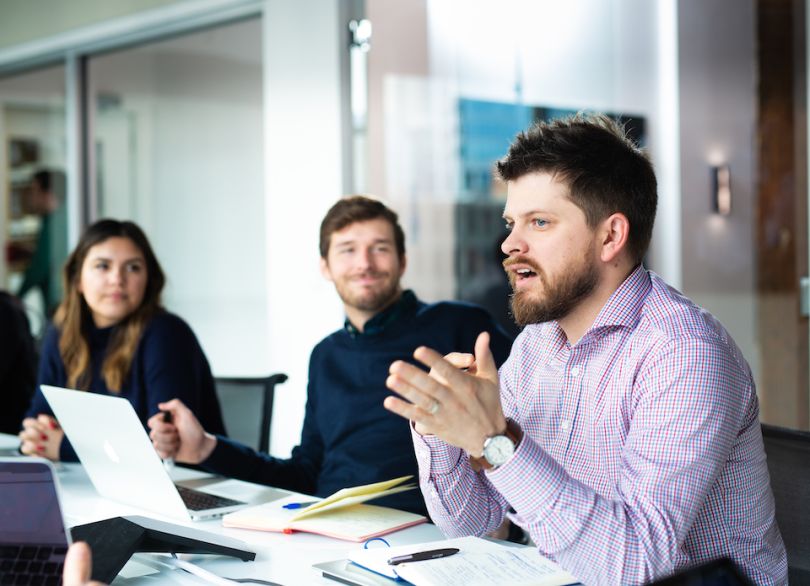 What they do: Using Agile practices, Devbridge designs and develops custom software for Fortune 1,000 companies across financial services, manufacturing, agriculture and other industries. Product managers, designers and engineers collaborate through a product's lifecycle to extract requirements, build, test and ship a product to market.
One thing that would surprise people about Devbridge: Impact. "We create software products for some of largest companies in the world, some of which are very popular, others lesser known," said VP of Products and Services Elijah Chang. "The one thing that they all have in common is that they are key to our modern day life. We've built products for companies that influence the food that we eat everyday (Louis Dreyfus Company), the buildings we work in (Grainger) and the doctors we see in an emergency (Schumacher Clinical Partners)."
One trait all team members share: They're transparent. "Our team uses honesty and candor to have real, meaningful engagement with our clients, within the business and with each other," said Chang. "The transparency that flows through the team empowers us to focus on making timely decisions and driving value, and it ultimately ties us together."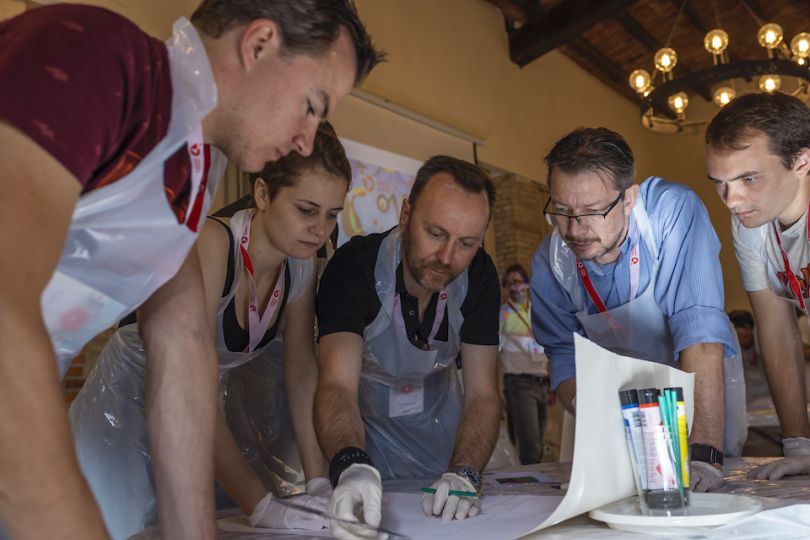 What they do: CHILI publish provides companies — the likes of which include Coca-Cola, Philips and Kaufland — with software they can use to make creative marketing campaigns. The platform allows users of any skillset to efficiently edit documents in-browser. CHILI also allows for the fully automated generation of artwork. 
One thing that would surprise people about CHILI publish: Leaders foster a culture of support and commitment to their teams. "There is a general sense of care our leadership has for their teams," said Customer Success Lead Sean Crowe. "There is an open-door policy and our leadership works to make sure staff feel supported. We all work hard and have our achievements appreciated. This all fits into our company culture of "work hard, play hard and care even more."
One trait all team members share: A balance of work and play. Team members get things done, but they make sure to break up the action with some laughs or an appropriate meme. "The U.S. team has a good sense of humor," said Sean. "We like to joke around with each other and the environment is laid-back and fun. We work hard, but that doesn't mean we don't like to add a little humor to our day."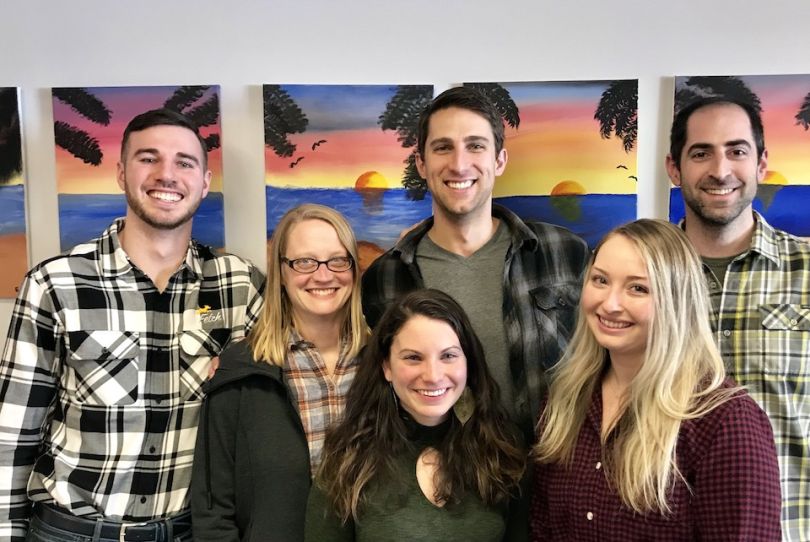 What they do: Using the Fetch Rewards mobile app, shoppers earn points by purchasing products from the company's extensive list of partners, which they redeem for rewards that can save them money on their next grocery run. The company's partner list includes popular brands like Huggies, Dove, Coors, Kraft, Ben & Jerry's and Aleve.
One thing that would surprise people about Fetch Rewards: Fresh off of a $25 million funding in October 2019, Fetch empowers its teams with information and trust. "We collaborate across teams and disciplines and default to "Ok, let's try it,'" said Head of Product Design Jenn Dodd. "We are always launching and measuring experiments and everyone is open to hearing and sharing ideas. We influence each other's work and it makes us and our product better."
One trait all team members share: Enthusiasm. "Our people are happy and fun," said Dodd. "Everybody loves to share, wants to be here and is excited about the work they do."