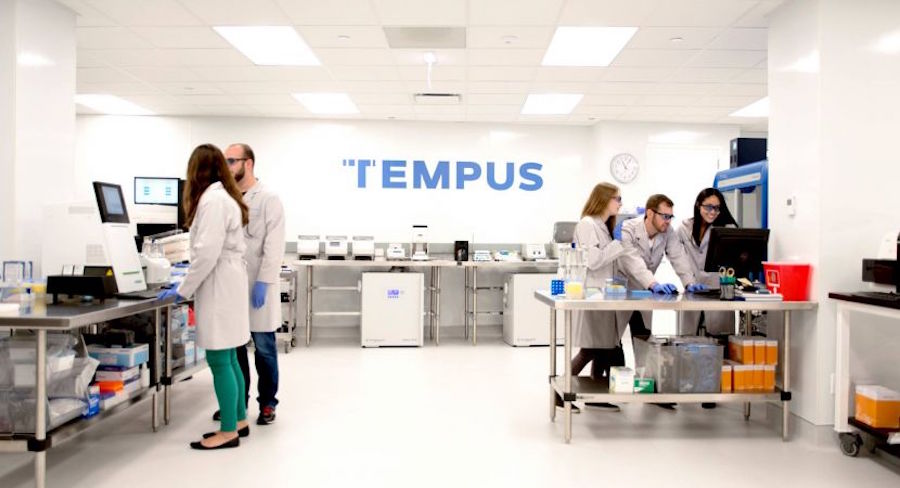 Tempus, a genomics and data analytics unicorn out of Chicago, announced Friday it raised $100 million in Series G financing. This brings its total valuation to $5 billion.
"As a leader in bringing the power and promise of artificial intelligence to healthcare, we're mindful of the size and scope of the opportunity in front of us," CEO and founder Eric Lefkofsky said in a statement. "The latest fundraising will enhance our ability to forward invest in new disease areas and geographies."
Tempus' clinical data and molecular analytics platform uses gene sequencing, machine learning and artificial intelligence to provide physicians with insights they can use to personalize treatment for individual patients. The more patients are helped, the more data is fed into the platform, which arms doctors with even more knowledge to help future patients.
The company claims to have worked with thousands of oncologists across hundreds of medical systems including Northwestern University and the University of Chicago, accounting for about one third of all cancer patients in the United States.
"We're now one of the largest clinical sequencers of cancer patients," Lefkofsky told Crain's Chicago Business. "Tempus will sequence about 160,000 samples this year."
As Crain's reported, Tempus also licenses anonymized data to pharmaceutical companies, researchers and the government, who use it to evaluate potential new treatments before taking them to the lab.
The company has raised a total of $600 million since its founding in 2015. It has made a habit of closing on multi-million dollar funding rounds, raising $200 million last May and $180 million in 2018, more than any other Chicago company that year.
The company says it plans to use this most recent funding to enhance its operations and expand into other disease areas, including diabetes, depression and cardiology.