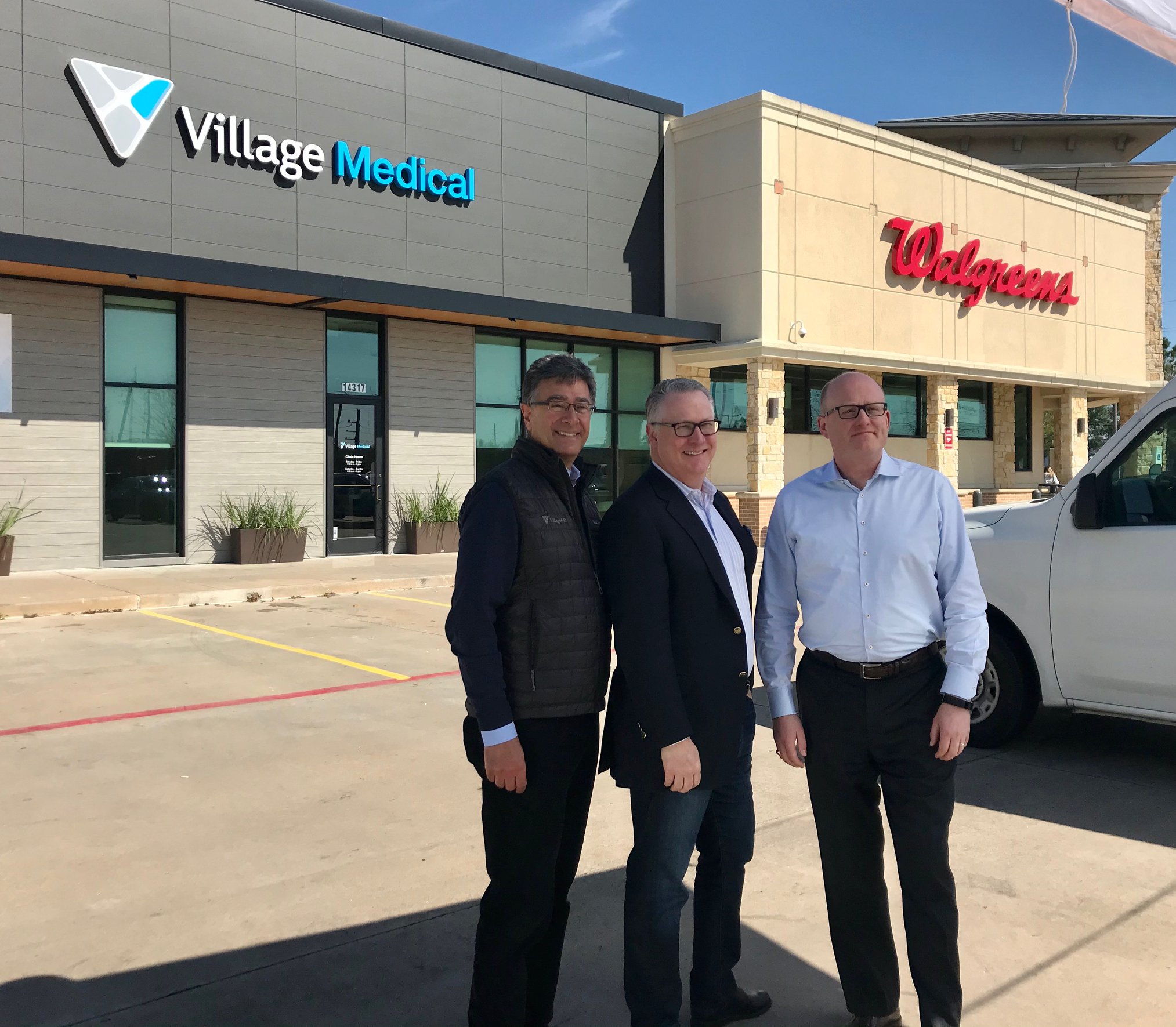 Walgreens announced a $1 billion investment to become the first drugstore to offer full-service doctor offices on Wednesday.
The Deerfield-based pharmacy chain has invested in VillageMD, a Chicago healthtech startup that helps doctors navigate scattered clinical data and negotiate with insurers to reduce the overall cost of care. Walgreens plans to squeeze the company's primary care clinics into up to 700 of its U.S. stores over the next five years. These "Village Medical at Walgreens" sites are expected to open in 30 states during that time frame. After that, Walgreens said it plans to build hundreds more.
"These clinics at our conveniently located stores are a significant step forward in creating the pharmacy of the future, meeting many essential health needs all under one roof as well as through other channels," Stefano Pessina, CEO and executive vice chairman of Walgreens Boots Alliance, said in a statement.
Walgreens and VillageMD began their relationship last March, when the pharmacy chain piloted five in-store clinics in the Houston area. Their success has inspired an expanded partnership that will put more than 3,600 VillageMD-recruited doctors in Walgreens stores. The retailer will also install nurses, social workers and therapists to provide treatment in its clinics, according to the Chicago Tribune, and make room in stores by narrowing existing store shelves and pulling tobacco products.
More than half the clinics will be located in federally designated areas that have a shortage of medical facilities or are comprised of underserved populations.
The clinics will accept a wide range of health insurance options, and physicians will be available through telehealth and at-home visits to patients.
VillageMD CEO Tim Barry said that the partnership will help individuals who suffer from chronic diseases, whose treatment represents 85 percent of national healthcare spending annually.
"To improve our healthcare system and reverse the trajectory of health spending, we must meet the needs of all patients," Barry said in a statement. "This partnership allows us to unleash the power of primary care doctors and pharmacists, enabling them to work in a coordinated way to enhance the patient experience."
Walgreens' $1 billion investment in VillageMD will be made in equity and convertible debt, and parceled out over the next three years. As a start, the pharmacy chain announced an initial investment of $250 million in equity funds in VillageMD on Wednesday.
The Chicago startup plans to spend 80 percent of the investment opening the clinics and integrating the sites with Walgreens' digital assets. Once the investment is complete, Walgreens will hold a 30 percent stake in VillageMD. Founded in 2013, VillageMD currently has more than 66 open positions listed on its site, with roles including data engineer, software engineer, accountant and more.
The $250 equity investment on Wednesday brings total funding of VillageMD to $491 million.