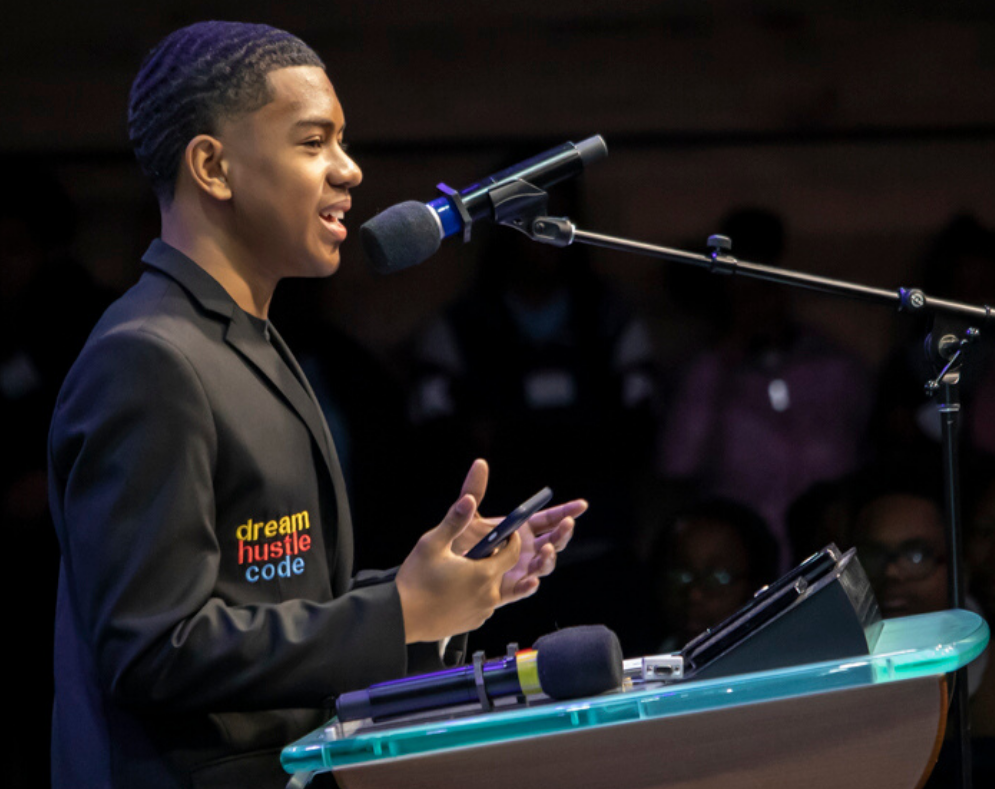 When Ian Brock was in sixth grade, he remembers playing basketball with a group of classmates after school on the North Side of Chicago. After Brock scored a few points, a white kid turned to him and yelled the N-word.
"It really made me upset that I went to the No. 1 school in the city, and I still gotta face being called the N-word," said Brock, who is half Black and half Filipino. "It's experiences like that that just really pushed me, and that keep me pushing forward, to helping other Black and brown kids in my community."
Brock turned his anger over experiences like these into action. In 2013, at the age of eight, he worked with his parents to start the nonprofit Dream Hustle Code, which aims to introduce underrepresented communities to computer science. He's since organized after-school coding programs on Chicago's South and West Sides, promoted his nonprofit at last year's BET Awards and fundraised a trip to Silicon Valley for 25 kids.
This summer, Brock, who is now 15, is now holding the New Nerd Virtual Summer Camp, a motivational program that outlines the basics of Javascript for students in fifth through ninth grades. Brock aims to raise $375,000 to enroll 1,000 minority students in his eight-week, online summer camp. The initiative comes at a critical time for Chicago, he said.
"There's a lot going on this summer with the high unemployment, the mass shootings, as well as the uncertainty with the coronavirus and many programs being canceled," Brock said. "For a lot of kids, there's a lot of negative stuff going on, but there's not enough programs to occupy their time."
The New Nerd Virtual Summer Camp, then, serves as an investment in the futures of youth of color. It also serves as an investment in the tech industry, Brock said.
In 2018, just 10 percent of computer science graduates identified as Latino, and 9 percent identified as Black, despite each group comprising a much larger portion of the U.S. population. Brock said the lack of minority interest in tech stems from a lack of representation. When people think of executives in Big Tech, Brock said they think of Mark Zuckerberg, Jeff Bezos or Bill Gates. Black and Latino students really don't see individuals who look like them in the industry, he said, which means they generally don't view computer science as a career path.
Brock pointed to himself as an example: He said he wasn't interested in computer science until he saw his favorite basketball player — former Miami Heat star Chris Bosh — talking up coding during a TV interview. He views the high salaries computer science careers offer, and job opportunities available, as an opportunity to address the racial wealth gap. A 2020 report by the Pew Research Center found that Black and Latino households are more than twice as likely as whites to live in poverty.
Brock wants his generation to change that narrative. He aims for Gen Z to form a legion of "new nerds," or smart, computer science-focused folks who are also interested in sports, trendy music and fashion.
"Without that vision, without seeing someone who looks like you, who is successful in a certain space, you're not going to want to try it," Brock said. "That's why there's so many Black and brown kids who want to become basketball players, rappers, athletes. It's because there's so many examples that show them, 'Hey, it's possible for me to go out there and actually have a shot at being successful.'"