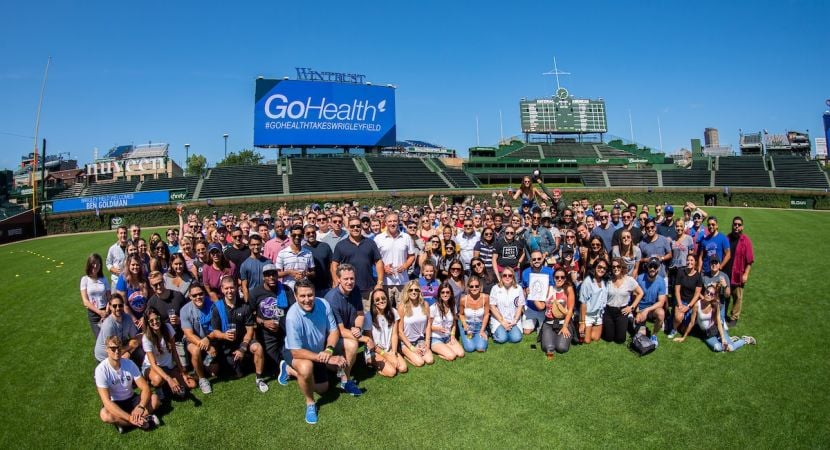 GoHealth executives virtually rang the Nasdaq opening bell on Wednesday, signaling the Chicago company's public debut on Wall Street. The online health insurance marketplace set its IPO price at $21 per share, slightly higher than ranges previously set.
During its first day on the exchange, GoHealth raised $914 million through the sale of 4.6 million shares. The sale brings the valuation of the insurtech startup to about $6.6 billion, just a year after investors valued GoHealth at $1.5 billion. The company trades under the GOCO ticker symbol.
Founded in 2001, GoHealth offers a platform for consumers and small businesses to purchase health insurance plans online. Its technology matches customers to the best plans for their situations, and the company partners with insurance carriers and agents to help them reach customers. Over the past four years, GoHealth has shifted its focus to matching seniors to Medicare products, in an effort to cater offerings to an aging population.
The GoHealth IPO reportedly ranks among the highest for the year so far, and follows a slew of other recent healthtech IPOs.
In July, San Francisco-based online property insurance marketplace Lemonade reached a valuation of $1.6 billion after its IPO; the Seattle-based Accolade took its healthtech platform public the same month, reaching a valuation of $1.2 billion; and the Boston-based Amwell telehealth provider has filed to potentially go public in September.
Goldman Sachs, Bank of America and Morgan Stanley are the lead underwriters on GoHealth's IPO. The approximately 1,500-person company currently has 104 open positions listed on its site, with roles including data analyst, software engineer, data engineer and more.