The Future 5 of Chicago Tech, Q3 2022
These emerging startups might just be working on the next big tech innovations.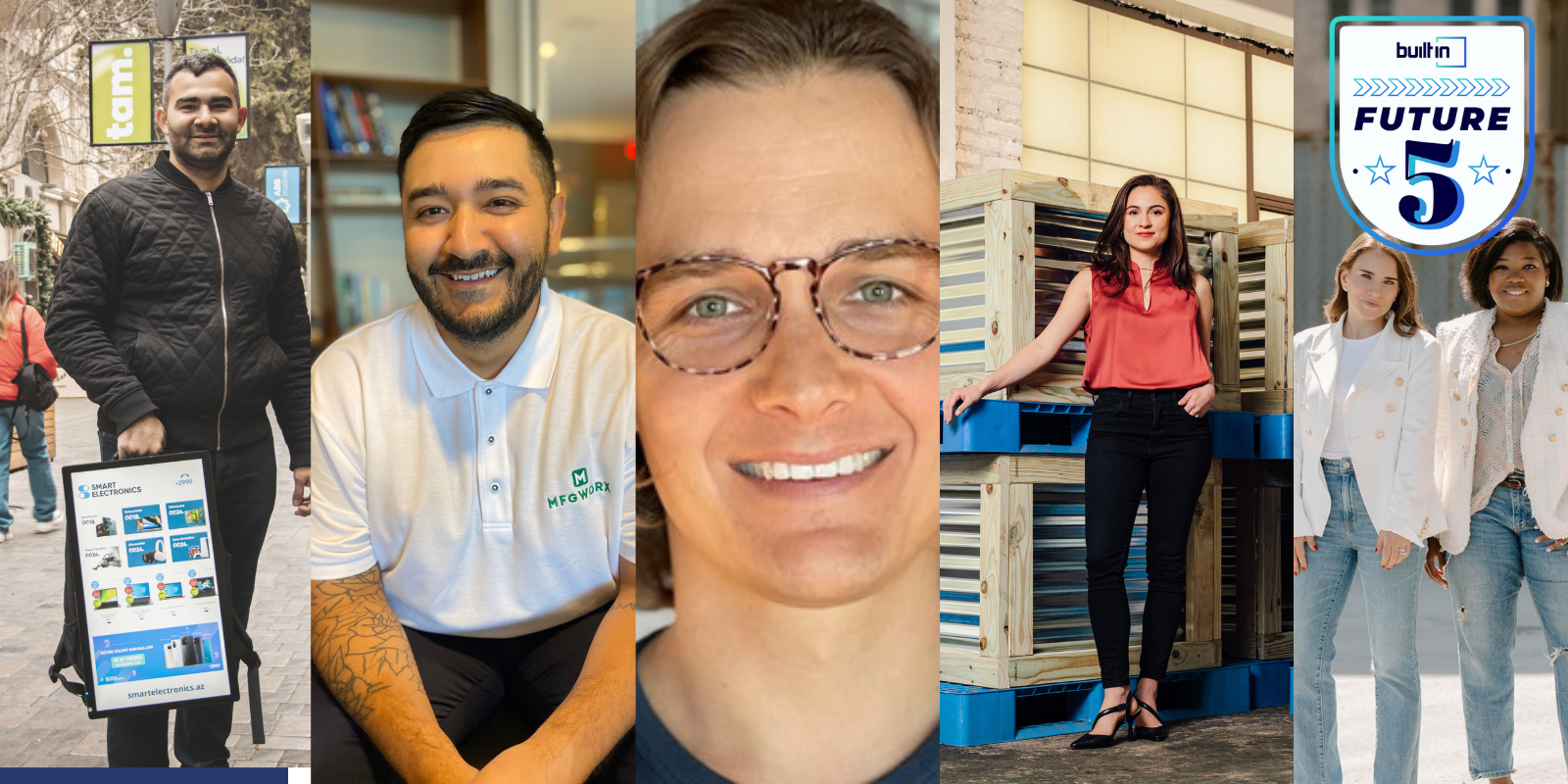 Sure, the latest initiatives from the Teslas, Apples and Googles of the industry tend to dominate the tech news space — and with good reason. Still, the big guns aren't the only ones bringing innovation to the sector. 
In an effort to highlight up-and-coming startups, Built In is launching The Future 5 across 11 major U.S. tech hubs. Each quarter, we will feature five tech startups, nonprofits or entrepreneurs in each of these hubs who just might be working on the next big thing. Read our round-up of rising startups from last quarter here.
* * *
Q3 was filled with several multi-million dollar funding rounds and companies moving to Chicago. While the Windy City and its well-known tech companies continue to make headlines, many other smaller startups have been shaking up the tech scene. While they might not have the same funding or name recognition, these startups are showcasing the depth of the Chicago tech community. 
This quarter, Built In sat down with five local startups who have yet to raise a Series A funding round. These companies range from foodtech startups to advertising platforms to travel apps and might just be the future of Chicago tech. 
Built In's Future 5 Up-And-Coming Chicago Startups, Q3 2022
Hyfé Foods (Foodtech)
MFGWorx (HR Tech)
Murmur (AdTech)
OnBrand (Fashion)
Out of Office (Travel)
Hyfé Foods is one of the many foodtech startups that has found its footing in the Chicago area. Co-founded in 2021 by Michelle Ruiz and Andrea Schoen, Hyfé Foods uses a fermentation process to convert food-safe sugar water that has been discarded by beverage companies into mycelium flour. This flour, which is more nutrient dense than regular flour, can be used to make pasta or other flour-based foods. Mycelium is a type of fungi root that is found in nature. 
"Fungi produces so many different byproducts that are high value; it could really be a circular manufacturing process where you're using somebody's waste, you're creating a product and you're using your byproducts to create more valuable goods," Ruiz told Built In. 
The company recently secured new funds and is working to create a prototype for its first product that will be sold to consumers. Ruiz also said that Hyfé Foods is optimizing its fermentation process in order to increase the adoption of the technology in areas where food scarcity is a prominent issue. Since launching, the company has raised $2 million in funding.
Many industries have gone through staffing and recruitment shortages in large part due to the Covid-19 pandemic and its resulting impact. The manufacturing industry was no exception. MFGWorx and its founder Joel Calderon are helping companies in the manufacturing industry find talent in a streamlined way. Through the platform, employers are able to contact candidates directly via text messages and speed up the hiring process. 
With the platform, Calderon is also helping candidates explore new employment options and increase their chances of getting hired by offering them training courses. 
"We want to continue to promote these industries to encourage individuals to explore careers in these fields and educate employers so they're better suited to compete in these labor tight markets," Calderon said.
When Emin Aliyev founded Murmur in 2021, he wanted to show companies that mobile advertising has a great return on investment (ROI) so he designed tech to show ads and gather data. Murmur is a mobile adtech platform that uses high-tech backpacks and car displays to show ads to pedestrians. The backpacks and car displays also gather demographic data with sensors that are integrated into the screens. Murmur also helps companies optimize image and text placement on ads to get the most interaction and ROI. 
"If someone is walking in front of me and is carrying a backpack with a screen on it, I'm going to look because it is unusual and interesting," Aliyev said. 
Murmur has raised $250,000 in a preseed round and is closing in on its first seed raise. The startup is also working on developing a platform for copywriters and is exploring how weather conditions impact ad interactions. 
OnBrand is using AI to provide men with highly curated clothing recommendations. The company was founded as a side project by Brian McEuen, who previously worked as the director of merchandising for Banana Republic.
To get recommendations, users must first take a style quiz on OnBrand's website. Then they receive recommendations straight to their inbox. By having people take the quiz, McEuen said he is able to provide users with clothing recommendations they are more likely to purchase. 
"I don't want to just get my products in front of as many eyeballs as I can. I actually want to find products that the person is going to like and then buy and then keep," McEuen said. "So it's kind of a good incentive to find them the right stuff as opposed to just show them things."
Besides providing recommendations, OnBrand also gives shoppers detailed size descriptions and fitting guides for the clothing it recommends. 
It can be hard to find the best restaurants to eat at or hotels to stay in when traveling. Chicago-based Out of Office, however, aims to make finding those places easier. The platform co-founded by Jan Seale and Coabi Kastan provides travelers with reviews and recommendations from other travelers about restaurants and hotels. Beyond that, travelers using the platform can also make diner reservations straight through the app due to an OpenTable integration.
Since launching, the startup has raised $5 million in funding. Its founders have also been helping other women-founded startups find the same successes as them. 
"We're trying to be advocates for women in the tech space, and especially here in Chicago," Seale said.
In the future, Out of Office will allow users to make make hotel reservations from the app.