Katie Connor stepped into a client meeting with a hunch. 
The senior account executive at Relativity was at a large company's legal department to give a demonstration of one of Relativity's products, Legal Hold, which automates the legal hold process for users. She'd spent a good bit of time with this client getting to know their business needs and current roadblocks and, in addition to Legal Hold, suggested the full stack of RelativityOne's products, which could drastically improve the legal department's workflow and provide more accurate data than what they were currently using. 
Shortly after the meeting concluded, the client responded that they still wanted to buy Legal Hold — in addition to the entire RelativityOne full stack of products. 
Connor didn't rely on sales tricks to get the upsell: She was able to draw on the knowledge she'd gained from months of close communication with the client in order to accurately assess the organization's pain points, then offer solutions that would truly benefit them. 
This a-ha moment for a Relativity client wasn't the first (or the last time) this has happened. Connor and her fellow team members are a part of the fastest-growing area of go-to-market focus at Relativity — and they're still growing and hiring. Together, they've been working on developing new, direct commercial relationships with the largest companies in the world. So, being able to master Relativity's sales cycle and advise clients throughout all steps of the process, has been vital to getting clients what they need.
Where some might see obstacles in the process, Relativity's sales team sees benefits.  
"Within the next few years, I'm planning to bring in some top new corporations and work even closer with our development partner community and clients. I'm also excited to learn from all the new talent joining Relativity from other top companies across all of our departments. "  
"We are all able to reach out to each other for ideas and support when needed, which is one of the things I really like about Relativity's culture. We are invested in each other's success as well as our own."
"It's exciting to bring in people from a number of different backgrounds and have all of us learn how to work together to best serve our customers."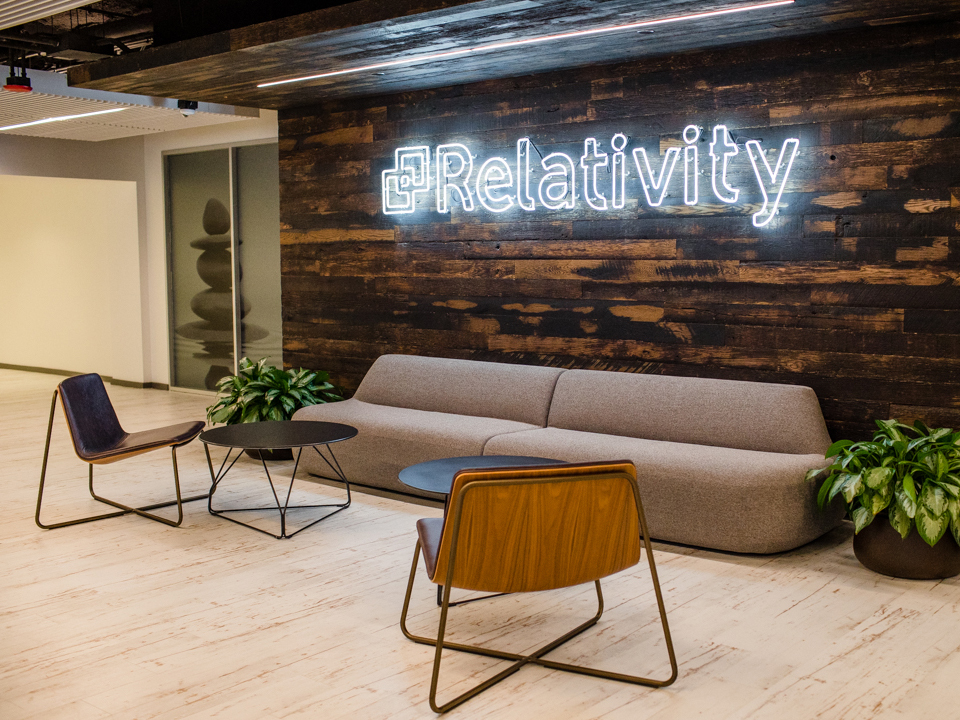 No such thing as a 'typical client'
In order to get a full picture of what products would work best for their clients, account executives at Relativity set up discovery meetings, demonstrate the software and talk candidly about the path to implementation. 
"Relativity's sale cycle is very detailed-oriented. We look at our clients as partners and really work to understand their needs, wish lists and expectations," Connor said.
The relationship between clients and account executives must be so collaborative in part because the client-type varies widely, said Ryan Edwards, a senior account executive at Relativity. Therefore, the work the software can assist with can be applied to many different industries. 
"I'm working with interesting people at small and large, global corporations across manufacturing, biotech, pharma, banking and energy," Edwards said. "I could have had a demo with a financial services and insurance company in New York yesterday, a pitch to an energy company in Houston today and a discovery call with a software company in San Francisco tomorrow."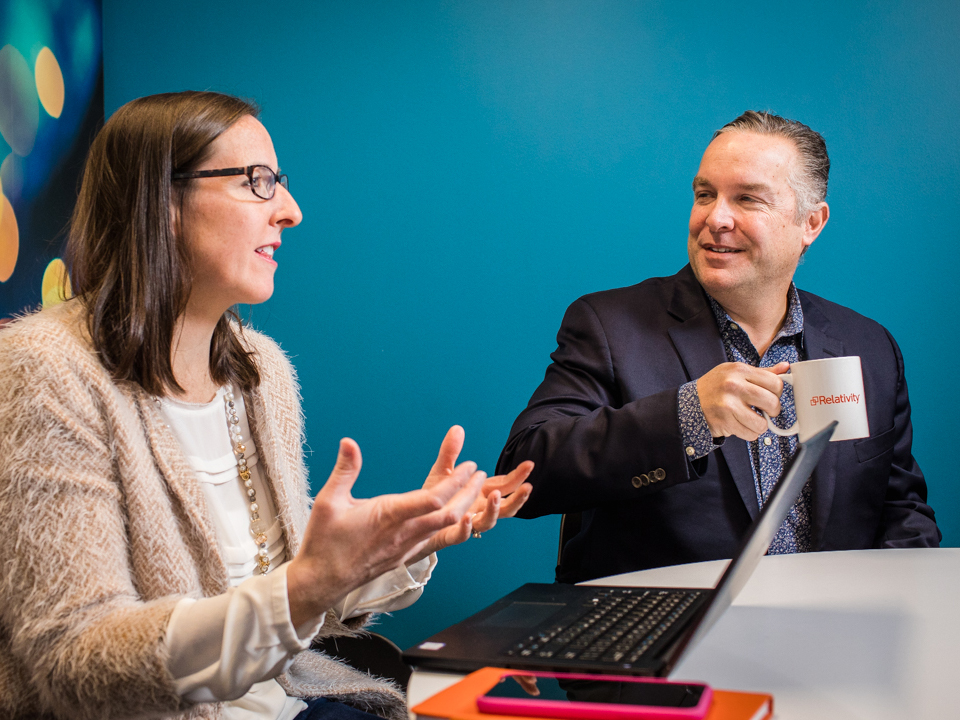 What does the client care about? 
Once a potential client is in talks with Relativity, the first task at hand is to analyze the current solutions they use. From there, the account executives will lay out a roadmap for how RelativityOne products can tackle once-daunting tasks. 
"We understand there is a different blueprint for every customer," Connor said. "We're strategic to our approach in selling RelativityOne, and we integrate the solution with the needs of the customer." 
Edwards and Connor agreed that due to the diversity in the types of companies that reps work with, being able to solve pain points keeps sales interesting at all stages of the process.
"What's exciting for me is the opportunity to learn what people care about, and how RelativityOne can be meaningful on a personal level," Edwards said. "Will it give the client more time outside of work to spend with their family? Will it help them to level-up their skills and prepare for their next role?"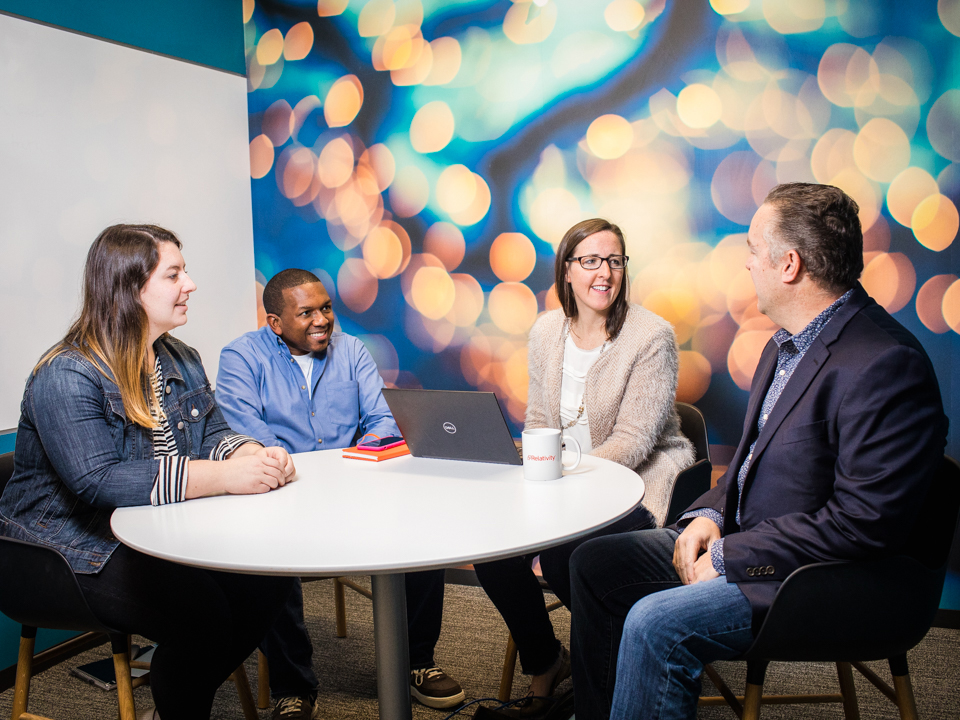 Letting the numbers speak
After this point, the client generally knows what the product can do — but what they don't know is how it can work for them specifically. 
"During the consideration process, the customer will want to test the software, speak with our product, solutions and security teams, and have more detailed conversations around on-boarding and support," Connor said. "I do find clients spending quite a bit of time evaluating RelativityOne and its capabilities."
With any addition to a company's workflow, the decision to buy new software and change up operations isn't one any company makes lightly. 
"One of the best things I have found to show customers during this stage is the large, robust community of Relativity users and experts that are out there in the world," said Todd Tucker, a senior account executive at Relativity. "It's the biggest advantage of going with a market leader and is a real strength to our customers." 
By the time the client signs a contract, an account executive could have already worked with them for several months, becoming a resource and a support system. "In many cases, if not all, you become a trusted advisor to clients," Edwards said. "I believe the innovations that Relativity drives into the e-discovery industry really matter, and I feel that by selling RelativityOne, I can have a real impact on my corporate clients."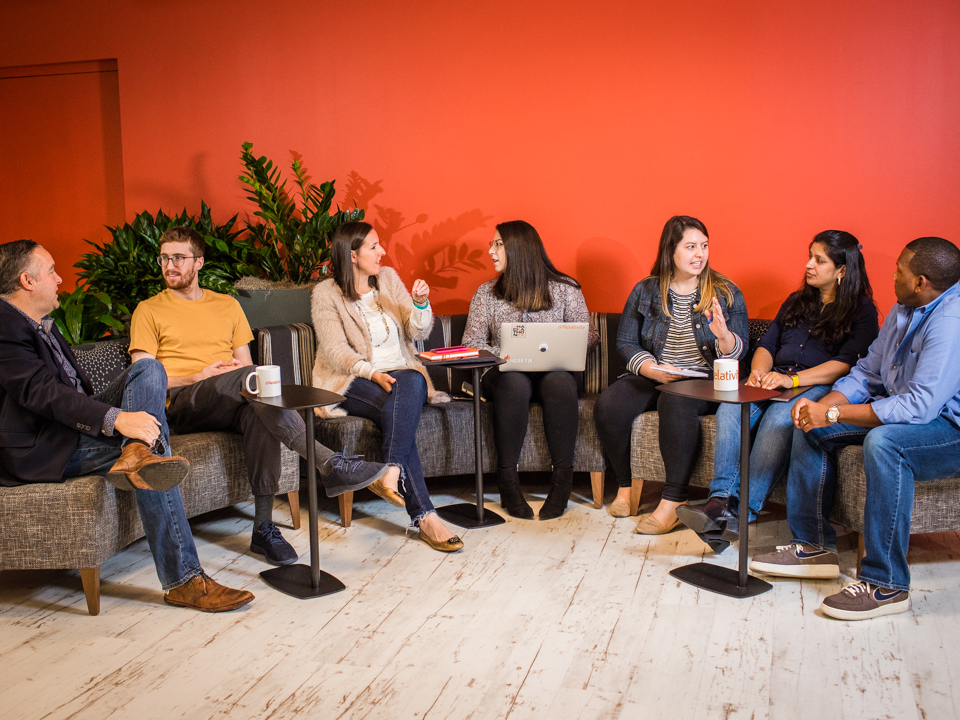 After the sale
When Connor left that meeting having just sold the RelativityOne full stack to her clients, it was a personal win, but it was also a win for her client — and their clients as well. With their new software, the time they'd save on combing through documents would be a fraction of what they were used to. 
The results speak for themselves: According to Relativity, one of its clients used its software to pinpoint a single Chinese character within hundreds of thousands of WeChat messages, unraveling a two-year embezzlement scheme in a matter of days. Another client, facing growing data volumes, used Relativity to cut processing time by 50 percent. If these figures seem borderline absurd, consider that some of these companies need to sort through literally millions of documents at a time.
In some ways, that's another area where RelativityOne is doing the heavy lifting and allowing account executives to get back to what really matters: forming connections and building a network of support that the client will always have access to.