Nobody was around to notice that Flexport's new Fulton Market office still smelled like fresh paint, or to admire the pristine furniture sitting on the newly-installed carpet. This workspace, custom-designed to exacting specifications, should have been buzzing with activity.
Instead, it sat empty. 
The day Flexport was supposed to move into its trendy office, the company issued a communication to the entire staff: Remote work would begin immediately. Maybe it would only last a few weeks, possibly a month. When it came to the novel virus sweeping the globe, nobody was quite sure what would happen.  
Members of the logistics company were reluctant to say goodbye to in-person interactions. No more group lunches, happy hours, events or casual conversation in the kitchen. Once remote, would their company culture dissolve?
Perhaps elsewhere, the answer would be yes. But at Flexport, employees said they are accustomed to pivoting and took the shift in stride. According to Kathryn Remivasan, a software engineer, rolling with change is as much a part of the company culture as a Friday afternoon toast.
 
I think part of our nimbleness is due to the fact that we still have a startup mentality."

"We aren't super tied to a certain way of doing things," Remivasan said. "If something has to change, we'll respond quickly and figure out what's best for the business and for the team."

David Ma, an operations manager and self-proclaimed "grandpa" of the group — he's been at Flexport for three years — underscored that the company's resilience stems from its startup roots. While he's seen Flexport become more established over the years, he noted the company hasn't lost its ability to react quickly — and that reflex has helped maintain the community they've built.
"It's fascinating how quickly we're able to change and adapt our strategies," Ma said. "I think part of our nimbleness is due to the fact that we still have a startup mentality."
As the months go by, their new office remains empty. But the team says that hasn't stopped them from finding new ways to build their culture and bond with their peers. It's just happening virtually these days.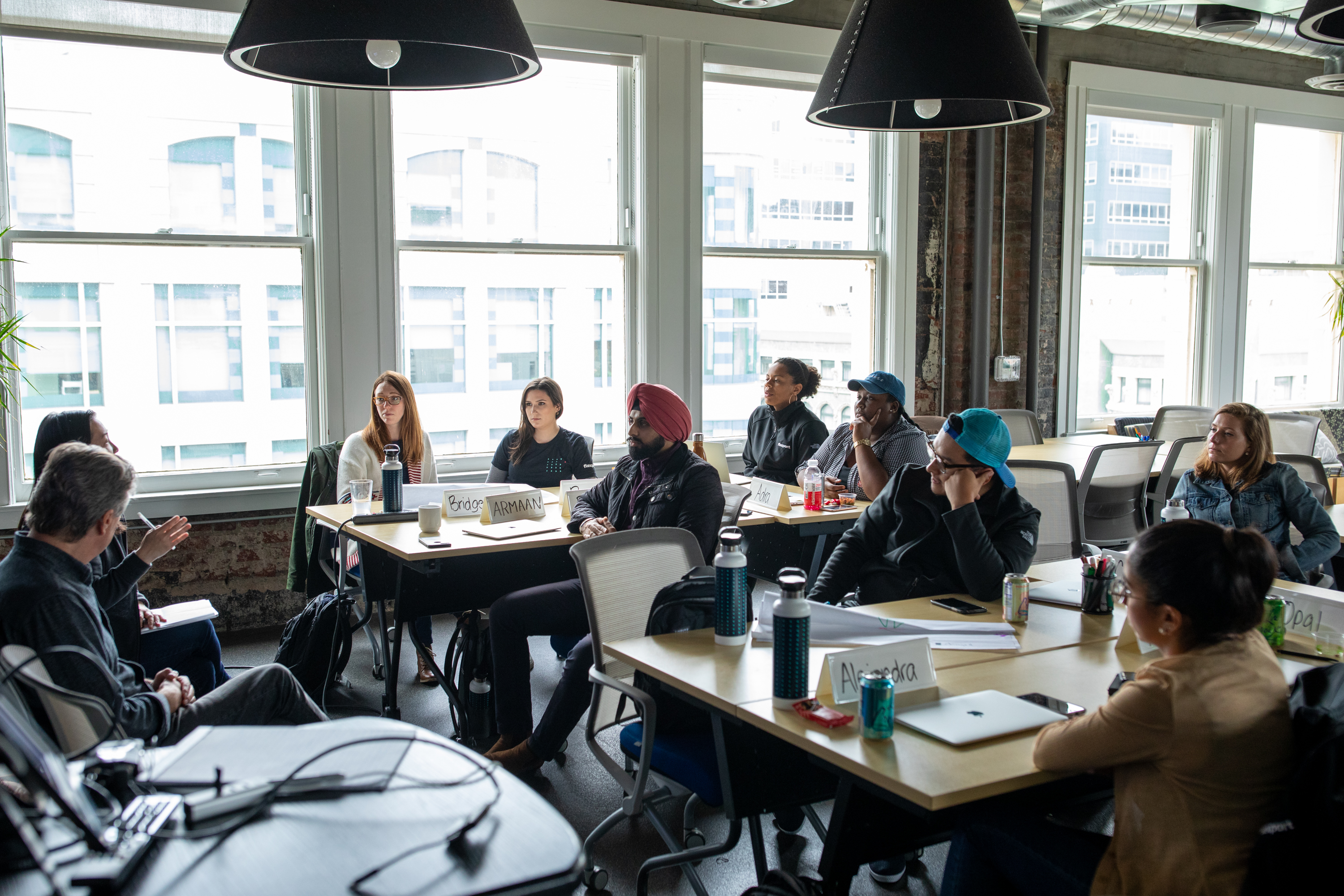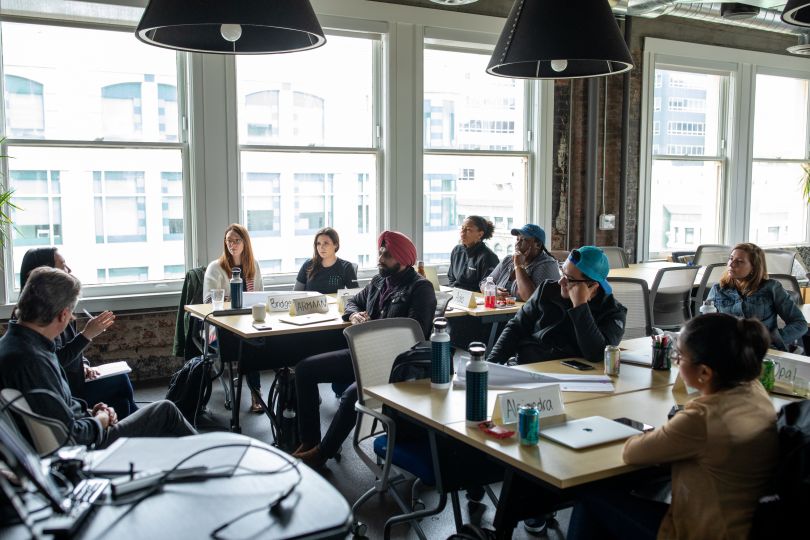 The Chicago office hasn't been around very long. What is it like to join a branch that's still building its culture?
Software Engineer Kathryn Remivasan: It's been exciting because the office is made up of people who are ready to carve their own path and figure out what works. We get to set our own cultural standards and implement what we want to see. There aren't any ingrained processes or red tape to bar us from starting something new. 
Network Operations Business Analyst Pam Yuan: I found out there wasn't a Chicago chapter of Freight Femmes, which is our women's ERG. So I asked if I could start one. I made an announcement and a Slack group and got about two dozen employees to join. We have biweekly lunches, where we either have an open forum or pick an article about women in the workplace to focus a conversation around. We try to share skills we have outside of work, too. One member of the group did a self-defense class because she has a black belt in Taekwondo. 
How have those ERGs managed to stay active during this time? 
Operations Manager David Ma: When the Chicago office first opened, we'd have group workout classes, happy hours, and different ERGs would throw events every month. We've been able to do a lot of those activities virtually. Last month, the Heritage of Asian American Pacific Islander (HAAPI) group hosted a cool virtual panel and got three pretty prominent speakers.
For events, we've pivoted our strategy as well. For the month of May, we launched a HAAPI meals competition, which was like a virtual "Iron Chef" contest. There'd be a secret ingredient of the week and everyone was encouraged to cook something with that ingredient. Then we'd all vote on who had the best dish or best presentation.
Yuan: It got pretty competitive. David won one of them!
Ma: I didn't want to brag. I made Hainanese chicken rice — the key ingredient for that week was rice.
What does Flexport's culture look like now that you're remote? What are some new activities you've taken part in?
Yuan: We do Donut meetings — it's an app in Slack where you get randomly paired with someone in a specific channel. Through that, I've met people working all over the world and on teams that I would have never had a reason to talk to. It's helped me be more open when asking questions, which can help me unblock my work.
Something else I'm doing is mentoring interns. We have biweekly coffee chats, which are a way for them to feel like they have a mentor who is there for them as a friend. We did this before we were remote, but I'm really glad we continued this mentorship program because it must be jarring for an intern to understand our culture while working at the pace we do — all in a remote setting.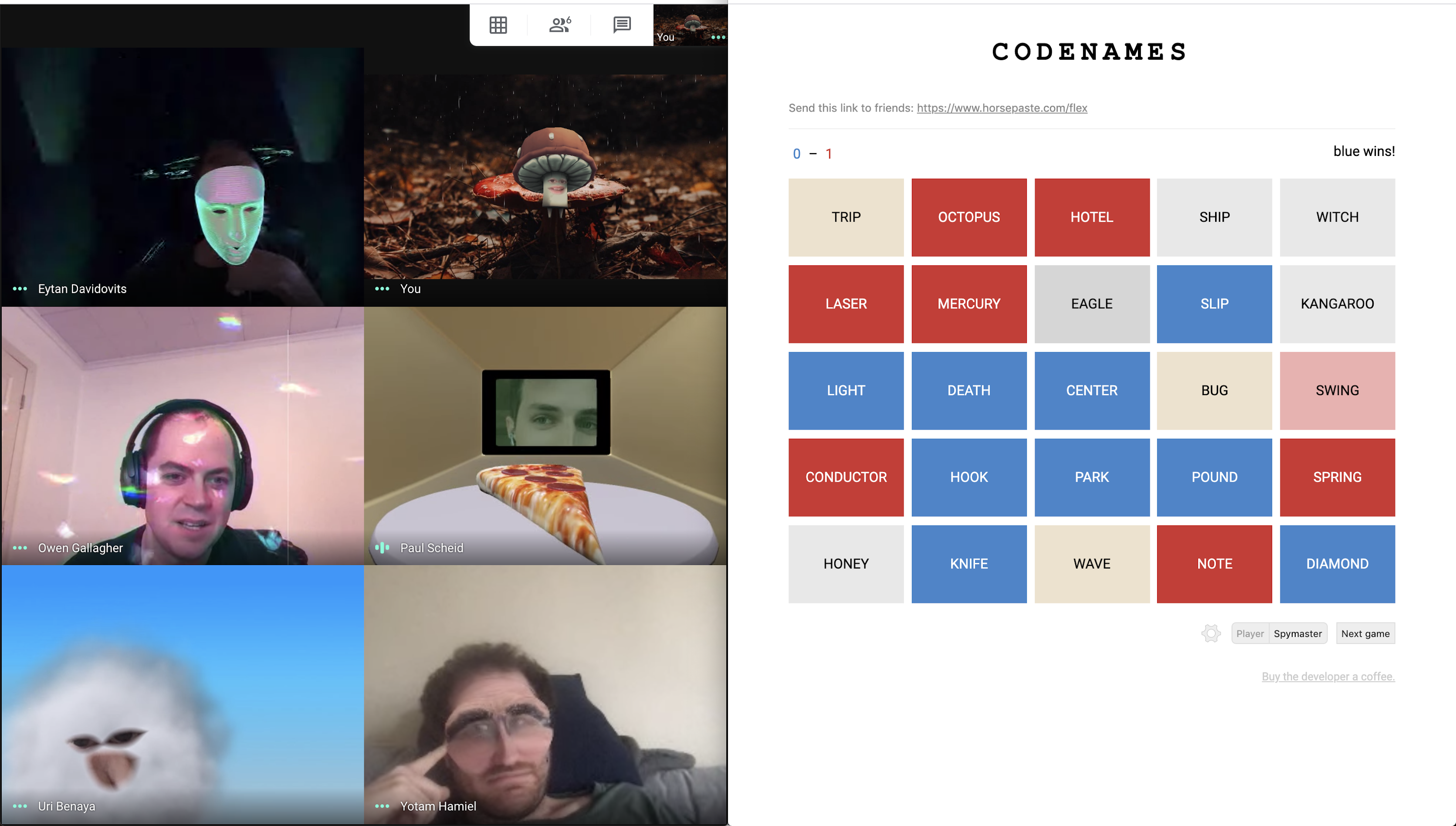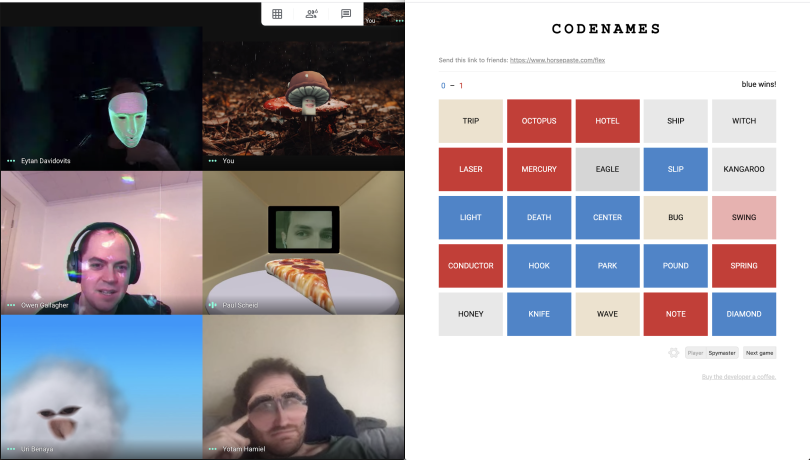 Remivasan: We've added a virtual water cooler where we set aside 15 to 20 minutes every day for people to join if they want to socialize. My team also does monthly game nights, which is a great way to keep those social connections strong and make some good inside jokes. 
To keep our engineering culture alive, we do demo days every month. Now that we're not in the office, some of us can't see what the warehouse or trucking teams are working on. This way all the teams can present their work, share best practices and keep our connection.
Flexport Academy
When travel becomes safe again, Flexport will continue its onboarding program, Flexport Academy. New hires are flown out to San Francisco for two weeks for an intensive bootcamp that gets everyone up to speed on what they need to know in the world of logistics. Work aside, it's also a great way to meet new coworkers. "You get basically an associate degree in supply chain logistics in two weeks," Remivasan said. "Also, the people that I started with are now my really close friends. We all still check in with each other."
Does the leadership team contribute to building the culture?
Remivasan: Our leadership really prioritizes culture. We do culture surveys every quarter, and the leaders take it very seriously — if our numbers go down, it's a problem. They're always trying to keep their pulse on how happy and productive we are, and if we're getting the support and resources we need. 
It's really nice to work at a company where I always feel supported. Leadership has done a good job of prioritizing that feeling. It trickles down all the way down — we want to create a community where everyone can depend on each other, and we're doing a good job of doing that. 
Ma: We have a Slack channel where any employee at Flexport can ask our executive team tough questions. It's awesome that global leadership has opened up this additional avenue for us to ask pertinent questions as they come up. We're having a lot of conversations around diversity and inclusion right now, and leadership is responding and making changes. Having that layer of transparency and communication is pretty rare.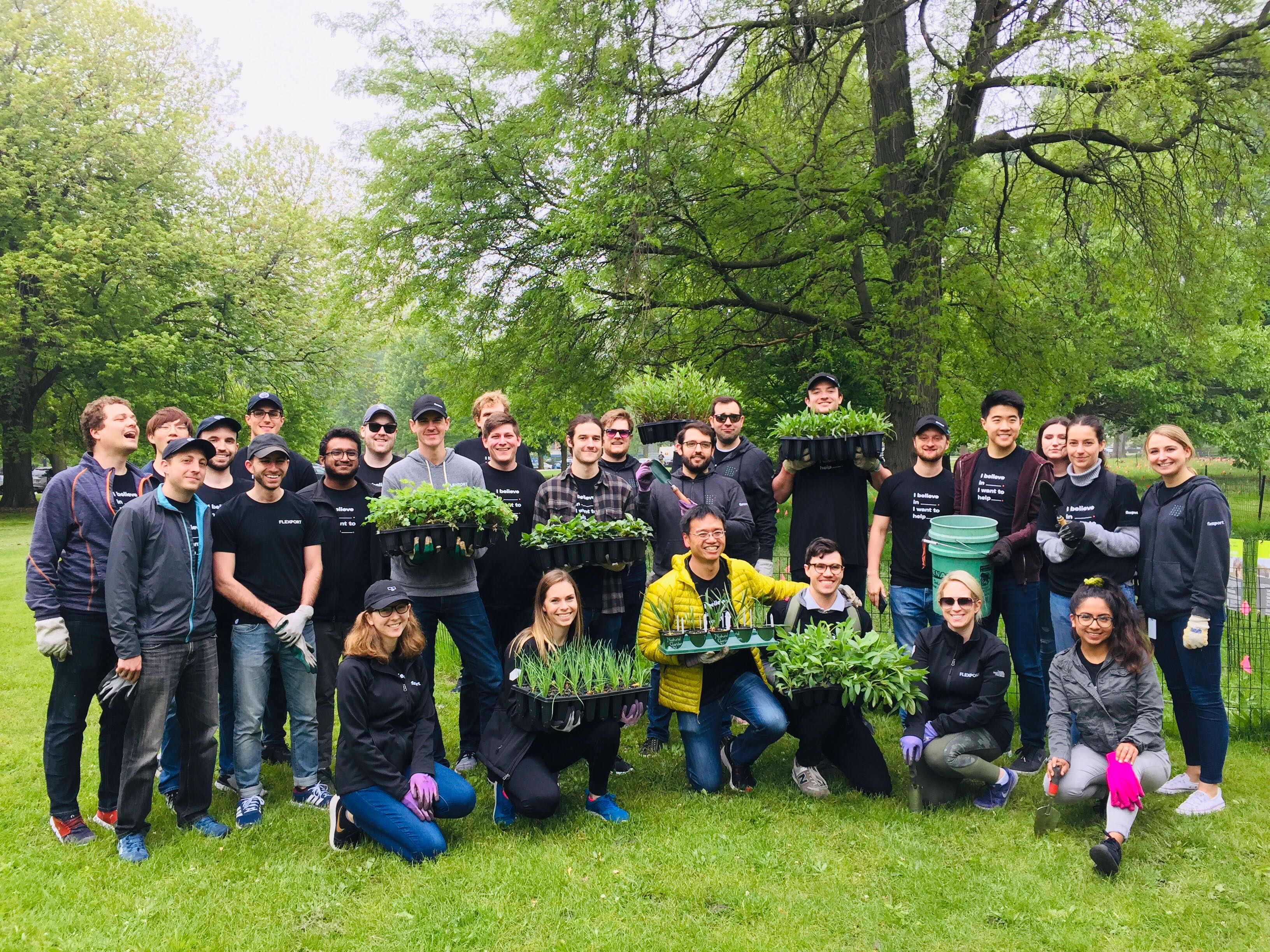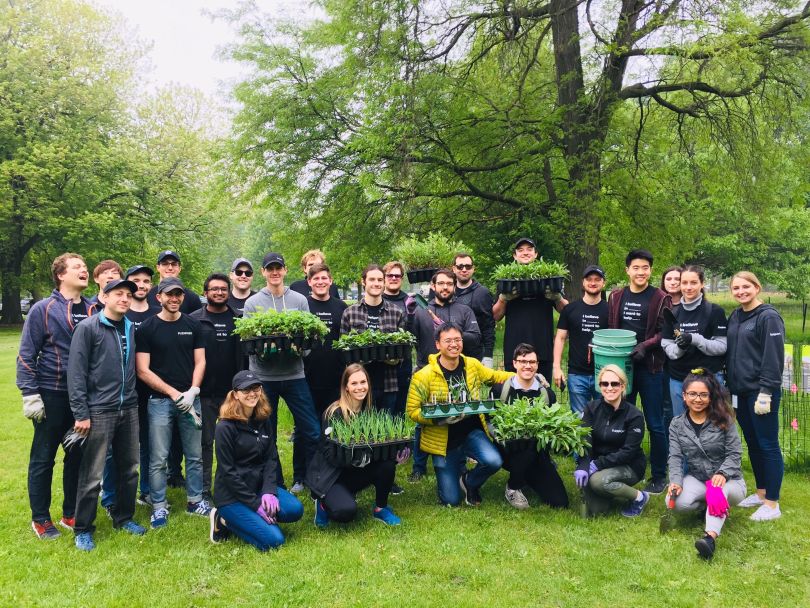 What are you looking forward to most about going back to the office?
Remivasan: A big part of Flexport culture is how we all eat lunch together. I'm really looking forward to being able to catch up with everyone, including people who aren't on my team. When you're remote, it can be harder to talk with people across different teams because you can't just have impromptu conversations throughout the day.
Ma: One superficial thing I'm looking forward to is working in our amazing new space. It's a beautiful office in an entirely new building that's customized for Flexport, but none of us have ever worked in it! 
On a deeper level, I think Flexport's magic lies within its people. I think that's what binds us all together in the long term, so I am really looking forward to being able to talk with people in person again.