Within one of Cisco Meraki's financial client's lobbies, there was an alarming trend.
Day after day, fanned out stacks of pamphlets advertising mortgage loans, credit cards and wealth planning remained untouched in its lobbies. Full pots of complimentary coffee turned cold.
It seemed odd for the client to turn to a cloud-managed IT company for help attracting customers. But Cisco Meraki had already solved their corporate network issues and simplified their infrastructure. Why not simplify this too?
"We think about the bigger picture," said Kate Nicholson, Meraki's team lead for mid-market inside sales. "How can we simplify every day in IT? How can we take complex problems our customers face and use the Meraki Cloud to solve them?"
Meraki answered these questions by setting up cameras in the lobbies and using people analytics to determine that the problem wasn't that the financial offers weren't enticing — they were simply not in the line of sight for customers walking by.
 
How can we simplify every day in IT? How can we take complex problems our customers face and use the Meraki Cloud to solve them?"

That information led the client to redesign its lobbies to create a different traffic flow for patrons. Soon enough, customers started picking up pamphlets. They were actually drinking the coffee.
"It's that out-of-the-box problem solving that is so fun," Nicholson said. 
Nicholson said Meraki's ability to come up with these solutions throughout the customer journey is possible due to the collaborative efforts of various teams: sales, UX and network support. 
Nicholson and her colleagues, UX Design Manager Sharon Kong and Network Support Engineer Ekta Jagdale, shared with Built In Chicago how they work together to help simplify the lives of Meraki's clients.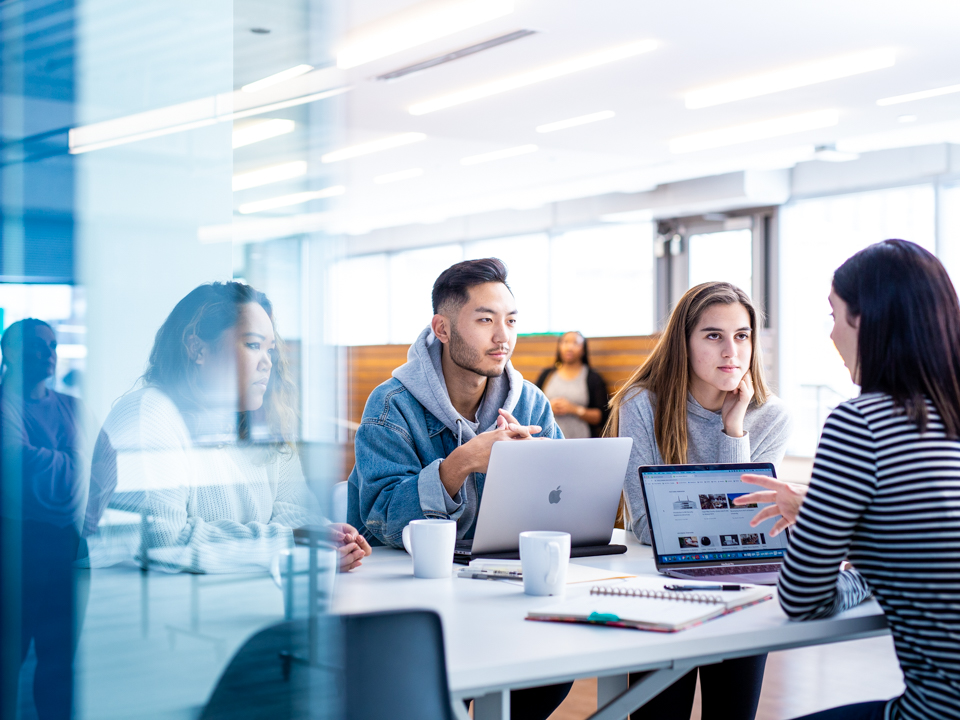 Collaborating while scaling
According to Cisco Meraki, the company reached 1 million networks around the world just over a decade after it was founded. Less than two years later, it hit 2 million. To keep up with the growing needs of its customers, Nicholson said the company not only increased but evolved its product offerings on its cloud-hosted dashboard. Kong added that her UX team has shifted from medium-sized interaction projects to collaborating on cross-team initiatives, like facilitating workshops for customers and product teams. 
Kong: The UX team works with every product team at Meraki in varying degrees. We research, design and test our solutions right alongside product managers and engineers, often inviting them to attend user interviews and whiteboarding solutions together. 
For example, our team spearheaded an effort to draw a customer journey map that spans the entire lifecycle of a Meraki customer, from inception to daily usage. It was useful for the strategy team as they delved deeper into key touchpoints in the customer journey and sought to innovate on the journey overall.
Jagdale: Every case a support engineer receives goes through an extreme troubleshooting process involving other teams, with no stone left unturned. We do a comparative analysis of the expected behavior and the actual behavior, and work extensively with our intermediate product specialist team to resolve the issue by highlighting the unexpected behavior. They analyze the information presented to them, and the discrepancy then gets forwarded to the product and engineering team. 
Nicholson: Every team member is here to support our customers in the best way possible, from our free trial support team members, who give customers the white glove experience while testing our products, to our Cisco financing team members, who offer different payment options during this unprecedented time. 
Understanding client needs and addressing feedback
To improve existing products and create new ones that meet client needs, all three Meraki employees indicated that working in silos would never allow the UX, sales and engineering teams to fully see the extent of their clients' issues. Informing each other of client feedback, along with giving each other feedback, is how Meraki efficiently solves problems and prevents new ones, Kong said. 
Kong: Working with other teams helps us get a clearer and deeper understanding of customer needs and the technology that might help them. 
As everyone started working from home during the pandemic, client VPN cases were soaring through the roof. Luckily, support and product management pinged our team early so that we could gather information about how to redo that feature and make it easier to use. We quickly pulled together some easy changes to help reduce the immediate issues, along with longer-term solutions to prevent problems from surfacing in the first place. Cases went down drastically within the next couple of weeks.
 
Working with other teams helps us get a clearer and deeper understanding of customer needs and the technology that might help them." 

Nicholson: When Cisco Meraki's security camera first launched, there was a set amount of time a customer could hold on to footage. When customers requested we increase the storage, our team not only increased the amount of storage on the different camera models, but we also created so many tools on the Meraki Dashboard so customers could get creative with the footage they are holding on to and for how long. I've heard from so many customers who revisited that product since it launched that they're amazed at how quickly we rolled out new tools and features that are just automatically pushed out through our cloud dashboard. They love it.
The Feedback Loop
When Cisco Meraki's team is determining how to iterate on existing products or which new ones to design, they turn to feedback from both customers and each other. Kong's UX team uses mixed methods of research and inquiry, with client interviews being used most. Meanwhile, Jagdale's network support engineering team reviews case surveys in which customers rate their experiences with the engineers. Product and engineering teams also track feature upgrade requests from customers on the GUI or Meraki community forum and incorporate them after vetting.
Simplifying customers' lives
Keeping each other in the loop about issues and customer feedback while collaborating across teams involves a lot of effort on Meraki's part, but Nicholson, Kong and Jagdale all said it makes for the strongest product for end users. 
Jagdale: What makes Cisco Meraki different from other IT solutions is simplicity. It's extremely easy to deploy and manage the products for any business model. All products can be managed via a web user interface, which is very intuitive and provides complete access to all of your devices. Network admins can remotely access, monitor and troubleshoot at any time — that's the beauty of a cloud-managed solution. 
Nicholson: I had a customer that wanted to keep their IT teams engaged and provide training while they work from home. Because our role is so much more than just sales and numbers, it's been fun to really take a step back and think of all the ways I can provide value to my customers outside of projects within their offices. I've hosted virtual trainings where I've sent lunch to my customers, allowed them to test out Meraki gear directly from their homes, and taken this time to build out stronger relationships with them.