Chicago tech companies are always on the lookout for top talent, so what are you waiting for? These nine companies are all hiring right now, and would love nothing more than to see your resume in their inboxes.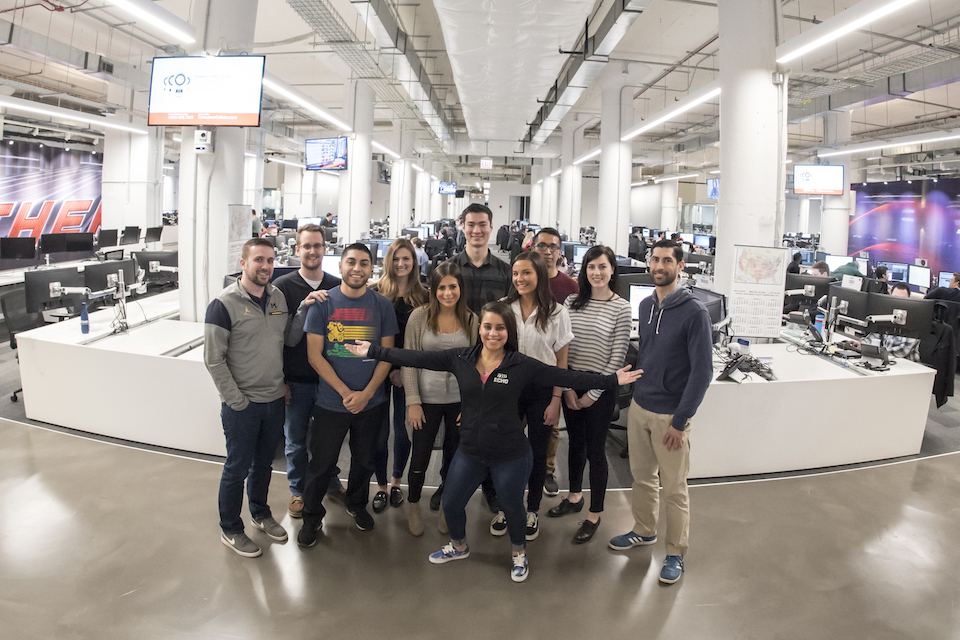 What they do: Echo Global Logistics is a technology-enabled provider of transportation and supply chain management services. The company offers both managed transportation and freight brokerage solutions, and its technology analyzes data from over 40,000 transportation providers.
What they look for: "Our industry is at the epicenter of where tech is at right now, and there are few times in your career when you can be part of a transformational experience," said CIO Miles English. "We are looking for tenacious and inquisitive IT folks who live to learn and build. At Echo you will find the high energy and entrepreneurial spirit of a startup with the stability of a $2 billion steamroller."  
Sweet perks: Echo employees enjoy an office with a casual dress code, beer on tap and a stocked game room featuring foosball, pop-a-shot and a ping pong table. Health, dental and vision insurance are also available, as are a 401(k) match and commuter benefits. Employees are also given time off to volunteer in their communities.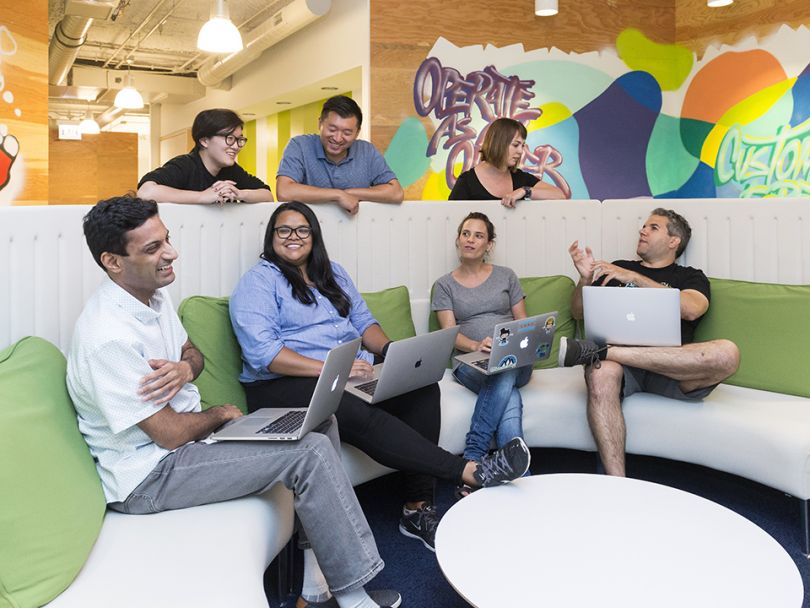 What they do: Enova is an online lender that uses machine learning and analytics to assess the creditworthiness of consumers and small businesses that don't qualify for traditional loans. In addition to lending, the company also provides analytics software to other companies.
What they look for: "We look for smart and driven people from all backgrounds who bring new and innovative ideas," said CTO John Higginson. "As our company grows, we need people who will help us continue to reinvent the future of online financial services and deliver on our mission of helping hardworking people access fast, trustworthy credit. In 2018 we're looking to hire over 30 people to build our next-generation apps, machine learning models and global infrastructure."
Sweet perks: Discounted gym memberships, yoga classes, massages, manicures and haircuts are all available to help employees de-stress. Those who like to give back will want to take advantage of the company's charitable donation match program. More traditional benefits include health, dental and vision insurance, a 401(k) match, and tuition reimbursement.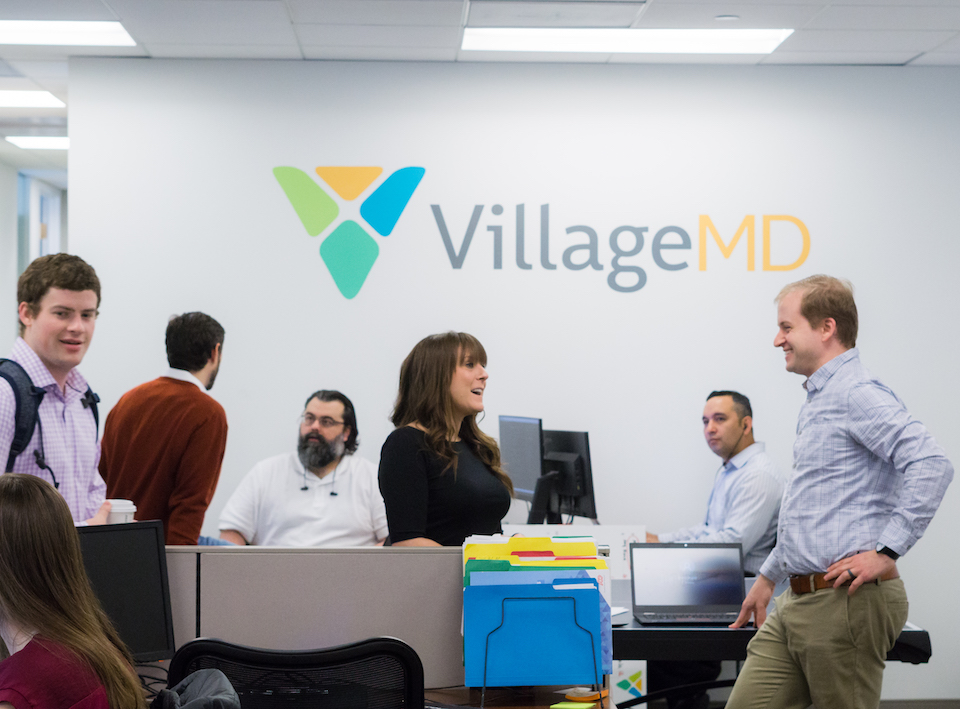 What they do: VillageMD provides technology, analytics services and on-the-ground support designed to help primary care providers improve patient outcomes and operate more efficiently.
What they look for: "The best candidates embody humility in combination with unbelievable levels of accountability," said CIO Mike Roberts. "Additionally, we love those with data and tech skills. Those who find joy in changing healthcare are our favorites."
Sweet perks: VillageMD employees have access to comprehensive healthcare coverage, a 401(k) program with matching employer contributions, a gym membership and an office kitchen full of snacks and beverages. Regular community service opportunities and team outings give team members a chance to give back and bond outside the office. The company also offers a generous PTO package.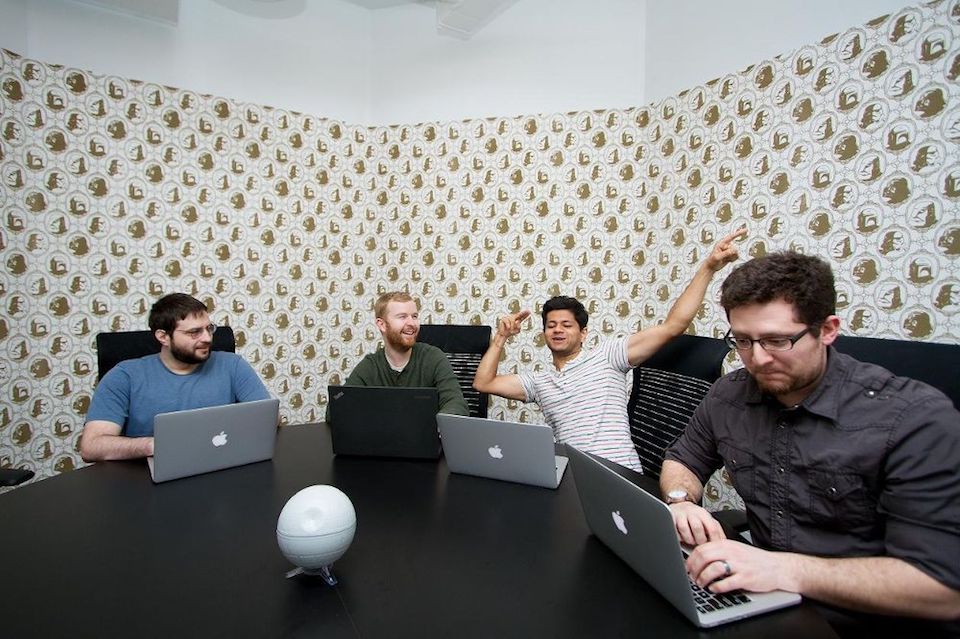 What they do: Avant uses big data and machine learning to provide access to loans to consumers who may have been turned away by more traditional institutions. The company has issued over 600,000 loans through its platform since launching in 2012.
What they look for: "We love candidates who are hungry to learn and want to join a team that is reshaping an industry," said CTO Robert Reyonolds.
Sweet perks: Those who like to travel will love Avant's unlimited vacation policy. The company also keeps the kitchen fully stocked for those who like to snack. Avant has traditional benefits covered, too,  providing health, vision and dental insurance and a 401(k) program.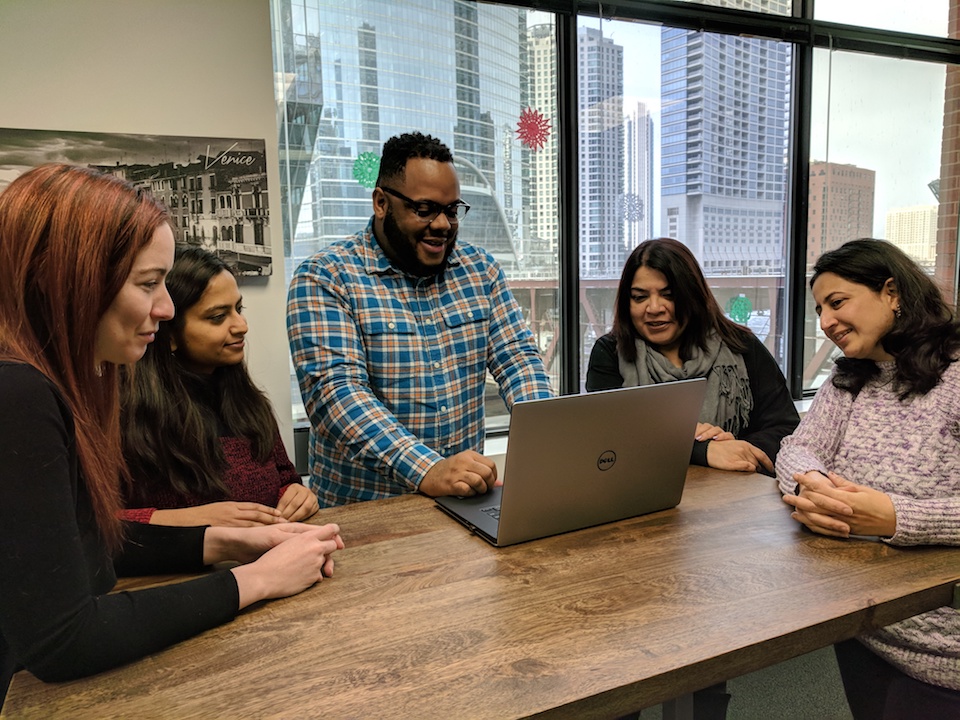 What they do: Braviant Holdings is a fintech company that uses advanced analytics and proprietary technology to improve access to credit and streamline the lending process.
What they look for: "We look to hire self-starters who are passionate about using data and technology to solve complex problems," said head of talent Ramona Stefan. "Ideal candidates thrive in an entrepreneurial environment where they can own their work and collaborate with smart and equally driven colleagues."
Sweet Perks: Casual dress, a fully stocked kitchen and flexible working hours are just a few of the perks employees enjoy. Other benefits include a 401(k) program featuring an automatic employer contribution, a generous professional development program and equity in the fast-growing company. Individual medical, dental and vision plans are all available and 100 percent subsidized by the company.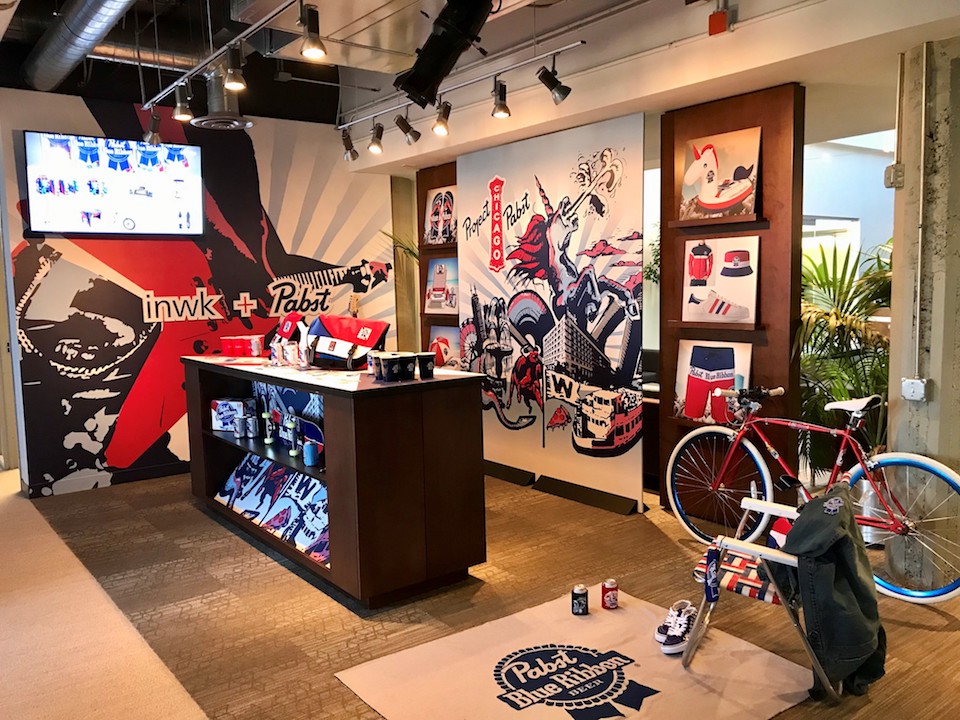 What they do: InnerWorkings is a global marketing execution firm that uses data-driven technology, an extensive supplier network and years of industry experience to help companies deliver consistent brand experiences. Its clients include Energizer, The North Face and Calvin Klein.
What they look for: "Our technology teams focus on solving internal and external customer marketing-related business problems quickly, efficiently and entirely," said CIO Rob Burkhart. "We pride ourselves on creating enterprise-grade solutions and like to have a lot of fun doing it.  If those things sound intriguing and exciting to you, be sure to check us out."
Sweet perks: InnerWorkings helps employees balance work and life with a generous PTO policy, office social outings and time off to volunteer. Conventional benefits like health, dental and vision insurance, along with a 401(k) plan, are also offered.
What they do: Direct Commerce Group partners with companies to grow and manage their e-commerce efforts while also protecting their brand and pricing. Its services include direct selling, marketplace management and retail partnerships.
What they look for: "At Direct Commerce Group we're having a blast growing an amazing, forward-thinking team at the forefront of e-commerce," said President John MacEntee. "We like to empower our employees to succeed in their careers by hiring top talent, having strong company values and providing a great platform to win."
Sweet perks: Opportunities to attend conferences and trainings give employees the ability to further their professional development outside of the office, while a robust PTO package and company outings help employees have fun, too. A 401 (k) match is on offer, as are dental, vision and health benefits.
What they do: Enfusion is a leading provider of cloud-based investment management software and outsourced fund services
What they look for: "As a fintech firm, we love to see candidates who are passionate about both finance and technology," said Alexandra Evangelou, who leads recruiting at Enfusion. "We are also entrepreneurs and value candidates who like to be challenged and who have excellent problem solving skills. We also look for those who love to learn as well as teach, and, most importantly, who want to make an impact!"
Sweet perks: Enfusion keeps the pantry and fridge fully stocked and provides free lunch on Fridays. Employees also enjoy commuter benefits and a casual dress code and work environment. The company also offers generous PTO and a health benefits package.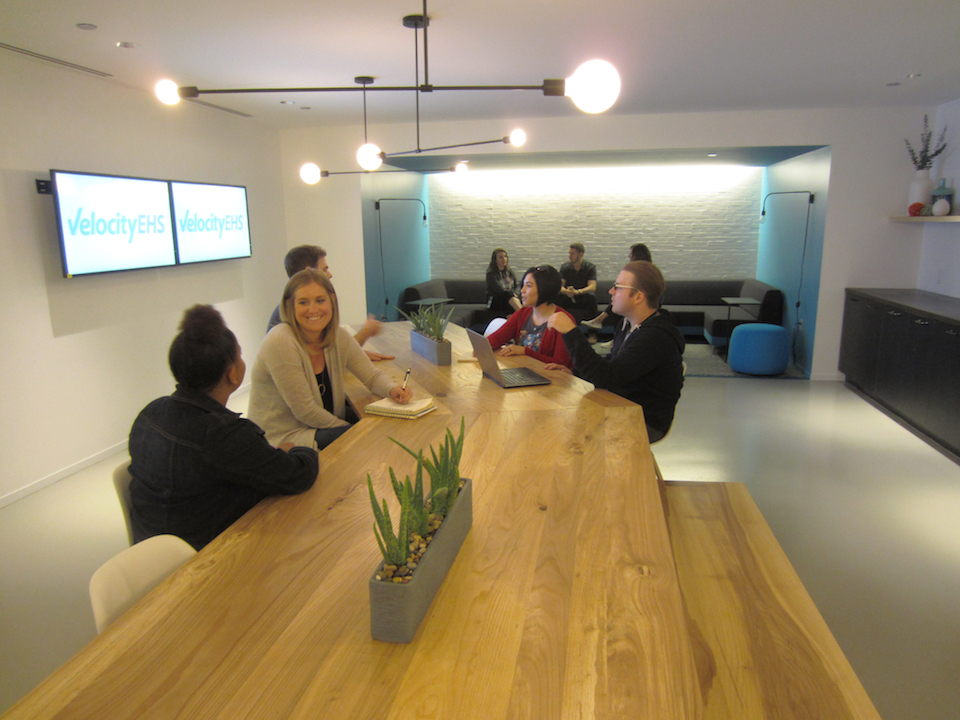 What they do: The VelocityEHS platform is designed to help companies reach their environmental, health and safety goals faster. The company's software has over 8 million users spread across a variety of industries, including construction, retail and oil and gas.
What they look for: "At VelocityEHS, success is an everyday occurrence, and everyone who walks through our doors has an opportunity to make an impact," said President and CEO Glenn Trout. "That's why we don't just want candidates with the right skills, but are looking for individuals with the right drive, the right passion and the right character to make our entire team better. We still operate with the same startup mentality that has made us so successful, and offer each and every employee the opportunity to grow and reach their full potential."
Sweet perks: In summertime, employees hit the rooftop deck to soak in the sun, but they can enjoy a quick snack from the fully stocked fridge all year round. Competitive team members hit the game room, which features pool and ping pong tables, a pinball machine and gaming systems. In addition to its office perks, VelocityEHS offers health benefits, a strong PTO package and a 401(k) match.