Knowing what direction you want to take your career in is exciting; on the other hand, venturing into the tech world with wide, opportunistic eyes can be just as rewarding. In either case, it helps to know what companies in your area are looking for — and what they have to offer you in return. 
To give you a leg-up in your job search, we've highlighted nine Chicago tech companies whose doors are open to new talent in 2019.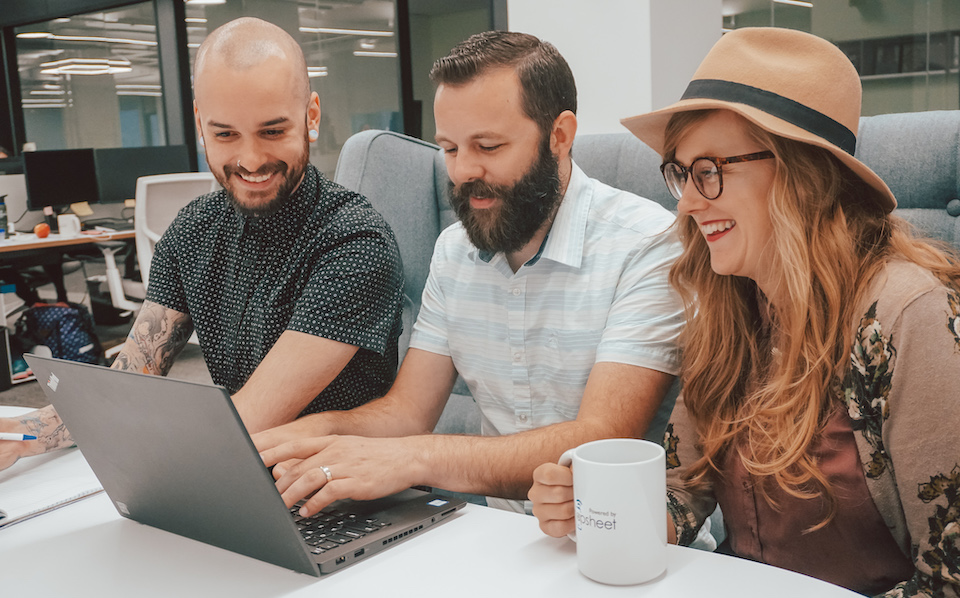 What they do:  Snapsheet's platform lets drivers settle their insurance claims virtually and efficiently with a variety of mobile and automated solutions. 
What they look for: "Snapsheet is built on a foundation of 'finding a better way' and we continue to look for curious, results-focused problem solvers," said Chief People Officer Sarah Doll. "Ultimately, we find that those who are driven to be the next innovators, have a proven track record of elevating their teams and have undeniable passion and perseverance truly thrive at Snapsheet."
Top perks: Snapsheet is exploring more ways for its team members to work from home, which 50 percent of their staff already does across 35 states. And in addition to a generous vacation policy, the company also has a newly evolved Baby On Board Program that allows parents to work from home, offers paid parental leave and a flexible return period to help new parents adjust to a normal work schedule.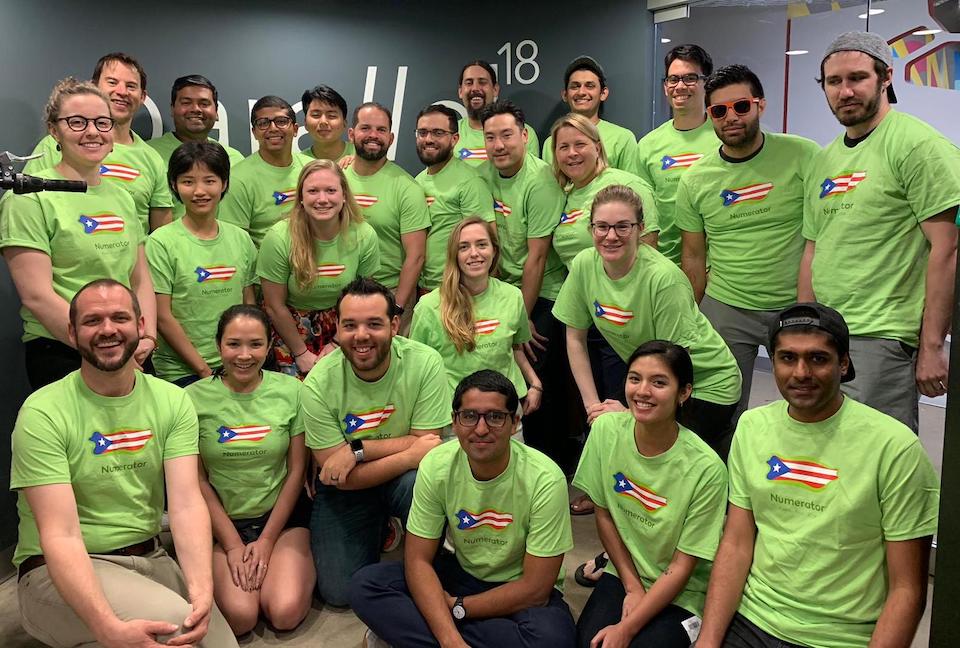 What they do: Numerator, a product of the merger between InfoScout and Market Track, helps brands get a more complete picture of their customers' shopping experiences and habits via omnichannel marketing, merchandise and sales data. 
What they look for: "We place a premium on candidates that embrace our values, and are top performers," said Senior Vice President of Product Kathy Slowinski. "Values are more than words on a poster. Numerator prides itself on relentless curiosity and the quest to know more. Many of us have entrepreneurial and tech startup credentials, and we value that sense of shaping our own destiny. We emphasize transparency in all we do, both with our clients, and when collaborating internally."
Top perks: Perks include traditional health, dental and vision coverage along with unlimited PTO and parental leave — all housed within a pet-friendly office. Numerator also holds four hack events per year, which give the whole company a chance to get involved in innovation, and where many of the hacks become new products or features. The company also makes time-off grants and other funds available to nonprofit organizations of  employees' choosing.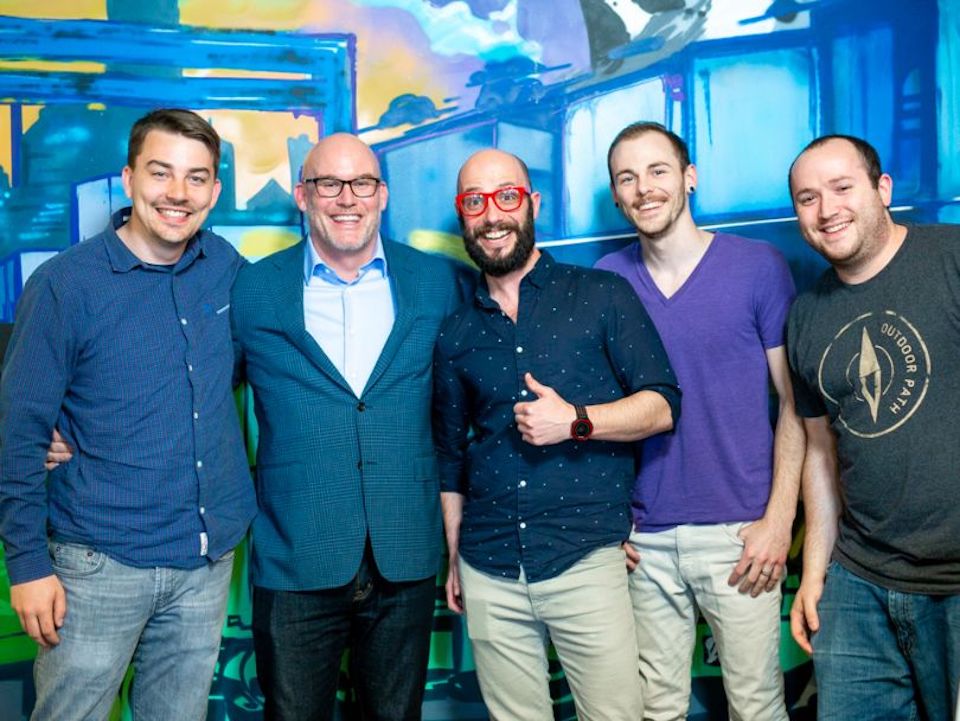 What they do: Echo Global Logistics is a transportation and supply chain management platform that analyzes data to help companies intelligently streamline and outsource their logistics needs. 
What they look for: "We are looking for tenacious and inquisitive technologists who love to learn and build things," said Chief Information Officer Miles English. "Our tech employees call themselves 'builders' because we are building a team, building a culture and building impactful technology."
Top perks: Perks include gym membership discounts, paid volunteer time, 401(k) plans with employer match, pet insurance and paid holiday and sick time. The company uses Zest Health to let team members save time and enjoy convenience through virtual doctor visits via telemedicine. It also celebrates success at the annually-held Echo Awards Party.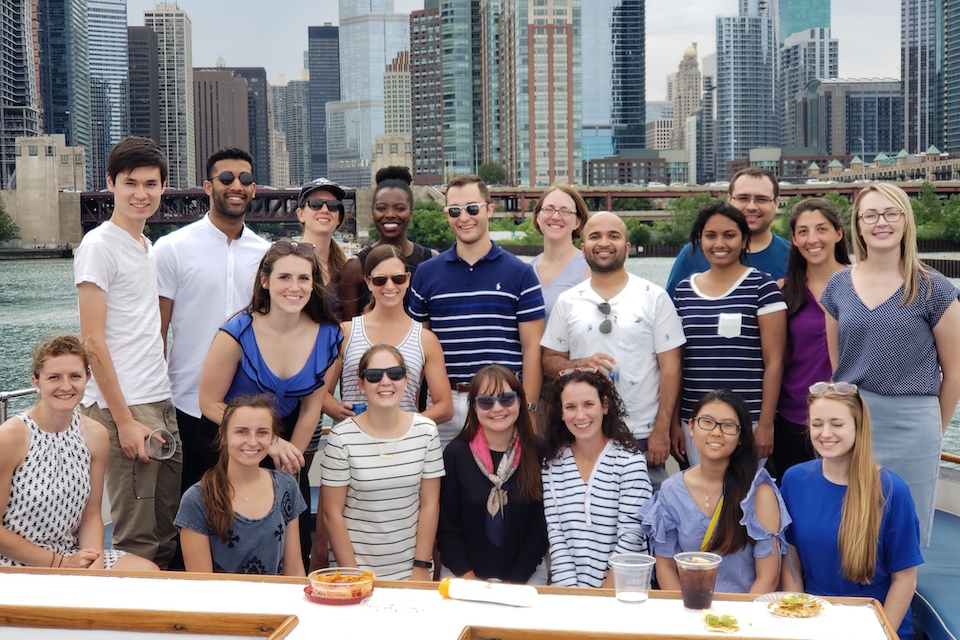 What they do: Lumere works to optimize efficiency at hospitals by offering them data-driven insights on the devices they're using and the drugs they're prescribing, with the ultimate goal being to save them money and improve patient care.
What they look for: "In order to disrupt a field as large and intricate as healthcare, you've got to be relentlessly curious, energized by complex challenges and see value in diversity of thought," said Vice President of People and Culture Sne Patel. "Every individual at Lumere is comfortable creating processes and ideas from scratch when needed. And each of us is committed to doing our best work every day in service to our mission and to each other."
Top perks: For the mind, Lumere established a speaker series to let team members stay relevant on industry and community topics and enable team members to demonstrate their expertise via conferences and papers. They also host reading clubs focused on topics that lead to robust discussions in addition to offering a host of training and development opportunities. 
For the body, the company offers a discounted gym membership, standing desks, in-office yoga and meditation, comprehensive healthcare plans, cold brew, rotating craft beers on tap, wine tastings and team outings.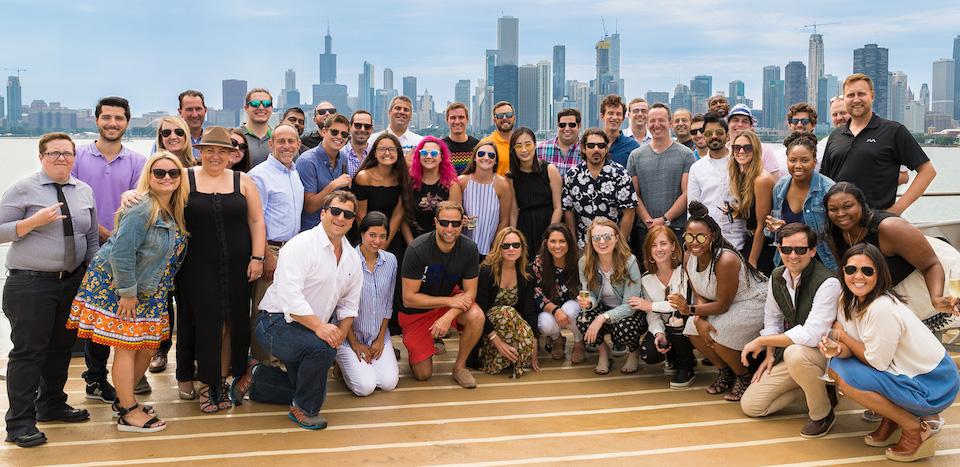 What they do: Green Thumb Industries is a vertically-integrated cultivator, processor, and dispensary operator of a variety of cannabis products. 
What they look for: "Aside from the technical backgrounds being spot on, we look for candidates who are self-aware and have grit," said Director of Talent Acquisition Joey Muehlstein. "We need people who understand where they are weak and willing to improve. As a cannabis business, we need people true to the cause – this industry isn't just another product, it's a movement and we take our responsibility very seriously."
Top perks: All salaried employees are equity owners of the company to ensure each person has a skin in the game. The company lets team members enjoy free lunch every Monday, kombucha and cold brew on tap, unlimited snacks and days devoted to investing in the community. Additionally, Green Thumb created its own holiday, "Rebel Day," which pays homage to Sam Caldwell, one of the first people convicted and sentenced to prison for cannabis.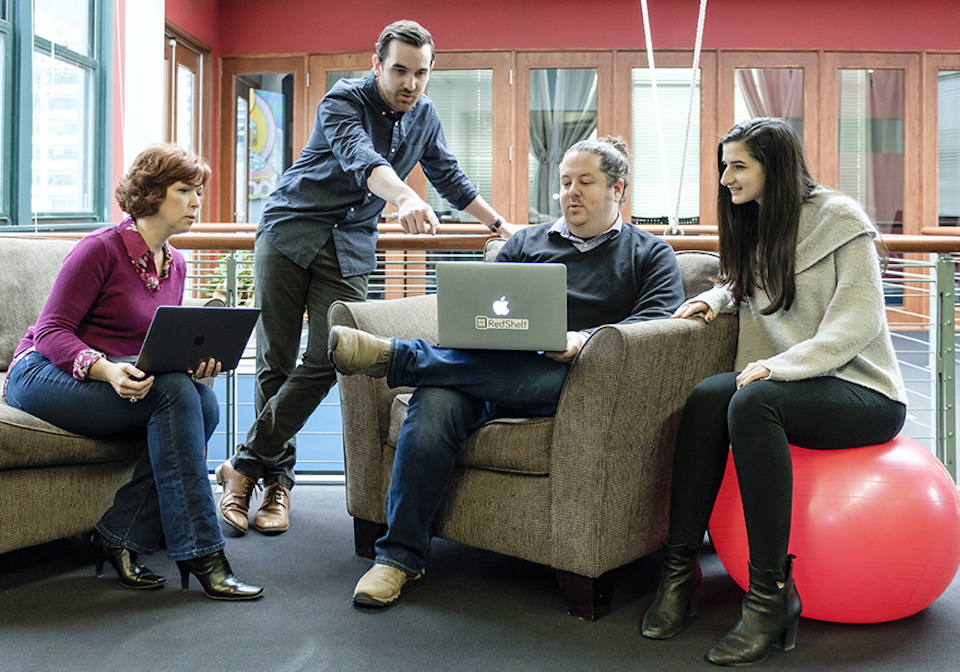 What they do: RedShelf's platform works as both marketplace and reading tool for digital schoolbooks.
What they look for: "We look for people who demonstrate continuous-learning behavior." said Vice President of Product Ralf Siemens. "Someone who explores the 'why' behind everything and takes the initiative to identify a problem, analyze it and present solutions is an invaluable asset to the team. With our core mission of improving education, RedShelfers are working on innovative solutions every day to make it happen."
Top perks: Employees are encouraged to invest in their professional development with education reimbursement, MeetUp hostings and sponsorships, as well as the ability to attend industry conferences. Employees area given stake in the company with stock options and are recognized throughout the year with trimester bonuses. Other benefits include health, vision and dental insurance. The company's office space includes an open layout, free kitchen snacks and a rooftop deck.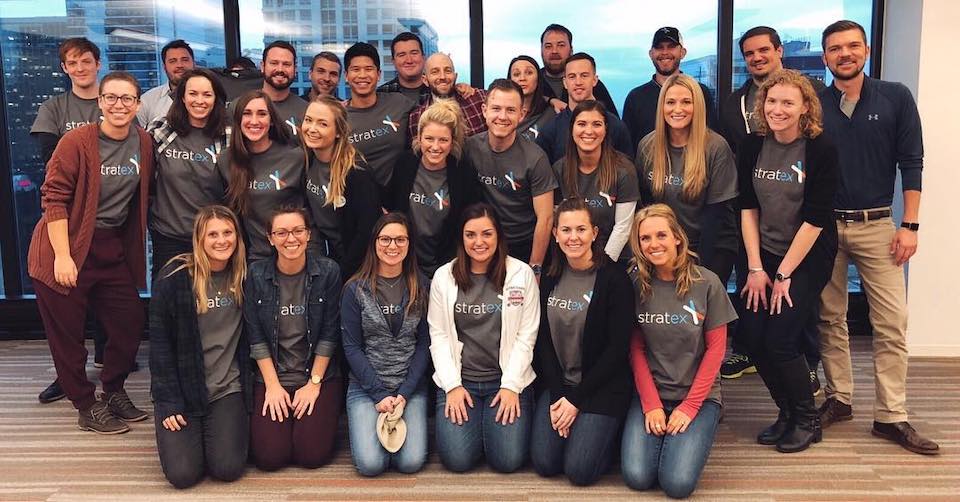 What they do: StratEx provides restaurants with dedicated HR resources that include consultations, applicant tracking, scheduling, analytics, payroll, benefits and labor law compliance.
What they look for: "I'm always looking for software engineers who don't consider writing code their job," said Vice President of Engineering Ryan Booth. "Instead, the developers I'm after know that what they really get paid for is making the product better. Obviously there will be code to write and architectures to design, and it needs to be good if we want to continuously make a positive impact on the product. But a product-driven mindset leads to better technical decisions, a more collaborative, cross-functional environment and of course, a better product."
Top perks: Team members at StratEx can take advantage of paid volunteer days and remote work opportunities to maintain a healthy work-life balance. They company also has an onsite gym, a 401(k) matching program and team outing events. 
What they do: Digital agency Direct Commerce Group helps e-commerce brands streamline their online growth while keeping them secure at the same time. 
What they look for: "We look to hire folks who will thrive in a rapidly-growing organization — self-starters who can quickly adapt and are successful in working with a variety of teams," said company President John MacEntee. "Most of all, we offer employees the opportunity to take their career to the next level alongside a group of passionate, driven team players who enjoy winning."
Top perks: Alongside traditional benefits that include health, dental and vision insurance, the company also gives team members the choice to work from home, a matched 401(k), plenty of free snacks in the kitchen, and paid-for team events to connect with one another outside the office.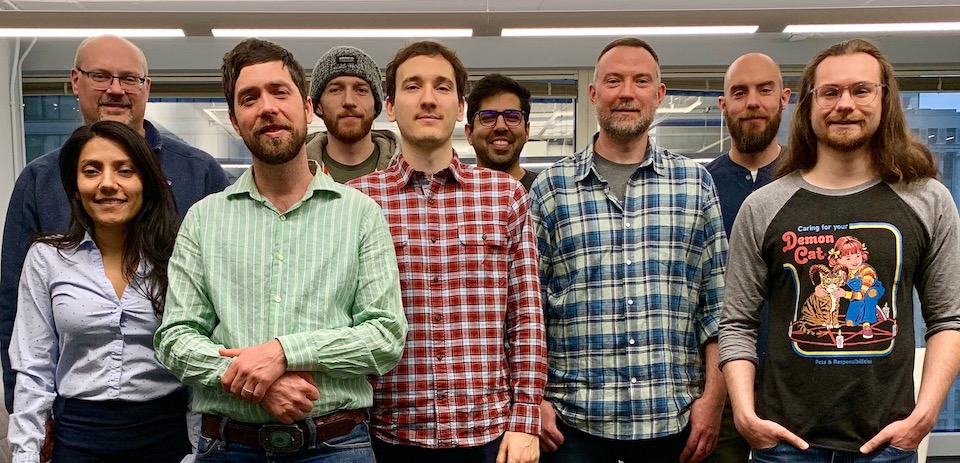 What they do: GreenKey Technologies uses speech recognition and AI to decipher and glean insights from communications in the OTC capital markets sector.
What they look for: "The first interview should cover cultural traits — the how and why you work is more important than what you do, and the questions should reflect that," said CEO and Co-founder Anthony Tassone. "For example, I love to ask someone how they made money in high school. This gives me a real sense of drive, resilience and resourcefulness."
Top perks: GreenKey has a casual approach to PTO, work schedules and office attire. The company also places a focus on continued learning: they have weekly show-and-tells and monthly lunch-and-learns where employees teach other team members about a topic, or show new breakthroughs they've discovered. Food and beer are provided, but giving employees the platform to show their work and learn from their peers is the highlight.