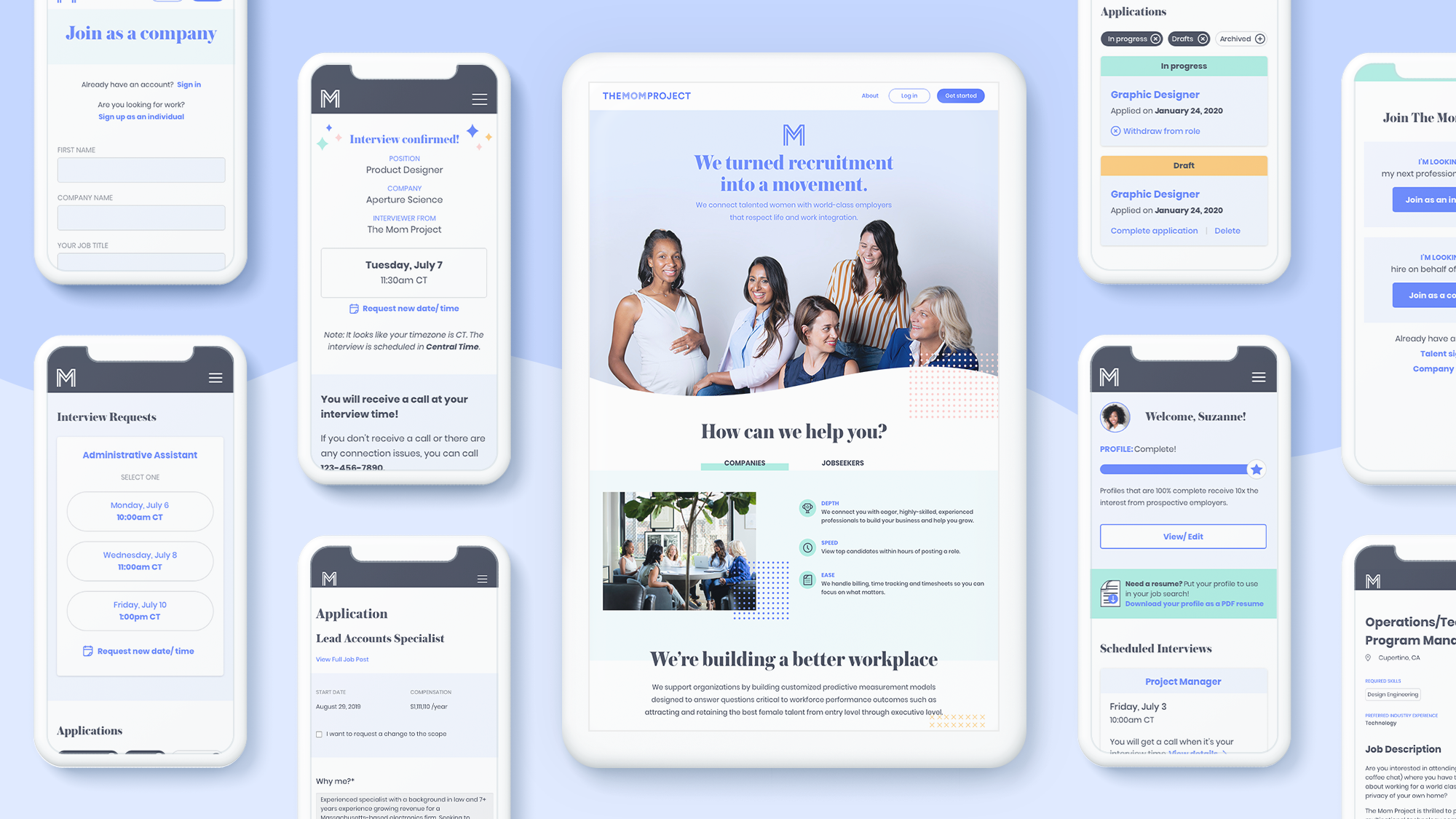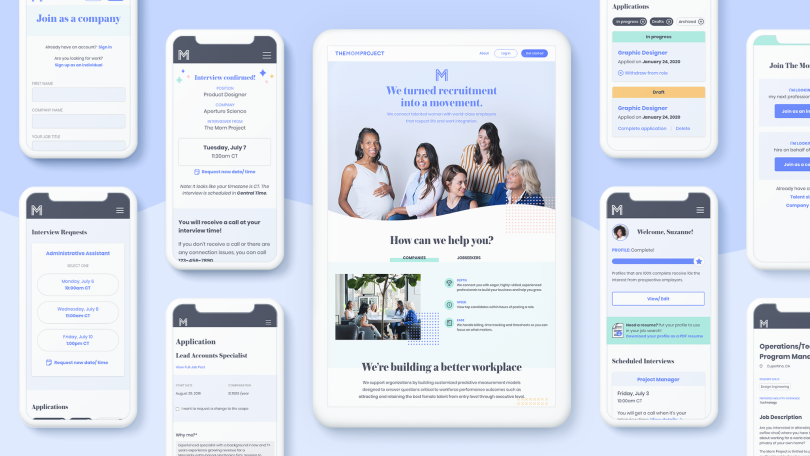 As the COVID-19 pandemic rises to a second wave across the United States, one Chicago startup has doubled down on its efforts helping women navigate the uncertain job market. The Mom Project announced on Wednesday it raised $25 million in Series B funding. Colleen Curtis, the company's chief community officer, said the company plans to invest the funds in new tech features for its family focused career services platform.
"There's just so many more reasons to believe that the future of work is closer than we thought," Curtis told Built In. "What we've seen in this pandemic is the very rapid shift to fully remote work and other forces that are going to hopefully allow us to propel women and caregivers forward."
The Mom Project is in the early stages of grouping its 275,000 users into "talent clouds," Curtis said, or vetted networks that will allow partner companies to hire candidates faster. If a company needs three executive assistants with at least 10 years' experience to start next week, for example, Curtis said the talent cloud would ideally already contain the qualified candidates, and save the partner company time sifting through resumes. Curtis said The Mom Project is still deciding how it plans to screen users for entrance into these networks, which will include human resources and recruitment, technology, finance, accounting, legal and marketing.
"We want it to be very meaningful for them to be a part of it," Curtis said. "Not just from an economic standpoint and access to opportunity, but also around like, 'Hey, this is where I connect with high-level professionals in my field.'"
The company also plans to spend the Series B cash on launching a new platform current and prospective mothers can use to support one another during each stage of their career.
Even before the coronavirus placed disproportionate stress on working mothers, Curtis said the need existed for a resource for career-oriented parents. As the pandemic persists, Curtis said the need is greater than ever, since the shortage of affordable childcare, uncertainty over children's schooling and anxiety over their own futures have placed an undue burden on working women. Women comprised 60 percent of those laid off in March during the first wave of the coronavirus, according to the U.S. Department of Labor, with companies disproportionately letting minority women off their payrolls.
"With coronavirus, we obviously had this very, very rapid shift where schools and daycares closed, and so all the kids were home," Curtis said. "We found that, disproportionately, women are taking on a bulk of the caretaking, a bulk of the homeschooling. What does that do to their careers long-term as they start to look at coming out of the pandemic and returning to work?"
After the initial layoffs, Curtis said hiring has begun to pick up. The number of jobs filled on The Mom Project's platform grew 67 percent from April to June, she said, and the number of remote roles listed on the job board increased 80 percent since March.
Yet, although women may be returning to their in-person or remote offices, the majority still lack childcare, Curtis said. A recent WerkLabs report found that more than half of the 2,000 working parents surveyed did not have anyone to care for their children. One in five respondents were considering permanently leaving their job, WerkLabs said.
Startups are uniquely positioned to support mothers who wish to stay in the workforce during this time, Curtis said, since they are generally more nimble than larger companies and can react to current events. To that end, the company plans to further integrate WerkLabs insights into its platform, Curtis said, in a move to help the approximately 2,000 companies on its site implement features to retain working women.
The Series B round brings total investment in The Mom Project to $36 million. The 100-person company is currently hiring for seven roles — in product management, software development, marketing and recruiting — and aims to fill the positions over the next two months, Curtis said. 7GC led the round, with participation from Citi Ventures, Synchrony, High Alpha, Silicon Valley Bank, Initialized Capital, Grotech Ventures, OCA Ventures, Aspect Ventures, Wintrust Financial, IrishAngles and Engage Ventures.