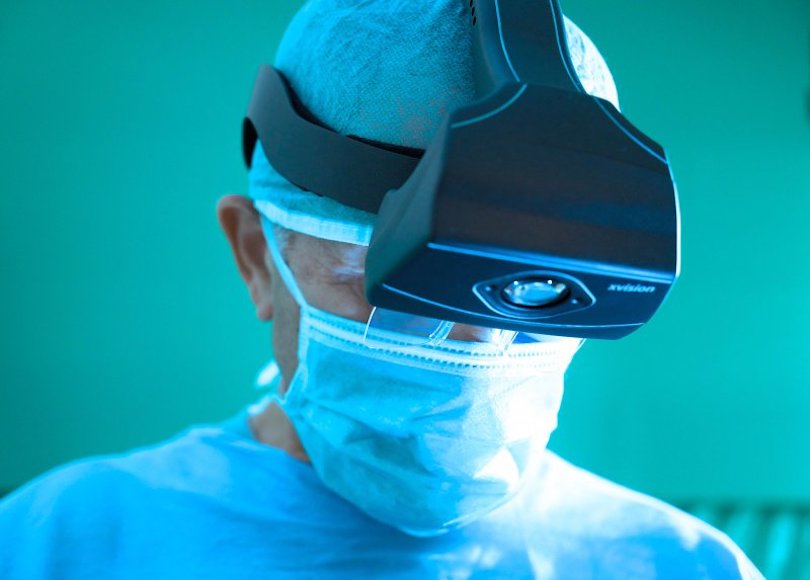 Doctors have been hailed as heroes throughout the COVID-19 pandemic. So wouldn't it be fitting if these "heroes" also had super powers?
Chicago-area startup Augmedics is making that a reality with its xvision Spine System. The xvision is a headset device that uses augmented reality to overlay an image of a patient's spine on their back. That way, a surgeon can see where a patient's spine is when performing surgery — essentially giving the surgeon x-ray vision.
This technology received FDA 510(k) clearance in December of 2019, and since then it's been used by surgeons across the country. Augmedics began selling the device in the second half of 2020, and last year it helped assist over 250 different surgeries.
Now Augmedics is raising funding to bring the device to more doctors. On Tuesday, the company announced the closing of its $36 million Series C funding round. This new funding comes less than a year after the company's $21 million Series B, and brings the company's total funding to $63 million.
This funding will be used to help expand to new markets, in both the U.S. and abroad. This includes Europe, where Augmedics is currently pursuing CE certification in order to offer its product there.
Augmedics will also use the new funding to develop its next generation of products. The company says that it's looking into expanding beyond spine surgery, and will create products for other surgical applications.
H.I.G. Capital, Revival Healthcare Capital and Almeda Ventures led the Series C round, with participation from others. Bruce Robertson of H.I.G. and Rick Anderson of Revival are joining Augmedics' board of directors, and Amir Blatt of Almeda will be added as a board observer.
"We are very pleased to have completed this large financing round ... which will enable us to promote and expand our operations and meet the strong demand we are experiencing for our technology in the U.S. following our commercial launch last year," CEO and founder Nissan Elimelech said in a statement.
"In this fundraising process, we could not have asked for stronger partners than H.I.G., Revival and Almeda, who immediately recognized the enormous potential of Augmedics' technology, " Elimelech continued. "We are also thrilled to have two key strategic partners invest in the round, including HCA Healthcare, the leading U.S. healthcare system."