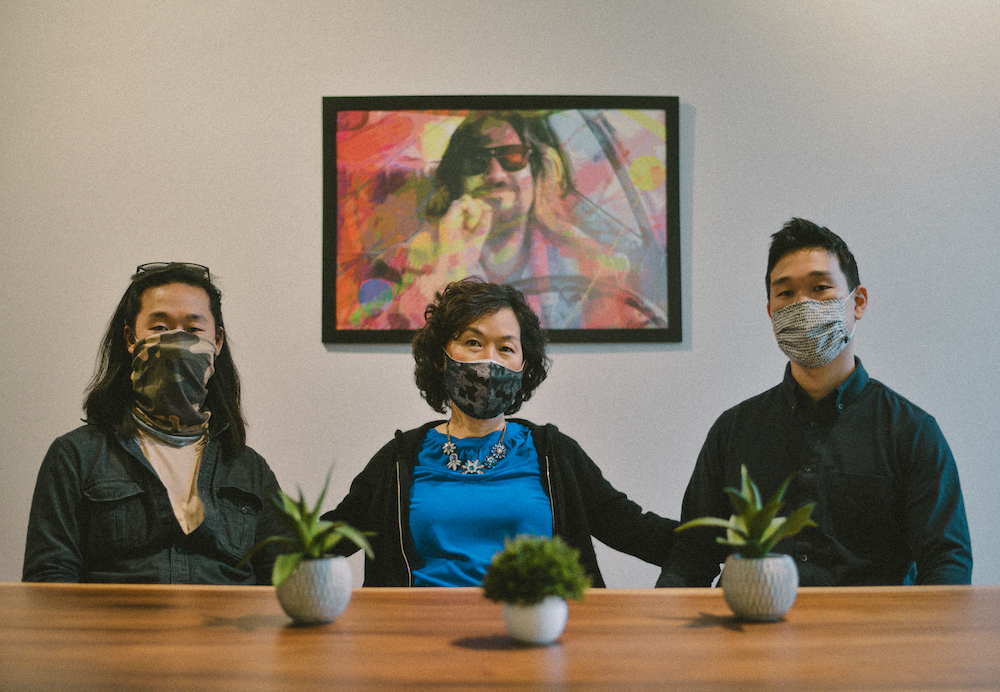 One of the first things we learn in school is how to wait in line, and no matter how old we get there's no escaping it. We have to wait in line to order at a cafe, to board an airplane and pretty much any time we go to the DMV.
In the age of COVID-19, lines have only gotten longer and more ubiquitous. In the past year, people have stood in lines for hours to vote, or to get a COVID-19 test. Grocery stores now have lines that sometimes wrap around the block. Retail stores will make people wait outside if they're too crowded. Even if we've gotten used to waiting in line, nobody wants to do it.
"We found that Americans spend around 40 billion hours per year waiting in line for various services — whether it's at a restaurant, the DMV or a doctor's office; we also found that 33 percent of all negative online reviews generally include a reference to long wait times," John Yi told Built In.
Yi is the CEO and co-founder of Chicago startup NextME, which has created a "virtual waiting room" platform that allows people to wait their turn without standing in line. Now the company is helping people wait for something especially important: their COVID-19 vaccine.
The Virtual Vaccine Line
Vaccine distribution in the U.S. has been notoriously hectic. Vaccines were administered at a slower rate than expected at the start of the year, and took a few months to ramp up. Today, vaccine appointments are often getting scooped up in a matter of seconds.
NextME has partnered with several medical facilities and vaccine distribution centers to make its technology available to them and help speed up the intake process. Here's how it works:
Vaccine sites display a NextME QR code for people to scan. Once they do, they'll be sent to an online form where they can fill out their information and get checked in. When they're done, they get a text with a link to the virtual waiting room, where they can view their position in line or get more information. Then they'll get a text when it's their turn.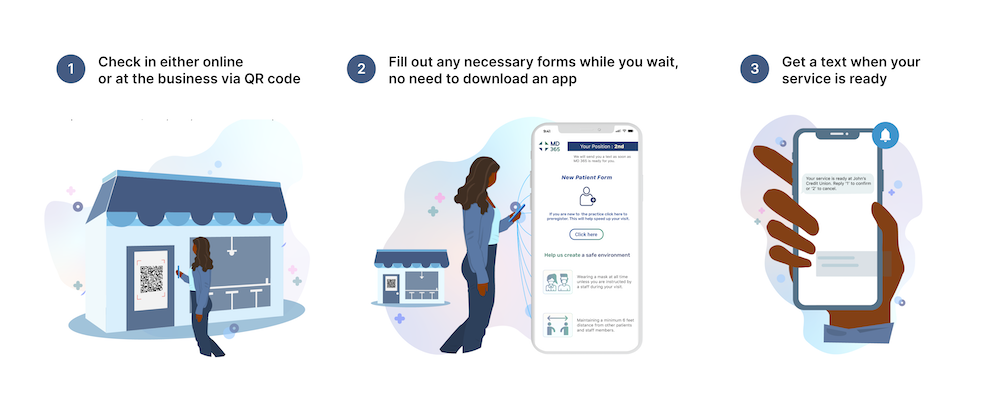 This virtual waiting room gives vaccine sites the chance to distribute forms for people to fill out while they wait. The technology also has features like geofencing, which prevents people from checking in if they're too far away, and it can be easily integrated with a site's pre-existing appointment software.
All this is important because it helps take some of the burden off of the individuals who are working long, stressful shifts at these vaccine sites.
"Instead of having the vaccination site manually enter information for each guest when they check in, we have online checking forms and QR codes that people can use to check in on their own. That helps relieve the staff members at these sites, which are super short-staffed," Yi said.
Every minute saved is a big deal when a single vaccination takes 15 minutes. By speeding up and simplifying the intake process, NextME could be saving lives.
All in the Family
The idea for NextME was born in the restaurant industry, where the constraints of supply, demand and limited capacity are all too familiar.
John Yi and his brother James followed in the footsteps of their parents, who had worked in the hospitality industry for many years, by starting working in the restaurant industry at a relatively early age.
Their father had back-of-the-house experience working as a line cook at Hyatt Hotels, and their mother worked in the front of the house at various restaurants. Following suit, John found himself in the front of the house serving and hosting restaurant patrons, while his brother James worked in the back of the house. Their combined perspectives helped the brothers identify different ways they could make the restaurant experience better.
While working as a restaurant host, John experienced the pain point of managing restaurant wait times. Restaurant wait times are highly variable depending on the time or day, and range from no wait to a wait that lasts for hours. Although wait times can be frustrating to a customer, they're also a pain for hosts, who often don't have any more than a pencil and paper to deal with the waitlist.
"We didn't want to just create a better experience for diners, we also wanted to solve that problem for the host," Yi said. "Restaurants don't really have data on how many guests they're losing if a host under-quotes or over-quotes wait times by too much. So we wanted to build a viable solution to not just help the host quote more accurately by using more data, but also significantly enhance that customer experience to retain that business during peak hours."
Restaurants have tried to get creative with various waitlist solutions over the years — whether that's by estimating wait times, taking down patron phone numbers, or handing out those clunky plastic pagers that light up and buzz when its time to be seated. But all of these options felt outdated. So the Yi brothers began building their own in 2013.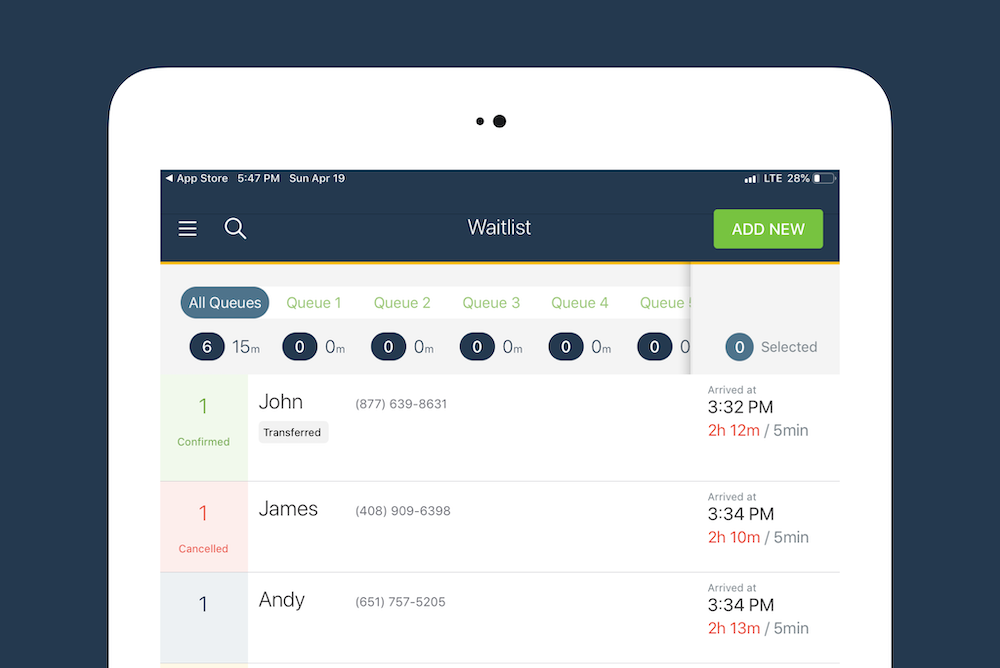 At the time, the brothers saw how mobile apps were slowly taking over, which led them to develop the software that would eventually become NextME. And, in 2015, the company was ready to launch.
NextME allows restaurants to check in patrons, manage a waitlist, estimate wait times, schedule reservations and more. The app can even go a step further by leveraging data to inform decisions and promote customer loyalty.
On the patron side, people can show up to a restaurant, give their information, and have NextME reach out to them via text when it's their turn. That way, they don't need to download a new app to use the platform.
The Future of Waiting
Several major restaurant chains, including Lou Malnati's and Black Bear Diner, use NextME to manage their waitlists. But even when the brothers created the app, they saw the potential for technology outside of the restaurant industry. Over the years, the company pursued customers across multiple industries, including retail stores, doctor's offices, veterinarians, cannabis dispensaries and even DMVs.
When the COVID-19 pandemic started, restaurants were hit hard by the imposed lockdowns. Despite this, only 20 percent of NextME's customers put their subscriptions on hold. Instead, restaurant customers found ways to use the platform to handle other aspects of business. For example, Lou Malnati's began using the platform to help with its pizza delivery.
But COVID-19 also meant that, all of a sudden, every business was dealing with its own capacity limitations — almost like a restaurant during rush hour. NextME saw a spike in demand for its platform from urgent care facilities. These urgent cares saw increased foot traffic and, at the same time, had to restrict the number of people that could enter their doors.
NextME's platform allowed urgent care patients to fill out paperwork like insurance forms or COVID-19 questionnaires before setting foot in the building, and this usage positioned the company to better serve vaccination sites.
The company's technology was adopted by more medical facilities and doctor's offices throughout the pandemic. And, eventually, many of these facilities started to distribute vaccines on their own. Because of how NextME is set up, those facilities were able to use the platform for vaccine recipients the same way they'd use it to process other patients.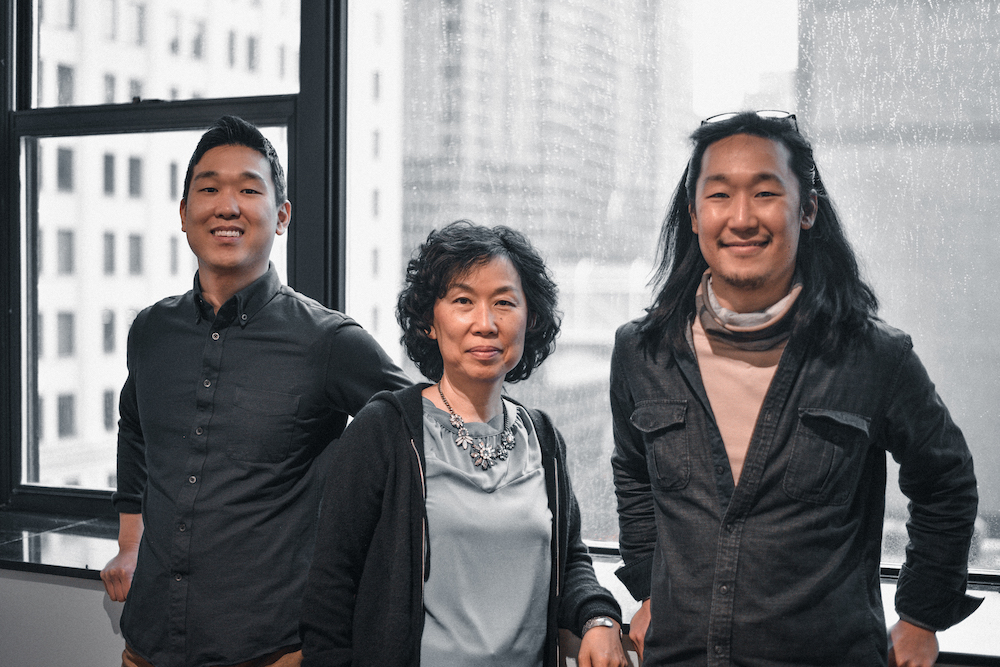 With NextME growing its foothold across multiple industries, the Yi brothers are hoping to expand their company even further. Part of this expansion involves hiring. The company is currently looking to hire for key roles, including a backend engineer, customer success manager and product manager. These strategic roles will help the company go after more customers and add new features to its product.
In addition, NextME is gearing up to release the web version of its app later this year. This version will help the platform scale up to serve more enterprise customers.
"Even beyond this pandemic, people will find that virtual queues are the future," Yi said. "Our mission is to not just make waiting in line more transparent, but also more equitable and more fun."