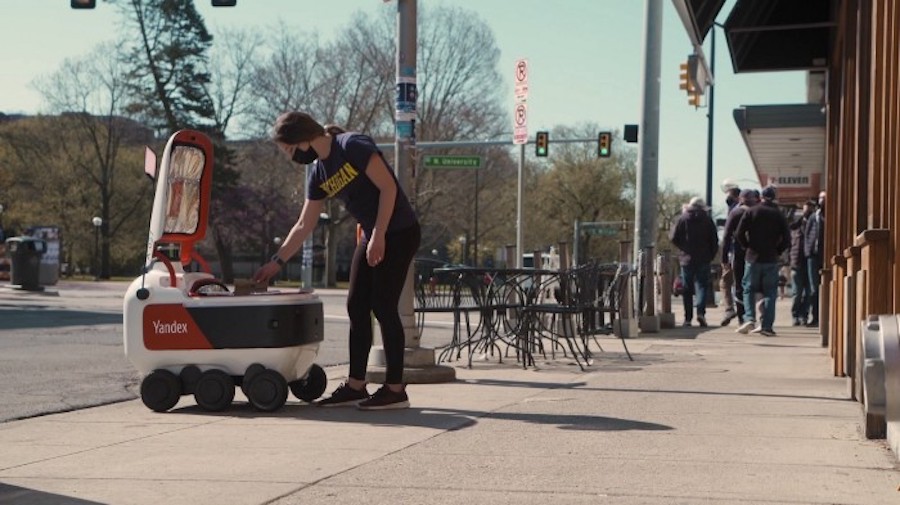 Grubhub just announced that it plans to roll out a fleet of autonomous food delivery robots at several college campuses this fall, thanks to a new deal with Russian tech giant Yandex. The multi-year partnership is intended to combine Yandex's autonomous rovers with the Chicago-based startup's robust platform to remove what Grubhub's VP of corporate and campus partners Brian Madigan calls a "major hurdle" that many college campuses face: cheap and accessible food.  
"This partnership disrupts the status quo when it comes to how students dine on college campuses. It is also scalable which has always been an attractive component to us as we think about how we can quickly and efficiently bring this delivery to our campus partners across the country," Sean Ir, director of strategic partnerships at Grubhub, told Built In via email. "With Yandex, we're excited about the opportunity to marry its robust technology solution with Grubuhb's to better serve colleges and universities across the country."
In a statement, Madigan added that the Yandex robots can "easily access" parts of campuses that vehicles cannot. The six-wheeled, suitcase-sized autonomous rovers have the capacity to carry upwards of 40 pounds of goods, and can navigate pavement, pedestrian areas and crosswalks. When an order is placed through the Grubhub app, the robot will make its way to the restaurant, pick up the food, then deliver it to a specific location where the user will unlock its hatch also through the app. 
Grubhub did not disclose exactly how many or which college campuses would be getting the robots. But the food delivery giant does already partner with more than 250 college campuses across the country, allowing students to integrate their meal plans directly into their Grubhub account to access restaurants both on and off campus.
Meanwhile, Yandex has been commercially operating its autonomous rovers in Moscow since early 2020, delivering thousands of orders from restaurants and grocery stores through its own platform. Last April, it also began delivery food from local restaurants in Ann Arbor, Michigan, as part of an ongoing trial. CEO Dmitry Polishchuk says the company chose to partner with Grubhub next because of its "unparalleled reach" and flexible platform. 
"We are delighted to deploy dozens of our rovers, taking the next step in actively commercializing our self-driving technology in different markets across the globe," Polishchuk said in a statement.
Yandex is often referred to as Russia's Google due to its size and strength in the country's tech market. Like Google, it has arms in the online search, video streaming and virtual assistant markets, as well as robotics. The company began developing autonomous vehicles in 2017 and uses that same technology for the delivery robots Grubhub will be using.
While this is Grubhub's first official foray into the world of robots, several other food delivery companies have been exploring it recently as a way to lower costs. DoorDash, for instance, acquired salad-making robot startup Chowbotics earlier this year. Bay Area-based Nuro raised $500 million to scale up production of driverless delivery vehicles, which have been shuttling everything from food to personal protective equipment amid the pandemic.
This news comes on the heels of what has been a very busy year for Grubhub. In early 2020, the company rolled out its Grubhub+ subscription and announced yet another partnership to deliver food from virtual restaurants or "ghost kitchens" — two moves that likely contributed to its success last year. Then, last summer the company announced it was being acquired by Dutch food delivery company Just Eat Takeaway.com for a whopping $7.3 billion, reportedly creating the world's largest online food delivery company outside of China. The deal was completed last month, according to a company spokesperson.
Grubhub is also now hiring, with more than 100 open tech positions at its Chicago headquarters.