Kadeya Wants to Eliminate Single-Use Plastic Bottles With Its Vending Machines
The Chicago startup develops vending machines that serve beverages in reusable bottles.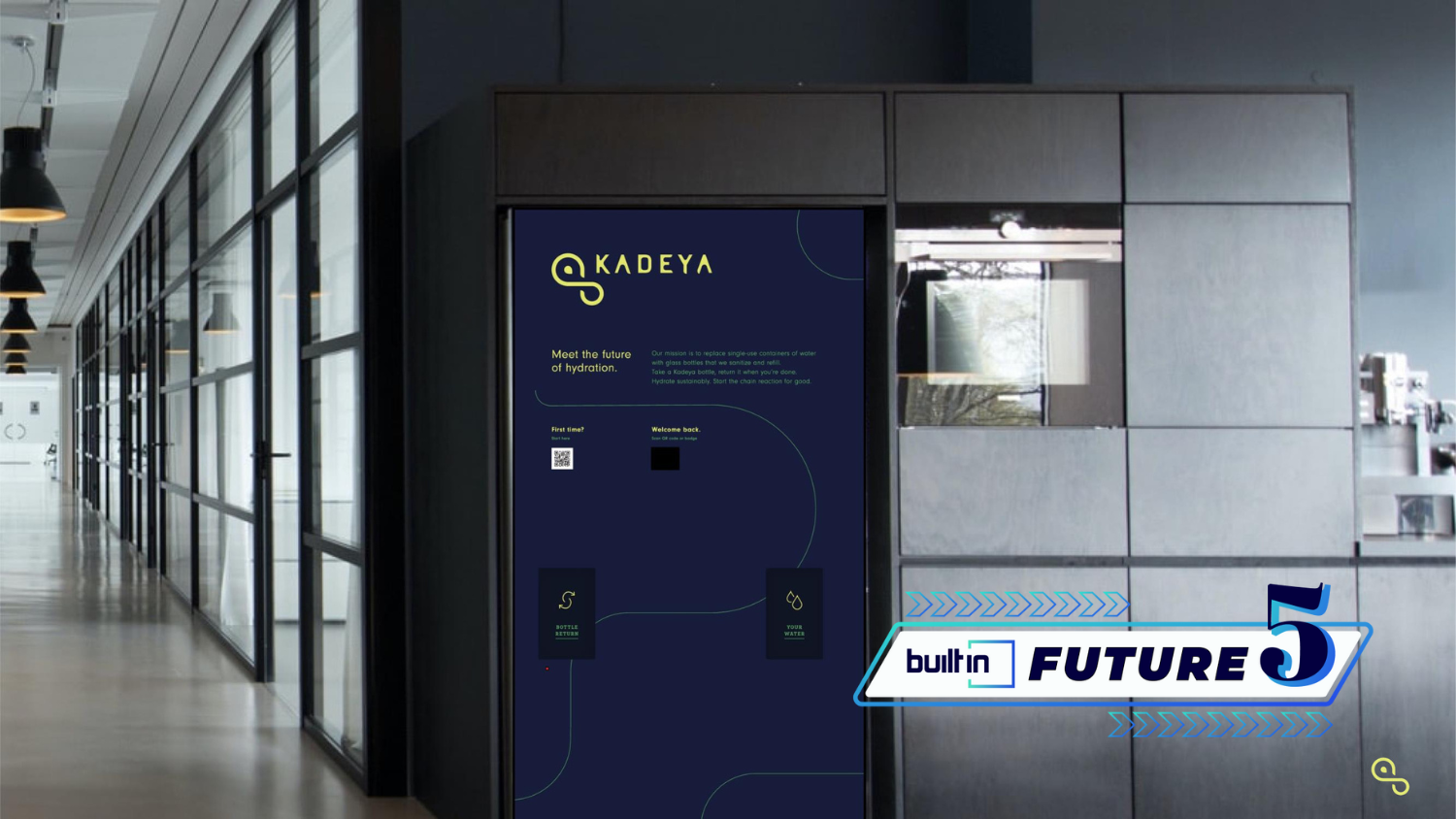 Sure, the latest initiatives from the Teslas, Apples and Googles of the industry tend to dominate the tech news space — and with good reason. Still, the big guns aren't the only ones bringing innovation to the sector. 
In an effort to highlight up-and-coming startups, Built In is launching The Future 5 across eight major U.S. tech hubs. Each quarter, we will feature five tech startups, nonprofits or entrepreneurs in each of these hubs who just might be working on the next big thing. Read our round-up of rising startups from last quarter here.
* * *
Walking through a city or shopping center you'll likely spot a beverage vending machine, and if you're thirsty, you'll pay the machine and get a drink. Eventually, you'll throw out the bottle thus solving the hydration issue, but you'll contribute to much a larger one — that of single-use plastic waste. 
According to the National Ocean Service, there are about 8 million metric tons of plastic in the ocean and single-use plastic beverage bottles are a big contributor to that number. Some estimates even predict that number will double within the next 15 years. Chicago tech entrepreneur Manuela Zoninsein's startup Kadeya wants to curtail the amount of single-use plastic bottles used and discarded by consumers while still keeping the convenience of the vending machine. 
Kadeya develops vending machines that distribute beverages in reusable glass bottles to customers in need of a quick drink. Once finished, customers return the bottle to one of Kadeya's machines. The bottles are then sanitized, inspected and refilled for future customers.
The investor community is loving businesses in the sustainability, data and supply chain space – which is squarely where Kadeya sits."
Its vending machines also feature a contactless payment solution accessed by scanning a QR code on the machine. After scanning the code, customers create an account, pay for their beverage and later return the bottle. The QR code eliminates the need for cash and also ensures the bottles are returned because each one is tied to the customer's account.
Zoninsein said Kadeya's machines combine a bottling plant with a dishwasher and soda fountain into one device. 
Since launching in 2020, Kadeya has closed a pre-seed round. It is also part of the Techstars Farm to Fork Accelerator for foodtech and agtech startups. 
"The investor community is loving businesses in the sustainability, data and supply chain space – which is squarely where Kadeya sits," Zoninsein told Built In over email. 
Kadeya's machines are well suited for office use, but currently, the startup is focused on placing them in and around construction and industrial sites. According to Zoninsein, industrial workers are often the last people to benefit from tech advances, but they are also in need of hydration solutions, which makes Kadeya's vending machines perfect for them. 
For now, Kadeya's machines only offer water. Going forward, the startup will work to add new features to its machines, including adding carbonation and flavoring to the beverages it offers.