Between the Bears' abbreviated playoff run, the polar vortex and all the new tech funding rounds, keeping up with last month's big Chicago tech hires wasn't easy. Fortunately, we've done the heavy lifting and have rounded up some of the biggest leadership hires made last month. Continue below to see who went where in January.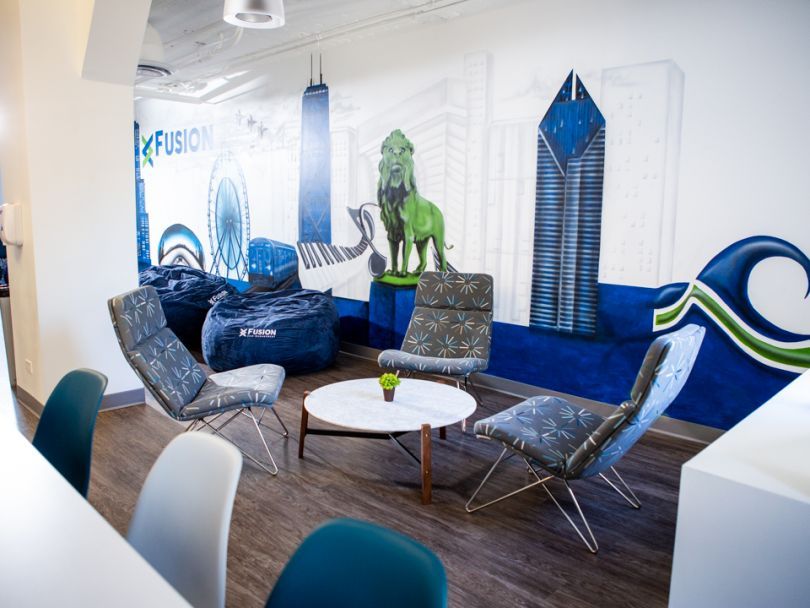 Fusion Risk Management looked within to fill several leadership roles last month. Cory Cowgill was promoted to SVP and CTO; Steve Richardson was made SVP and chief product officer; Joanna Zvirbulis was named SVP and chief people officer; and Bill Bould was named general manager of Europe.
"This leadership team is well positioned to lead Fusion to even greater success in 2019 and beyond," said Chief Revenue Officer Paul Ybarra in a statement.
What a ride it's been for SMS Assist's new president, Marc Shiffman. Shiffman joined the company nine years ago as COO and was employee number 25. In addition to serving as president, he is also the company's CFO — a role he has held since December 2011.
"We are confident that Marc's experience and passion will be key in the next phase of our growth," said CEO Taylor Rhodes in a statement.
Arjan Paulussen is the new vice president of global accounts at sports data and intelligence company STATS. Paulussen joins the company from Lexmark International, Inc. where he spent the past 16 years and most recently served as VP of sales for the United States market.
"With more media and technology companies embracing artificial intelligence-powered solutions, I see a huge opportunity to grow STATS' global accounts portfolio," said Paulussen in a statement.
Sonia Nagar is the newest partner at Pritzker Group Venture Capital — the firm's first female partner. Prior to joining the VC firm in 2016 as a vice president, Nagar co-founded and sold a startup, Pickie, to RetailMeNot, where she served as senior director of mobile and VP of product and head of mobile apps.
"The thing that changes is my influence and ability to do deals and make investments," Nagar told Chicago Inno. "I was really excited to get the promotion because I think I can have an even bigger impact now as part of the five-person partner team that makes investment decisions for the fund."
Scott Smith is RedShelf's new chief revenue officer. Smith joins the edtech company from Third Level Advisors, a global growth advisory firm he founded. Prior to founding Third Level Advisors, Smith worked in the education businesses for 20 years in various leadership roles.
"RedShelf has become a critical component of the higher education ecosystem in a short amount of time, and their growth is a function of the unique value they have been providing to all of the stakeholders in the digital education supply chain," said Smith in a statement.
Jennifer Farver is the new CTO at Lightstream, a cloud-based video streaming studio. Farver brings a wealth of experience, both as a tech leader and with Chicago-based startups, into her new role. She joined Lightstream from Popular Pays, where she served as CTO, and before that she was Civis Analytics' VP of engineering.
LogicGate, whose software helps companies with their governance, risk and compliance strategies, beefed up the financial side of the C-suite in January. First, the company announced Kevin Jacobson as its new CFO. Jacobson was previously CFO at Kapow for three years and has also worked as a venture capitalist at Summit Partners and an investment banker at William & Blair.
LogicGate also announced a new Chief Revenue Officer in January, Karry Kleeman. Kleeman has sat in the CRO seat before at SpringCM, where he spent five years. After SpringCM's acquisition by DocSign, he served as as VP, Global CLM Sales prior to joining LogicGate.
"Over the next year, I am committed to helping build the LogicGate team with the ultimate goal of becoming the world's leading GRC platform," said Kleeman in a statement.
GTreasury started 2019 with a bang, announcing Renaat Ver Eecke as its new CEO. Ver Eecke joins the company from Teletrac Navman where he served as president and also VP and chief service officer. Orazio Pater, former CEO and founder of the cloud-based treasury management solutions provider, is retiring and will assume the role of executive chairman on the company's board.
Lee Shapiro, who is on Livongo Health's board of directors, has been named the company's CFO. Shapiro and Livongo founder and Executive Chairman Glen Tullman worked together before at Allscripts and founded the healthtech investment fund 7wireVentures, which raised a whopping $100 million fund in May 2018.
Edtech company Otus made a big addition to its tech team, bringing on Ed Earley as chief software architect. Earley has held leadership positions at some of Chicago's biggest tech companies. He was previously SpotHero's VP of engineering prior to joining Otus, and before that he was Uptake's director of engineering.
"Joining Otus offered a profound opportunity to build an industry-leading platform that fosters student growth and shapes the next generation of learners, " said Earley in a statement.
AI-powered freight brokerage Fraight AI has a new COO, Torie Runzel. She previously held the COO position at DivvyDown, a New York-based alcohol delivery startup she co-founded, which was acquired in 2014.
"In my life, I've met six people that I would start a business with tomorrow, and Torie was one of them," said CEO and founder Parker Holcomb.
Jim Yearick is the new SVP of sales and marketing at Endotronix, a healthtech company whose implantable device and accompanying software is designed to help healthcare providers manage heart failure and detect signs the disease is worsening. Yearick was most recently VP of marketing and education at medical device company Medtronic.
"It is an exciting time at Endotronix," said Yearick in a statement. "We're entering a pivotal phase for the company that will produce commercial success and clinical data that accelerates our market adoption."
Outcome Health welcomed its first-ever chief compliance officer last month, John Vaughan. In the newly created role. Vaughan will be responsible for developing, implementing and overseeing compliance policies and procedures.
"I am thrilled to join Outcome Health and to partner with Matt [McNally, CEO] and the rest of the leadership team to ensure we operate with the greatest quality, efficiency and integrity," said Vaughan in a statement.