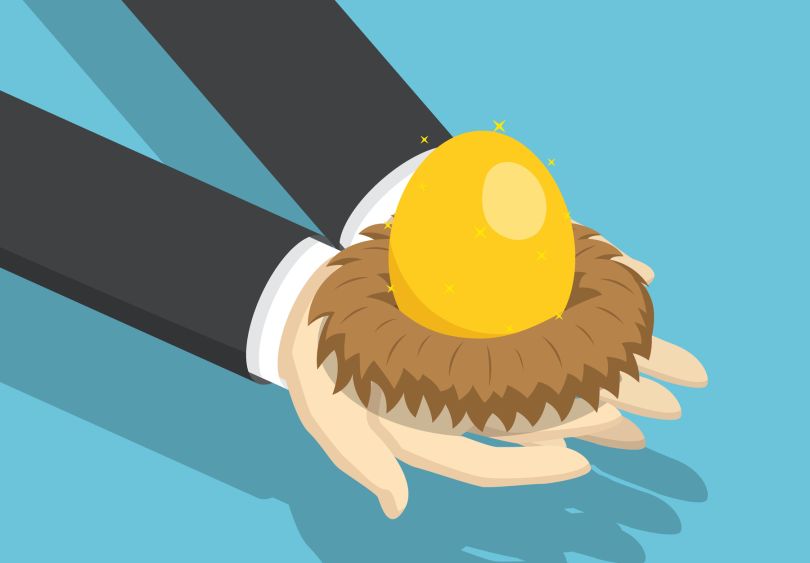 On Wednesday, proptech startup NestEgg announced it raised $7 million. CEO Eachan Fletcher said the Chicago company originally planned on raising its Series A round next year, but added that the heightened demand for its digital financing and property management services during the COVID-19 pandemic convinced the team to push their fundraising forward.
"We're giving landlords and tenants tons of tools to align their expenses with their incomes," Fletcher told Built In. "That's always good business — who doesn't want to get their income earlier, and pay their bills later, right? But, that's quadruple good right now, when people are under additional financial pressure."
NestEgg officially launched in January, after three years of market research and development. Before launching the business, Fletcher served as the chief technical officer at Expedia and, on the side, operated a few small rental properties. At work, he was constantly bumping into his friend Jeff Slipko — then the chief marketing officer of Expedia — and the two would commiserate about how time consuming and expensive their rental residences were to operate. After awhile, they realized it was the only non-work-related topic they talked about.
"We looked one another in the eye, dared one another to quit our day jobs, and decided that we were just going to do it," Fletcher said.
The two decided to commit full time to NestEgg, with the aim of offering on-demand property management service to the approximately 12 million independent landlords across the United States.
Through NestEgg, users can coordinate and book property maintenance professionals, find renters and update leasing, insurance and payment agreements. The company's subscription service also offers a rent assurance program — NestEgg draws from its own line of credit to automatically pay landlords on the first of every month, and allows tenants to pay back the sum on flexible terms. Fletcher said this feature has been particularly popular during the pandemic, and that its number of monthly subscribers has grown by 30 percent every month to more than 3,000 landlords.
"We've helped literally thousands of tenants stay in apartments and stay on good terms with landlords," Fletcher said. "They wouldn't be able to do that on any other platform."
The startup plans to invest the Series A round in building NestEgg Pay, a feature that allows landlords to leverage their rental income as a source of instant, interest-free credit. Set to debut during the first quarter of 2021, NestEgg Pay will offer landlords a cash advance to cover emergency maintenance and other property costs, and allow them to pay the expense off without interest in monthly installments. Fletcher said the feature is in beta mode now, and that it has reduced the amount of time its landlord users take to fix a maintenance request from 15 days to 24 hours.
"That kind of restores your faith in humanity, doesn't it?" Fletcher said. "I think landlords can get sort of a difficult, harsh reputation. What it showed us is that people want to maintain their assets, and they want to provide someone a safe, working home, but that some of these financial headwinds kind of get in the way."
Eventually, the startup also aims to automate the brokerage process, allowing landlords to refinance their existing properties at more competitive rates, as well as find and purchase their next investment property through the platform. The company also plans to expand to every state across the U.S., with the aim of making investment in real estate more accessible to more people.
The 18-person company plans to hire 40 new software engineers over the next three months. The Series A round brings total investment in NestEgg to $11 million. Hyde Park Venture Partners led the round, with participation from Bonfire Ventures, BAM Ventures, Financial Venture Studios, Dreamit Ventures and Hyde Park Angels.
NestEgg isn't the only property management startup to receive investment recently.
In August, the Boston-based Breezeway raised $8 million in funding; in July, the New York City-based MeetElise raised $6.75 million; and in May, the Seattle-based Knock raised $12 million in funding.