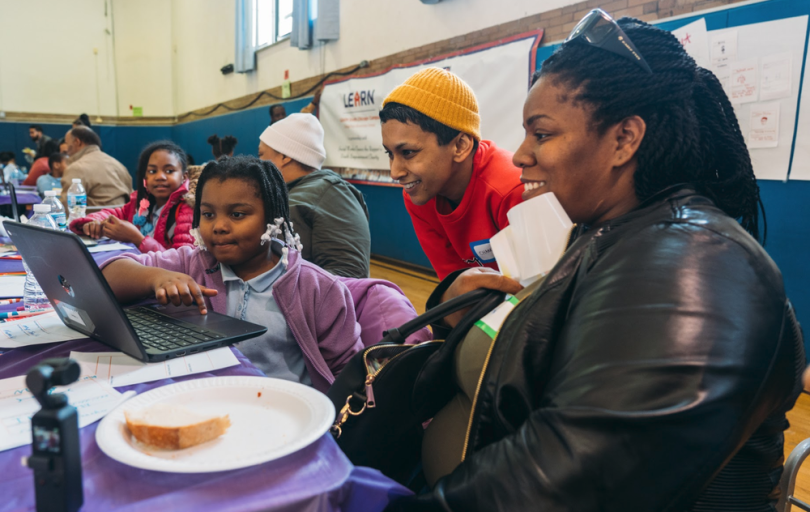 In honor of Computer Science Education Week, Google just donated 1,000 free computers to Chicago Public Schools students.
CPS was the only district to receive Google's gift, and the laptops will go to remote learners enrolled in six schools on Chicago's South and West Sides, according to the Chicago Sun-Times. While the technology giant did not elaborate on why it chose to gift the laptops to the third-largest school district in the United States, CPS was the first school district in the nation to make computer science a graduation requirement for all high school students. Additionally, 80 percent of its students are low-income and 85 percent are students of color — groups that normally lack access to computer science education, according to Shameeka Emanuel, diversity STEM strategist at Google.
"I beat the odds: I am a Black, female, computer engineer at Google," Emanuel wrote in a blog post. "Computing jobs are the number one source of new wages in the U.S.; clearly, these skills are becoming as important as reading and writing and we can't afford to leave anyone out."
In addition to the donation, Google will also be expanding Code Next, a program that aims to teach Black and brown students the basics of computer science. Come next January, Code Next will be offered in 16 online programs, up from three previously. Any student between the ages of 14 and 18 can apply to the virtual program, with curriculums ranging from game design to UX to intro to scripting.
Google has also awarded the Scratch Foundation a $5 million grant to take its interactive coding platform global. The gift was inspired by the success CPS had with the platform last year — in 2019, CPS, Google and the New Chance Fund hosted family coding nights at elementary schools across the district.