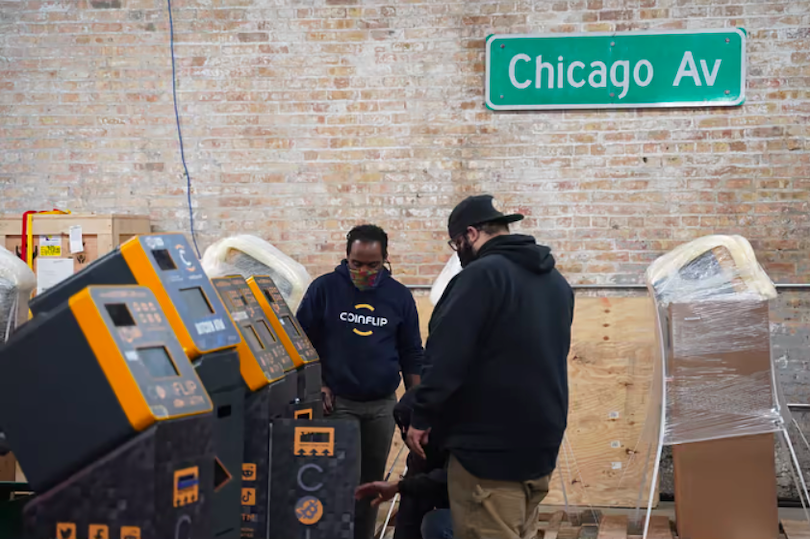 Two months after being named Crain's fastest-growing company in 2021, CoinFlip is securing a space to house all that growth.
On Tuesday, CoinFlip announced it is opening a new headquarters in the Old Main Post Office building downtown. The company will take up 44,000 square feet in the building, which represents the largest lease by a cryptocurrency company in Chicago history, according to CoinFlip.
"We're proud to have founded CoinFlip in Chicago, Illinois, which has been our home for the last six years, and are excited to announce we're growing. While CoinFlip is proud to operate in 47 states, no other state is pioneering forward-thinking initiatives like Illinois that will make it not only a leader in cryptocurrency but a clear choice for our long-term plans," CoinFlip CEO Ben Weiss said in a statement. "We're committed to doing our part for the future of cryptocurrency as well as for the Chicago community — and that's why we're making long-term plans to grow our team here while investing in programs to help local communities benefit from the expansion of cryptocurrency technologies."
CoinFlip operates a network of over 2,700 ATMs that let people buy and sell different kinds of cryptocurrencies. The crypto kiosks imitate the form of traditional ATMs in order to help lower the barriers to entry for people looking to own cryptocurrency of their own. On top of that, the company offers low transaction fees, a simple user experience and 24/7 customer support — making buying and selling crypto even more accessible.
As everyday people get more involved in crypto, a number of companies offering crypto-related services have seen huge success. CoinFlip saw its revenue grow over 5x in 2020, reaching $50.6 million.
In order to capitalize on this growth, CoinFlip is also hiring. The company plans to add more than 30 jobs in the near future, while retaining at least 138 employees. These new jobs will be for positions in all departments, representing company-wide growth. To house this growing team, CoinFlip signed a 12-year lease on its new headquarters at Old Main Post Office, which represents a $17 million capital investment in the city of Chicago.
This sizable investment has Illinois politicians excited about the state's future in the crypto industry. Illinois Gov. J.B. Pritzker had this to say about CoinFlip's new HQ.
"Illinois has long been a global leader in financial services. And today we are building on that legacy, working to build a cryptocurrency regulatory framework that's best in the nation and expand access to capital for innovative companies," Pritzker said in a statement. "Congratulations to CoinFlip on recently being named by Crain's as the fastest growing company in Chicago and thank you for your commitment to this city and state. I'm so proud you are part of the fabric of our community — and I'm absolutely thrilled you are doubling down on Illinois."
This news comes about a week after Cisco announced it was moving its regional HQ to the Old Main Post Office building. As companies start returning to physical offices over the next few months, we may see even more tech companies signing leases in the historic building.