Staff Software Engineer Tyler Siron knows that when it comes to using new technologies to improve products, there's often an easy way to do things and a right way. Take, for example, building tech solutions to address multiple audiences in the supply chain space. It's a project he's currently tackling at Mastery, a Chicago-based provider of a cloud-based transportation management system. While Siron understands he could leverage certain shortcuts, he knows that's not how the logistics platform operates. 
"At Mastery we do the right thing – not the easy thing," Siron said. 
He and the following tech professionals, all of whom are looking for skilled candidates to join them on their missions, share what drives them both externally and internally below.  It's with a specific sense of purpose and dedication that they work to help customers eliminate debt, virtually connect users with their favorite movie star or develop a patient-facing app for COVID-19 test-result delivery. 
"Ultimately it's the focus on the company's mission — and not letting egos get in the way — that allows us to build the best version of our products," Tempus Senior Product Designer Hailey Tannenbaum said.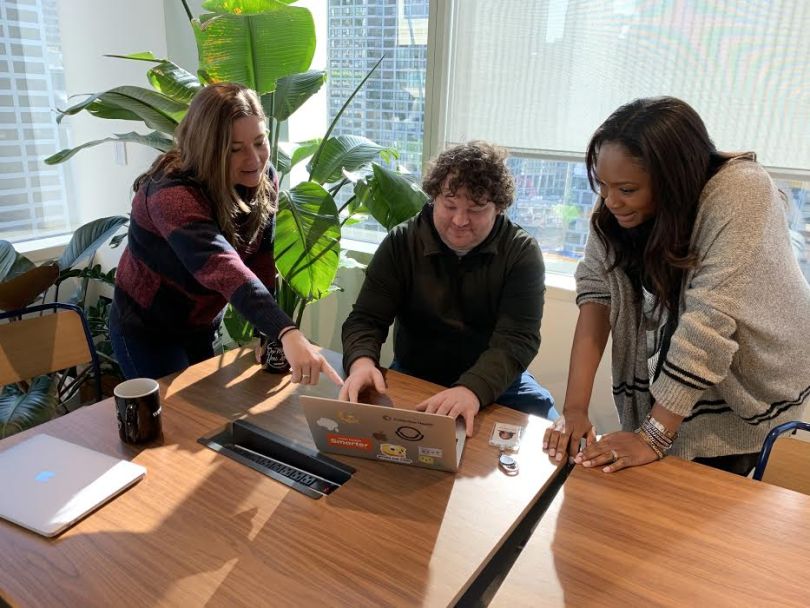 What they do: Tempus hosts a library of molecular and clinical data on their tech platform to make patient data more accessible to healthcare providers. That way, physicians can more precisely treat those seeking medical attention. 
Tempus's company culture in one word: Respectful. 
"In order to move as fast as we do, we need to have a lot of respect for each other," Senior Product Designer Hailey Tannenbaum said. "Ultimately it's the focus on the company's mission — and not letting egos get in the way — that allows us to build the best version of our products."
A cool product the team is working on: "I've recently had the chance to be part of our new infectious disease team, specifically working on the development of a patient-facing app for COVID-19 test-result delivery," Tannenbaum said. "It's rare to work on a project where the deadlines are literally set by a world-wide pandemic, which has been both a challenge and a unique opportunity." 
What they do: Beyond Finance is a financial services company that helps users eliminate debt using a range of software products. Consultants work with customers to personalize a plan that speaks to individual situations. 
Beyond Finance's company culture in one word: Empowerment. 
"At Beyond Finance, we want everyone on our team to be heard and celebrated," CTO Ron Smith said. "We have a history of encouraging our employees to take initiative and ownership of projects that they're passionate about."
With that in mind, the team recently added a new company value called "Best Answer Wins" to encourage all employees to share their ideas without worrying about corporate hierarchy, department or experience level. 
How they've recently become more data-driven: "When I joined Beyond Finance in October of 2019, one of the first things I recognized was our need to become a data-driven company," Smith said. 
"Through a lot of hard work and cross-team collaboration, we've been rebuilding our data infrastructure to have a single source of truth, re-organized our data and analytics teams, and are developing new reporting systems with self-service capabilities," he added. 
What they do: Cameo is a digital platform that connects fans to their favorite athletes, actors and influencers through online, personalized messages. Users can send Cameo videos as gifts or request shoutouts for themselves. 
Cameo's company culture in one word: Electric. 
"Everyone who works here feels a consistent presence of energy," Product Manager Kimya Khoshnan said. "There's always something exciting to be working on." For example, the design and engineering team recently shipped an entirely new feature in just one week. 
The coolest project the team is currently working on: "The shifting tides of the entertainment industry pushed us to find new and exciting ways for talent to engage with their fans," Khoshnan said. "I had the opportunity to take one of these features from idea to execution and created Cameo Live." Cameo Live lets fans and talent interact with each other over a live video call. According to Khoshnan, she had never had so much autonomy over a feature.
What they do: Vivid Seats is an independent, online ticket marketplace where fans can get access to live concerts and events.
Vivid Seats' company culture in one word: Resilient. 
"COVID-19 changed the game in the way Vivid Seats and many other companies needed to operate – both in terms of business impact and the way we work each day," Director of IT and Quality Engineering Matthew Zielinski said. 
"Throughout the pandemic we have focused on removing friction, changing our processes and technology to better scale, and developed new and broader skills that we might not normally have had the chance to mature," he added. 
The coolest project the team is currently working on: "As part of our COVID-19 response, I had the opportunity to work with my team to completely transform the way we deploy, manage, service and secure our employee workstations," Zielinski said. "From an IT standpoint, we needed to quickly mature and operationalize a set of technologies and the way we deploy our technology remotely." 
Thanks to their hard work, onboarded employees can now receive fully-operational, clean machines within an hour. Zielinski also played a role in reframing how the team thinks about security, moving the organization from an office-centric mindset to a user-centric one. 
What they do: Mastery Logistics is a transportation management system built to support logistics and supply chains. The company offers users access to MasterMind™, a cloud-based SaaS technology solution that increases productivity and visibility within  complex organizations. 
Mastery Logistics's company culture in one word: Dedication. 
"Dedication is about allocating the resources and time to actually achieving the goal we set out to do: Build something better than what exists in the marketplace today," Staff Software Engineer Tyler Siron said. 
"Many times companies get stuck building solutions for what a customer thinks they want," Siron added. "At Mastery, we build what we know is right based on years of experience and trying it the old way." 
Professional development opportunities at Mastery: "In the last year at Mastery, I have been exposed to at least half a dozen languages and myriad tools that I had never worked with before," Siron said. "I feel like I have gained years of exposure and experience in a condensed time frame." 
With this exposure, Siron plans on figuring out what he is best at and what he likes doing versus using the tools or processes that he doesn't love or doesn't have aptitude for. 
"Being at Mastery has been career growth on steroids," he said.
What they do: KeHE Distributors sells natural, organic, specialty and fresh food products. The Certified B Corporation works with more than 5,500 employee-owners and has 16 distribution centers across the U.S.
KeHE Distributors' company culture in one word: Uplifting. 
"KeHE Nation members are asked to bring their whole selves to work daily," Senior Software Test Engineer Chris Singleton said. " When I first started at KeHE, I didn't think I fit in because I didn't see anyone else who looked like me in the technology department," he added. "But KeHE has invited me to be my real self."
About a month in, Singleton met the president of KeHE's African American Council (AAC). This committee allowed him to navigate the workforce with like-minded individuals. "I soon found out 'KeHE Cares' is not just a slogan," he said. "Employees are tasked with giving 10 percent of the company's annual income to the less fortunate in our communities, the U.S. and around the world."
How they look ahead: "My team spent 24 hours implementing Elasticsearch during our first ever hackathon," Singleton said, referring to the open source search and analytics solution. "We used it to optimize and speed up our product search for our new Connect Enterprise platform. I had not spent much time using JMeter before, so I was challenged to create the test plan and show value quickly." 
His team won, and Singleton is confident that their Elasticsearch project will become a part of the company's development roadmap in the future. 
What they do: Collective Health allows self-funded employers to administer healthcare plans and control employee healthcare costs. The mission-driven company's core values include "Dare to Solve Hard Problems" and "Follow Curiosity." 
Collective Health's company culture in one word: Innovative. 
"While it's become a bit cliched to describe a tech company as innovative, every individual who works at Collective Health constantly brings new ideas and creative thinking to their role," Senior Product Manager Erin Nicolle said. 
"Healthcare in the U.S. is fragmented, confusing, and full of unknowns, especially during a global pandemic," she added. "One of the things that is unique about Collective Health's culture is our willingness to stop, explore and understand the hard problems within the industry and figure out a way to make them simpler."
Professional development opportunities: "One of the first things I noticed about Collective Health, and my manager in particular, was their willingness to trust me in my role right out of the gate," Nicolle said. That willingness included trusting that Nicolle would know when to ask for help. "This trust has allowed me to really take ownership of my product area and hold myself accountable." 
What they do: SpotOn is a fintech company offering business owners software and payment solutions to help them run their business. Those solutions include loyalty programs, appointment trackers, marketing automation and more. 
SpotOn's company culture in one word: Growth. One of their core values is "your business is our business." 
"Everything we do is aligned with this particular value," Director of Product Deepti Mendiratta said. "It applies to our team members as well. We invest heavily in their growth so that they can become the best version of themselves," she added. 
Professional development opportunities at SpotOn: "We have an extremely diverse customer base and every merchant runs their business differently," Mendiratta said. "I have enjoyed the opportunity to solve problems that on the surface seem pretty straightforward but require deep domain expertise." 
Since joining in March just before the COVID-19 pandemic, Mendiratta has built up her team from scratch. They work on developing new products to support SpotOn's merchants.