The Future 5 of Chicago Tech, Q4 2022
These startups may be small but they are mighty. And they're hard at work building the next big thing.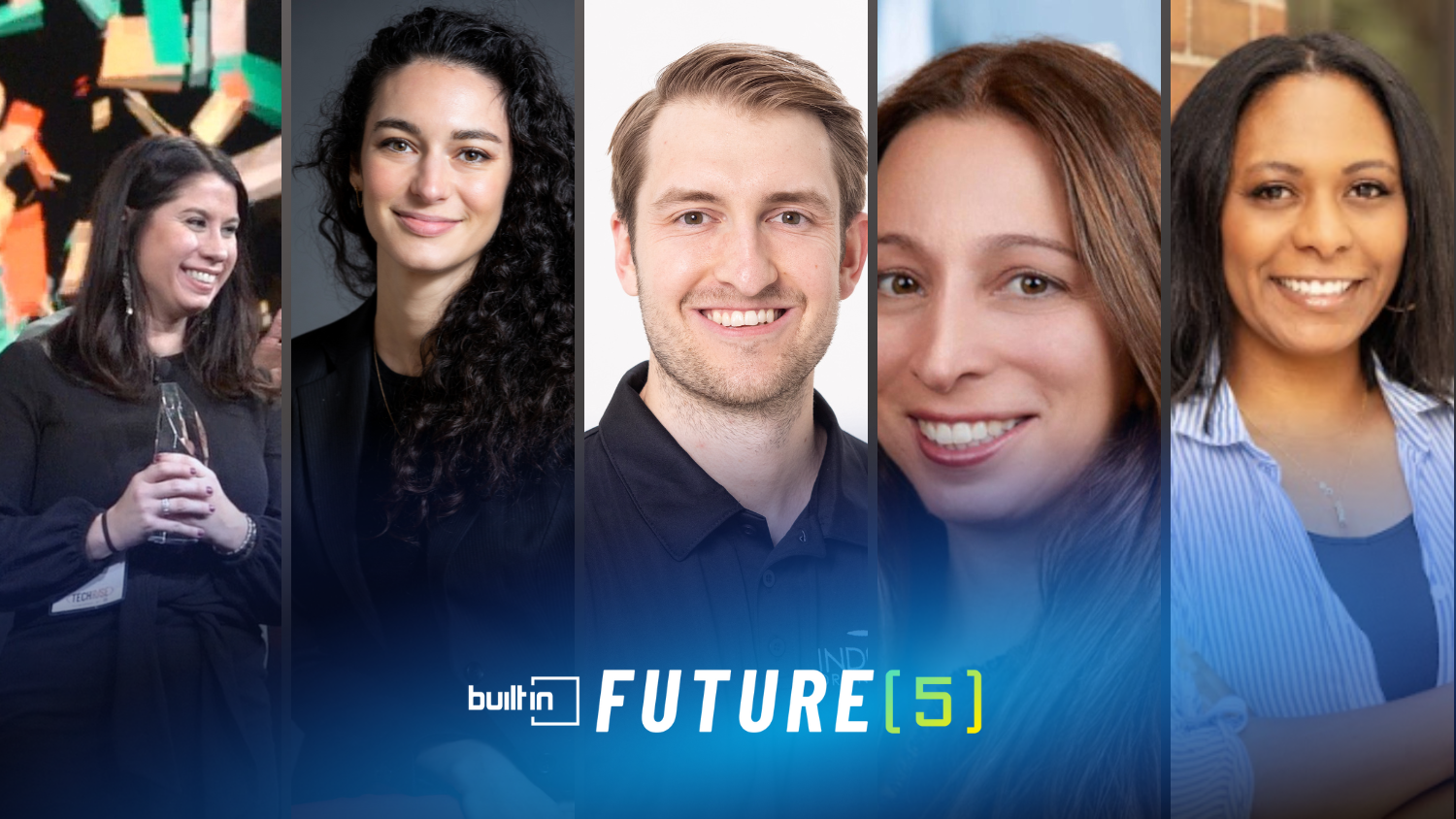 Sure, the latest initiatives from the Teslas, Apples and Googles of the industry tend to dominate the tech news space — and with good reason. Still, the big guns aren't the only ones bringing innovation to the sector. 
In an effort to highlight up-and-coming startups, Built In is launching The Future 5 across eight major U.S. tech hubs. Each quarter, we will feature five tech startups, nonprofits or entrepreneurs in each of these hubs who just might be working on the next big thing. Read our round-up of rising startups from last quarter here.
* * *
Chicago has one of the largest tech communities in the country and, as such, has a diverse array of startups and tech companies. The city is home to popular fintech, logistics, and healthtech companies, but its startup ecosystem touches every vertical. The city is also home to a number of sprouting tech companies that are looking to shake up their respective industries. Built In Chicago spoke with five seed and pre-seed startups across industries and told their founding stories. Read on to learn about the innovative companies featured in the Future 5 series and what's next for them.
Built In's Future 5 Up-and-Coming Chicago Startups, Q4 2022
CampfireSocial (Social)

CryptoMom App (Crypto)

Indoor Drone Tours (Drones)

Kadeya (Greentech)

SMARTCharts (Healthtech)
CampfireSocial is a private social networking platform launched by Erica Bishaf in 2020 to bring the most out of trade shows. With the platform, organizations hosting live events can license a social media network from CampfireSocial and invite members to post, share and communicate with others attending the live event. CampfireSocial's private platform can be licensed to run after the live event ends, too. 
"Our platform is based on the behavioral psychology around why trade shows work, which is the interconnectivity of the three C's — [community, content and commerce] — and we digitize this experience year-round," Bishaf told Built In. "People and exhibiting brands attend trade shows to network, rally around education and big ideas and then look for solution providers to materialize these ideas."
Since launching, Bishaf has raised $1.2 million in seed funding and is planning to raise additional capital in the near future.
Tech entrepreneur Kendra Cole wants more women involved in crypto. Her app, The CryptoMom App, works to promote that vision by introducing millennial women to the world of digital currencies with a more approachable crypto investment app.
Through the app, users can purchase Bitcoin and allocate it into investment funds and accounts like a 529 education plan. According to Cole, The CryptoMom App is not a trading exchange that promotes fast trading but instead encourages users to hold onto bitcoin. Future iterations of the app will include other digital currencies but currently, only Bitcoin is available for purchase on the app. 
"Women need an opportunity where they feel secure in their investment decisions and can connect with other women who are on their crypto wealth-building journeys," Cole said. "We're on a mission to close the crypto gender gap."
Indoor Drone Tours uses remote-controlled drones to create custom videos for real estate properties, tech offices, newly constructed buildings and residential homes. According to John Bach, COO and co-founder of the startup, the custom videos help with marketing but they are also useful to help people understand the physical layout of a given space, as the drones are small enough to record in indoor settings. 
"The goal for Indoor Drone Tours is to continue to be the best provider for video tours in commercial real estate space while taking on other categories like business tours, construction projects, sports and more," Bach told Built In.
Since launching during the Covid-19 pandemic, Indoor Drone Tours has worked with notable local brands including The Chicago Bulls and has made promotional footage for many iconic buildings in the city. The company has done all this whilst being self-funded. 
Chicago-based startup Kadeya is on a mission to eliminate single-use plastic bottles and has developed a beverage vending machine that distributes water in glass bottles to customers. Once finished, customers return the bottles to the machine to be sanitized and used again. 
The company was founded by Manuela Zoninsein and has already raised pre-seed funding and participated in the Techstars Farm to Fork Accelerator Program for foodtech and agtech startups. Going forward, Kadeya will focus on placing its vending machines at construction and industrial sites and will also work on adding carbonation and flavoring options to its machines. 
"The investor community is loving businesses in the sustainability, data and supply chain space – which is squarely where Kadeya sits," Zoninsein told Built In over email. 
SMARTCharts is a healthtech startup that can be used by speech, occupational or physical therapists to help patients better understand their progress toward recovery. Through the platform, care providers can take notes on a patient and create a visual that will help the patient visualize their recovery process. According to the company's founder, Corinne Vargas, the platform also helps patients become more excited to attend therapy.
"The way that we communicate how patients are doing when they're getting better after a traumatic event has not changed in over 30 years," Vargas said. "I was able to pull together the analytical side from my first career into my therapeutic career and put those things together to help patients that were just like my mom."
Since launching, SMARTCharts has participated in TechStars and also won the $100,000 grand prize at the TechRise pitch competition in early December. The company is also close to wrapping up its first funding round that will bring in over $2 million in capital.