Going into the office every day is a lot more rewarding when the work you do makes a real mark on your company. These seven fast-growing Chicago tech companies all offer team members the chance to just that while building their careers. See below to learn more about them and what they look for in candidates.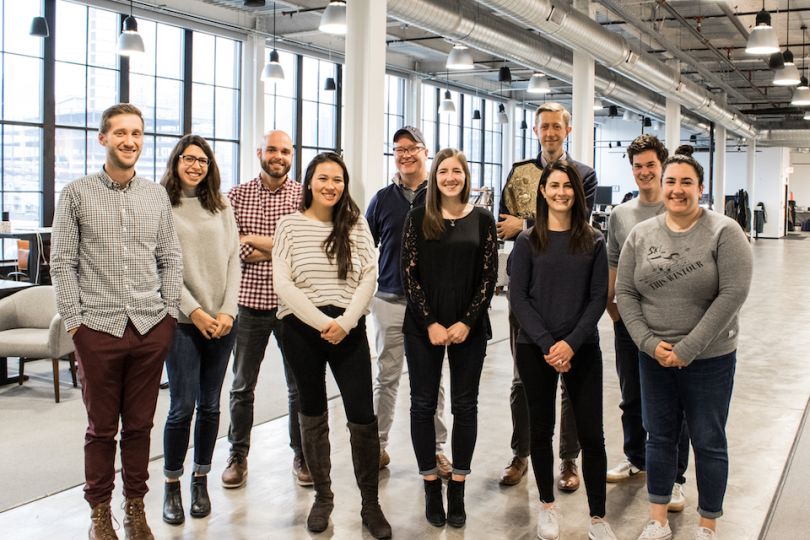 What they do: Restaurants, wine bars, pop-ups, and more use Tock's cloud-based platform to book and manage reservations. Its solution is used by everything from mom-and-pop establishments to those run by Michelin-starred chefs and "Top Chef" champions.
What they look for: "We are looking for people who are inspired and challenged by rapid growth, innovation and getting to be part of something that could change an entire industry," said Director of Sales Matt Koehne. "We are passionate about developing cutting-edge technology and creating a better way for guests to book reservations and are looking for hires that share our hunger and curiosity."
 
Top perks: Tock provides daily free lunch and nitro cold brew coffee to help team members stay fueled up all day long, along with wine on tap for when it's time to unwind. The company's pet-friendly office features a rooftop deck and a casual dress code. Other awesome perks and benefits include a 401(k) match, a generous parental leave program and medical, vision and dental insurance.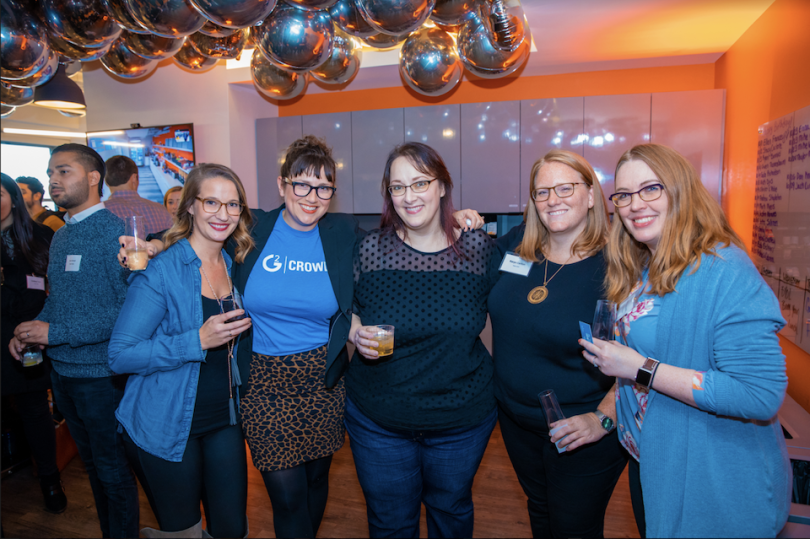 What they do: G2 Crowd's platform provides a place for users to review business software and services, which companies can then use to make more informed purchasing decisions.
What they look for: "We're looking for results-driven individuals who strive for excellence and demonstrate authenticity in everything they do," said VP of People Stacy Carlone. "We aim to offer employees the opportunity to take their career and our company to the next level by challenging them to work hard and win as a team."
Top perks: G2 Crowd makes it easier for team members to sharpen their skills by offering tuition reimbursement for professional development courses. Free lunch is provided four times a week and the office kitchen features cold brew and snacks, and beer on tap for Friday afternoons. Employees can also take advantage of time off to volunteer, a 401(k) match and health, dental and vision insurance.
What they do: Enova uses advanced analytics and machine learning to provide loans to people who cannot access credit from traditional institutions.

What they look for: "Ideal candidates are results-focused, enjoy autonomy and ownership, and value diversity of thought," said Chief People Officer Stacey Kraft. "They can adapt quickly and influence others to support new ideas and solve the right problems. Our best people are terrific collaborators who are successful working alongside a variety of teams, are passionate about what they do and have the right mix of grit and big-picture perspective."

Top perks: Summer hours, a sabbatical program and paid volunteer time help ensure Enova employees maintain a positive work-life balance. Members of the company's tech team can expand their skill set through the "Tech Exchange," which lets them work on different teams and in different roles, and through the "Fellowship" competition where engineers are given time to work on business-related side projects. Other notable perks and benefits include a charitable match program and a fully stocked kitchen featuring craft beer and curated wine on tap for after-hours events.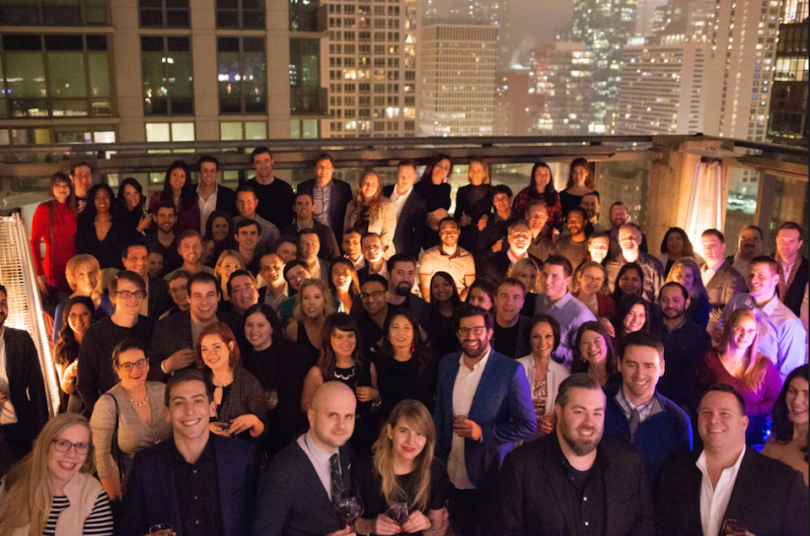 What they do: Productive Edge is a consultancy that provides digital strategy, customer experience and technology solutions to companies undergoing digital transformations. The company works with Fortune 1000 companies around the world across a variety of industries, including sports and entertainment, healthcare and retail.

What they look for: "Our people are passionate solutionists," said CEO and Managing Partner Wyatt Kapastin. "They approach each client problem with the craft of experts to find creative and cost-effective strategies that challenge the boundaries of what is possible. PE's culture is the perfect fit for those rare individuals who possess both a down-to-earth perspective and an innate drive to become the very best at what they do."

Top perks: The Productive Edge office is fully stocked with snacks and drinks and features a foosball table and beer on tap. The company organizes lunch and learns along with weekly social events and outings that let team members get to know each other off the clock. Other perks and benefits include a generous PTO package, paid time off to volunteer and health, dental and vision insurance.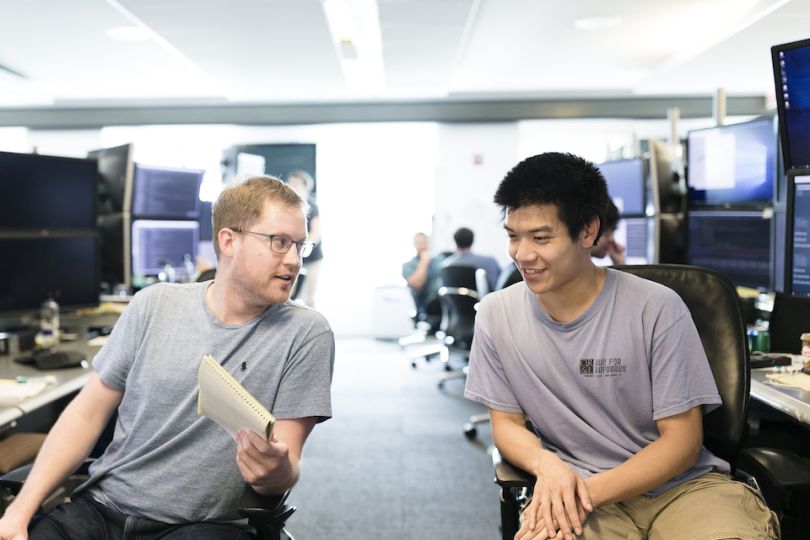 What they do: Optiver is a proprietary trading firm that uses technology to provide the most up-to-date and competitive prices on financial products from around the world.
 
What they look for: "We hire people who relentlessly ask 'why' — so that they can zoom in on the real underlying problem," said CTO Pierre Salverda. "They're curious people, and they always challenge the status quo. Their passion is to solve the problems that really matter to the business, and they take pride in the quality of their solutions."

Top perks: Optiver's company culture has a flat structure, and everyone — including new hires — is encouraged to ask "why" and challenge the assumptions and presuppositions of their teammates and management. In addition to ensuring employees have their voices heard, these discussions provide time to enjoy a latte whipped up by the company's in-house barista. Optiver places a high value on collaboration and offers unique employee-led perks such as a wine night led by a senior engineer and sommelier, paid time off to volunteer and a yearly company retreat.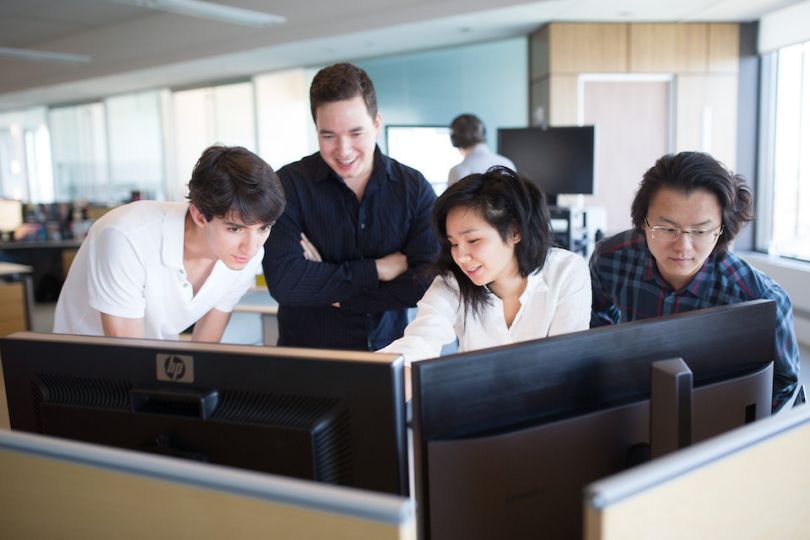 What they do: Hudson River Trading takes a scientific approach to trading. The company trades millions of shares a day on markets around the world using automated algorithms developed by its engineers and researchers.

What they look for: "We look for collaborative, ambitious team players who realize no problem is too small or too big," said Chicago Tech Lead Kevin. "HRTers use the technology we build every day, and we pursue perfection in our work to increase the efficiency of everything around us. Staying ahead of the pack in global markets requires cutting-edge technology, be that systems for trading, research or operations. Our team takes pride in building precisely that."

Top perks: The Hudson River Trading team enjoys an office with a casual dress code that has a kitchen full of tasty food and snacks. Employees also get to take paid time off with their team in the form of an annual company vacation. Hudson River Trading also offers full health insurance coverage, a generous PTO plan and fitness subsidies.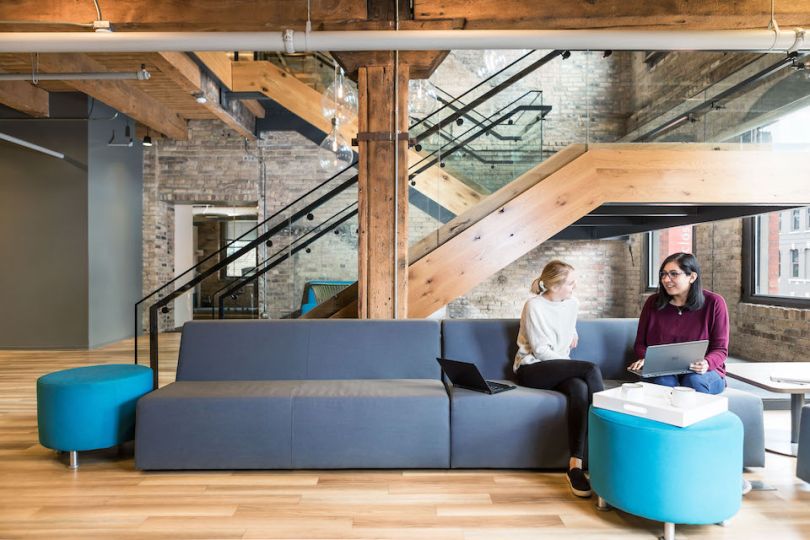 What they do: Digital marketing agency closerlook specializes in helping pharmaceutical companies create better relationships with their customers and healthcare professionals via creative support, data analytics and custom development services. 
What they look for: "Throughout our over 30 years, closerlook has strived to maintain an entrepreneurial mindset in how we approach our work," said Chief Client Officer Allison Davis. "Staff who are successful at the agency continually seek out ways to improve our process, and that positively effects how we support our clients and how we evolve culturally. Recent approaches include implementing ideas that keep us — and our clients — competitive, incorporating a more agile process and improving our onboarding process as new staff starts."
Top perks: Team members at closerlook are able to keep a solid work-life balance thanks to a generous PTO plan, a wellness program that includes onsite yoga and generous parental leave program. Those with dogs and cats will be happy to know that, in addition to health, dental and vision insurance, the company also offers pet insurance. Other perks and benefits include a 401(k) match, commuter benefits and an office featuring a stocked kitchen.