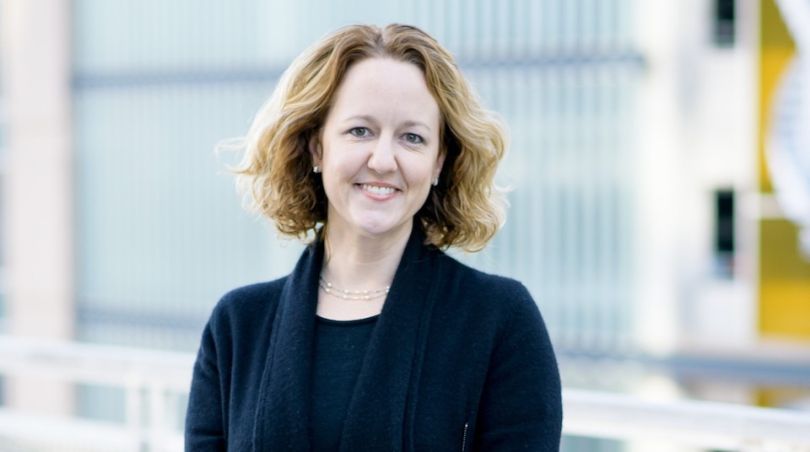 Most people think of lawyers as the people you call when something goes horribly wrong. But in the tech industry, lawyers focus more on making sure things go right.
To Katherine Minarik, group general counsel at cleverbridge, the opportunity to help build something was a major draw for the role. Prior to joining the e-commerce and subscription management tool provider, Minarik spent a decade at a Chicago-based law firm representing and fighting against billion-dollar companies in trials. We spoke with her about life as a lawyer at cleverbridge, the team she's building and what traits prospective tech lawyers should have. 
What was it about the opportunity at cleverbridge that drew you in?
The people, more than anything. My conversations with the leadership team at cleverbridge were challenging, fun and engaging. That's what I want out of my work.
I also was looking to be part of building something. I loved being a lawyer, but when the trial is done, your client heads back to their office to build something new based on what they've learned. I wanted to help build those things and not just be involved during the crisis.
What does your role as group general counsel entail?
We advise on new product plans and strategy, and we figure out how to structure new partnerships. With our sales team, we negotiate all of our deals with clients. And we partner with our compliance, tax and fraud teams to mitigate risk for the organization as a whole.
One big priority to me is better papers. When you hand a draft contract to a potential business partner, you want it be easy for them to see what you are asking for or promising. This shaves off countless hours from negotiations. It also makes the legal function more scalable. So one of our focuses right now is better non-disclosure agreements, contracts and terms and conditions — because we know what a difference that will make to the business immediately.
Leaders have to be approachable enough that they know about mistakes in time to help their teams mitigate them."
What are the most interesting challenges for lawyers in your industry?
One of the biggest challenges right now for any tech company engaging with individual customers is global privacy law. The General Data Protection Regulation has been a big part of 2018, and we're watching to see how best practices continue to develop now that it's in effect.
Even less predictable is what the future of transactions and contracting will be. How will consumers expect to be able to buy things five years from now, and how will business partnerships be structured? It's going to be well beyond anything we're thinking of now. And the law is going to be racing to keep up.
How would you describe your leadership style? What has shaped it?
I remember sitting in a cab, listening to a voicemail from my manager, and feeling a flood of relief when he said, "I just wanted to call because I know you were disappointed in yourself yesterday. I want you to know we've all been there, and I'm not disappointed."
A good manager knows that mistakes happen, and reacts with the right combination of feedback and support. I used to tell my clients that I could live with any bad fact except a bad fact I didn't know about. Leaders have to be approachable enough that they know about mistakes in time to help their teams mitigate them.
What do you look for when hiring?
When it comes to hiring, the most important thing to me is work ethic. People come to lawyers when they're worried. We need to respond with care and diligence. I also look for good instincts. New areas of the law can be learned. But good instincts about how and when to convey the law, and to whom, is much more difficult to learn. That's really the secret to being a good lawyer when your clients are not lawyers themselves.
What's the biggest piece of advice you have for those interested in working with technology law?
Your job is not to tell the company what the law is. Your job is to make it easier for the company to make decisions, even when you've got imperfect or incomplete information. Give the company a path through the law so they can accomplish their goals while minimizing risk. If risk and uncertainty scares you, the tech industry is not for you. But if you love solving seemingly impossible problems, you'll be right at home.