After more than 30 years in technology, it might be easy for a company to rest on the processes that made it successful. That's not the case at GTreasury.
The treasury management systems company is in the midst of transitioning to an agile workflow and integrating a new team and product in Sydney. Along the way, it has also invested in its employees through global culture committees, company-wide hackathons and an encouraging "go do it" spirit from its senior leaders. The result is a company wise in experience and young in spirit.
We spoke with three employees about how they're building GTreasury's culture for the future.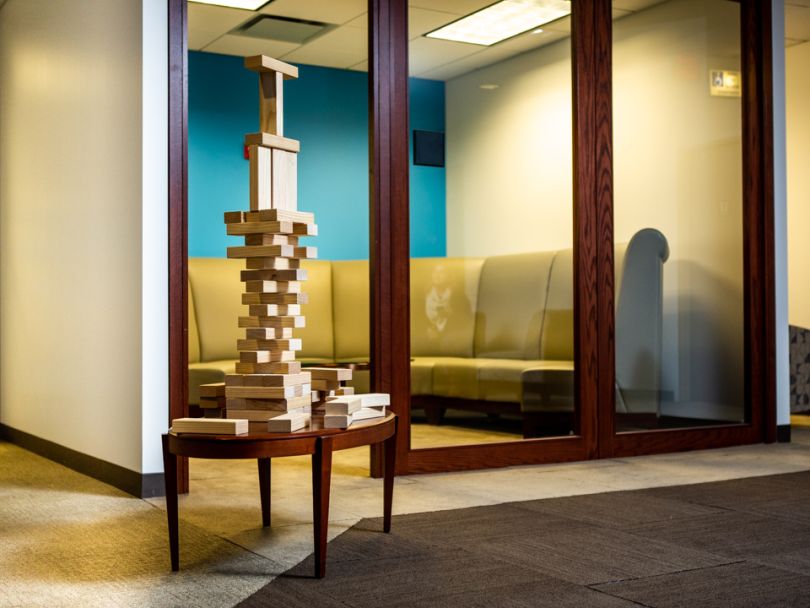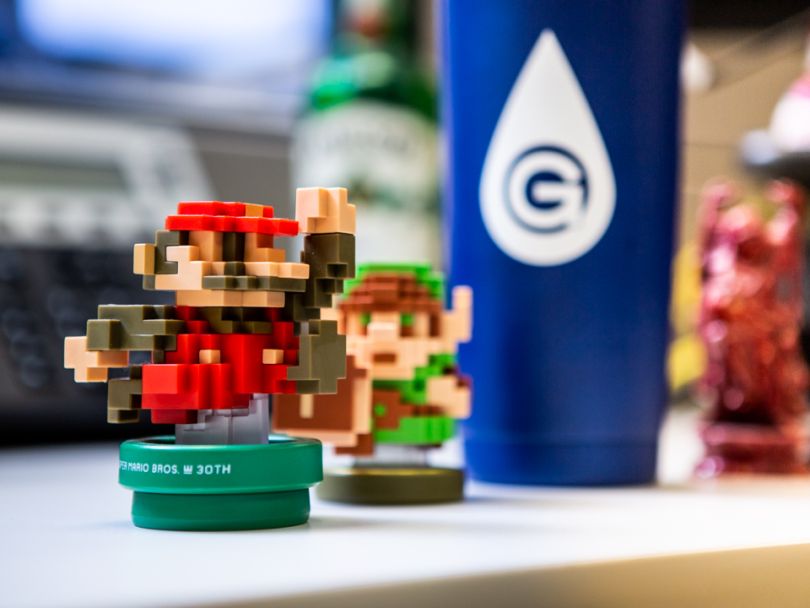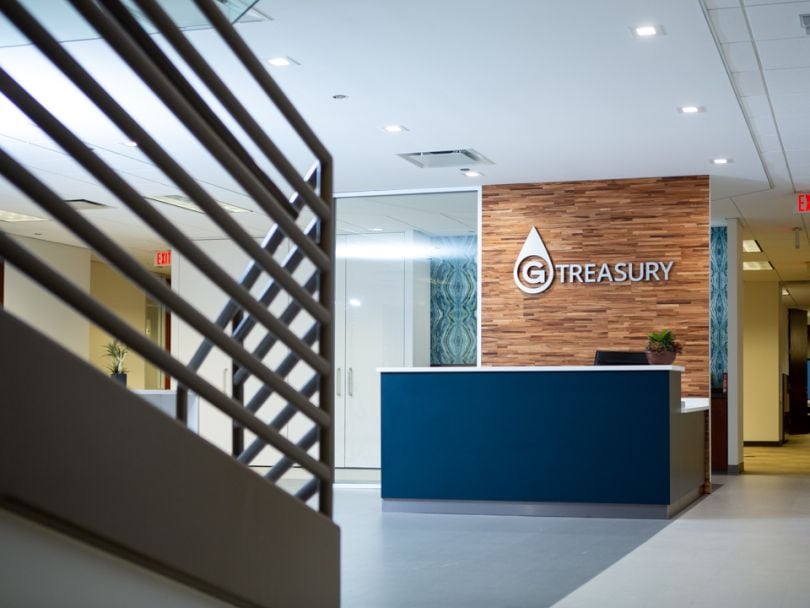 FOUNDED: 1986
EMPLOYEES: 180 (100 local)
WHAT THEY DO: GTreasury provides SaaS treasury and risk management solutions for digital treasurers around the world.
WHERE THEY DO IT: Headquarters in Buffalo Grove, with offices in London, Sydney and Manila.
PEACE OF MIND (AND BODY): GTreasury eases the pain of medical care for employees, offering a $0 deductible health insurance plan and covering 85 percent of health care costs. 
FROM THE BEGINNING: Curious to know what GTreasury was like more than 30 years ago? Well, employee number one still works with the company and can answer that.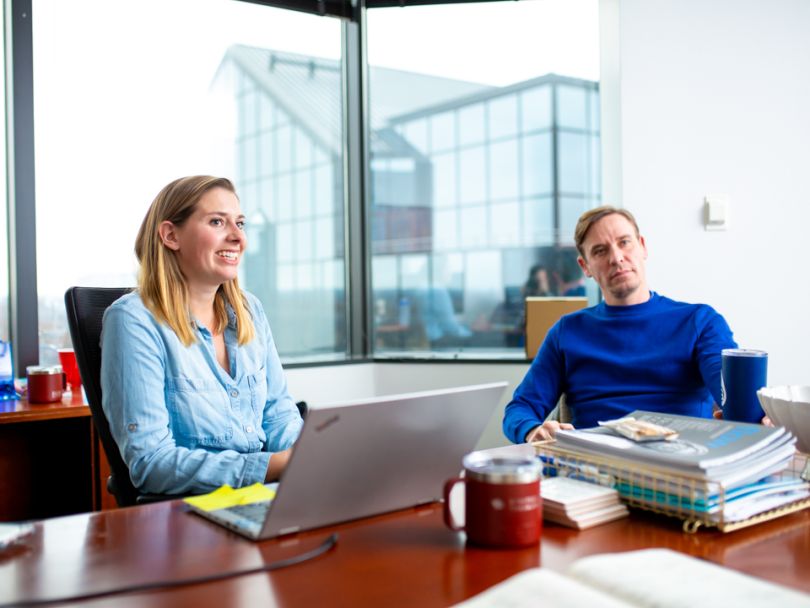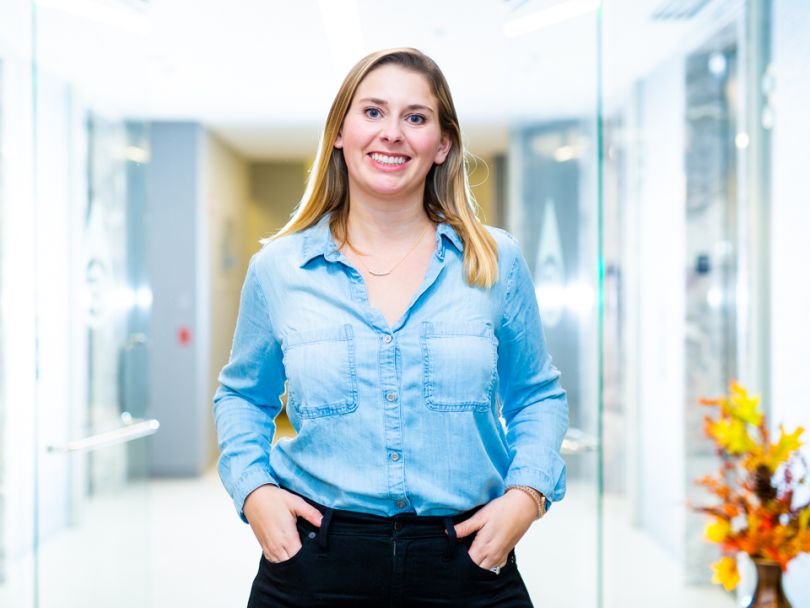 Ashley Pater, SVP of Product
Ashley oversees the global product group, ensuring that the product vision and strategy align with GTreasury's business objectives. Her goal is to build a culture around shared responsibility.
BEYOND WORK: When Ashley isn't guiding GTreasury's global product group, she's competing as a horse show jumper. Much like leading her team, every successful jump is built on the trust developed over months of training and practice.
What excites you about evolving GTreasury's culture as the company grows?
Scaling your culture to fit a larger organization without losing the original values is no easy feat. However, it's been an exhilarating and refreshing exercise because it's a chance to ask ourselves, "What do we want our culture to be?" and "What type of company do we want to be?" These seem like easy questions but once you answer them, you need to know how you can execute on them and adapt them into your culture.
How will you help your team reach those goals?
As we continue to grow, collaboration and communication will be critical to our success. We're currently integrating two companies and products after the acquisition of Visual Risk. The Chicago product and technology teams are working closely with our counterparts in Sydney, Australia, and we're establishing workflows, functionality and business cases.
To accomplish these goals, teams are working hard to over-communicate and get constant feedback. This includes conference calls at odd hours to accommodate time zones and weekly meetings. We share the same dashboards to make sure all teams are looking at the right data, display that information throughout our global offices and talk on Slack. It is an ongoing process, but our motto has been, "Progress, not perfection."
[Integrating two products] has empowered us all to work together as a team, inspired us to think outside the box and apply innovative and technology to our product to get the job done."
What project excites you the most at GTreasury?
Integrating two products into one has been an exciting challenge, and it has forced us to look at all our products as a whole to ensure they work together. It's like putting together a jigsaw puzzle without having the picture of what you are piecing together: You need to figure out which piece goes where and ensure that it helps bring the other pieces together to form a whole. It has empowered us all to work together as a team, inspired us to think outside the box and apply innovative and technology to our product to get the job done.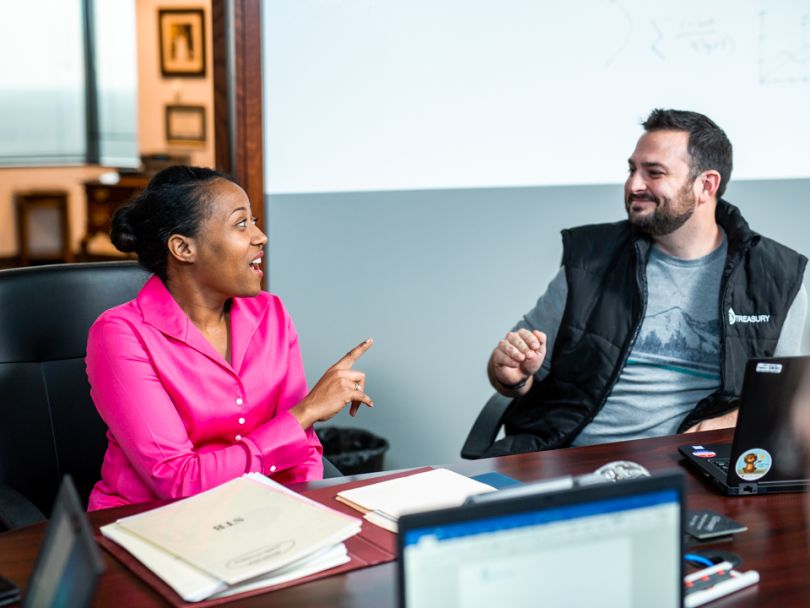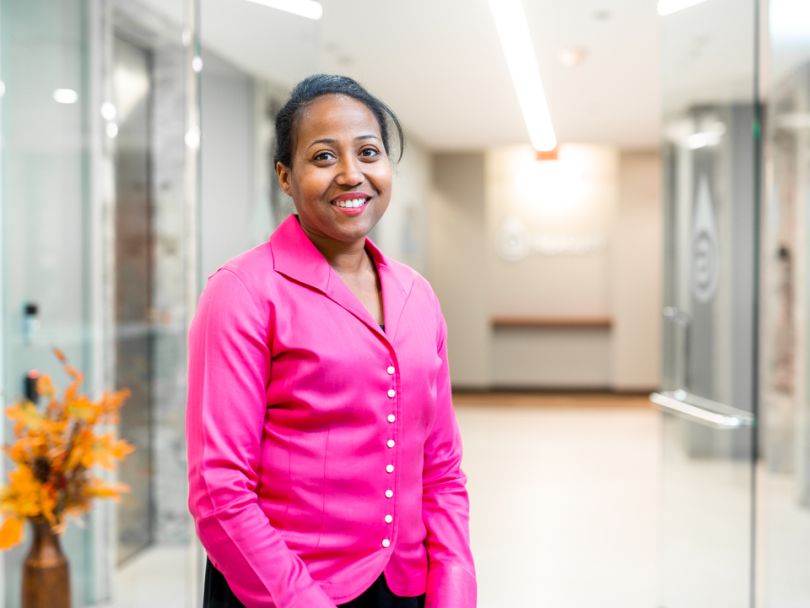 Ethelyn Hill, Scrum Master
Ethelyn is GTreasury's agile coach, coordinating the planning, development and release of IT projects to drive a successful sprint.
BEYOND WORK: Ethelyn enjoys the process of baking bread. Each loaf requires time and care to prepare, reminding her that quality in preparation begets a quality outcome.
How has GTreasury's engineering processes evolved from when you first began?
We've embraced an iterative, empirical approach to software development. This has enabled us to deliver working software early and often as we continue to make improvements. We've seen the success and benefit of not needing full requirements up front, prior to being able to deliver the product to market. It has also enabled us to see defects and risk earlier and fix them. 
I never stop asking, 'How can it be better?' It is from this that our processes evolve." 
What challenges did you encounter in transitioning developer processes to scrum?
Change can be difficult, and our transition to an agile approach started slowly until people saw the benefits. Agile coaching and training helped teams build trust in each other. We also unified under the same goal of building a great product, which empowered us to overcome any challenges to adopting a new strategy.
How do you continue to evolve GTreasury's processes?
It all starts at the top. I'll never forget my first week at GTreasury: I sat with our CEO, Orazio Manzi-Fe Pater, trying to get a pulse on how committed senior leadership was to the agile transformation journey.  Every time I came to him with a process change, he'd say, "Go do it."
I also made it a point of meeting with everyone who had an impact on product delivery so that I could gain an understanding of where they felt we were and where we needed to be. This helped me to understand their concerns and vision to map a plan for transformation. I never stop asking, "How can it be better?" It is from this that our processes evolve. 
What traditions bring your team together over this transition?
Every morning, one of the product owners starts the team off with an uplifting mantra. Every year, we hold a chili cook-off for charity to support the community and bring the team together over a bit of friendly, and tasty, competition. On Halloween, we host a hackathon that provides a spooky breeding ground for innovation and excitement around projects. But the GTreasury family also celebrates each other, our weddings, births and holidays. Each of these traditions is important – they bring us together. After all, software is as much about people as it is about technology.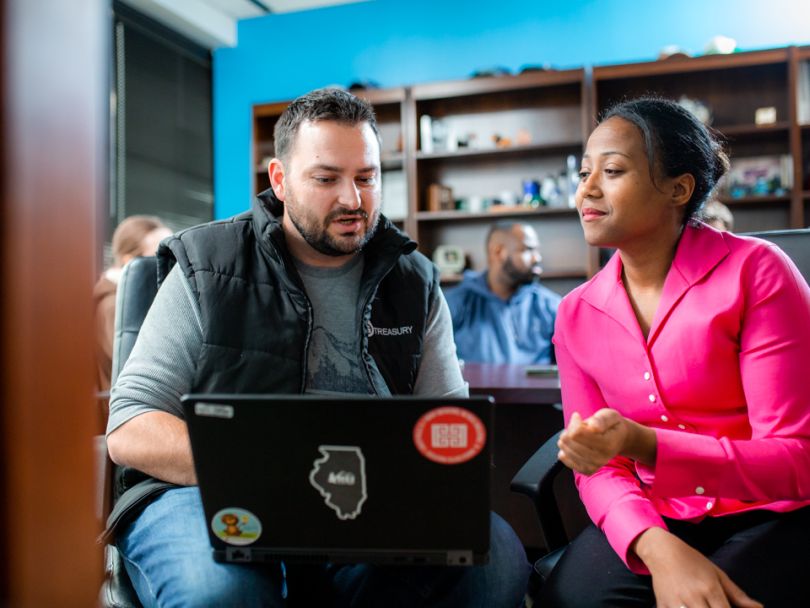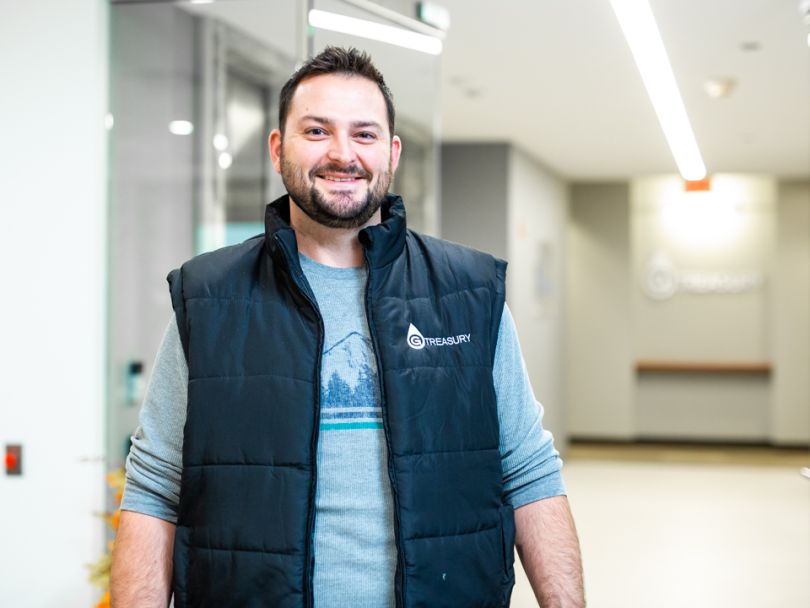 Dan Finholt, Senior UX Designer
Dan builds out the strategy for the user's entire lifecycle with GTreasury's products. He works with product management and technology to find a common vision and then charts out a course to accomplish that vision.
BEYOND WORK: When Dan isn't steering the GTreasury ship to user success, he captains his own ship in long-distance yacht races.
How are you helping to shape the GTreasury platform?
We've been transitioning GTreasury to a more modern, design-thinking company. We've been asked to challenge the status quo and look past technology constraints to design the best treasury management solution. We finalized the design of our new navigational approach, which was well received in user testing. We're now working on developing it and working towards our combined application.
We've been asked to challenge the status quo and look past technology constraints to design the best treasury management solution."
What opportunities are there for employees to shape the company culture?
As a fast-growing, global company, we've been taking input from all over the world on our culture. Employees can participate in a culture committee. It's been cool hearing about the different ideas and concepts coming out of Australia. There is always an opportunity at the company to be heard: If you have an idea, you can get it to the right person immediately.  If you want to help drive it forward, you can join the culture committee and work towards bringing it to reality.
How does your team collaborate with other teams?
Working with team members in different time zones has forced us to get creative in our collaboration. Flexibility is key in scheduling meetings and working through solutions. We are constantly using Slack to send messages and keep projects on track. Plus, Slack's #random channel is always good for a laugh.