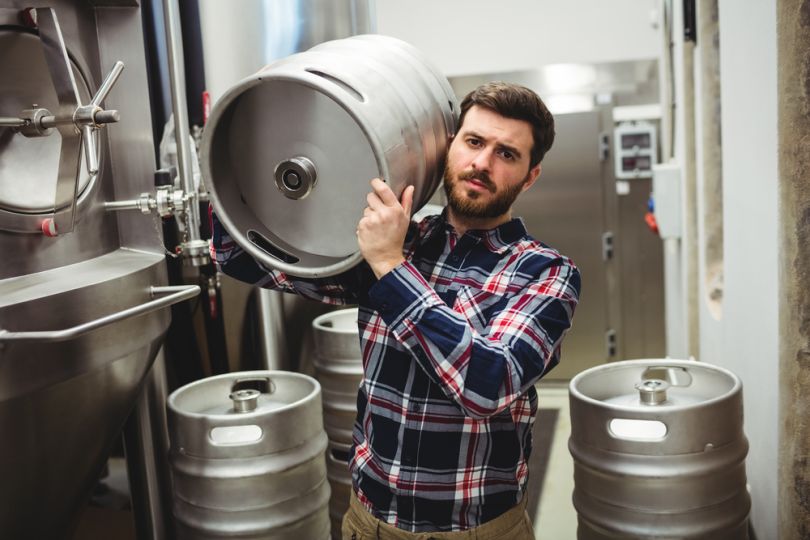 No good beer should go to waste. 
But much of it does, progressively skunking at the bottoms of kegs that busy bar, restaurant and stadium concession managers swap out for brand new ones. The methods managers use to determine how much beer is left in a light keg are rather archaic and involve little to no tech — mostly muscle. 
One Chicago startup known as I-Tap is bringing IoT to the bar to provide a digital solution to how keg levels are monitored.
"We collect information at the spout level," said Elliott Osborne, co-founder and vice president. "In most bar environments, they're getting about 65 to 75 percent yield out of their kegs. With our system, we are able to bring that number up to about 95 to 98 percent."
I-Tap's hardware installs directly on the beer tap, sitting just below any tap pourer. Via a proprietary algorithm and data collection technology, it collects information about each pour and sends it through the cloud for managers and bar staff to view on any device in real time.
You can see what kinds of beers are being poured, what time they're poured, and at what event."
"You can pull up all different types of reports so you can see what kinds of beers are being poured, what time they're poured, and at what event people buy certain types of beers," said Osborne. "You can make smart inventory decisions moving forward for those types of events."
Managers can receive notifications when a keg restock should be ordered, at which point an automation feature can place a new order with a brewing company directly. The digital insight is meant to replace traditional keg-measuring systems, which involved either a particularly strong individual lifting a keg and guesstimating how much beer is left, or placing the keg on a scale to weigh its current-state versus new state — a process that requires special equipment and that same strong individual.
Osborne co-founded the company in 2016 with his father — a 35-year employee of the beer industry who built his own pouring systems in his basement. Osborne added IoT implementations to his dad's tinkerings, drawing on his experiences working at tech companies like SpotHero, Groupon and CDW. 
In addition to managing logistics, the company also wants to help each bar understand what a perfect pour is for their location. Managers calibrate the system to determine how much time and keg pressure is needed to pour the perfect, foamless pint. That data then becomes the standard against which all other pours are judged. This way, bars don't experience waste, or pilferage as it's know in the industry, and patrons get the best beer every time.
The I-Tap system is currently running in a number of bars across Chicago, including at the Ritz-Carlton. The company is also in talks to partner with a West Coast restaurant chain and the system is being used in establishments as far away as Kuala Lumpur, Malaysia.
Osborne said owners love how inconspicuous the devices are — and product development isn't over yet.
"POS integration is something that we'd like to see in the future," he said. "[Today], the POS is only what the bartender rings up, not what is actually coming out of the faucet."
But even with all the added visibility into where each ounce of beer is going, Osborne said he doesn't want bartenders to feel overly micromanaged. 
"We don't want to ruin the neighborhood bar vibe by taking away free beers and stuff like that," said Osborne. "Bartenders will still get comp tabs — this time they'll be monitored. You'll have an idea of the numbers and will be able to look at a clear picture. There's all this gray area right now that bartenders and bar operate in."
Now, who's ready for a cold one?