Consumer review site Yelp hosts reviews of what seems like every business on the planet, from hole-in-the-wall restaurants to entire skyscrapers. The site even has 35 reviews of Lake Michigan, which boasts a 4.5-star rating. (It's a Great Lake, but apparently not a perfect one, due to "birds.")
Founded in 2004, Yelp has grown swiftly over the past 15 years. It's now valued at $2.7 billion, and the site gets an average of 35 million unique visitors a month. The company monetizes this traffic by selling ad space, which means Yelp needs teams across the country, pitching to potential advertisers.
Headquartered in San Francisco, the company now has seven offices in the U.S. and Europe. Its Chicago office was among the first they opened.
"We wanted to take advantage of the talent in Chicago," Yelp's SVP of Community Andrea Rubin told Built In.
We toured the office to get the insider scoop on life at Yelp Chicago.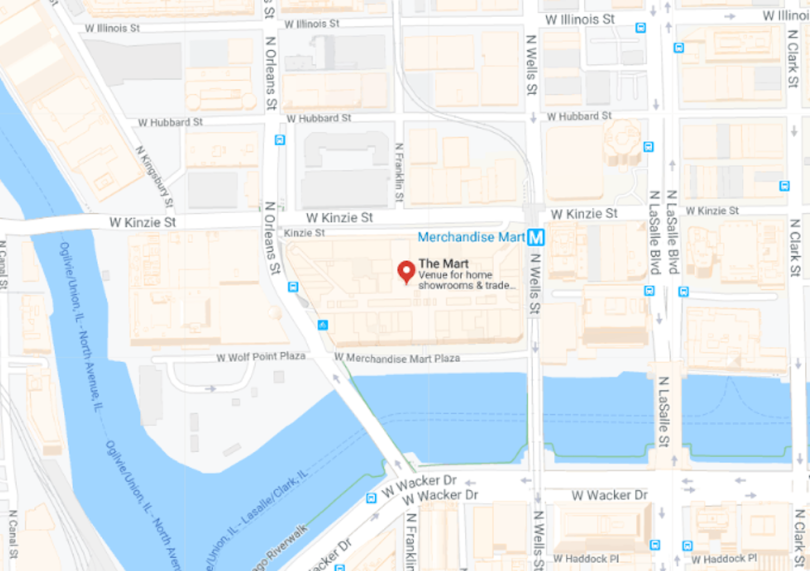 THE LOCATION
Yelp's Chicago office fills a riverfront corner of Merchandise Mart, a 25-story retail and office complex in Chicago's River North neighborhood. Yelp shares the Mart with various companies, including 1871, a startup accelerator and tech-centric co-working space.
Highly accessible by public transit, the Mart has its own L stop, serviced by the Brown and Purple lines, and it's just over half a mile from the South Water Street Metra station.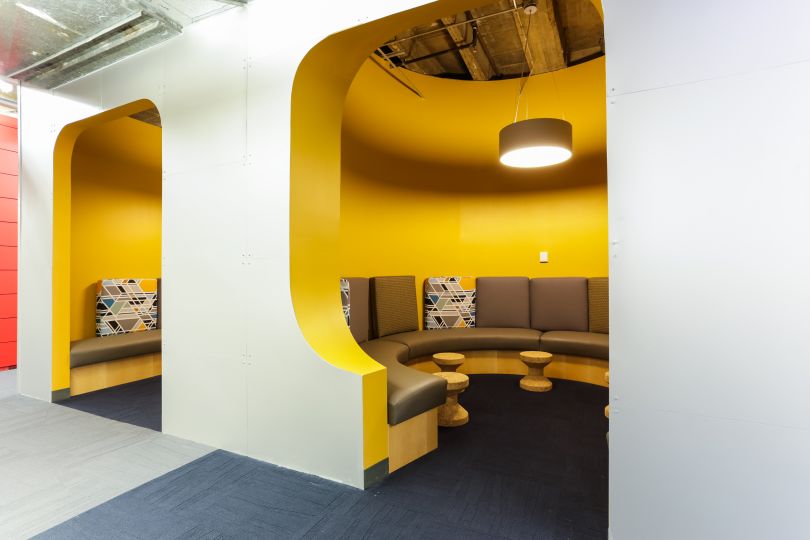 THE TEAM
Yelp's Chicago team has grown from 40 to about 1,000, and Yelp onboards new employees monthly in cohorts as big as 90. 
In terms of roles, "it's mostly a sales office," Rubin explained. "I'd say 95 percent sales." The sales reps and account managers are complemented by a few people in marketing, IT and HR.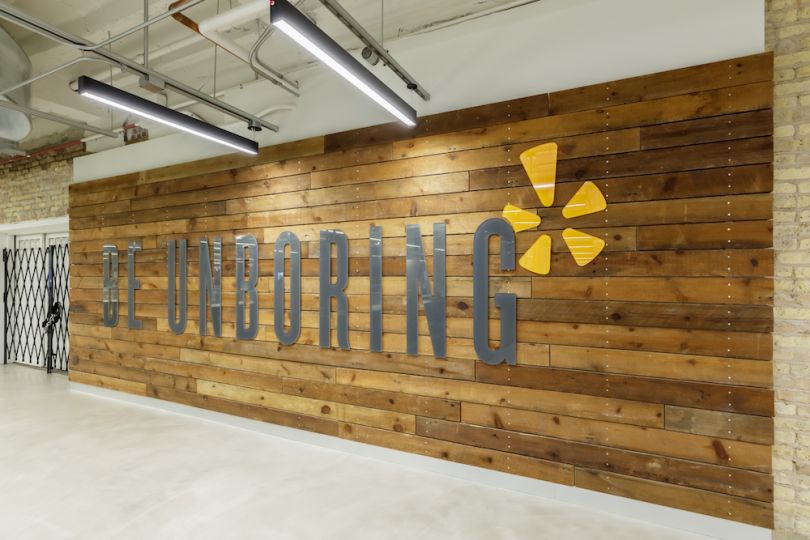 THE OFFICE
Designed by the architecture firm Valerio Dewalt Train, the office covers 133,000 square feet and spans two stories of the Mart.
Yelp's Chicago office occupied only one story of the building when it first opened, back in 2015, but the staff grew quickly. By 2016, the team needed another floor, which Yelp connected to the first with a staircase.
The lower floor has a "below the L" theme, though it's actually on the fourth floor of the Mart. And though there's no below-the-L odor, it has a gritty feel; the top floor, which is "above the L"-themed, looks a bit sunnier. 
"Be unboring," giant letters on one upper-level wall command. This is one of Yelp's five core values.
On the lower floor, the conference rooms are named after Chicago landmarks, and on the upper floor, they're named after Chicago-affiliated celebrities, like Vince Vaughn and Oprah.
"All the [Yelp] offices have a similar look and feel," Rubin said, "but [with] this one, we also wanted to keep Chicago architecture in mind."
In that spirit, the designers went for an industrial feel, with touches like exposed bricks, steel beams and reclaimed wood from a Michigan barn. They even stripped old finishes from the existing walls and ceilings for an unvarnished look that echoes Yelp reviewers' accounts of "unvarnished personal experiences of commerce."
The office also features numerous cool perks that include: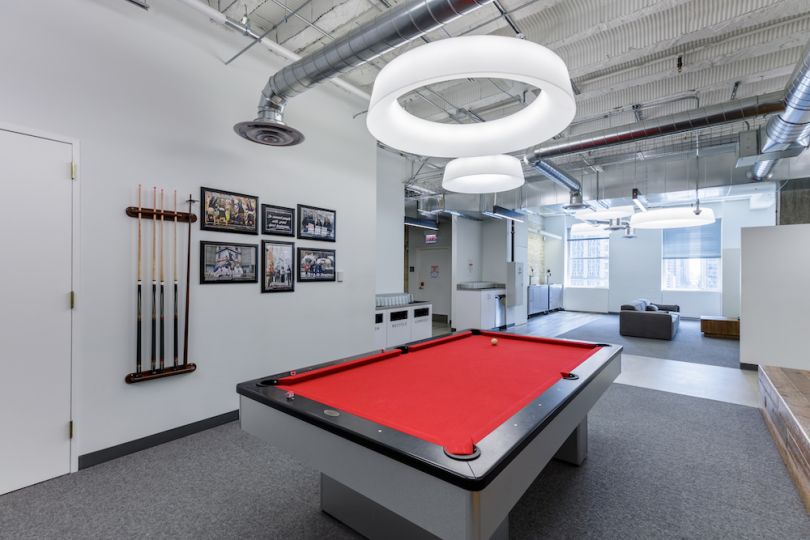 Game rooms
Each floor has its own game room. On the upper floor, there's a pool table and a video game console. The bottom floor game room, which Rubin calls "the actual game room," features ping pong and foosball tables, plus a mesh-enclosed Pop-A-Shot.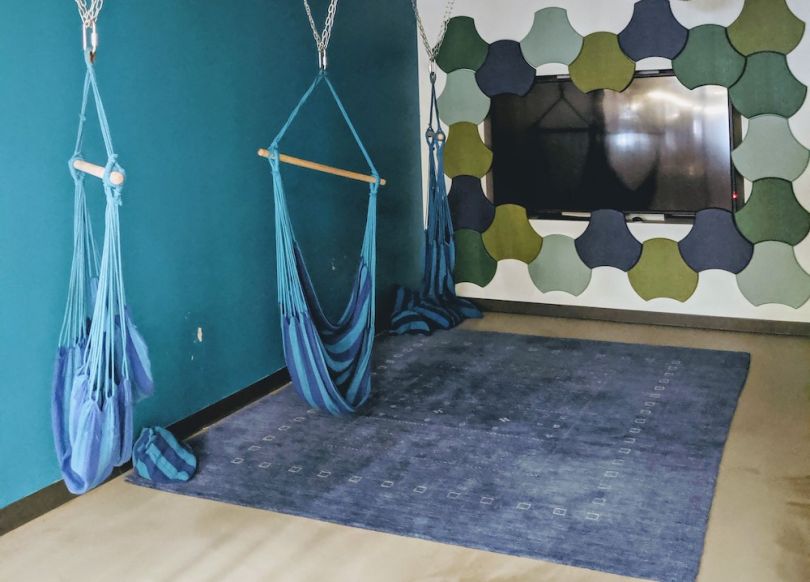 Hammocks
In addition to conference rooms, Yelp's office has open alcoves and nooks for collaborations — including the one above, furnished with three hammocks.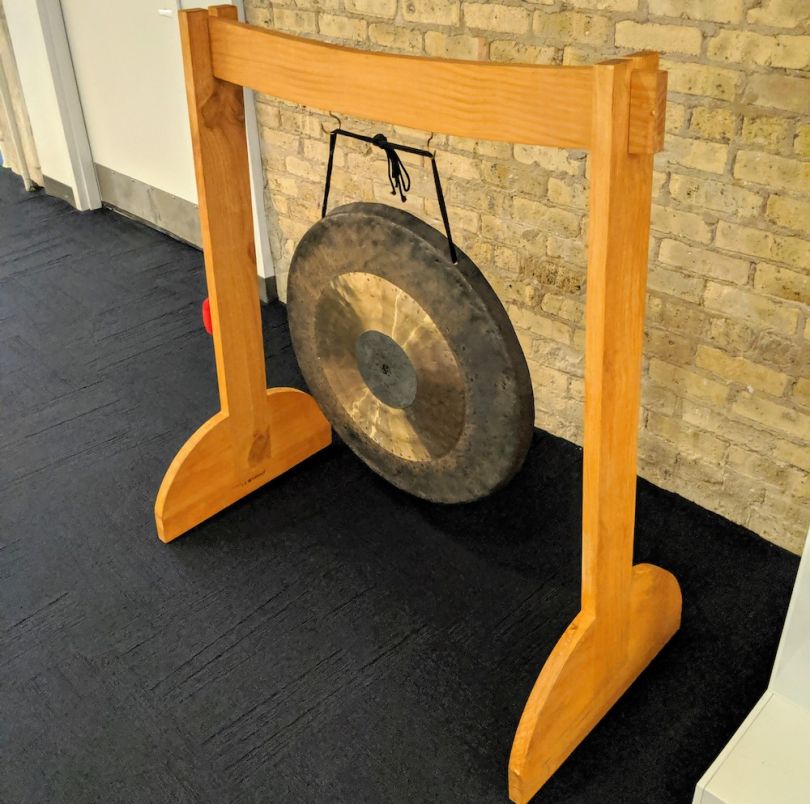 Gongs
The office is outfitted with more gongs than you would ever imagine: eight, by Yelp's count. Whenever a sales rep finalizes a deal, someone bangs a gong and the whole floor applauds. 
The sales team has a lot of team spirit in general, Rubin says. When Built In visited, one team wore neon wigs. Especially on the last day of the month, Rubin says, "it's not unusual to see costumes."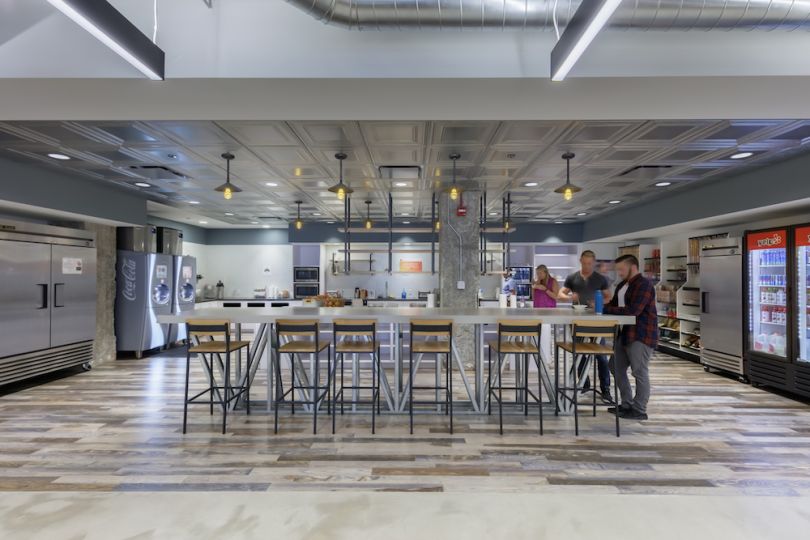 Fully-stocked kitchens
Each floor of Yelp's office has its own kitchen, stocked with free food. This includes, but is not limited to, bulk goldfish, peanut butter pretzels and pistachios (shells on); frozen pot pies and burritos; yogurt, string cheese, and peanut butter crackers; a beverage fridge stocked with LaCroix seltzer; and more. Built In visited when the stocks were relatively low, too. At lunchtime, Yelp offers salads and "Yelpwiches" (read: build-your-own sandwiches).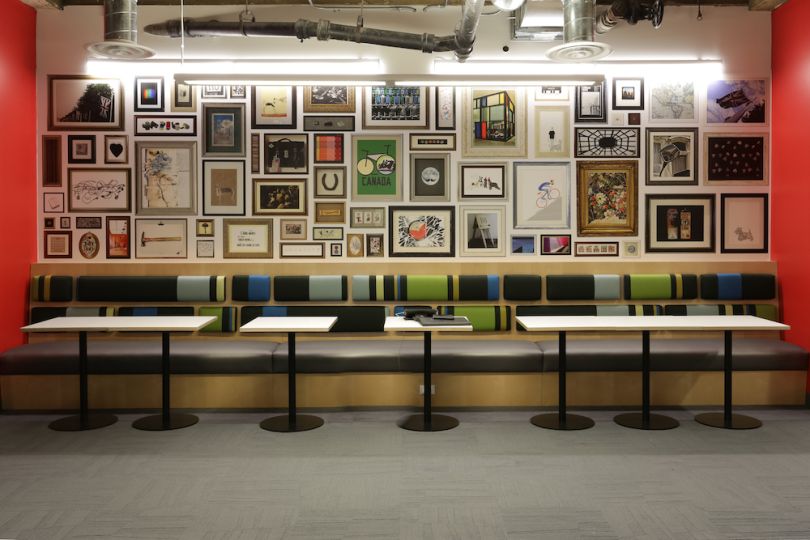 Coffee shop
The barista at the in-house coffee shop makes custom espresso drinks adorned with latte art; Rubin says employees can get a Yelp burst drawn in their latte foam. Like the kitchen snacks, drinks from the coffee bar are free.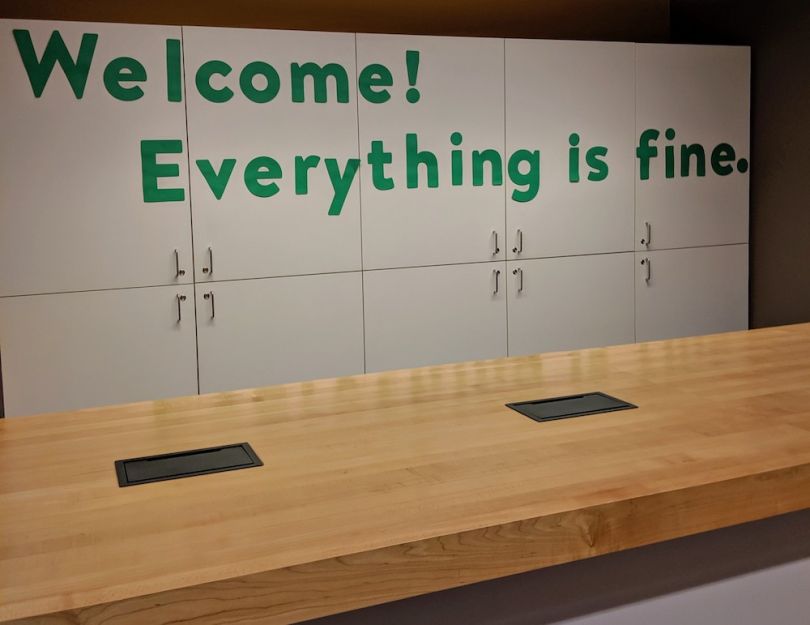 Genius bar
This counter next to the coffee bar functions like an Apple Genius Bar. An IT person staffs it, helping employees with tech difficulties. To reassure visitors whose computers seem unsalvageable, a mural behind the bar reads, "Welcome! Everything is fine."