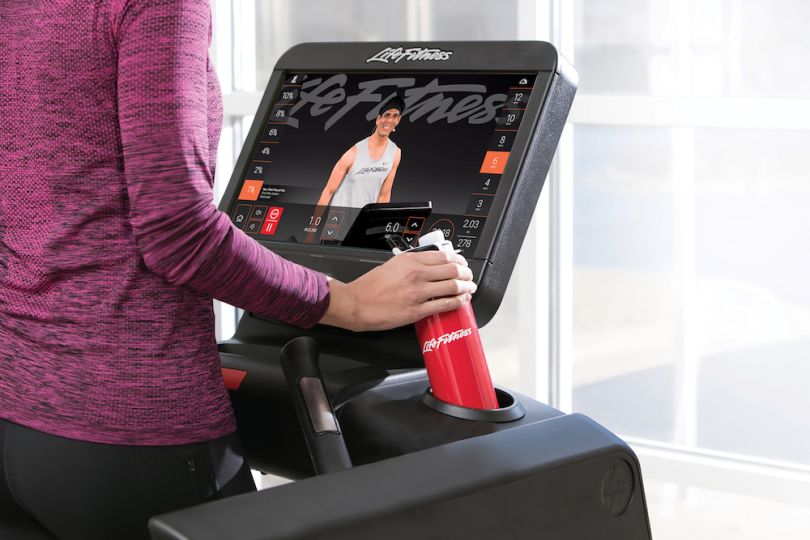 Boutique fitness classes have become quite trendy over the past few years, as people start to view working out as something that can be both social and fashionable. But as with all trends, we're already seeing the SoulCycles and Flywheels of yesteryear being replaced by the next new thing: digital on-demand fitness classes.
Peloton made waves when it first hit the fitness scene. The startup sells stationary exercise bikes, but its real uniqueness comes from the endless library of on-demand classes that go with them. These classes offer Peloton's customers the same treatment as a boutique fitness class, but they also give people the flexibility of working out whenever they want, from the comfort of their home or alone at a gym. This business model has convinced millions of people to shell out over $2,000 for the bike and earned the company $228 million in revenue just last quarter.
The on-demand fitness craze has also led to several new fitness startups like Mirror, as well as app-based trainers like Centr and Fitplan. But established fitness brands are getting on the on-demand train too.
On Tuesday, Life Fitness announced Life Fitness On Demand.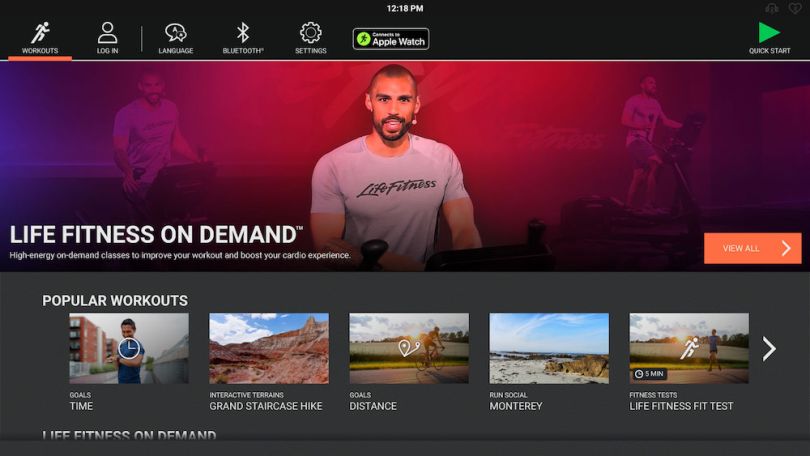 From Nintendo to IBM
If you've spent time in a gym, odds are you've come across Life Fitness. Maybe the company's logo is engrained in your memory due to hours spent gasping for air on a treadmill. Life Fitness makes gym equipment ranging from treadmills and ellipticals, to strength trainers and medicine balls. It also owns other equipment brands like Hammer Strength, Cybex and SCIFIT. Life Fitness products are in over 250,000 facilities across the world and used by 60 million people every year.
But while Life Fitness may be known for its mechanical gym equipment, the company has been incorporating the latest tech in its machines since its inception over 45 years ago. In the early-90s, Life Fitness collaborated with Nintendo to create the LifeCycle Exertainment Bike: a stationary bike you could use to play video games. A few years after that, Life Fitness created its computerized workout system Life Center with IBM.
Life Fitness On Demand offers a library of digital on-demand workout classes on a variety of cardio equipment, including treadmills, ellipticals, Arc Trainers, PowerMills, upright bikes and recumbent bikes. These classes range from 10 to 40 minutes long and encompass all sorts of exercise types, difficulties and coaching styles.
"Most people have a mental image of Life Fitness as being an equipment manufacturer. Not a lot of people know that we've been on the technology side for so long," Dan Wille, global VP of marketing and product, told Built In. "But we were the first to offer entertainment on a piece of exercise equipment, the first to release connected exercise equipment, the first to integrate cloud-based solutions. Now we're the first to offer on-demand content across a line of commercial cardio equipment."
Helping gyms take on Peloton
Life Fitness' main customers are facilities like gyms, health clubs, hotels and universities, differentiating the company from Peloton, whose core customers buy the equipment for themselves. But Life Fitness says that its customers had been asking for an interactive digital solution like Life Fitness On Demand for a while — especially as on-demand alternatives like Peloton took a bite out of gym membership revenue.
Another noteworthy differentiator for the service is that it's compatible with current hardware. If a piece of Life Fitness cardio equipment has the Discover SE3 HD console, the owner just needs to connect the equipment to the internet and download a free software update.
Theoretically, your local gym could be running one of these Life Fitness On Demand classes right now if it already has the right machine. Life Fitness plans to release more equipment with the SE3 HD console in the future as well.
Life Fitness On Demand is launching with 80 classes, but more will be added every few months. The company expects to have 200 classes by the end of 2020.
Although Life Fitness has been innovating with its technology since the company started, Wille says an exciting new challenge will be creating content for this service.
"I've been with this company for 25 years, and I've gone through the paces of designing and launching new products. I've learned the right way to bend steel or mold plastic to create the right pieces of equipment," Wille told Built In.
He continues, "But now we're creating this digital content product, so we have to determine our brand's personality and pick the right instructors to represent it. We have to create content for a diverse population. We're building a new skill set, and it's exciting."
After all, fitness is about embracing new challenges.