Why Working in Cannabis Is Worth the Grind
Green Thumb Industries CEO Ben Kovler highlights the impact that hard-working individuals can have in the cannabis industry.
What comes to mind when you think of cannabis? Chilling? Vibing? Relaxing? 
For professionals working in the industry, there's a lot more to it. In fact, the industry may be better suited to people who thrive when they are tackling highly complex challenges in a rapidly growing arena. 
"Operating in cannabis is challenging work. We're paving the way in a new and evolving industry," said Ben Kovler, CEO and founder of Green Thumb Industries, a cannabis company offering consumer packaged goods. He noted that the passion his team has for tackling those challenges is unmatched. 
Kovler calls this era Prohibition 2.0 due to the parallels between the cannabis market today and the war on alcohol in the 1920s. Cannabis is illegal under federal law, but has been legalized in 37 states under a variety of different regulations. 
As cannabis legalization has spread across the country, the industry has seen remarkable growth. For cannabis operators, there are incalculable logistic challenges to solve while building an empire in this environment. For one, since cannabis cannot cross state lines, each state needs its own complete supply chain, from seed to smoke. To make it more complex, regulations differ by state, so standardizing practices for a multi-state operator is a puzzle. Currently, Green Thumb has licenses in 14 markets and counting, making it nearly as national as a cannabis company can be, and is even publicly traded on the Canadian Stock Exchange. 
But the hard work is not without its rewards. Cannabis professionals are starting with a blank slate and creating brands in a space that has operated without traditional marketing, which means there are huge opportunities to leave a mark. As a descendant of a co-founder of the James B. Beam Distilling Company, Kovler should know.  "If you go back a century, bathtub gin and moonshine became brands like Jack Daniels, Jim Beam and Jose Cuervo. Now, weed in a baggie is going to turn into brands like RYTHM, Dogwalkers, Beboe and Incredibles," he said.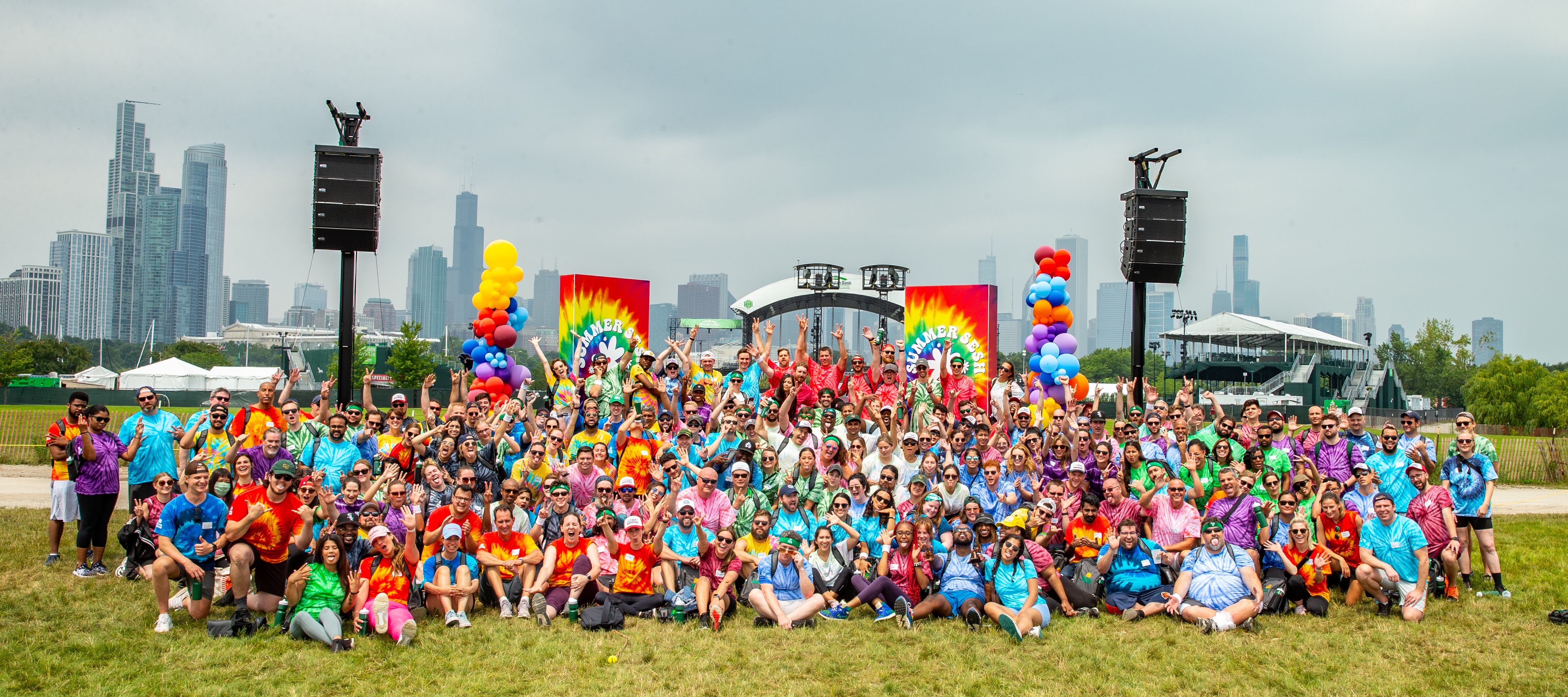 The company's mission is to promote well-being through the power of cannabis while giving back to the communities in which it serves. Kovler believes in the positivity of the product and viability of the industry. 
"This is the great American growth story. It's not often that an $80 billion consumer industry is born in front of our eyes," said Kovler. 
Now, as cannabis continues to move mainstream, companies are free to come out of the shadows and into the light to tell their stories. Built In Chicago connected with Kovler to get inside this chronicle of growth. 
How does Green Thumb fit into the overall cannabis trade?
This is a monstrous industry being formed for the first time. The cannabis industry is evolving during rapid growth as a new consumer product. In terms of size, we think it's going to scale into at least an $80 billion industry. That means it is going to be bigger than the U.S. wine and spirits industries. 
As for Green Thumb, it's not a coincidence that we're in the right place at the right time. It's the outcome of hard work, diligent capital allocation and industry insight. We have licenses in limited-license markets such as Illinois, Pennsylvania, Ohio, New York, New Jersey and Connecticut. We aren't focused on highly saturated markets like Oregon, Washington or California, which differentiates our footprint. 
Green Thumb was early in terms of execution. We operated with purpose and aligned vision long before many others who are coming along now. Our vision is core to who we are and how important this industry is. The team gravitates toward that. We're part of something bigger than ourselves; this is a movement. 
 
Can you elaborate on why you feel this industry is important?
Consumers are choosing this product over the alternatives. Cannabis is a viable alternative to alcohol, which gives you an awful hangover and kills more than 90,000 people a year. We're also seeing data that opioid-related deaths are reduced when cannabis is legally available. When cannabis is an option, literally fewer people die. 
There was a long and failed war on drugs which profiled certain people and took away their opportunities. There are around 40,000 people in jail right now for cannabis offenses. It's a huge problem that people are in jail for doing what we are doing now. It's important that we fix all of that. 
 
Describe Green Thumb's growth trajectory since it was founded. 
Maybe it's cliche to say, but the sky didn't fall when Denver legalized cannabis on Jan. 1, 2014. There is a lot of positivity from this, which is generating demand. 
Our team talks a lot about being on a rocket ship of growth. We're building the plane while we're flying it. This feels like a 3,400-person startup, and we're figuring it out as we go. There's a sense of humility in that. 
We've hired more than 2,000 people since 2018. We've been recognized by Crain's Chicago Business as being the second most rapidly growing company in Chicago over five years. The revenue numbers aren't just going up and to the right; they're growing pretty much exponentially, from $1 million to $100 million. Last year we did $550 million. 
We have the capital to invest in the team, facilities, stores and cannabis. The growth is driven by consumer demand and the regulatory landscape. The consumer sentiment, and acceptance, of cannabis has created a $25 billion industry. It's massive. So we're seeing new interest from people in industry segments who were never interested in cannabis before. 
Everything about operating in cannabis is a challenge, which is good for folks who like to solve problems. 
 
Everything about operating in cannabis is a challenge, which is good for folks who like to solve problems."
If the cannabis industry is coming out of Prohibition 2.0, then new brands haven't had much time to tell their stories. Tell me what you want people to know about the brand and company.
Personally, I voted for the first medical marijuana bill in the country, Prop 215, in 1996 when I was at school in California. We care about what we're up to, and maybe that sounds obvious or basic, but it's been a differentiator. Keep it simple, and do what you say you're going to do. That's a big core principle here, but it's amazingly hard. 
At the core, we believe in the positivity of the product and the viability of this industry in the U.S. The mission is to promote well-being through the power of cannabis while giving back to the communities in which it serves. Americans are choosing cannabis. 
 
Give me a sense of the impact that working at Green Thumb has on its employees. 
I like to say, "The star of the team is the team." We win because of the team, we're not short on passion and we're in the execution stage. This team is a group of people doing what they say they're going to do. 
There are a lot of opportunities to move up and learn new things. This is a brand-new frontier, so we are staying grounded and humble. Our values include principles like transparency, gratitude and working hard — which is reflected in the feedback I hear. 
There is a standard of excellence we adhere to as a company in a leadership position in a brand-new industry, forging new ground. It's an exciting dynamic to be a part of. 
We talk a lot about the "Wall Street Journal cover test," which means for every action you take you ask yourself if you would be comfortable with that appearing on the cover of a newspaper that people in your life would read. You can't always be right, but you need to be comfortable with your decision-making. It's a Warren Buffett philosophy: It takes a lifetime to build credibility, but only a moment to lose it. 
 
What is the ethos around making mistakes during fast-paced growth while navigating complex new frontiers? 
Being humble is a core value, so having a big ego doesn't work well here. One of our mantras is that "I don't know" is a great answer to questions. We can figure it out together, which reduces the pressure of operating in a growing industry with high expectations and standards. 
Making mistakes is totally fine, but we have to learn from them. Those are opportunities for improvement. I make mistakes all the time and I'm vulnerable in front of the team. We are learning as we go. It comes down to transparency and honesty. Being transparent about a mistake is better than burying it and not talking about it. 
 
You've mentioned that one of your goals is to right the wrongs of the war on drugs, among other philanthropic initiatives. Can you give me some of the tangible actions of your efforts so far?
We view it as a responsibility to fix some of the problems created by the war on drugs, change the perception of this product and understand the impact of our business. We are bringing impacted folks into this industry through our workforce, the supply chain and as new entrepreneurs. We believe this pie is very big, and there are plenty of ways to win. 
We have a program in Illinois called LEAP, or license education assistance program, and we're offering free seminars that support people through the cannabis license application process. We also have a brand called Good Green with the mission to promote change by making impactful investments in organizations working to correct the harms created by the war on drugs. Even though we are donating to 501(c)(3)s, we put it through the same level of rigor as we would an investment in our private equity or internal portfolio. But we aren't judging success based on the money made; we're looking at the impact of a group working to get people out of jail, for example. We've got to make a material impact. 
 
Tell me about your team and your growth plans for the next year. 
We're hiring across the organization, scaling marketing, project management, accounting, cultivation and project engineers. There is a big need on our engineering side. 
When we started we had no revenue, then last year we did $550 million. That's all in less than six years. How do we handle that breakneck growth? We hang on tight! There is a lot of confidence in the vision, and our entire thesis is based on that. So from where I sit, it's a very stable situation because the plan has been the same the entire time. When I look back at our early presentation decks, it's the same message as today. We're just executing the plan, so there is comfort in it. 
We have 65 stores going to 100, and revenue that's growing along with it. We're a $6 billion market cap company, publicly traded with equity in the capital markets. Consumers want the product. That is the North Star. That's how we handle growth.