Few things ever stand still in the tech industry, and there's no reason why your career should be one of them. If you're looking for your next big step, we recommend checking out the opportunities these companies have to offer.
What they do: Kind of like Yelp for software, G2 Crowd's platform lets business professionals learn more about the tools they buy through authenticated third-party reviews. Its site is read by more than a million software buyers every month.
What they look for: "At G2 Crowd, an ideal candidate thrives in a challenging and fast-paced work environment but is still able to bring fun to every task," said Ted Weitzel, VP of finance and operations. "Our team members should share a commitment to each other and to our mission to bring transparency to the B2B solutions marketplace."
Sweet perks: In addition to staples like health insurance and matching 401(k), the startup's employees get tuition reimbursement, stock options and a free daily lunch. G2 Crowd also regularly hosts hackathons, team outings and family events.
What they do: Milyli makes custom software on top of the Relativity legal tech platform, with core offerings including solutions for document redaction, task delegation and reporting.
What they look for: "We strive to make e-discovery easier and look for candidates that can help us do this with creativity and drive," said CEO Steve Ankenbrandt. "'Make it like you like it'is what we're all about, and constant collaboration within our teams is what helps us meet our goals. We work hard, but we play hard, too — weekly happy hours and regular outings keep us a tight-knit Familyli."
Sweet perks: In addition to regular outings, Milyli has an in-house cook who provides lunch for its team every day. The company also offers competitive pay, flexible work schedules and more than five weeks of paid time off a year between holidays and vacation time.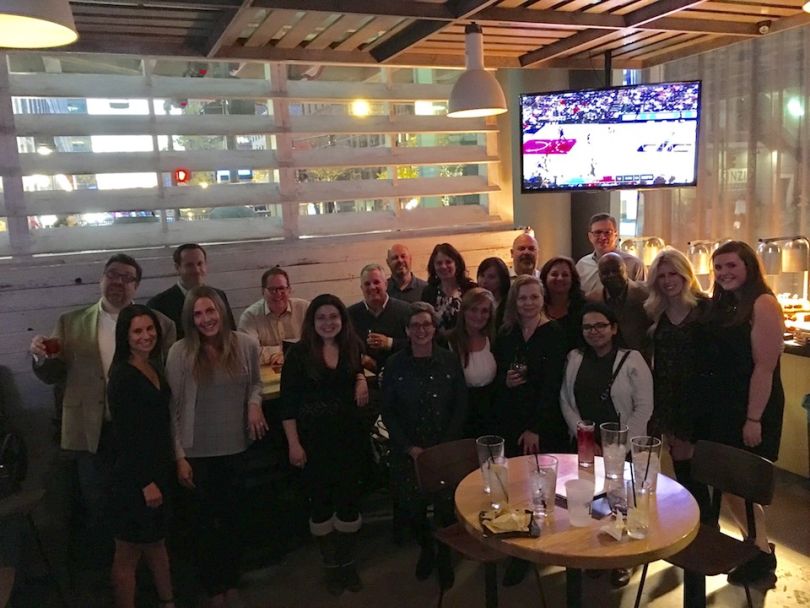 What they do: Feeling lucky? Camelot provides technology to power lotteries around the world. Having recently taken on management of the Illinois Lottery, the company is rapidly expanding its Chicago operations.
What they look for: "To be successful at Camelot Illinois, you must must have the 'collaborative gene,'" said HR business partner Lynette Karabis. "Being a team player is at the heart of our culture. We work together to learn, grow and develop. We pride ourselves on being a flat organization, allowing you and your immediate team to play a visible role in the achievements of the Camelot Illinois brand."
Sweet perks: Employees at Camelot enjoy a casual work environment, 401k matching, and a free onsite gym. Team members also get free Divvy bike memberships for getting around town.
What they do: Infutor leverages data from a range of trusted sources to help brands understand who their customers are and make smarter decisions about marketing and risk.
What they look for: "The momentum of the company is awesome and is apparent throughout the marketplace," said CEO Gary Walter. "We search for people who are not afraid to face challenges head on and who want to continue to evolve as individuals for the greater good of the company. We like people who make a conscious effort to not be an individual hero but continue to rally together, respect one another and be essential to the company and our customers."
Sweet perks: Infutor covers a suite of insurance benefits covering medical, prescriptions, dental, vision, life and disability in their entirety. Employees are also eligible for bonuses and paid time off for vacation and parental leave.
What they do: Relativity's software makes it easier for lawyers to find the most important data amid millions of pages of documents. Its solutions are used by more than 13,000 organizations across the globe.
What they look for: "A big portion of our interview process is built around determining whether or not a candidate not only has the right skills to work on our product, but also the right attitude to complement our company culture," said director of talent acquisition Matt Garvey. "If a candidate reflects our core values and showcases passion, not just for Relativity, but through their prior work experiences, they have a good chance of working here."
Sweet perks: Relativity offers its employees a 401(k) with a company match and a suite of healthcare, life and disability coverage. To ensure that the team has a chance to recharge, the company also offers 18 days of vacation a year in addition to 11 paid holidays.
What they do: Optiver is a global trading firm that specializes in pricing, risk management and execution. Its Chicago team of more than 200 is based in the heart of the Loop, with offices overlooking Millennium Park.
What they look for: "We hire people who relentlessly ask 'Why?' — so that they can zoom in on the real underlying problem," said chief technology officer Pierre Salverda. "They're curious people, and they always challenge the status quo. Their passion is to solve the problems that really matter to the business, and they take pride in the quality of their solutions."
Sweet perks: On top of the basics, like a 401(k) plan and fully paid health insurance, Optiver offers its employees free catered breakfast and lunch every day, and weekly in-house chair massages. The team also has an in-house barista serving up complimentary espresso beverages — if you're into that kind of thing.
What they do: With headquarters overlooking the Chicago River, bswift makes software that streamlines benefits, payroll and other HR tasks for employers and benefits providers alike.
What they look for: "We're looking for motivated and goal-driven team members who do whatever it takes to make a company great. The reward is a fun, flexible and creative environment with ample opportunity for professional and personal growth. If you possess the bswift values of higher standards, greater accountability and more fun, we want to hear from you," said a bswift spokesperson.
Sweet perks: Employees at bswift have access to a Zen room and get massages during benefits open enrollment season. The company also offers a partial 401(k) match, paid time off, summer hours and time off to volunteer.
What they do: "Grainger is a more than $10 billion broad line distributor of maintenance, repair and operating supplies and other related products and services. More than 3.2 million businesses and institutions worldwide rely on Grainger," according to the company's website.
What they look for: "Having a strong team of diverse people committed to learning and teaching each other is critical to our success," said Brian Walker, VP of digital architecture and operations. "Grainger has the leading website in our industry and the 10th largest website in North America, and we continue to innovate. We do this by listening to our customers and building and shaping our teams around a common vision, with an organizational structure and culture that enables us to create great work as well as a great team member experience."