It's easy to talk about diversity and inclusion in abstract terms. What's harder is to take that talk and turn it into action.
But many Chicago tech companies are doing just that. Their actions take many forms, from employee resource groups to partnerships with diversity-focused organizations and revised recruiting and training policies.
We spoke to leaders at nine Chicago tech companies to learn more about the steps they're taking to build more inclusive workplaces — and why those efforts are so important to both their businesses and cultures.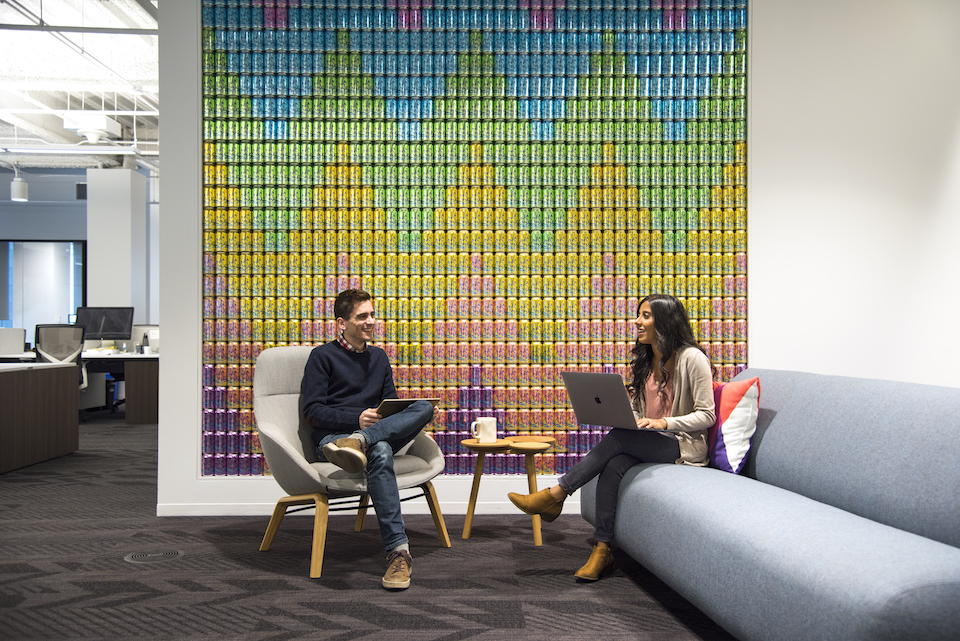 Over 20,000 companies use Sprout Social's cloud-based platform to manage and analyze social media campaigns across multiple channels. Diversity, Equity and Inclusion Lead Michelle Bess said the company formed a leadership team, made up of regular employees and executives, whose purpose is to launch initiatives that help create an environment where people feel comfortable being their full selves.
How do you promote diversity and inclusivity in the workplace?
It takes a commitment from leadership and the support of the entire team to successfully promote a diverse and inclusive workplace. We are fortunate to have both. The importance of this can be seen from the creation of our Diversity, Equity, Inclusion and Leadership Team, which includes executives from Sprout's C-suite as well as members of the overall team. They oversee organization-wide initiatives aimed at ensuring everyone can bring their full selves to work. These initiatives take the form of everything from implementing new processes that help remove bias during recruitment, to implementing monthly DEI Guild meetings that foster opportunities for deeper learning to creating a strong benefits package that meets the needs of our diverse team. Most recently, we have supported these initiatives by holding a company-wide unconscious bias training, facilitating a panel on the experiences of Black/African-American employees at Sprout and offering additional all-gender restrooms to our team.
Why is keeping diversity and inclusivity top of mind important for your culture?
We believe building a team diverse in people, ideas and experiences allows all of us to be more successful in our jobs and better address the needs of our customers. When our team feels as though they can bring their full selves to work we see greater creativity, productivity and engagement, all of which are necessary to build a better company. Beyond business, our jobs are where most of us will likely spend the majority of our adult lives, and creating an environment where our diverse talent can thrive and truly enjoy coming to work is one small token of our appreciation for that commitment.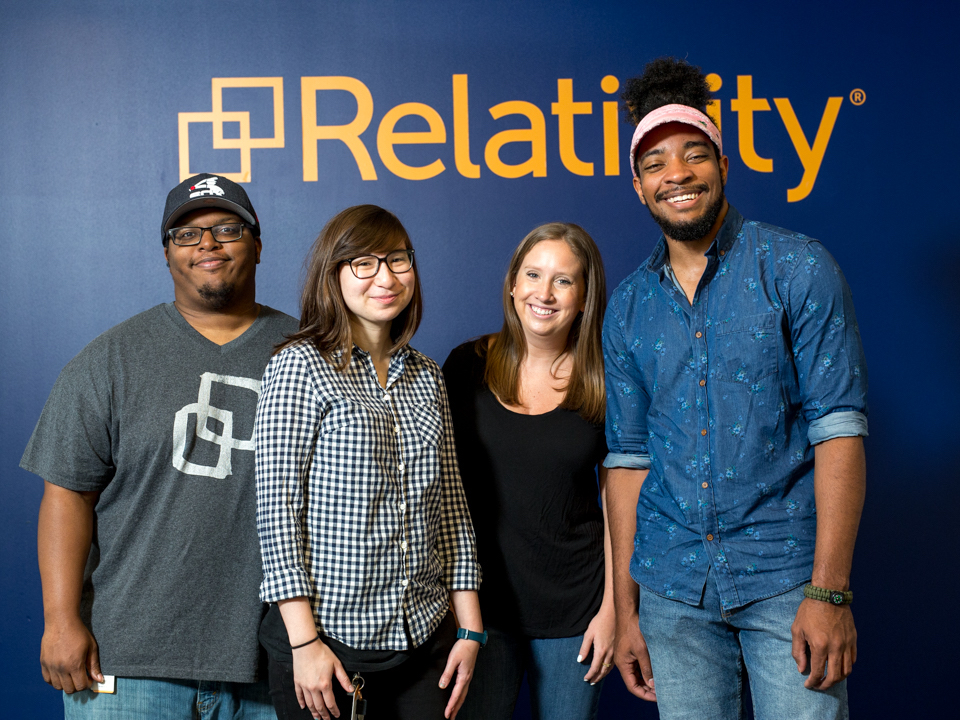 Relativity's e-discovery software is used by over 13,000 organizations to find and organize pertinent data contained in digital documents. Learning and Development Manager Jennifer Westropp said that as the company grows, so does its focus on enhancing diversity and inclusion in the workplace. She's heading up one of the company's key 2018 diversity and inclusion imperatives.
How do you promote diversity and inclusivity in the workplace?
We regularly post open jobs with sources of diverse talent pools, and we set diversity goals for our internship program. This year, we aim for 40 percent of our summer intern class to be drawn from under-represented groups, and each year we work with nonprofits that serve underrepresented youth to provide part-time jobs, giving them exposure to the tech industry. Relativity participates in diversity-focused events such as the Grace Hopper Celebration of Women in Computing, and sponsors groups such as Black Women in Science and Engineering, ChickTech, and the Anita Borg Institute.
Our own Relativity Women of the Workplace group promotes issues of particular interest to women in tech, and we offer our customers a Women in e-Discovery track at our annual RelativityFest. This year, enhancing our diversity and inclusion focus is one of our key imperatives. Our diversity and inclusion milestones for 2018 include increasing all Relativians' ability to recognize and mitigate bias and enhancing leaders' skills at creating inclusive environments.
Why is keeping diversity and inclusivity top of mind important for your culture?
Preserving our culture is tantamount to preserving our company. That's why we hire first for fit with our Relativian-generated core values. Diversity and inclusion is inherent in these principles. We have a rigorous interview process that looks not only for proof of candidates' professional qualifications, but evidence that they innately embrace our values. To fulfill our commitment to our customers, we must constantly improve our software and the value it delivers. We simply cannot do that without a team of people whose varied life experiences, cultural backgrounds and functional expertise collectively create a broad swath of great thinking, and who feel comfortable bringing their full selves — and therefore their unique thinking — to work.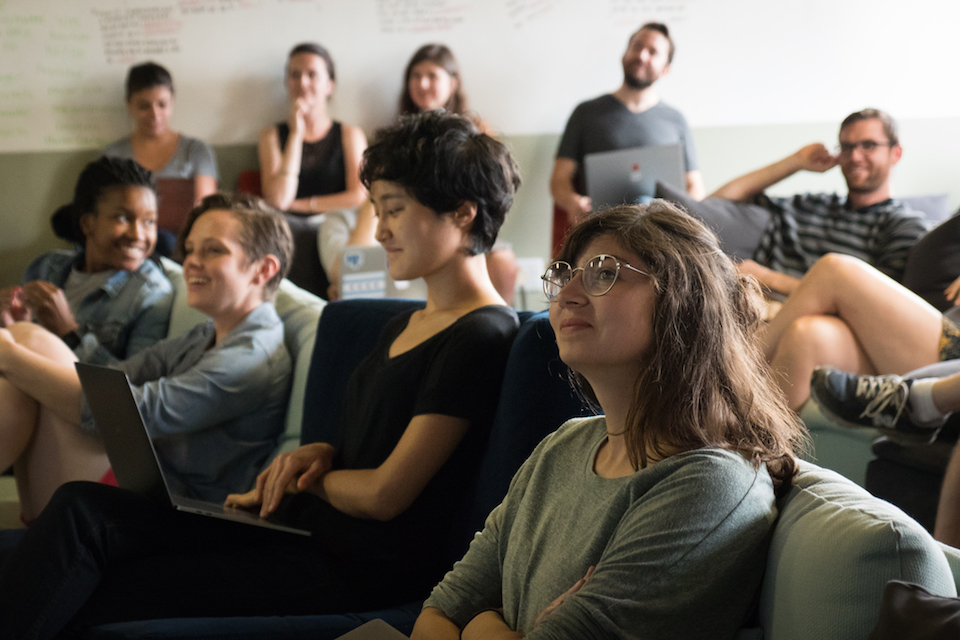 Jellyvision's software is designed to make the critical but often boring parts of an employee onboarding process engaging and fun. CEO Amanda Lannert and HR manager Hibben Rothschild weighed in on the company's plans to create a workforce that is as diverse as the city it calls home.
How do you promote diversity and inclusivity in the workplace?
Lannert: We've learned from experience that the key to a diverse and inclusive workplace is diverse and inclusive leadership. We have achieved 50 percent female leadership not as the result of a marketing platform, hiring initiative or even amateur witchcraft, but because women see a female CEO at the helm and know that Jellyvision is a place where they, too, will be heard and respected.
Now we're turning our attention toward making Jellyvision as diverse as the city we're in, not just in terms of gender, but race, nationality and sexual orientation. Our goal is to show people of color and the LGBTQ community that Jellyvision is a place where they can grow a career.
Rothschild: In 2017, we launched the Jellyvision Women in Tech group to help bridge the gap of women in coding, engineering and technical positions at both Jellyvision and the greater Chicago tech community.
DiversityFTW is our active grassroots diversity group that meets regularly to discuss and plan initiatives to help foster an inclusive environment. The group's membership and scope will expand in 2018 as it partners more closely with senior leadership to ensure that diversity and inclusiveness are infused into every part of our culture and are top of mind for every person at every level.
The majority of our restrooms are all-gender, and we also offer dedicated spaces for breastfeeding mothers to pump. We recognize everyone has different needs in their personal and home lives, so we provide flexible schedules and an open work-from-home policy.
We make every effort to not only attract, but also accommodate, people from all backgrounds, experiences and abilities during the recruitment process. We also identity redact at the audition stage of our application process to ensure we eliminate any unconscious bias. When interviewees come into the office, they can pick pins from a basket at the front desk that lets others know their preferred gender pronouns. Additionally, we've been exploring new avenues for recruitment and community involvement, from visiting historically black colleges to partnering with Everyone Can Code in Chicago. We're hosting a mentoring event this March with Embarc that will pair 25 high school students with 25 Jellyvision employees to share stories and give the students exposure to different career paths and office environments.
Why is keeping diversity and inclusivity top of mind important for your culture?
Lannert: We recognize that our people have a diverse array of responsibilities and interests and support them by offering flexible leave, not just for women or employees with kids, but everyone. When people are able to pursue their passions outside of work, they stick around longer and are better at their jobs. We trust our employees, judging only quality and quantity of their work, not where or when it gets done. By doing so, we open ourselves up to the greatest pool of talent possible.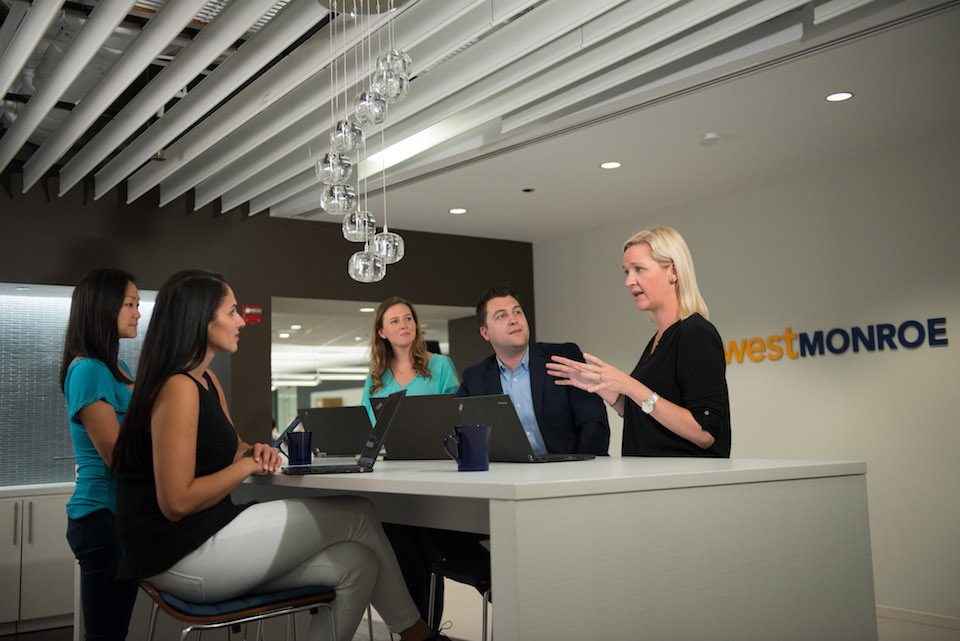 Full-service business and technology consulting firm West Monroe Partners specializes in helping companies adopt and develop tech that addresses their pain points. According to Director of Talent Acquisition Julie Meyer, the firm recently updated its interview style, parental leave and time-off policies, all in an effort to create a more inclusive and diverse working environment.
How do you promote diversity and inclusivity in the workplace?
In 2017, we launched an Inclusion & Diversity Advisory Council whose purpose is to grow a more inclusive culture to welcome diversity. That same year we discontinued "fit interviews" and introduced a "values contributed interview." We conducted 13 training sessions for 250 employees across multiple offices on how to conduct this new style of interview. The training session was designed to help build awareness around unconscious bias.
We also received some very clear feedback from employees that we needed to provide greater support around creating a more flexible and inclusive environment. We recently rolled out an extended parental leave policy — for both primary and secondary caregivers — and the institution of a flexible time-off policy.
We continue to partner with the Ellevate Network, a global professional network for women whose mission is to close the gender achievement gap in business. This partnership creates opportunities for our women leaders to build their personal and professional networks and establish their personal brands, and elevates the West Monroe brand in the markets where we live and work. Since the partnership began, we've participated in and hosted several Ellevate events. We have also been published on women's issues in media networks as a result.
Why is keeping diversity and inclusivity top of mind important for your culture?
Inclusion and diversity is a big part of West Monroe's strategy. Our mission is to build the next generation of leaders — and having an inclusive and diverse culture and workforce is essential to this mission. An inclusive culture attracts and retains talent that enables us to create meaningful careers. Going forward, we will be consciously working on ways to help identify unconscious bias and build a more inclusive culture for all.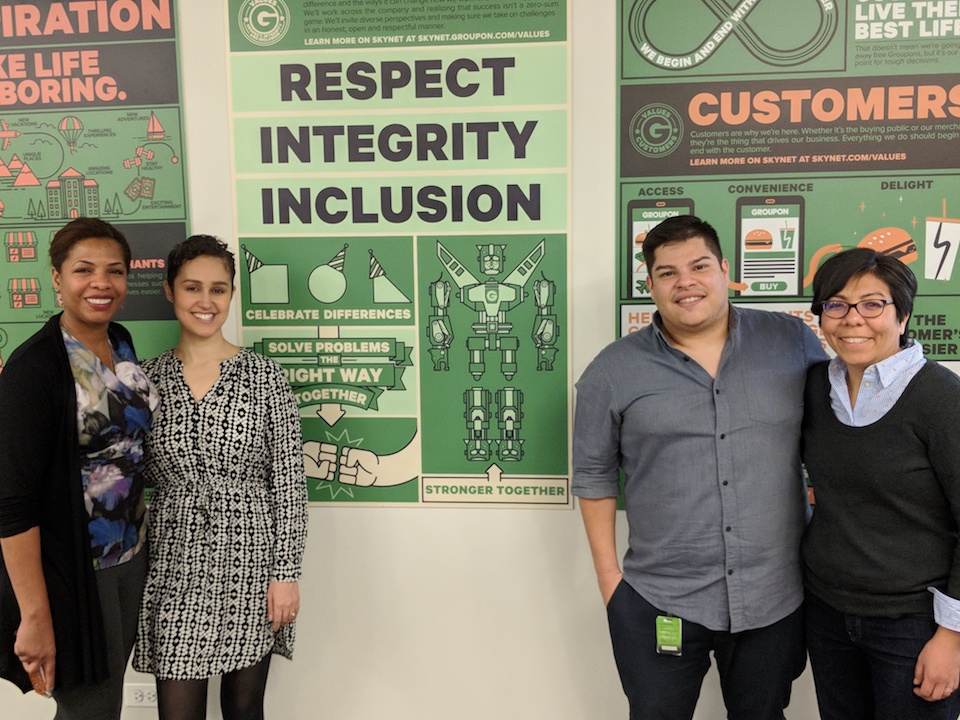 Groupon is an online marketplace that helps people score deals on everything from food to fashion. SVP of Human Resources Alison Allgor said the company's commitment to diversity starts with its core values and extends into everything from its approach to recruiting to the training offered to employees.
How do you promote diversity and inclusivity in the workplace?
We begin to promote diversity and inclusion through our core values, which are our guiding principles for everything we do. Our values of respect, integrity and inclusion reinforce the fact that at Groupon, we not only believe in celebrating our differences and similarities but also in leveraging them. One way that we're doing this is through our Global Employee Resource Groups, which offer strategic initiatives aligned to the three pillars of our inclusivity and diversity strategy: talent, marketplace and culture.
We are also building a revamped inclusion and diversity curriculum that will include the Intercultural Development Inventory assessment in order to build greater intercultural competence within our workforce. Lastly, we are expanding our recruiting approaches to top talent by diversifying our partnerships with external organizations that serve women and underrepresented groups.
Why is keeping diversity and inclusivity top of mind important for your culture?
In order to reach our mission, we need to have a diverse workforce that represents and understands the needs of our diverse customers, merchants and communities. We also are committed to investing in our employees because they will do their best work to support our mission if they feel that they belong and can bring their whole selves to work.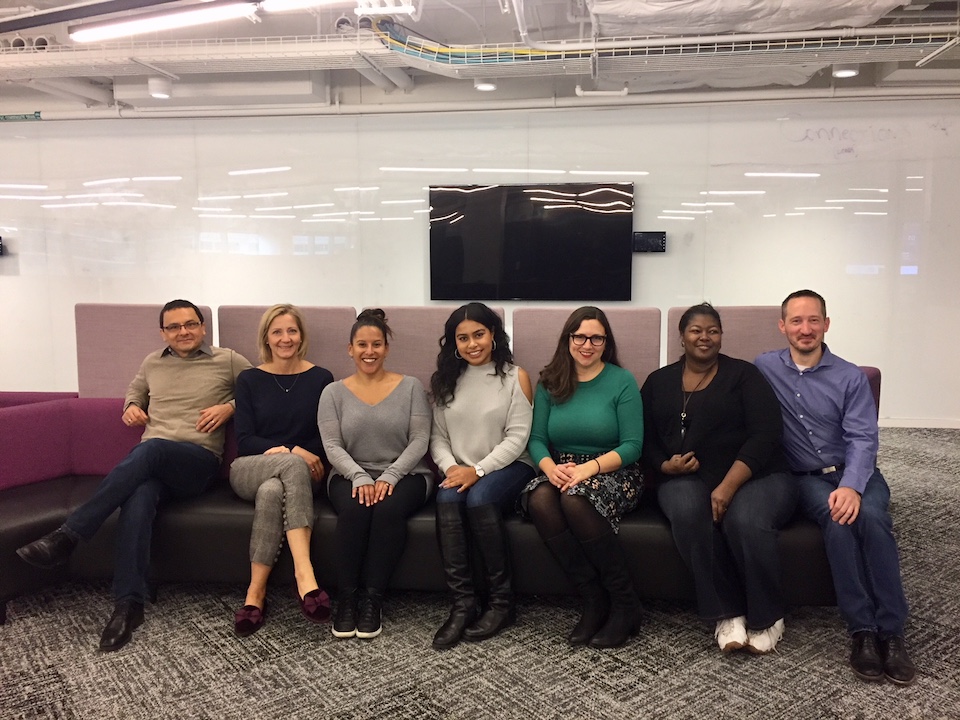 Cars.com has been connecting car shoppers with dealers both nearby and across the country for 20 years. In 2017, the company created its first-ever formal council for diversity and inclusion, which Chief People Officer Cynthia Hiskes credits with helping launch a variety of employee resource groups.
How do you promote diversity and inclusivity in the workplace?
We challenge each other to approach work with a growth mindset that is consistent with the benefits of a diverse employee base and one we feel fuels inclusivity and innovation. Two characteristics of our growth mindset are a passion for learning and a willingness to fail. We believe the best solutions come through employing these two characteristics, which capture diversity of thought that differentiates us from our competition. A growth mindset complements the value diversity brings to an organization, and vice versa.
Our Diversity & Inclusion Council focuses on key objectives such as connecting people and addressing opportunities in demographic gaps by building awareness and embedding behaviors that support our goals. The council recently launched an employee resource group program to help employees with shared experiences connect, learn, share challenges and establish and promote a more inclusive and connected culture. In a short time, employees have already formed the "Women in Leadership," "Women in Technology" and "LGBTQ+ at Cars" groups.
Why is keeping diversity and inclusivity top of mind important for your culture?
Because it is the right thing to do and because it drives business results; it's a business imperative. Our success is based upon our ability to connect with consumers. That consumer base is changing, and the more aware we are of those changes and proactively incorporate that in our work, the more successful we will all be. One of our core values is "staying open," which is all about looking at diversity differently, not only in our demographics, but also around the different perspectives and ideas cultivated by people within those demographics. Staying open to the opportunities that diversity of thought present helps us and everyone else win. Through the creation of our Diversity & Inclusion Council and core values that speak directly to openness, growth and inclusion, diversity is kept top of mind in everything we do to drive the business forward.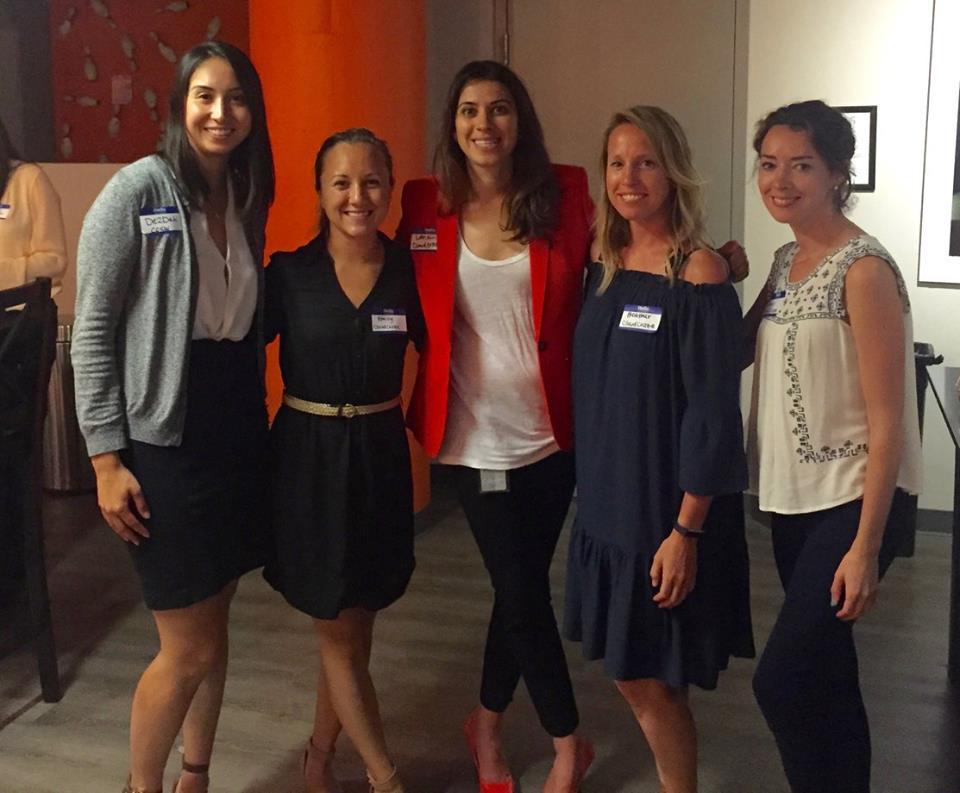 CloudCraze's B2B commerce technology is built atop the Salesforce platform and designed to help companies generate online revenue faster, scale sales efforts and stay connected with customers. To Director of Product Management Dezbah Duchicela, a diverse team is critical to creating a valuable product, which is why she makes recruiting diverse talent a top priority.
How do you promote diversity and inclusivity in the workplace?
I make it a priority to get out in the community to recruit diverse talent. I attend different community sessions, usually one per month, from product management groups to women in tech meetups. The best way to meet potential candidates is organically through these types of networking activities. I set up interviews featuring a diverse set of candidates in a way where all applicants are judged equally. I stick to the same questions and give them the same exercise to complete prior to the interview. I think it's also important for interviewers to be conscious of judging candidates against the same criteria. The creation of CCElevate, an internal organization that provides a way for women to network and support each other, has done a lot to empower the women at our company.
Why is keeping diversity and inclusivity top of mind important for your culture?
My team is focused on building a valuable product for our customers. Building a multi-faceted team is crucial to improving that product. We want our team to be open-minded and bring a unique perspective to our clients and partners. This is the only way we can create a valuable product for our consumers.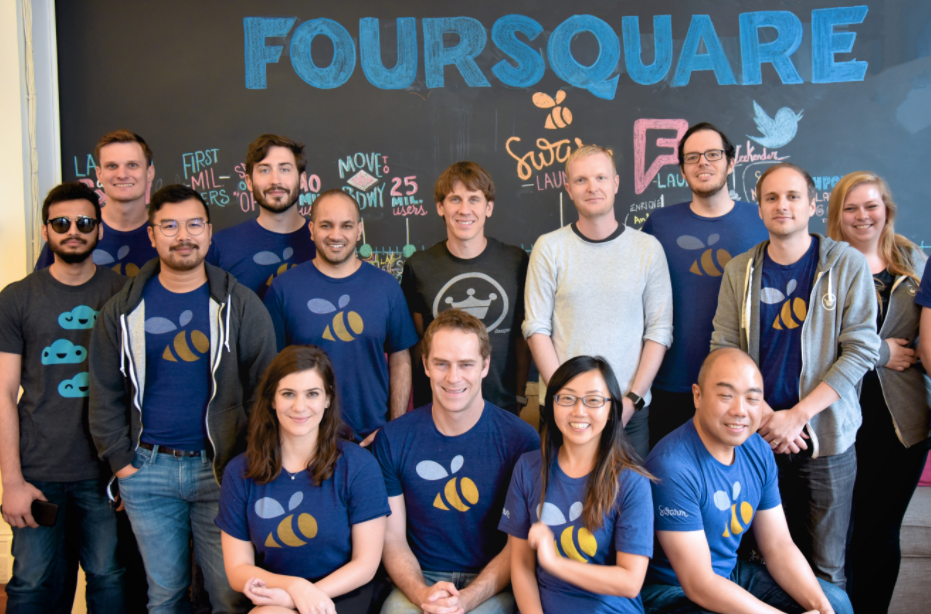 Best known for helping people discover new and nearby entertainment, nightlife and dining options, Foursquare's technology is also used by businesses to reach and engage consumers and understand offline behavior. SVP of Human Resources Meghan Lapides said the company's diversity and inclusion efforts include internal advocacy groups and partnerships with organizations that work to make tech more diverse.
How do you promote diversity and inclusivity in the workplace?
Foursquare is all about inventing the future of location. This mission manifests itself in our products and also through our diversity and inclusion initiatives. We have a working group that exists to drive diversity, inclusion, be advocates and allies and foster open communication.
The group's three pillars of focus are: recruit and retain diverse talent, cultivate a diverse and inclusive culture that is committed to the advancement of STEM education, and career opportunities for all. To that end, we actively partner with NYC Tech Talent Pipeline (which I am on the advisory board for), Coalition for Queens, Code/Interactive, Fresh Air Fund, Girls in Tech, Girls Who Code, Out in Tech, OUTC, Paradigm, ScriptEd, West Mentorship, Women in Tech and Women Who Code. We are also one of the sponsors of the Grace Hopper conference. Through these ongoing efforts and more, we strive to make a difference in the world we all explore every day.
Why is keeping diversity and inclusivity top of mind and important for your culture?
We need a diverse team to accomplish our mission. Fifty million people around the world use our apps, and our Places Database and Pilgrim SDK is relied upon by more than 125,000 developers worldwide, each of whom has a particular background and need that we hope to address. Our goal is always to build forward-thinking tools powered by a team that is representative of the diverse global community we serve.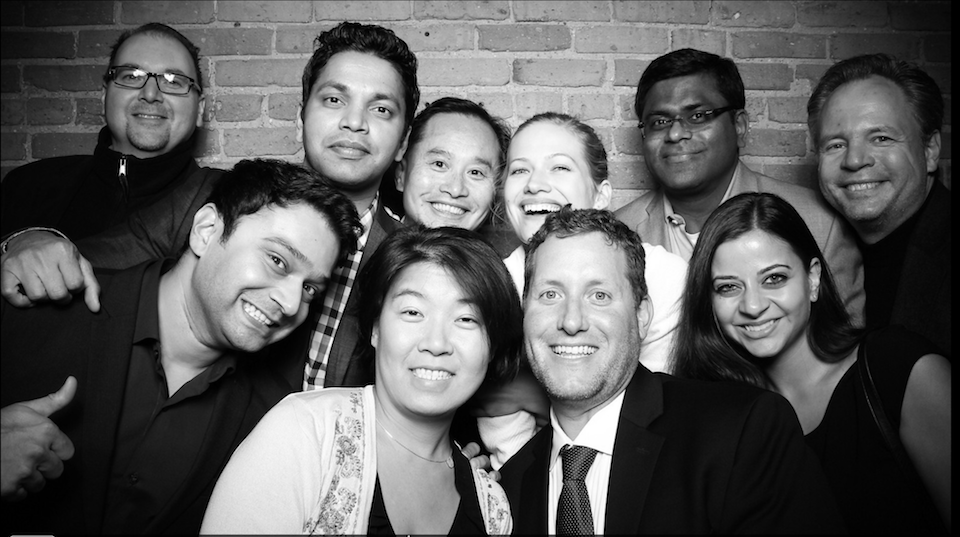 SAP Fieldglass' cloud-based software is designed to help global companies streamline service procurement and manage external talent. SAP's Midwest Region Managing Director Rocky Subramanian said the company's pursuit of a more diverse and inclusive work environment makes the company a great place to work while enabling it to tackle even the toughest customer challenges.
Why is keeping diversity and inclusivity top of mind important for your culture?
SAP firmly believes that diversity is the lifeblood of innovation. We experienced success in the Chicago startup community in large part because of an emphasis on cultivating a rich diversity of ideas. And it's one of the reasons we strive for a workplace where people from all walks of life feel comfortable and empowered to bring their diverse perspectives to the office each and every day.
How do you promote diversity and inclusivity in the workplace?
SAP promotes diversity and inclusivity not only within our workplace, but within those of our customers through technology solutions, processes and resources designed to ensure a bias-free business environment. Our focus is on gender equality, cross-generational equality, culture and identity, and the integration of differently-abled people in the workforce.
We have a number of dedicated programs in place to support our diversity and inclusion efforts, including Autism at Work, which was the industry's first corporate initiative geared at employing and training individuals on the Autism spectrum. In terms of gender equality, our leaders of the Americas and Asia Pacific Japan, as well as Europe, MEE and Greater China, are women: Jennifer Morgan and Adaire Fox-Martin, respectively. Women also currently comprise over 30 percent of our North American leadership and we have more than 10,000 members in the SAP Business Women's Network, which focuses on supporting female employees and counteracting the industry-wide skills gap.
Additionally, we have thousands of members in SAP's Black Employees Network, Pride@SAP and Latinos@SAP. Additional programs include Project 99 to develop underrepresented minorities into leaders, Early College High School initiatives in urban areas, training modules to improve the attraction and retention of a diverse set of candidates and partnerships with dozens of like-minded organizations with a shared vision to help the world run better and improve people's lives.