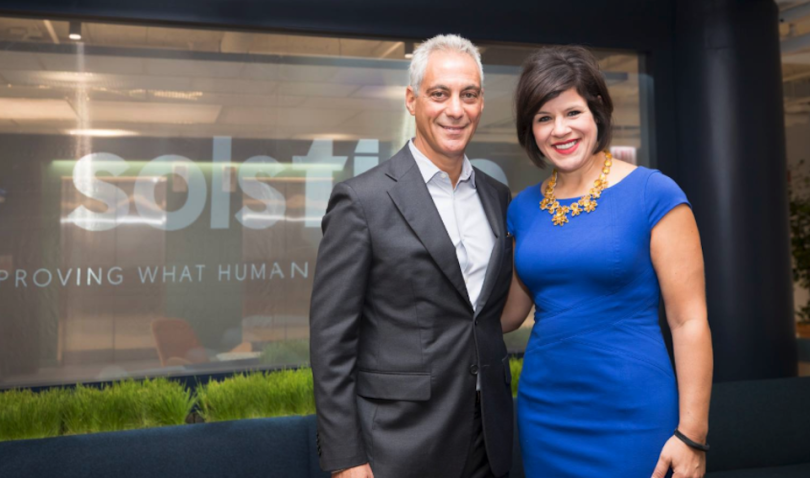 For Solstice, the future is looking brighter than ever.
In a press conference attended by Chicago Mayor Rahm Emanuel, the digital consultancy announced the expansion of its office space as well as the intention to hire over 150 new employees in 2018, surpassing its already impressive 2017 growth.
"Chicago is home to one of the strongest, fastest-growing and most innovative tech hubs anywhere in the world," said Mayor Emanuel in an official press release. "I commend Solstice for doubling down on its investment in Chicago and putting down even stronger roots in our great city."
Rather than moving to an entirely new office, the company, which provides tailor-made software for Fortune 500 clients, expanded its footprint to span the entire 7th floor of the Gogo Building in the West Loop. This ups the size of its North American headquarters to 60,000 square feet. 
"This is an incredible milestone in the 20-year history of Solstice," said CEO Kelly Manthey in a statement. "We are on a mission to prove what humanity is capable of, and that starts by ensuring our employees have the most innovative workspace possible."
This is an incredible milestone in the 20-year history of Solstice."
Architecture firm Gensler Chicago worked with Solstice to design the new space and outfit it with features including a hologram screen in the lobby and three separate collaborative spaces for employees to share ideas in. 
Manthey, who has a decade of experience at Solstice, was named CEO in January when founder J Schwan became chief digital officer for Solstice's parent company, St Ives. Earlier this month, St Ives named Schwan its new CEO.