When a group of friends in Los Angeles wanted to find a way to give back to the community, they went to a local grocery store and bought food to make 100 lunches.
While preparing the lunches, the friends had fun and connected with one another on a whole new level. After they were done, they went to the streets near Santa Monica Pier and Venice Boardwalk asking people if they were hungry, acknowledging the humanity of the giver and the receiver. The friends posted about the act of kindness on social media using #HashtagLunchbag.
The #HashtagLunchbag movement eventually led to the Living Through Giving Foundation, a non-profit organization that describes itself as "empowering humanity with the tools to create and benefit from organized acts of love." 
Giving Back to the Chicago Community
The team here at ReviewTrackers took part in the #HashtagLunchbag movement this month. We came together as a team, bonded, and had a lot of fun.
We prepared 840 lunches, which we put into hand-decorated bags with notes and pictures of inspiration. We delivered the meals to various non-profit organizations throughout the Chicago community. The team members at these organizations were very thankful and excited to see our office manager, Katie Palmer, and others from the ReviewTrackers team deliver the lunches. There were lots of love for the decorated bags.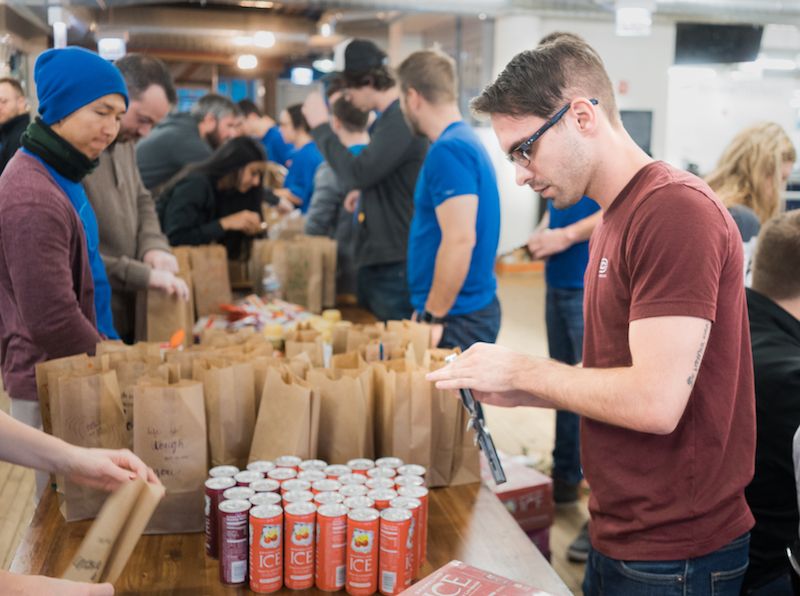 Ajay Relan, co-founder of #HashtagLunchbag, says, "We love seeing companies utilize #HashtagLunchbag to bring together their employees in a fun and meaningful way to give back to their communities. It's very inspiring to see a group of people who work together on a daily basis interact around something that focuses on others while undoubtedly radiating positive energy through the organization."
ReviewTrackers bought the food and supplies for the lunches. We contributed 85 loaves of bread, 36 pounds of ham, 12 pounds of cheese, 216 pounds of apple sauce, and 49 pounds of cookies and crackers. The individual team members of ReviewTrackers then personally contributed donations to local shelters.
Imperfect Produce donated lettuce for sandwiches. Imperfect Produce is a company that takes the produce that grocery stores will not take from farmers if it does not meet "cosmetic standards" and ships them as a subscription box delivery in the Bay Area, Los Angeles, Orange County, Portland, Seattle, and Chicago.
Sparkling Ice donated drinks for the lunches. Sparkling Ice is owned by Talking Rain Beverage Company, which is committed to giving back to the community and has supported hundreds of nonprofits across the country.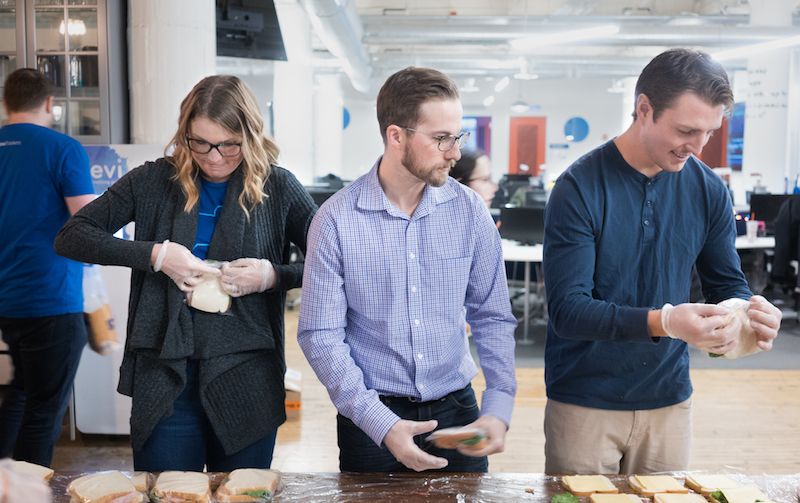 The Chicago community organizations where ReviewTrackers donated lunches include:
First Baptist 
St. Mary of Providence Soup Kitchen
St. Mark Church Food Pantry
TSA: Midwest Corps Pantry
Greater Holy Temple Pantry
Franciscan House Shelter
Marillac House
Second Presbyterian Lunch Program
Catholic Charities Soup Kitchen
The ReviewTrackers team will also be delivering toys and supplies to the Ronald McDonald House in Chicago this week. This article was originally posted on the ReviewTrackers blog.